Die griechischen Nazis sitzen im Gefängnis, aber ihr Gift verbreitet sich ungehindert
ATHEN – Der 7. Oktober war ein guter Tag für Demokraten. Das griechische Berufungsgericht bestätigte die Verurteilungen der Anführer der Goldenen Morgenröte -  der einzigen offen auftretenden Nazi-Partei, die es seit den 1940er Jahren in ein Parlament schaffte  - wegen Mordes, schwerer Körperverletzung und Leitung einer kriminellen Organisation. Vor dem Gerichtsgebäude feierten 20.000 Athener.
Unsere Feier dauerte genau 40 Sekunden, bevor die Polizei uns mit Tränengas auseinandertrieb. Nach Luft ringend versuchten meine Frau und ich uns hunderten anderen Menschen anzuschließen, die sich durch eine enge Gasse auf den nahen Athener Stadtberg Lycabettus retten wollten. Doch in der Gasse erwartete uns ein Dutzend Bereitschaftspolizisten, die mit Gas gegen die flüchtende Menschenmenge vorgingen. Ich bat den Kommandeur der Truppe eindringlich, damit aufzuhören. "Es hat keinen Sinn, Menschen, die nach Hause wollen, mit Gas zu attackieren," sagte ich in ruhigem Ton zu ihm.  Er beschimpfte mich wüst. Als ich meinen Parlamentarier-Ausweis vorzeigte, erschreckte mich seine Reaktion: "Noch ein Grund, dich zum Teufel zu jagen."
Die Verurteilung der griechischen Nazi-Führer ist ein entscheidender Sieg gegen das Wiedererwachen des Rechtsextremismus in Europa. Doch während die Anführer ins Gefängnis gebracht wurden, terrorisierten ihr in Polizeiuniformen gehülltes Gedankengut, Benehmen und ihr Hass auf die parlamentarische Demokratie die Menschen auf den Straßen. 
Eine Woche später befragte mich ein für interne Untersuchungen zuständiger Polizeibeamter im Rahmen der Ermittlungen, die aufgrund meiner Aussage eingeleitet worden waren. Es gelang mir nicht, das Gesicht des Bereitschaftspolizisten zu identifizieren, weil ich zum Zeitpunkt des Vorfalls nicht atmen und auch nicht klar sehen konnte. An eines konnte ich mich jedoch sehr wohl erinnern: an die kalte Abscheu in seinen Augen – dieser Blick erinnerte mich an Kapnias, einen ausgebildeten Vernehmungsoffizier der Gestapo.
Ich begegnete Kapnias im Jahr 1991. Ich sah ihn zum ersten Mal, als er auf einem Bauernhof auf dem südlichen Peloponnes neben seinen Ziegen stand. Dort lebte er mit seiner Frau  Yiayia Georgia, die ich damals aus familiären Gründen besuchte und deren Lebensgeschichte es verdienen würde, zum Meisterwerk eines begabten Dramatikers zu werden. Obwohl ich Kapnias Ruf kannte, war ich auf die wortlose Bösartigkeit der Begrüßung an diesem Abend nicht vorbereitet. 
Nachdem ich mich in dem von Georgia liebevoll vorbereiteten Schlafzimmer eingerichtet und mit ihnen Brot gebrochen hatte, entschuldigte ich mich und fuhr in die nahe gelegene Stadt, um mich mit dort lebenden Freunden zu treffen. Als ich weit nach Mitternacht auf den Bauernhof zurückkehrte, vernahm ich Kapnias Schnarchen und das Miauen aufgeregter Katzen. Erschöpft wollte ich mich zu Bett begeben, als ich zwei auf dem Kissen platzierte Bücher entdeckte.
Subscribe to Project Syndicate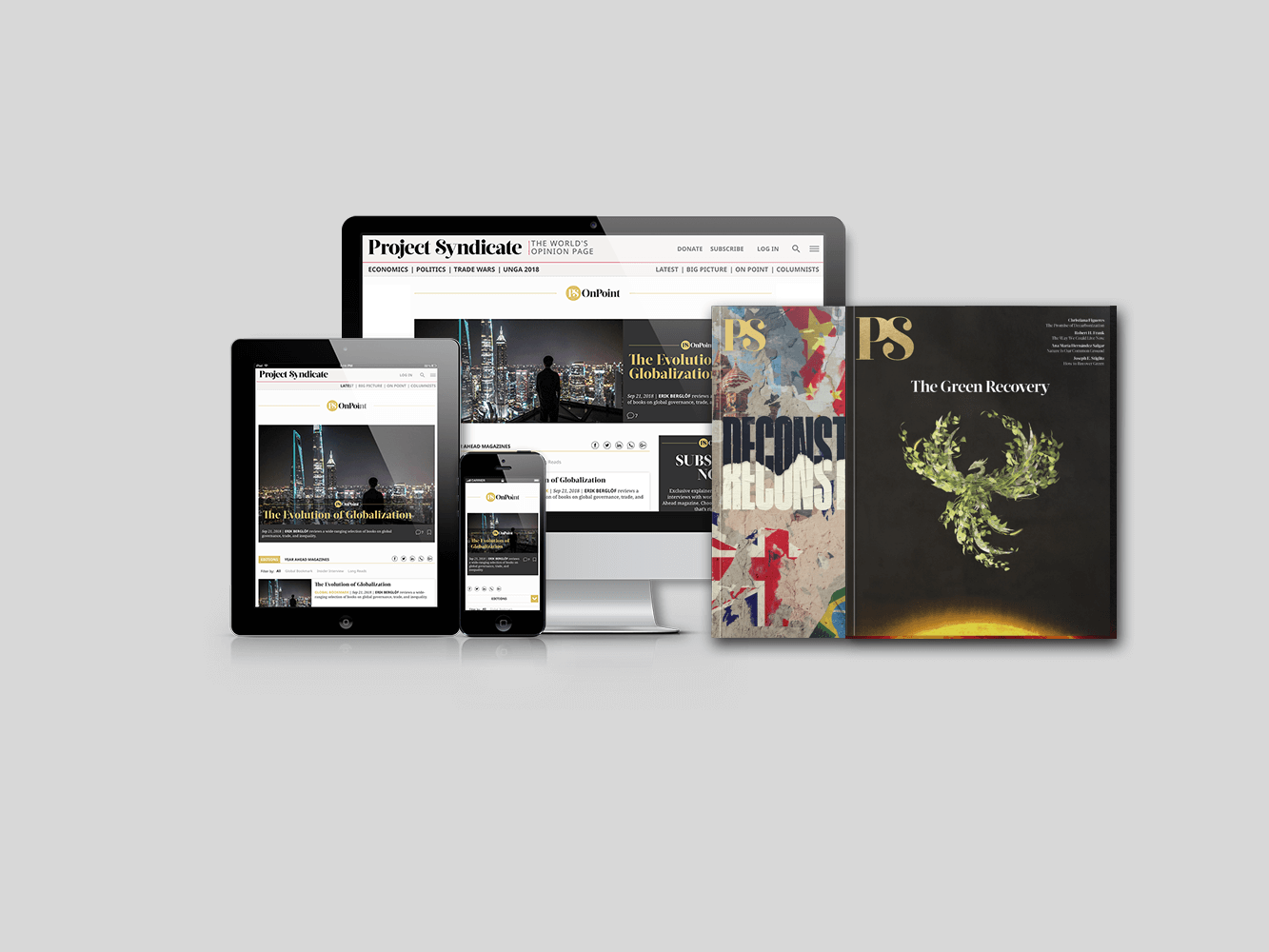 Subscribe to Project Syndicate
Enjoy unlimited access to the ideas and opinions of the world's leading thinkers, including weekly long reads, book reviews, and interviews; The Year Ahead annual print magazine; The Green Recovery special-edition print magazine; the complete PS archive; and more – All for less than $9 a month.
Eines trug den Titel Erinnerungen eines Ministerpräsidenten. Sein Verfasser: der letzte Ministerpräsident der faschistischen Diktatur meiner Jugendzeit - eine vom Brigadegeneral ernannte Marionette, die die neofaschistische Junta nach dem Massaker an Studenten vom 17. November 1973 noch weiter auf neonazistisches Terrain führte. Bei dem zweiten Buch handelte es sich um eine kleine ledergebundene Ausgabe von Mein Kampf, die 1934 in Deutschland herausgebracht wurde und sich im fortgeschrittenen Zustand des Verfalls befand. Diese Bettlektüre sollte dem Linken, der da auf Besuch gekommen war, wohl einen Schreck einjagen, wie ich mutmaßte. Und dies mit den besten Wünschen eines Bauern, der kaum Lesen und Schreiben konnte, aber trotzdem zeigen wollte, was Sache war.
In jungen Jahren verdingte sich Kapnias als "unberührbarer" Knecht bei Georgias Vater, der in dem Bergdorf, aus dem sie stammten, als so etwas wie ein Adliger galt. Während der Nazi-Besatzung agierte Georgias Vater als Mittelsmann zwischen dem britischen Geheimdienst und den örtlichen linken Partisanen, die gemeinsam Sabotageakte gegen die in der Nähe stationierte Brigade der Wehrmacht und mehrere Gruppen italienischer Soldaten verübten.  Georgia, das schönste Mädchen im Dorf, verliebte sich in einen der Partisanen und heiratete ihn heimlich. Vor dem Hintergrund eines brutalen Krieges bekam das Paar, das mit seinem Glück den Umständen trotzte, zwei Kinder.
Unterdessen schlug sich der jugendliche Knecht Kapnias auf die andere Seite: er schloss sich einer von der lokalen Gestapo aufgestellten paramilitärischen Einheit an und wurde nach Kreta geschickt, wo er in den dunklen Künsten des Verhörs und der Bekämpfung subversiver Aktivitäten geschult wurde. Dort schenkte ihm sein Ausbildner Hans auch das ledergebundene Exemplar von Mein Kampf.
Nach dem Abzug der Deutschen versank Griechenland in den Sumpf eines albtraumhaften Bürgerkriegs. Verbündete kämpften gegeneinander, Brüder gegen Brüder, Töchter gegen Väter. Georgias Ehemann kämpfte auf Seiten der Partisanen gegen die von den Briten unterstützte nationale Armee und ihr Vater, dessen Loyalität mittlerweile den Briten gehörte, fungierte als deren lokaler Getreuer. Innerhalb von zwei Jahren wurde Georgias Partisanen-Ehemann von jenen Truppen getötet, mit denen ihr Vater zusammenarbeitete. Und um ihre Tragödie komplett zu machen, töteten die Kameraden ihres Mannes auch ihren Vater. Durch die Nationalisten im Umfeld ihres Vaters hatte Georgia also ihren Mann und durch die Partisanen ihres Ehemanns auch noch den Vater verloren. So stand sie mittellos mit zwei kleinen Kindern da.
Nun schlug Kapnias' Stunde. Nach seinem Übertritt von der paramilitärischen Einheit, die die Gestapo organisiert hatte, zur lokalen Gendarmerie befand er sich nun in der Position, um Rache an der Oberschicht seines kleinen, quasi-feudalen Universums zu üben. Er trat mit einem Vorschlag an Georgia heran: "Du heiratest mich und ich werde meine Leute davon abhalten, das Land von dir und deiner kommunistischen Brut zu befreien." In dem Glauben keine andere Wahl zu haben gab sie klein bei, fand aber bis zu ihrem Tod im Jahr 2012 keine Ruhe mehr.
Als ich Kapnias im Jahr 1991 begegnete, war ich davon ausgegangen, dass Figuren wie er ein Relikt der Vergangenheit seien, die bei Beerdigungen nach und nach von der Bildfläche verschwinden würden. Ich irrte mich. Ein Gefühl der permanenten Niederlage, der Hoffnungslosigkeit und der umfassenden Demütigung schaffen ein Umfeld, in dem die schlummernde DNA des Nazismus wieder erwacht. Als die griechische Gesellschaft im Gefolge des Staatsbankrotts des Jahres 2010 in völliger Erniedrigung versank nahm eine neue Generation von Nazis mit dem gleichen Blick in den Augen wie Kapnias ihre Sitze im Parlament ein. Mittlerweile befinden sich die meisten von ihnen wegen abscheulicher Verbrechen im Gefängnis. Doch dieser Blick bleibt in den Augen zu vieler Menschen und nicht alle tragen Uniform.
Aus dem Englischen von Helga Klinger-Groier