Řečtí nacisté jdou do vězení, jejich jed se však volně šíří
ATÉNY – Sedmý říjen byl pro demokraty dobrým dnem. Řecký odvolací soud potvrdil rozsudky pro předáky strany Zlatý úsvit, jediné otevřeně nacistické strany, která od 40. let minulého století získala křesla v jakémkoliv parlamentu. Obžalovaní lídři byli odsouzeni za vraždu, těžké ublížení na zdraví a zločinné spolčování. Před soudní budovou se sešlo 20 000 Atéňanů, kteří toto rozhodnutí oslavovali.
Naše oslavy trvaly přesně 40 vteřin, než nás policie rozehnala slzným plynem. Lapali jsme se ženou po dechu a snažili se připojit ke stovkám dalších lidí, kteří se zoufale snažili uniknout úzkou uličkou vedoucí do bezpečí nedaleké hory Lycabettus. Akce se zúčastnila více než desítka pořádkových policistů, kteří metali do prchajícího davu plechovky se slzným plynem. Naléhavě jsem vyzval velitele, aby s tím přestali. "Není důvod nasazovat plyn proti lidem, kteří chtějí jít domů," řekl jsem mu klidně. Adresoval mi nadávku. Když jsem před ním vytáhl parlamentní průkaz, jeho reakce mě znepokojila: "Další důvod, proč ti dát co proto."
Odsouzení řeckých nacistických předáků je rozhodné vítězství proti obnově krajně pravicového extremismu v Evropě. Zatímco však byli tito lidé posíláni do vězení, jejich myšlenky, způsoby a nenávist k parlamentní demokracii se převlékly do policejních uniforem a terorizovaly ulice.
O týden později si mě v rámci vyšetřování zahájeného na popud mé svědecké výpovědi předvolal k výslechu policista z vnitřní inspekce. Tvář dotyčného pořádkového policisty jsem nepoznal, protože jsem v době incidentu nemohl dýchat a dobře jsem neviděl. Jedno jsem však poznal dobře: klidnou zhnusenost v jeho očích – výraz, který mi připomněl Kapniase, někdejšího vyšetřovatele vycvičeného gestapem.
Kapniase jsem poznal v roce 1991. Když jsem ho uviděl poprvé, stál právě vedle svých koz na farmě v jižním cípu poloostrova Peloponés. Dělil se o ni se svou manželkou Jajou Georgií, kterou jsem přijel z rodinných důvodů navštívit a jejíž životní příběh by si zasloužil umělecké ztvárnění nějakým talentovaným dramatikem. A i když se o Kapniasovi proslýchalo ledacos, na tichou zuřivost, s níž mě toho večera uvítal, jsem připravený nebyl.
Když jsem si odnesl věci do ložnice, kterou mi Georgia láskyplně připravila, a společně s nimi pojedl, omluvil jsem se a odjel do nedalekého městečka na setkání s místními přáteli. Po návratu hluboko po půlnoci jsem v usedlosti slyšel Kapniasovo vzdálené chrápání a vřískot vzrušených koček. Vyčerpaně jsem zamířil do postele. Na mém polštáři ležely dvě knihy.
Subscribe to Project Syndicate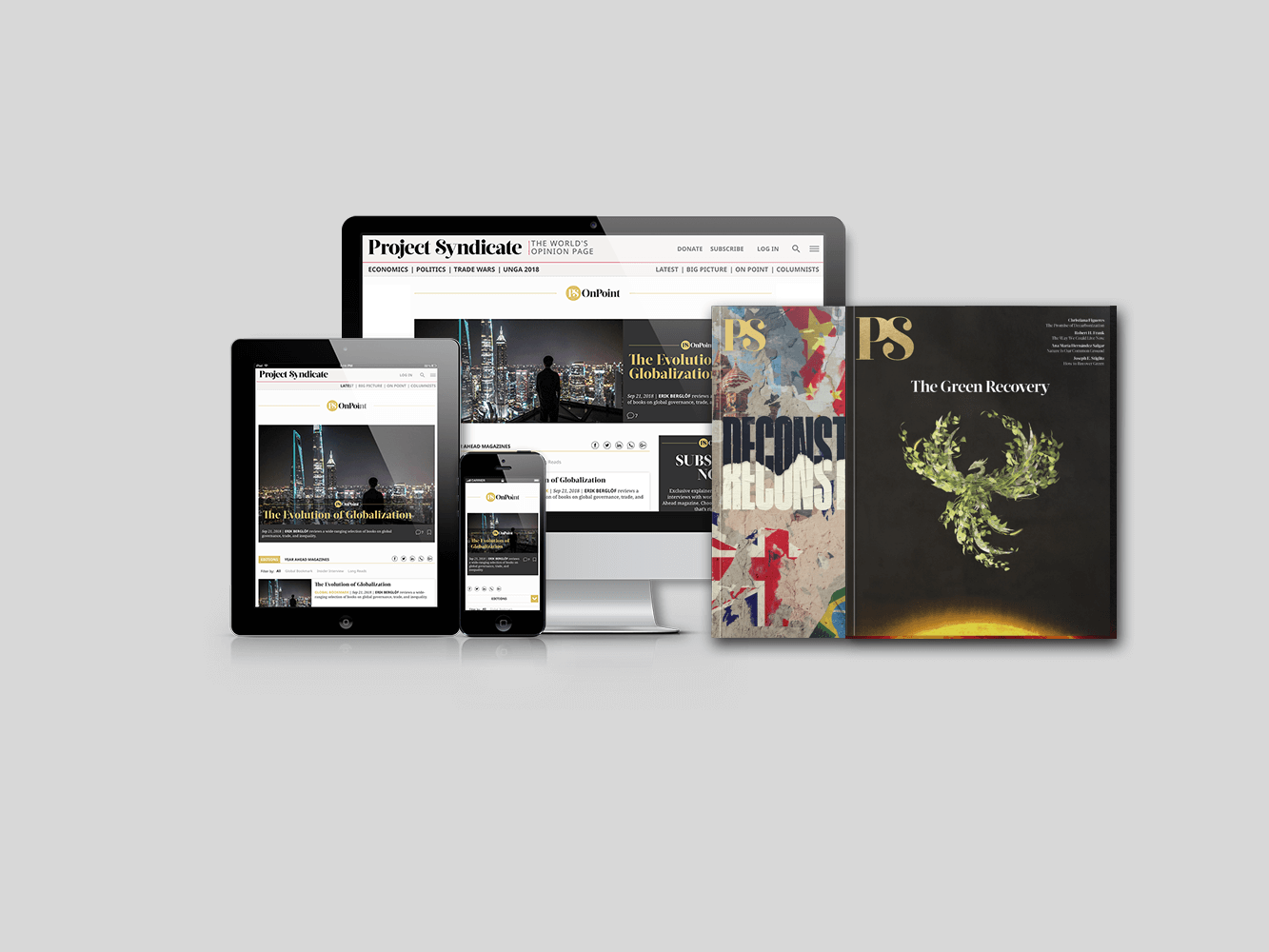 Subscribe to Project Syndicate
Enjoy unlimited access to the ideas and opinions of the world's leading thinkers, including weekly long reads, book reviews, and interviews; The Year Ahead annual print magazine; The Green Recovery special-edition print magazine; the complete PS archive; and more – All for less than $9 a month.
Jedna z nich nesla název Paměti premiéra. Jejím autorem je poslední premiér fašistické diktatury z mého mládí, loutka jmenovaná brigádním generálem, která po masakru studentů 17. listopadu 1973 posunula neofašistickou juntu dál k neonacismu. Druhá kniha byla malá, v kožené vazbě a v pokročilém rozkladu: vyšla v roce 1934 v Německu a jmenovala se Mein Kampf. Došlo mi, že toto čtení zanechal pologramotný farmář na posteli proto, aby svého levičáckého hosta patřičně šokoval.
Jako teenager byl Kapnias "nedotknutelným" zemědělským dělníkem s vazbami na Georgiina otce, který byl v jejich rodné horské vesnici něčím na způsob šlechtice. Během nacistické okupace fungoval Georgiin otec jako spojka mezi britskou rozvědkou a místními levicovými partyzány, kteří společně sabotovali nedaleký oddíl Wehrmachtu i několik čet italských vojáků. Místní kráska Georgia se do jednoho partyzána zamilovala a tajně se za něj provdala. Navzdory nelítostné válce se tomuto vzdorovitě šťastnému páru narodily dvě děti.
Dospívající čeledín Kapnias spojil svůj osud s opačnou stranou: vstoupil do polovojenské jednotky sestavené místním gestapem a byl vyslán na Krétu, kde se zaučoval v temném umění výslechu a kontrasubverze. Právě tam mu jeho instruktor Hans předal vázaný výtisk Mein Kampf.
S ústupem Němců zabředlo Řecko do bažiny hrůzné občanské války. Spojenci se obraceli proti sobě, bratr proti bratrovi, dcera proti otci. Georgiin manžel z řad partyzánů zjistil, že bojuje proti národní armádě, kterou podporovali Britové a jejímž místním stoupencem byl nyní i jeho tchán, jenž prokazoval oddanost Britům. Během dvou let zabili Georgiina muže vojáci, s nimiž její otec spolupracoval. A kamarádi zesnulého manžela jí pak zabili otce, čímž se tragédie završila. Otcovi nacionalisté udělali z Georgie vdovu, manželovi spolupartyzáni z ní udělali sirotka a ona zůstala sama, strádající a se dvěma dětmi.
Kapnias vycítil příležitost. Z gestapem organizovaného polovojenského oddílu přešel do místního četnictva, a náhle tak mohl vykonávat pomstu na vyšších vrstvách jeho malého, kvazifeudálního vesmíru. Oslovil tedy Georgiu s nabídkou: "Ty si mě vezmeš a já řeknu svým lidem, ať přestanou čistit zemi od vás a vašeho komunistického sémě." V přesvědčení, že nemá jinou možnost, se Georgia podvolila a úlevy se dočkala až po své smrti v roce 2012.
Než jsem se s Kapniasem v roce 1991 setkal, předpokládal jsem, že lidé jako on jsou pouhými relikty, které s každým dalším pohřbem mizejí. Mýlil jsem se. Pocit trvalé porážky, beznaděje a všeobecného ponížení vytváří podhoubí, v němž se opětovně probouzí spící DNA nacismu. Když řeckou společnost vystavili po státním bankrotu v roce 2010 hromadné potupě, získala parlamentní křesla nová generace nacistů s Kapniasovým výrazem v očích. Dnes sedí většina z nich za své ohavné zločiny ve vězení. Ten výraz však zůstává v očích příliš mnoha lidí, přičemž ne všichni mají na sobě uniformu.
Z angličtiny přeložil Jiří Kobělka