Financiamento global para acabar com a pandemia
NOVA YORK – As reuniões de primavera desta semana do Fundo Monetário Internacional e do Banco Mundial oferecem uma histórica chance de cooperação financeira. As principais economias, incluindo Estados Unidos, União Europeia, China e outros países do G20, já sinalizaram seu apoio a uma nova alocação de US$ 650 bilhões em ativos de reserva do FMI, direitos especiais de saque (DES), para garantir que os governos de países de baixa e média renda, tenham os meios para combater a pandemia do COVID-19 e iniciar o caminho da recuperação liderada por investimentos. Com liderança, ousadia e criatividade, essa cooperação financeira global pode ajudar a acabar com a pandemia.
A imunização em massa é a chave. Menos de um ano após o SARS-CoV-2, o vírus que causa o COVID-19, ter sido identificado e sequenciado pela primeira vez, o apoio financeiro de governos – incluindo EUA, Reino Unido, Alemanha, Rússia, China e Índia – permitiu que várias empresas lançassem vacinas seguras e eficazes. Os países ricos que negociaram rapidamente acordos favoráveis ​​com os fabricantes de vacinas receberam a maior parte das doses até agora. Mas o fim da pandemia exige que todos os países alcancem uma cobertura abrangente de vacinas o mais rápido possível. Em termos práticos, a meta não deveria ser posterior ao final de 2022.
Esse empreendimento global sem precedentes requer sólida cooperação, incluindo apoio financeiro. No entanto, a urgência deveria ser clara para todos. Enquanto o COVID-19 persistir em altas taxas de transmissão em qualquer lugar do mundo, a pandemia continuará a interromper a produção, o comércio e as viagens globais, e também dará origem a mutações virais que ameaçam minar a imunidade previamente adquirida de infecções anteriores e vacinações. Pior ainda, na trajetória atual, o COVID-19 poderia se tornar endêmico em muitas regiões do mundo, impondo altos custos econômicos e de saúde nos próximos anos. Como a secretária do Tesouro dos EUA, Janet Yellen, enfatizou esta semana, todos os países, portanto, compartilham um forte interesse em acabar com a pandemia em todos os lugares. 
Os governos mundiais estabeleceram o Acelerador de Ferramentas de Acesso ao COVID-19 (ACT-A), que inclui a instalação do Acesso Global de Vacinas COVID-19 (COVAX), o pilar da vacina do ACT-A, para garantir o controle universal do SARS-CoV-2 . Mas, embora o ACT-A e o COVAX tenham estabelecido planos globais para vacinas, testes e tratamentos, os planos precisam ser reforçados com urgência por duas razões intimamente relacionadas.
Primeiro, a meta operacional atualmente usada pelo COVAX – um mínimo de 27% da população de todos os países elegíveis imunizados até o final deste ano – precisa ser elevada à vacinação de todos os adultos até o final de 2022. Isso é necessário para acabar com a pandemia e para reduzir as chances de novas mutações.
Em segundo lugar, o planejamento até o final de 2022 é urgentemente necessário, devido aos prazos para aumentar a produção e as cadeias de abastecimento de vacinas e outros produtos essenciais. No entanto, ACT-A e COVAX permanecem subfinanciados até mesmo para 2021: os US$ 11 bilhões que os governos alocaram até agora deixam uma lacuna de US$ 22 bilhões em financiamento para este ano – um déficit que até agora atrasou o planejamento necessário até o final de 2022. Nesse ínterim, a atual escassez de vacinas está levando os países a lutar para furar a fila, inclusive ao pagar preços premium por elas. Isso ressalta a necessidade urgente de garantir que todos os países, inclusive os mais pobres, possam alcançar uma cobertura abrangente de vacinas de maneira justa e oportuna. 
Subscribe to Project Syndicate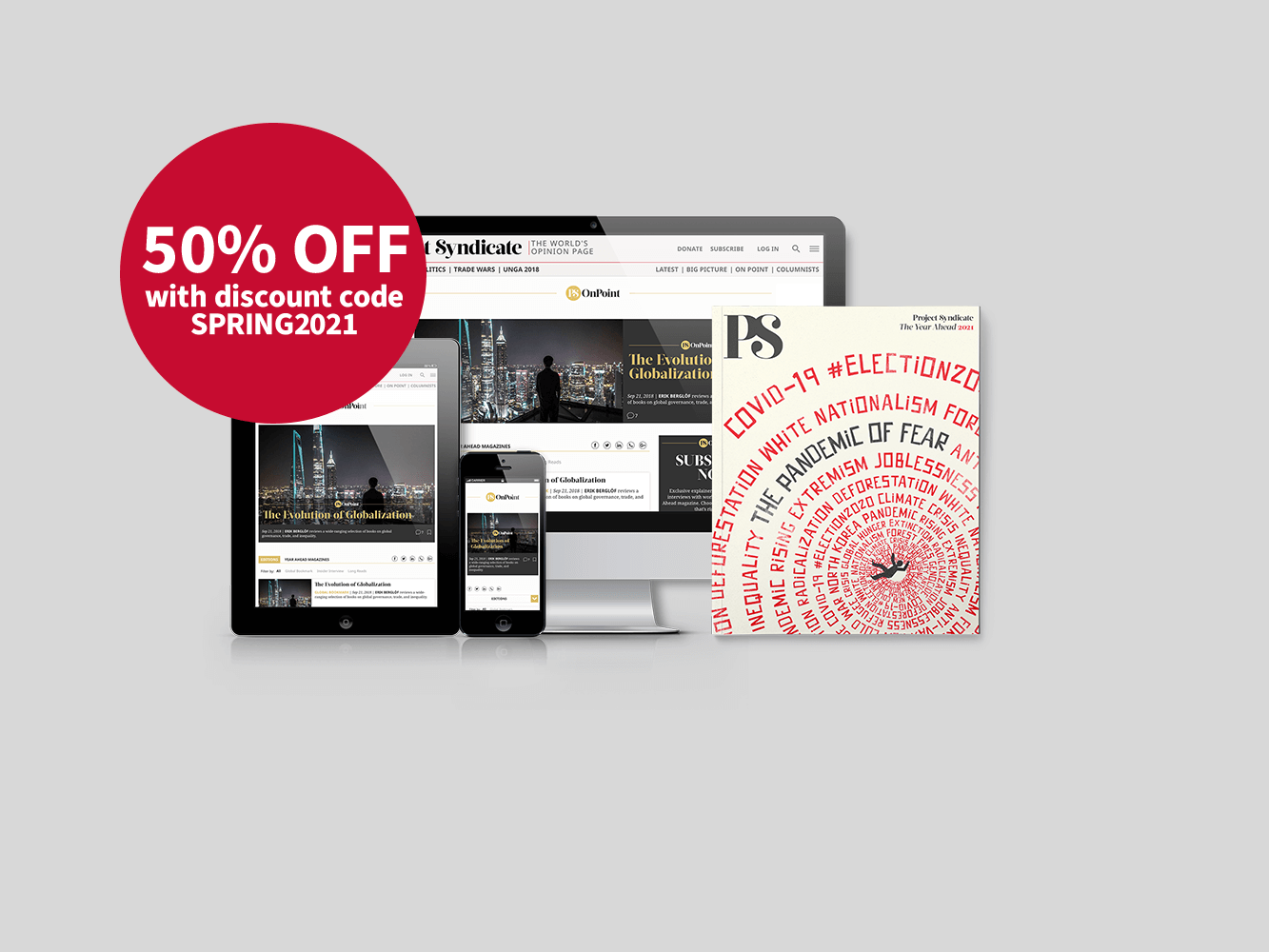 Subscribe to Project Syndicate
Enjoy unlimited access to the ideas and opinions of the world's leading thinkers, including weekly long reads, book reviews, topical collections, and interviews; The Year Ahead annual print magazine; the complete PS archive; and more. All for less than $5 a month.
Os montantes adicionais necessários para garantir a cobertura universal de vacinas até o final de 2022 e outros suprimentos para combater o  COVID-19 são modestos – talvez  US$ 50 bilhões para o ACT-A. Essa é uma quantia insignificante em relação aos enormes benefícios globais de acabar com a pandemia e os enormes gastos relacionados à pandemia por governos de países de alta renda em todo o mundo. O governo dos EUA sozinho já gastou cerca de US$ 5 trilhões em despesas de emergência entre março de 2020 e março de 2021.
Para poder trabalhar, o ACT-A (incluindo o COVAX) precisa de antecipação de financiamento para cobrir as necessidades de vacinas até 2022. Considerando que o aumento da produção de vacinas (e alguns outros produtos) requer um prazo de 6 a 12 meses, os US$ 50 bilhões deveriam ser garantidos nas próximas semanas, para que o ACT-A e o COVAX possam trabalhar com os fabricantes para garantir os suprimentos necessários. A alocação de novos DESs pelo FMI oferece uma oportunidade única – talvez a única – de conseguir esse dinheiro.
Quando os novos DESs forem emitidos, cerca de US$ 20 bilhões em novas reservas irão diretamente para os países mais pobres. Além disso, cerca de US$ 100 bilhões ou mais alocados aos países ricos serão reciclados para o FMI para serem usados ​​em empréstimos de longo prazo a juros baixos. A diretora-gerente do FMI, Kristalina Georgieva, tem trabalhado em estreita colaboração e de forma criativa com os governos do G20 para projetar essa nova e promissora abordagem. Uma ideia excelente é usar os DESs para fortalecer o Fundo de Redução e Crescimento da Pobreza (PRGT) do FMI, a janela de financiamento do Fundo para os países pobres. Parte superior do formulário.
Aqui existe um precedente importante. Em 2015, o FMI criou um Fundo de Alívio e Contenção de Catástrofes para ajudar a fornecer financiamento de emergência para o controle do Ebola para Guiné, Libéria e Serra Leoa. Desta vez, o financiamento do PRGT poderia ser condicionado ao seu uso para o ACT-A e aquisições relacionadas ao COVAX e para outras medidas de controle do COVID-19 que o governo tomador documenta junto ao FMI (como reembolsos de vacinas contra o COVID-19 que foram contratadas pelo Estado-Membro fora do COVAX).
O ACT-A está agora preparando estimativas do financiamento de que os 92 países de baixa e média renda do mundo elegíveis para apoio do COVAX precisarão para vacinas, testes, terapêuticas e outros suprimentos até o final de 2022. Com base nas necessidades estimadas de financiamento, um plano financeiro do ACT-A pode ser estabelecido para cada país, a ser apoiado pelos DESs e os fundos expandidos do PRGT.
Nas próximas semanas, um plano racional para financiar as necessidades da balança de pagamentos do COVID-19 de todos os países até o final de 2022 deverá surgir. O FMI foi criado para lidar com essa emergência de balança de pagamentos. O acesso ao financiamento do FMI protegerá o bem-estar e a estabilidade macroeconômica de cada país e do mundo como um todo. Devemos aproveitar essa oportunidade crítica para que as Nações Unidas, o FMI e os principais governos – incluindo EUA, China, Rússia, UE, Japão, Reino Unido e outros – cooperem efetivamente para o bem da humanidade.
Tradução de Anna Maria Dalle Luche, Brazil