Globale Finanzierung zur Überwindung der Pandemie
NEW YORK – Die Frühjahrstagung des Internationalen Währungsfonds und der Weltbank in dieser Woche bietet eine historische Chance für finanzielle Zusammenarbeit. Die großen Volkswirtschaften, darunter die Vereinigten Staaten, die Europäische Union, China und andere G20-Länder, haben bereits ihre Unterstützung für eine neue Zuteilung von Sonderziehungsrechten (SZR), dem Reservemedium des IWF, im Wert von 650 Milliarden US-Dollar signalisiert, um sicherzustellen, dass die Regierungen von Ländern mit niedrigem und mittlerem Einkommen über die Mittel verfügen, die Covid-19-Pandemie zu bekämpfen und einen investitionsgestützten Aufschwung einzuleiten. Mit Führungsstärke, Mut und Kreativität kann diese globale finanzielle Zusammenarbeit dazu beitragen, die Pandemie zu beenden.
Massenimpfungen sind entscheidend. Weniger als ein Jahr nachdem SARS-CoV-2, das Virus, das Covid-19 verursacht, zum ersten Mal identifiziert und sequenziert wurde, ermöglichte die finanzielle Unterstützung durch Regierungen – einschließlich der USA, Großbritanniens, Deutschlands, Russlands, Chinas und Indiens – mehreren Unternehmen die Einführung sicherer und wirksamer Impfstoffe. Reiche Länder, die schnell vorteilhafte Verträge mit Impfstoffherstellern aushandelten, haben bisher die meisten Impfdosen erhalten. Um die Pandemie zu beenden, müssen jedoch alle Länder so schnell wie möglich eine flächendeckende Durchimpfung erreichen. Konkret sollte das Ziel spätestens Ende 2022 erreicht sein.
Ein solch beispielloses globales Unterfangen erfordert eine starke Zusammenarbeit, einschließlich finanzieller Unterstützung. Dabei sollten sich alle über die Dringlichkeit im Klaren sein. Solange überall auf der Welt hohe Infektionsraten mit Covid-19 vorliegen, wird die Pandemie die globale Produktion, den Handel und den Reiseverkehr weiterhin stören und Virusmutationen hervorbringen, die die zuvor erworbene Immunität aus früheren Infektionen und Impfungen zu untergraben drohen. Noch schlimmer ist, dass Covid-19 beim derzeitigen Verlauf der Entwicklung in vielen Regionen der Welt endemisch werden könnte und auf Jahre hinaus hohe gesundheitliche und wirtschaftliche Kosten verursachen würde. Wie US-Finanzministerin Janet Yellen diese Woche betonte, haben daher alle Länder großes Interesse daran, die Pandemie überall zu beenden.  
Die Regierungen der Welt haben die globale Kooperationsplattform für Covid-19-Innovationen (Access to COVID-19 Tools Accelerator, ACT-A) ins Leben gerufen, zu der auch die COVAX-Initiative gehört, die Impfstoffsäule von ACT-A, um die weltumfassende Eindämmung von SARS-CoV-2 sicherzustellen. Im Rahmen von ACT-A und COVAX sind zwar globale Pläne für Impfstoffe, Tests und Behandlungen aufgestellt worden, doch diese Pläne müssen aus zwei eng miteinander zusammenhängenden Gründen dringend gestärkt werden.
Erstens muss das derzeitige operative Ziel von COVAX – ein Minimum von 27% der Bevölkerung aller in Frage kommenden Länder bis Ende dieses Jahres zu impfen – auf die Impfung aller Erwachsenen bis Ende 2022 erhöht werden. Das ist notwendig, um die Pandemie zu beenden und die Wahrscheinlichkeit neuer Mutationen zu verringern.
Zweitens ist es angesichts der Vorlaufzeiten für die Skalierung der Produktion und der Lieferketten von Impfstoffen und anderen wichtigen Rohstoffen dringend erforderlich bis Ende 2022 zu planen. Doch ACT-A und COVAX sind selbst für 2021 noch unterfinanziert: Die bisher von den Regierungen zugewiesenen elf Milliarden Dollar lassen für dieses Jahr eine Finanzierungslücke von 22 Milliarden Dollar – ein Fehlbetrag, der die notwendige Planung bis Ende 2022 bisher verzögert hat. In der Zwischenzeit führt der aktuelle Impfstoffmangel dazu, dass wartende Länder versuchen sich vorzudrängeln, auch durch die Zahlung von Höchstpreisen. Dies unterstreicht die dringende Notwendigkeit dafür zu sorgen, dass alle Länder, auch die ärmsten, eine umfassende Impfstoffversorgung auf faire und zeitnahe Weise erreichen können.
Subscribe to Project Syndicate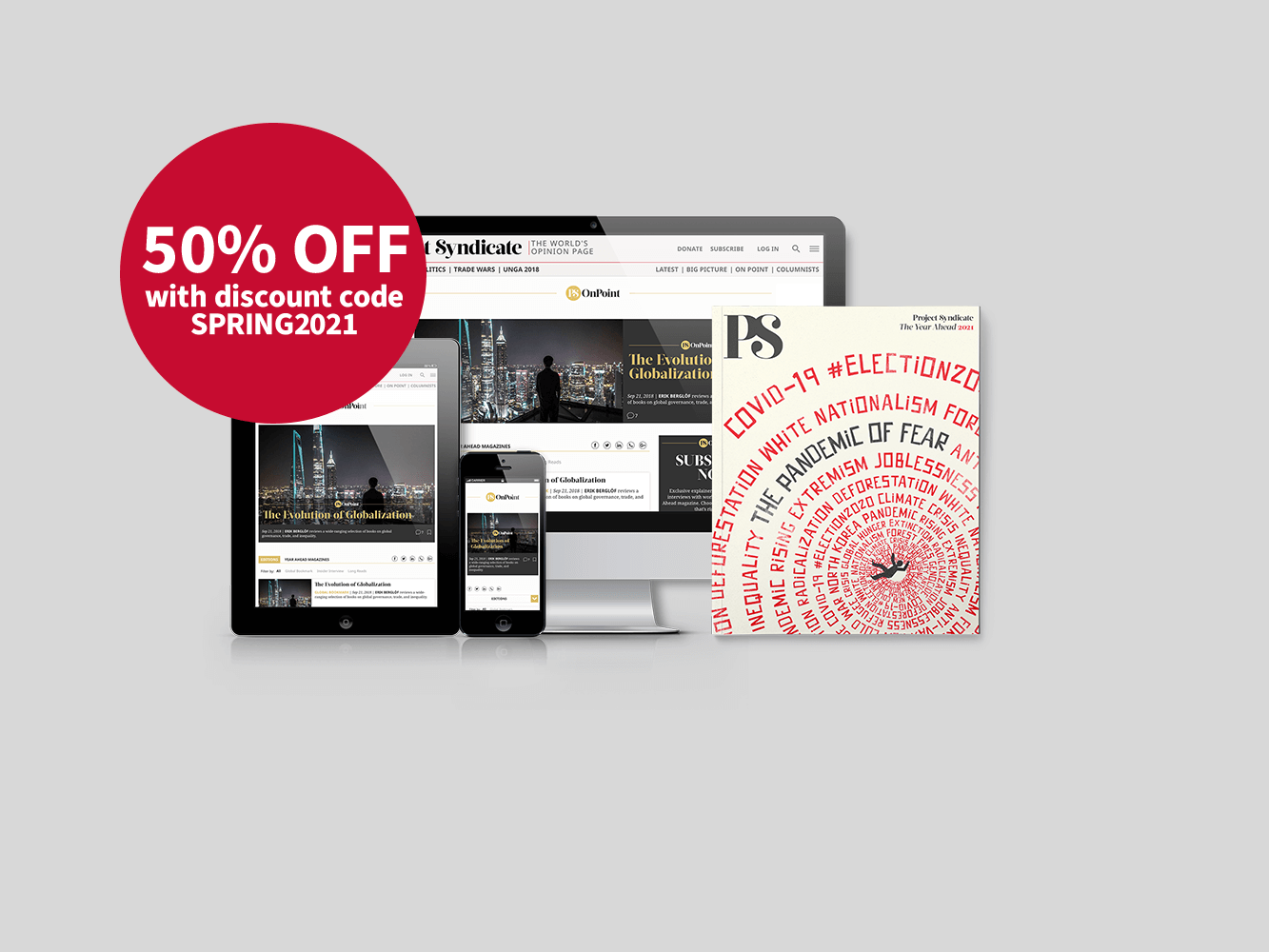 Subscribe to Project Syndicate
Enjoy unlimited access to the ideas and opinions of the world's leading thinkers, including weekly long reads, book reviews, topical collections, and interviews; The Year Ahead annual print magazine; the complete PS archive; and more. All for less than $5 a month.
Die zusätzlichen Summen, die benötigt werden, um bis Ende 2022 eine weltumfassende Durchimpfung und die Versorgung mit anderen Güter im Zusammenhang mit Covid-19 sicherzustellen, sind bescheiden – vielleicht 50 Milliarden Dollar für ACT-A. Das ist eine geringfügige Summe im Vergleich zu den enormen globalen Vorteilen der Beendigung der Pandemie und den massiven pandemiebezogenen Ausgaben der Regierungen von Ländern mit hohem Einkommen auf der ganzen Welt. Allein die US-Regierung hat zwischen März 2020 und März 2021 rund fünf Billionen Dollar an Corona-Hilfen ausgegeben.
Um seine Aufgabe zu erfüllen, benötigt ACT-A (einschließlich COVAX) eine Finanzierung im Voraus, um den Impfstoffbedarf bis 2022 zu decken. Angesichts der Tatsache, dass die Aufstockung der Produktion von Impfstoffen (und einigen anderen Rohstoffen) eine Vorlaufzeit von 6-12 Monaten erfordert, sollten die 50 Milliarden Dollar in den kommenden Wochen garantiert werden, damit ACT-A und COVAX mit den Herstellern zusammenarbeiten können, um die notwendigen Lieferungen sicherzustellen. Die Zuteilung neuer SZR durch den IWF bietet eine einmalige – und vielleicht die einzige – Gelegenheit, diese Finanzierung in den Griff zu bekommen.
Wenn die neuen SZR ausgegeben werden, werden etwa 20 Milliarden Dollar der neuen Reserven direkt an die ärmsten Länder gehen. Zusätzlich werden etwa 100 Milliarden Dollar oder mehr, die den reichen Ländern zugeteilt werden, an den IWF zurückfließen, um für langfristige, zinsgünstige Kredite verwendet zu werden. Die geschäftsführende Direktorin des IWF, Kristalina Georgieva, hat eng und kreativ mit den G20-Regierungen zusammengearbeitet, um diesen neuartigen, vielversprechenden Ansatz zu entwickeln. Eine hervorragende Idee ist es, die SZR zu nutzen, um den Treuhandfonds Poverty Reduction and Growth Trust (PRGT) des IWF zu stärken, die Kreditfazilität des Fonds für arme Länder.
Hierfür gibt es einen wichtigen Präzedenzfall. Im Jahr 2015 schuf der IWF den Treuhandfonds Catastrophe and Containment Relief Fund, um Guinea, Liberia und Sierra Leone bei der Finanzierung der Eindämmung der Ebolakrise zu helfen. Dieses Mal könnte die PRGT-Finanzierung an die Bedingung geknüpft werden, dass sie für ACT-A- und COVAX-bezogene Beschaffung und für andere Maßnahmen zur Eindämmung von Covid-19 verwendet wird, die die kreditnehmende Regierung dem IWF gegenüber dokumentiert (wie etwa Erstattungen für Covid-19-Impfstoffe, die vom teilnehmenden Staat außerhalb von COVAX beschafft wurden).
ACT-A erstellt nun Schätzungen über die Finanzierung, die die 92 Länder mit niedrigem und mittlerem Einkommen, die für eine Unterstützung durch COVAX in Frage kommen, bis Ende 2022 für Impfstoffe, Tests, Therapeutika und andere Güter benötigen werden. Auf der Grundlage des geschätzten Finanzierungsbedarfs kann für jedes Land ein ACT-A-Finanzplan erstellt werden, der durch die SZR und die erweiterten PRGT-Mittel unterstützt werden soll.
In den nächsten Wochen dürfte ein rationaler Plan zur Finanzierung des COVID-19-Zahlungsbilanzbedarfs aller Länder bis Ende 2022 entstehen. Der IWF wurde geschaffen, um den Finanzierungsbedarf für die Zahlungsbilanz in einem solchen Notfall zu decken. Der Zugang zu IWF-Mitteln wird das Wohlergehen und die makroökonomische Stabilität einzelner Länder und der Welt insgesamt schützen. Wir müssen diese entscheidende Chance für die Vereinten Nationen, den IWF und wichtige Regierungen – darunter die USA, China, Russland, die EU, Japan, Großbritannien und andere – ergreifen, effektiv zum Wohle der Menschheit zusammenzuarbeiten.
Aus dem Englischen von Sandra Pontow