Een wereld zonder AIDS, tuberculose en malaria is mogelijk
PARIJS – Als onderdeel van de Agenda voor Duurzame Ontwikkeling van de Verenigde Naties heeft de internationale gemeenschap zichzelf het ambitieuze doel gesteld van het uitroeien van HIV, tuberculose en malaria tegen 2030. Ondanks de buitengewone vorderingen die al zijn geboekt zal het voor het beëindigen van deze pandemieën en het verwezenlijken van de bredere doelstelling van het zeker stellen van de gezondheid en het welzijn van allen nodig zijn de inspanningen te versterken voor de steun aan landen bij het opbouwen van veerkrachtige en inclusieve gezondheidszorgsystemen.
Het Global Fund to Fight AIDS, Tuberculosis, and Malaria, een publiek-private partnerschap, heeft aanzienlijk aan deze inspanningen bijgedragen door de preventie en de behandeling van deze ziekten enorm op te schalen. In landen waarin het Global Fund investeert hebben 18,9 miljoen mensen in 2018 anti-retrovirale behandelingen tegen HIV gekregen, werden 5,3 miljoen tuberculosepatiënten behandeld, en werden 131 miljoen muggennetten gedistribueerd.
Deze inspanningen zijn enorm effectief gebleken bij het terugdringen van het aantal doden als gevolg van deze pandemieën. De jongste cijfers duiden erop dat 32 miljoen levens zijn gered sinds de oprichting van het Global Fund in 2002. Het afgelopen decennium is het jaarlijkse aantal sterfgevallen als gevolg van HIV, tuberculose en malaria met ongeveer de helft omlaag gebracht.
Toch liggen we nog steeds niet op koers om HIV, tuberculose en malaria in 2030 uit te roeien. Om dit doel te verwezenlijken moeten we niet alleen de toegang tot behandelingen drastisch uitbreiden, maar moeten we ook een scherpe daling van de nieuwe besmettingen bewerkstelligen.
Voor succes zullen duidelijk politiek leiderschap en duurzame investeringen in cruciale capaciteiten nodig zijn, zoals goed opgeleide gezondheidszorgwerkers op gemeenschapsniveau, kosteneffectieve aanbodketens, datasystemen van goede kwaliteit en goed uitgeruste laboratoria. Om ervoor te zorgen dat de gezondheidszorgdiensten de armsten en meest gemarginaliseerden bereiken moeten de barrières voor de toegang tot gezondheidszorg – zoals gebruikersvergoedingen, belemmeringen die samenhangen met de mensenrechten, of genderongelijkheid – worden weggenomen. De actieve betrokkenheid van de gemeenschappen is in dit verband cruciaal.
Er is uiteraard geen oplossing die op alles en iedereen toepasbaar is. Landen en gemeenschappen moeten strategieën ontwerpen die rekening houden met de behoeften van hun inwoners en die de specifieke dreigingen weerspiegelen waaraan zij bloot staan.
Subscribe now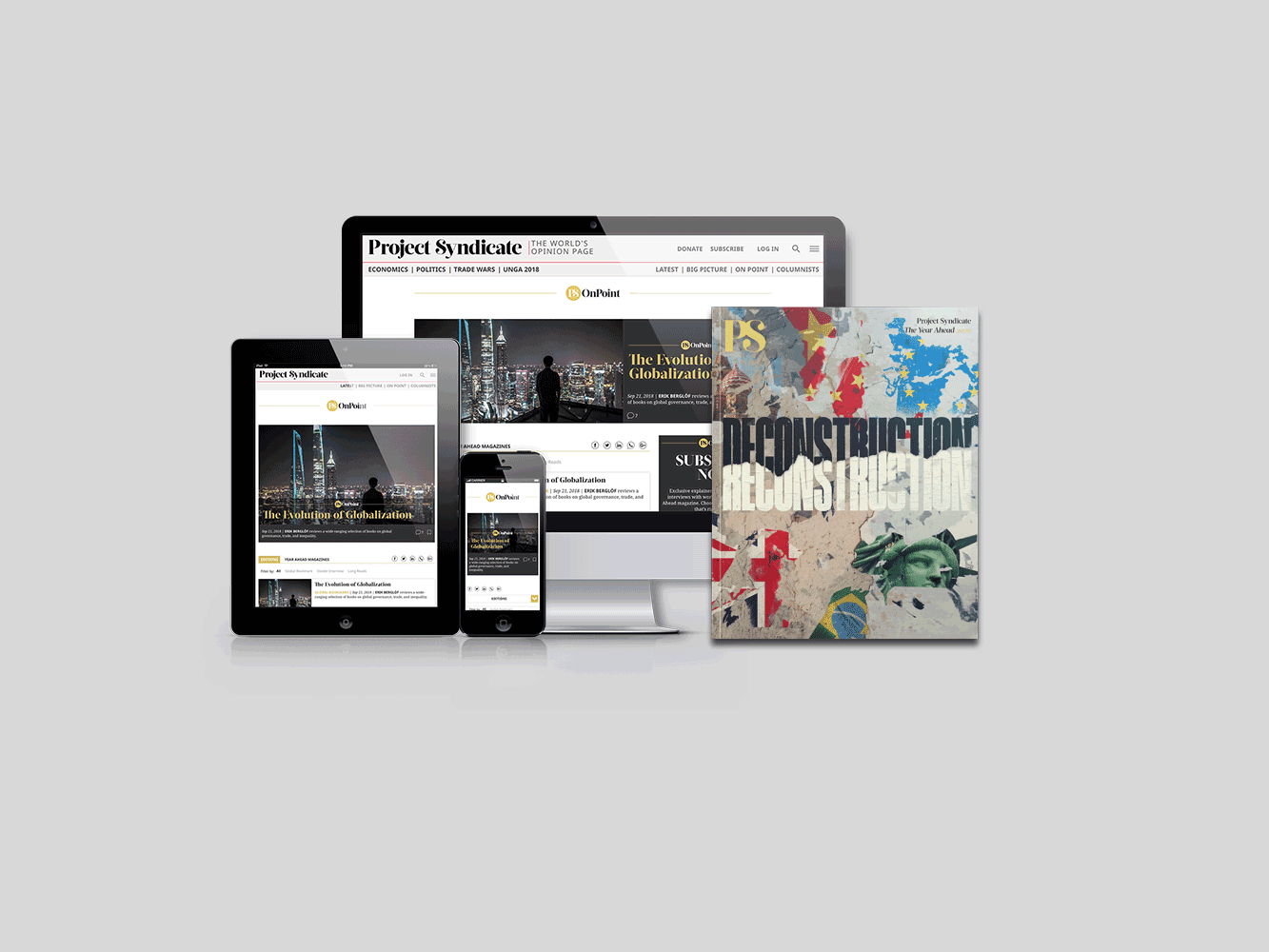 Subscribe now
Subscribe today and get unlimited access to OnPoint, the Big Picture, the PS archive of more than 14,000 commentaries, and our annual magazine, for less than $2 a week.
Bovendien kan geen enkele externe ontwikkelingspartner alle noodzakelijke steun bieden. Dat is de reden dat wij oproepen tot innovatieve coalities van multilaterale en bilaterale ontwikkelingsorganisaties die hun complementaire krachten bundelen om de nationale capaciteiten te versterken. Dergelijke gecoördineerde steun is het dringendst nodig in regio's – zoals de Sahel in het ten zuiden van de Sahara gelegen deel van Afrika – die zwakke instellingen en een zwakke infrastructuur kennen, en bijzonder kwetsbaar zijn voor bedreigingen van de veiligheid en ecologische crises..
In Ivoorkust hebben het Global Fund en het Agence Française de Développement (AFD) geïnvesteerd in de oprichting, samen met de regering van Ivoorkust, van een regionaal bureau voor het nationale geneesmiddelencentrum. Dit zal de levering van behandelingen zo dicht mogelijk bij de plaatselijke gemeenschappen brengen, waardoor het vermogen van de nationale gezondheidszorgautoriteiten wordt versterkt om de meest kwetsbaren op een duurzame manier te bereiken.
Op dezelfde manier steunen het AFD en het Global Fund het ministerie voor Volksgezondheid van Niger bij zijn pogingen om de toegang tot gezondheidsproducten uit te breiden en het nationale netwerk van laboratoria te versterken, waardoor de diagnoses voor onder meer HIV/AIDS, tuberculose en malaria kunnen worden verbeterd. Door synergie te bewerkstelligen tussen de diverse activiteiten en dubbeling van de inspanningen te voorkomen, kunnen we Niger steunen bij de versterking van zijn gezondheidszorgsysteem, ook op gemeenschapsniveau.
Het vermijden van verkokerd denken is de raison d'être van de recente partnerschapsovereenkomst tussen het Global Fund en het AFD. Onder het leiderschap van de nationale gezondheidszorgautoriteiten streven we naar grotere convergentie en synergie tussen de programma's ter bestrijding van HIV/AIDS, tuberculose en malaria, zoals het Global Fund die financiert, en initiatieven om de gezondheidszorgsystemen te versterken, zoals diegene waarin het AFD investeert. Door de mate te benadrukken waarin deze twee gebieden onderling verbonden zijn is het Global Fund nu al de grootste multilaterale verstrekker van subsidies voor de versterking van gezondheidszorgsystemen, waarin ruim $1 mrd per jaar wordt geïnvesteerd.
Door de kracht van onze organisaties te combineren herbevestigen wij onze toewijding aan het verzekeren van effectieve samenwerking en gecoördineerde actie om HIV, tuberculose en malaria uit te roeien, en sterke en veerkrachtige gezondheidszorgsystemen op te bouwen, met name in de meest kwetsbare landen. De internationale gemeenschap heeft een gedeelde verantwoordelijkheid om haar verplichtingen te vervullen zonder ook maar iemand achter te laten.
Om tegen 2030 een einde te maken aan de epidemieën van HIV, tuberculose en malaria zal de gebruikelijke aanpak niet volstaan. We moeten de strijd verder opvoeren. Dit betekent dat er meer geïnvesteerd zal moeten worden in gezondheidszorgsystemen en dat er effectieve nieuwe partnerschappen moeten worden gesloten, zoals het partnerschap tussen het AFD en het Global Fund.
Vertaling: Menno Grootveld
,