¿Está contrayendo Alemania la enfermedad impositiva de Trump?
BERLÍN – Después de meses de negociaciones, otro gran gobierno de coalición – formado por la Unión Demócrata Cristiana (CDU) de la Canciller Ángela Merkel y un renuente Partido Social Demócrata (SPD) – está tomando forma en Alemania. Pero es probable que el nuevo gobierno pierda la oportunidad que brinda la robusta situación económica y financiera de Alemania para llevar a cabo las tan necesarias reformas.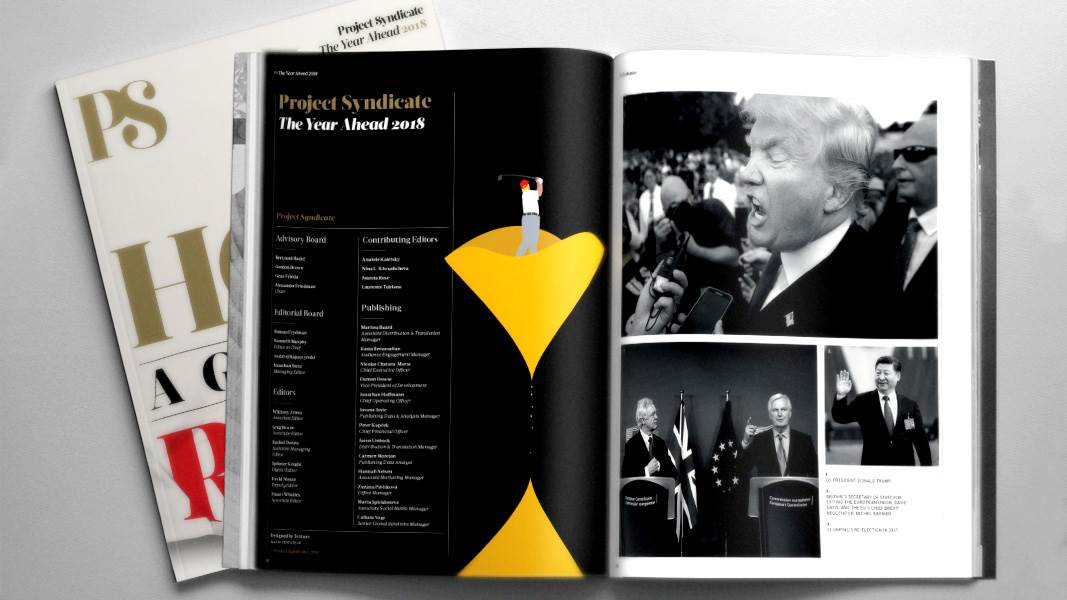 The Year Ahead 2018
The world's leading thinkers and policymakers examine what's come apart in the past year, and anticipate what will define the year ahead.
De hecho, las políticas fiscales que está debatiendo el emergente gobierno de Alemania se asemejan notablemente a las del presidente estadounidense Donald Trump, cuyo plan impositivo, según coinciden la mayoría de los economistas, traerá beneficios limitados a corto plazo para unos pocos, pero enormes costos a largo plazo para muchos más. De hecho, el incipiente gobierno alemán debate la implementación de un recorte de impuestos para las empresas y los ricos, mientras que al mismo tiempo aumenta el gasto en el consumo público, especialmente las pensiones públicas.
En Estados Unidos, Trump ha convencido a muchos de sus seguidores de bajos ingresos de que su plan de impuestos los beneficiará a ellos, y no sólo a su séquito de adinerados. Una hazaña similar se ha logrado en Alemania, ya que algunos poderosos grupos de presión persuadieron a votantes de clase media de que ellos se beneficiarán de un recorte de impuestos.
Estos grupos afirman, por ejemplo, que elevar el umbral de ingresos para la tasa impositiva marginal más alta ayudará a los votantes de ingresos medios, a pesar de que la tasa impositiva marginal más alta ahora se aplica a sólo el 7% de los empleados alemanes. Del mismo modo, el plan para abolir el recargo fiscal sobre los ingresos más altos (Solidaritätszuschlag), introducido después de la reunificación a principios de la década de 1990, beneficiará casi exclusivamente al 30% superior de los que perciben ingresos.
Esto es aún más problemático debido a que el 30% superior de los que perciben ingresos en Alemania ya están sujetos a una tasa impositiva más baja que hace 20 años, a pesar de que su riqueza ha aumentado. El 70% inferior paga, en su mayoría, mucho más en impuestos directos e indirectos, a pesar de que, a menudo, tiene ingresos más bajos.
Los argumentos a favor de recortar los impuestos corporativos son igualmente defectuosos. Al igual que Trump, los políticos y los grupos de presión alemanes afirman que las empresas nacionales necesitan un recorte de impuestos para continuar siendo competitivas a nivel internacional. No obstante, las empresas de exportación de Alemania son innegablemente muy competitivas, y han logrado en gran medida aumentar su participación en el mercado mundial desde los años noventa. Además, las ganancias corporativas alcanzaron niveles récord en los últimos años; y, si bien los impuestos corporativos en Alemania permanecen en niveles relativamente altos en comparación con otros países, se los redujo significativamente en la década del 2000.
Más allá de tener sólo beneficios económicos limitados, los recortes de impuestos propuestos en Alemania – al igual que los de Trump en Estados Unidos – representan una gran presión para las finanzas públicas a largo plazo. Si bien el sector público de Alemania actualmente cuenta con un superávit de alrededor del 1.3% del PIB, eso es en gran parte el resultado de la buena suerte, no de las buenas políticas: si no se tuviesen tasas de interés bajas y un mercado laboral fuerte, el presupuesto federal estaría en déficit.
Sin embargo, los cambios demográficos significan que los pasivos contingentes con respecto a las pensiones públicas y la atención de la salud en Alemania se elevarán drásticamente en las próximas décadas. Cubrir estos costos requerirá que los impuestos aumenten sustancialmente y/o que se reduzca el gasto – es decir, que ocurra precisamente lo contrario a lo que promete el gobierno de la CDU/SPD.
Esto no significa que el gobierno de Alemania no deba contemplar reducciones de impuestos o aumentos de gastos. Sin embargo, con el fin de garantizar que dichos cambios tengan el máximo impacto positivo, sin dañar a las generaciones más jóvenes, deben diseñarse de manera fundamentalmente diferente.
Es probable que la mayor debilidad económica de Alemania en la actualidad sea la baja inversión privada. Ya que el sector corporativo alemán acumuló ganancias masivas durante más de una década, los recursos están ciertamente disponibles. Sin embargo, la sobrerregulación, las pesadas cargas burocráticas, la incertidumbre con respecto a las políticas, la deficiente infraestructura digital y de transporte, y, en algunas industrias, la falta de trabajadores calificados, actualmente impiden que las empresas realicen inversiones en funciones nuevas y existentes.
El gobierno no necesita abordar simultáneamente todos los obstáculos que afectan a la inversión y la innovación. Como mínimo, debería crear incentivos fiscales para la investigación y el desarrollo, así como para las inversiones de capital. También debería diseñar disposiciones para apoyar a las pequeñas y medianas empresas, a la par de luchar contra la evasión fiscal de las grandes empresas.
Además, el gobierno de Alemania debería usar su holgura fiscal para invertir en educación, en particular en centros preescolares y escuelas primarias. Y, debería invertir en el desarrollo de una infraestructura digital internacionalmente competitiva y un sistema de seguridad social que garantice la participación en la fuerza laboral y reduzca el desempleo de largo plazo.
En muchos sentidos, la economía de Alemania es próspera. Pero eso no es motivo para que el gobierno desperdicie su considerable superávit fiscal en recortes de impuestos y aumentos de gastos económicamente inútiles. Por el contrario, el superávit crea una oportunidad importante para abordar los desafíos a largo plazo que enfrenta Alemania – una oportunidad que el próximo gobierno de Merkel no debe desperdiciar.
Traducción del inglés: Rocío L. Barrientos