Trump, un mauvais exemple pour l'Allemagne
BERLIN – En Allemagne, après des mois de négociation, une nouvelle grande coalition gouvernementale se dessine. Elle rassemble l'Union démocrate chrétienne (CDU) de la chancelière Angela Merkel et le parti social démocrate (SPD) qui a fait preuve de beaucoup de réticence. Mais elle ne va probablement pas saisir la chance offerte par la bonne situation économique et financière du pays pour entreprendre les réformes indispensables.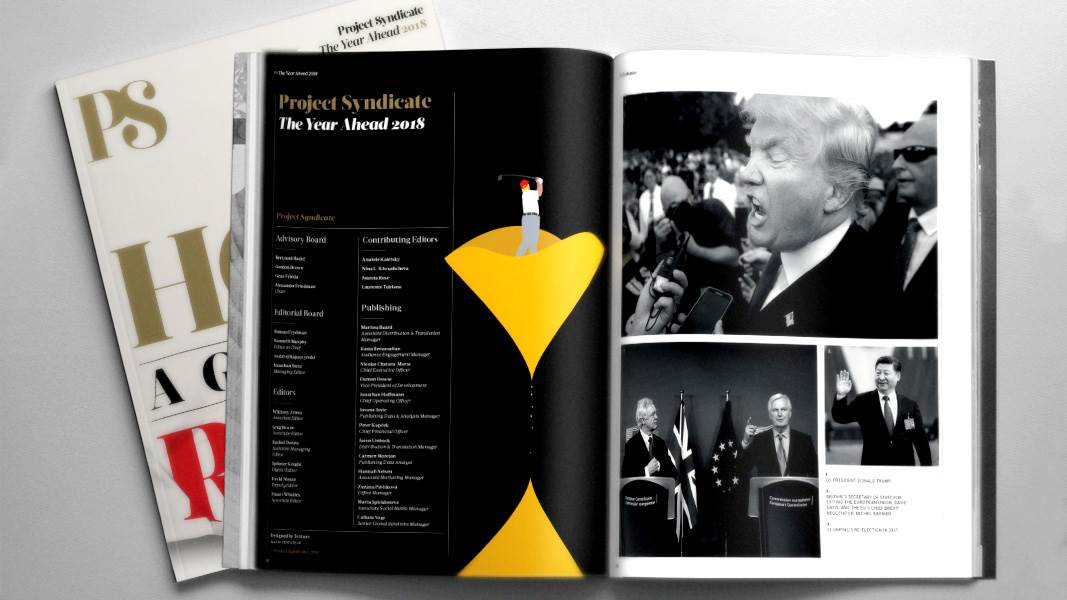 The Year Ahead 2018
The world's leading thinkers and policymakers examine what's come apart in the past year, and anticipate what will define the year ahead.
La politique budgétaire qu'elle envisage ressemble beaucoup à celle de Donald Trump. Or selon la plupart des économistes, si elle apporte quelques avantages limités à court terme à une minorité de la population, cette politique sera très coûteuse à long terme pour la majorité. De son coté, le gouvernement allemand en formation discute de baisses d'impôts pour les entreprises et pour les riches, et de l'augmentation des dépenses publiques, notamment en ce qui concerne les retraites.
Aux USA, Trump a réussi à convaincre nombre de ses partisans à faible revenu qu'ils allaient bénéficier de sa réforme fiscale et qu'elle n'est pas destinée exclusivement aux plus riches. Il en est de même en Allemagne où des lobbies puissants persuadent les électeurs des classes moyennes qu'une baisse de la fiscalité améliorerait leur sort. Ils déclarent par exemple ainsi que la hausse du seuil de revenu correspondant au taux marginal maximum d'imposition aidera les contribuables des classes moyennes, alors qu'aujourd'hui seuls 7% des salariés allemands sont concernés.
De même, le projet consistant à abolir l'impôt supplémentaire sur les revenus les plus élevés (Solidaritätszuschlag) introduit après la réunification au début des années 1990 bénéficiera presque exclusivement aux 30% des contribuables les plus riches. C'est d'autant plus problématique que leur taux d'imposition est plus bas qu'il y a 20 ans, alors qu'ils se sont enrichis depuis et que les 70% de contribuables restant payent nettement plus d'impôts directs et indirects.
Les arguments en faveur de la réduction de l'impôt sur les sociétés sont également biaisés. Comme Trump, les dirigeants politiques allemands et les lobbies prétendent que les impôts des entreprises doivent baisser pour qu'elles restent compétitives. Pourtant les exportations allemandes sont indéniablement compétitives et elles ont largement accru leurs parts sur les marchés mondiaux depuis les années 1990. Leurs profits atteignent des sommets depuis quelques années et si l'impôt sur les sociétés est relativement élevé en Allemagne comparé à d'autres pays, il a nettement diminué au cours des années 2000.
Au-delà de leur faible intérêt économique, les baisses d'impôts envisagées en Allemagne (comme celles de Trump aux USA) constitueront à long terme un fardeau pour les finances publiques. Le budget fédéral allemand est excédentaire à hauteur de 1,3% du PIB, mais c'est davantage dû au hasard qu'à un choix politique judicieux : si les taux d'intérêt n'étaient pas si faibles et sans un marché du travail vigoureux, il serait déficitaire.
Par ailleurs, du fait de l'évolution démographique, le passif lié aux retraites et au système de santé va faire un bond au cours des prochaines décennies. Couvrir leur coût exigera des hausses d'impôt substantielles et/ou des réductions des dépenses - l'opposé de ce que promet le gouvernement CDU/SPD.
Pour autant, le gouvernement allemand ne doit pas exclure toute réduction d'impôts ou augmentation des dépenses. Mais pour que ces mesures aient le meilleur impact possible sans se faire au détriment des nouvelles générations, il faut les concevoir fondamentalement différemment.
Le talon d'Achille de l'économie allemande réside sans doute dans la faiblesse de l'investissement privé. Depuis plus de 10 ans le secteur privé allemand ayant accumulé des bénéfices considérables, il dispose de ressources importantes. Néanmoins, une réglementation et une bureaucratie trop pesantes, les incertitudes politiques, l'insuffisance des infrastructures en matière de numérique et de transport, et dans certains secteurs d'une main d'œuvre qualifiée, freinent l'investissement privé et l'innovation.
Le gouvernement n'a pas besoin de s'attaquer simultanément à tous les obstacles à l'investissement et à l'innovation, mais il devrait au moins créer des incitations fiscales en faveur de la R&D (recherche et développement) et encourager les placements en actions. Il devrait également aider les PME tout en combattant l'évasion fiscale des grandes entreprises.
Enfin, il devra utiliser sa marge d'action budgétaire pour investir dans les maternelles et dans l'éducation primaire. Il devra aussi améliorer les infrastructures digitales pour qu'elles soient compétitives au niveau international et développer le système de sécurité sociale pour accroître la participation de la main d'œuvre à l'activité économique et diminuer le chômage de longue durée.
Sous différents aspects, l'économie allemande est prospère. Mais ce n'est pas une raison pour que le gouvernement gaspille son important excèdent budgétaire en baisses d'impôts et augmentation des dépenses inutiles. Au contraire, cet excédent offre l'occasion à l'Allemagne de faire face aux défis à long terme auxquels elle est confrontée - une occasion que le prochain gouvernement de Merkel ne doit pas laisser passer.
Traduit de l'anglais par Patrice Horovitz