Allemagne : les fantômes de Weimar
PRINCETON – Les résultats des élections allemandes offrent un étrange paradoxe : l'Union chrétienne-démocrate de la chancelière Angela Merkel est indubitablement le parti le plus puissant, et il est impensable qu'une coalition puisse se constituer sans elle, mais ni la CDU ni son ancien partenaire de la coalition gouvernementale, le parti social-démocrate, n'ont brillé. La première réaction de nombreux dirigeants du SPD, après la piètre performance du parti (20,4% des voix, contre 25,7% en 2013), aura été de se prononcer en faveur d'une cure d'opposition.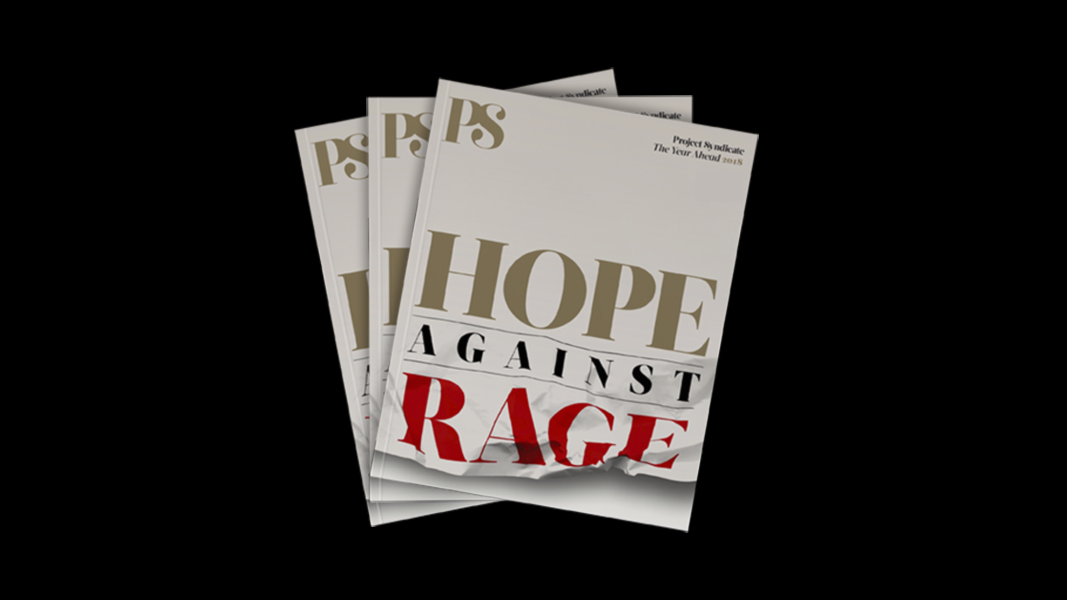 The Year Ahead 2018
The world's leading thinkers and policymakers examine what's come apart in the past year, and anticipate what will define the year ahead.
Ce réflexe – fuir le pouvoir – évoque les pratiques politiques de l'éphémère expérience démocratique allemande de l'entre-deux-guerres, la République de Weimar. Depuis la création de la République fédérale, en 1949, une question hante la politique allemande : l'épisode de Weimar pourrait-il se répéter, avec, à la clé, un nouveau triomphe de l'extrême-droite ? Aujourd'hui, alors qu'un parti extrémiste, l'Alternative für Deutschland (AfD), entre au Bundestag pour la première depuis la Seconde Guerre mondiale, la question sort de l'ombre.
Certains parallèles avec l'Allemagne de Weimar sautent aux yeux. À Weimar, même durant la période relativement stable du milieu et de la fin des années 1920, avant la Grande Dépression, les partis, dès lors qu'ils se trouvaient au gouvernement, étaient sanctionnés par les électeurs, qui au contraire les gratifiaient pour peu qu'ils se présentent comme partis du changement ou de la protestation. Entre 1924 et 1928, la droite modérée participa aux gouvernements de coalition et en souffrit durement ; après 1928, le SPD, ayant gouverné en coalition, fut à son tour pénalisé.
Lorsque vint la dépression, le mécanisme redoubla d'intensité : il devint politiquement suicidaire de soutenir le gouvernement – où comme le nommait une opposition de plus en plus radicale, le système. Il en résulta une fuite générale face aux responsabilités, les électeurs châtiant plus durement encore les responsables politiques qui tentaient de se maintenir.
S'il est permis de céder à l'optimisme devant les résultats des élections allemandes, c'est dans la mesure où ils rejoignent la norme européenne. Avec ses 13%, l'AfD réalise peu ou prou le même score que le populiste Geert Wilders aux Pays-Bas en avril, dans une élection qu'on s'est accordé à considérer comme une défaite du populisme radical. Il est évident que dans leur écrasante majorité les Allemands ne soutiennent pas l'Afd, dont la fortune pourrait ne pas durer, en raison notamment d'une division probable au sein de sa direction.
En fait, on voit difficilement ce qui pourrait constituer la base d'une croissance durable de l'AfD. Dans les pays industrialisés, les élections reflètent souvent l'état de l'économie. Et c'est plus vrai encore de l'Allemagne. Les électeurs, au pays du miracle économique (Wirtschaftswunder) de l'après-guerre, sont fiers d'avoir l'économie la plus solide de la zone euro, et qui se porte bien. L'emploi est à un record historique. À l'Oktoberfest de Munich, les visiteurs sont plus nombreux, boivent plus et mangent plus, mais sont moins violents et commettent moins de délits. La zone euro elle-même, dans son ensemble, connaît une reprise étonnamment vive.
Mais les gouvernements sont comme les humains : après une trop longue période dans la même situation, ils sont à court d'idées. À la fin de l'année 2016, Merkel semblait fatiguée, et le nouveau chef du SPD, Martin Schulz, a vu, un court moment, sa cote s'envoler dans les sondages. Hélas ! Lorsqu'il est apparu que Schulz n'avait pas, lui non plus, d'idées neuves, l'enthousiasme a fait place au désenchantement.
Les piètres résultats de la coalition gouvernementale semblent traduire clairement la frustration générale à l'égard de dirigeants qui n'ont rien de nouveau à offrir. Et les scores obtenus rendent difficile la formation d'une nouvelle coalition. L'issue la plus probable – et même la seule –, en remplacement de la grande coalition CDU-SPD, est une alliance qui s'étendrait d'un côté aux libéraux-démocrates du FDP et de l'autre aux Verts (ce que les Allemands nomment une coalition « jamaïcaine », en référence au drapeau de la Jamaïque, dont les couleurs sont celles des trois partis : noir pour la CDU, jaune pour le FDP et vert pour Die Grünen).
On dit souvent que Merkel aurait souhaité une coalition avec les seuls Verts, dont elle s'est rapprochée dans de nombreux domaines, depuis son annonce d'une sortie rapide du nucléaire après la catastrophe de Fukushima, au Japon, en 2011. Une coalition jamaïcaine sera plus difficile à négocier, car le FDP est beaucoup plus conservateur sur nombre de questions économiques et notamment sur les transferts budgétaires avec le reste de la zone euro.
Mais une telle coalition ne peut être écartée – et elle se traduira par une nouvelle orientation politique pour l'Allemagne. Si le FDP est beaucoup plus proche du libéralisme économique classique, les Verts, sont devenus plus réceptifs aux cours des dix dernières années aux mécanismes du marché, dès lors qu'ils s'avèrent le meilleur moyen de mettre en œuvre leur programme environnemental.
Une nouvelle coalition pourrait indiquer à quoi ressemblerait un nouveau départ dans la vie politique allemande, lequel s'étendrait à l'Europe, avec, notamment, une coopération franco-allemande renforcée, fondée sur la reconnaissance d'un rôle plus important accordé non seulement au marché mais aussi à des institutions européennes réformées contrôlant et supervisant ses processus. Dans de nombreux domaines – questions de sécurité, coopération militaire, réponse aux besoins immédiats des réfugiés –, un effort européen conjoint est nécessaire.
Si elle ne pense qu'en termes allemands, l'Allemagne ne pourra pas échapper au piège de Weimar. La réponse à l'incertitude politique sera donnée par une stabilisation du système non seulement européen mais international. Car telle est l'ultime leçon de la vie politique sous la République de Weimar :  c'est lorsque l'ordre international s'est désintégré que les gains d'une coopération à l'intérieur ont paru plus maigres et que le coût de la rhétorique radicale s'est effondré. Seule une Europe stable pourra tenir en respect les fantômes du passé. 
Traduction François Boisivon