Oceanen moeten onder de aandacht van beleggers gebracht worden
OSLO – De oceanen van de aarde hebben te maken met vele bedreigingen, waarvoor geen snelle oplossingen bestaan. Toch zijn die oplossingen wel bekend, en met een coalitie van partners die breed genoeg is, kunnen we de bal op een aantal fronten aan het rollen krijgen.
Een breed scala aan menselijke activiteiten – van het verbranden van fossiele brandstoffen tot overbevissing – heeft de oceanen jarenlang aangetast. Door de absorptie van koolstofdioxide te verhogen verzuurt de opwarming van de aarde de oceanen en vermindert zij het zuurstofgehalte van het water, waardoor mariene planten, dieren en andere organismen worden geschaad of gedood. En als de ijskappen smelten stelt het stijgende zeeniveau honderden miljoenen mensen in kustgebieden aan steeds meer risico's bloot.
Bovendien wordt, als gevolg van het gebrek aan moderne verwerkingsinstallaties in vele steden, met name in Afrika en Azië, rioolwater in rivieren en kanalen geloosd, zodat het uiteindelijk in de oceanen terechtkomt, waardoor die te maken krijgen met grote hoeveelheden plastic deeltjes en gifstoffen. De tonnen aan spullen die dagelijks in en op straten, achtertuinen, rivieren, stranden en kustgebieden worden gedumpt eindigen ook in de oceanen. Veel van deze producten, zoals boodschappentassen en plastic flessen, bevatten gevaarlijke chemicaliën die door vissen worden opgegeten en vervolgens door mensen, wat tot een brede reeks gezondheidsproblemen leidt.
Het oplossen van deze problemen zal samenwerking op alle niveaus vergen. Er zullen ook nieuwe middelen nodig zijn, en niet alleen om geërodeerde kustlijnen te repareren en ons voor te bereiden op stijgende zeeniveaus en extreem weer. We moeten de illegale visvangst de kop indrukken, onderzoek financieren, en zeetransport met minder kooldioxide-uitstoot en duurzame productie van zeevoedsel ontwikkelen. Bovendien moeten we dringend betere methoden van plasticinzameling en herbruikbare verpakkingen ontwerpen, terwijl we de verwerking van afvalwater en het beheer van stormvloeden moeten verbeteren om plastics en ander afval uit onze waterwegen te houden.
Het redden van de oceanen mag geen bijgedachte zijn. Ruim drie miljard mensen zijn afhankelijk van de oceanen voor hun levensonderhoud. Hulpbronnen uit de oceanen en de kuststreken, evenals bedrijvigheden in deze milieus, dragen jaarlijks ongeveer $3 bln (5% van het mondiale bbp) bij aan de wereldeconomie en bieden een enorm potentieel voor verdere groei, de schepping van banen en innovatie. Oceanen zijn ook een belangrijke bron van duurzame energie en natuurlijke hulpbronnen. Hun ecologische waarde is enorm. Oceanen hebben sinds de jaren tachtig tussen de 20 en 30% van de door de mens veroorzaakte kooldioxide-uitstoot opgenomen. Ze produceren ruim de helft van alle zuurstof in de wereld, en transporteren hitte van de evenaar naar de polen, waardoor ze ons klimaat reguleren.
Van onze kant is het bevorderen van een duurzame "blauwe" economie een van de prioriteiten van de Europese Investeringsbank geweest. We hebben diverse initiatieven gelanceerd om de samenwerking te faciliteren bij het opruimen van de oceanen en het beschermen van de op de zee gebaseerde economische activiteiten. Via onze Blue Sustainable Ocean Strategy, Blue SOS, zullen we in een periode van vijf jaar tot een bedrag van €2,5 mrd investeren, terwijl we op z'n minst nog eens €5 mrd zullen mobiliseren voor investeringen in projecten om de oceaaneconomie te beschermen. Deze investeringen zullen onder meer de kusterosie aanpakken, visbedrijven helpen voedsel te verwerken en te bewaren, de scheepvaart ecologisch vriendelijker maken en het onderzoek naar biotechnologie-producten verbeteren.
Subscribe now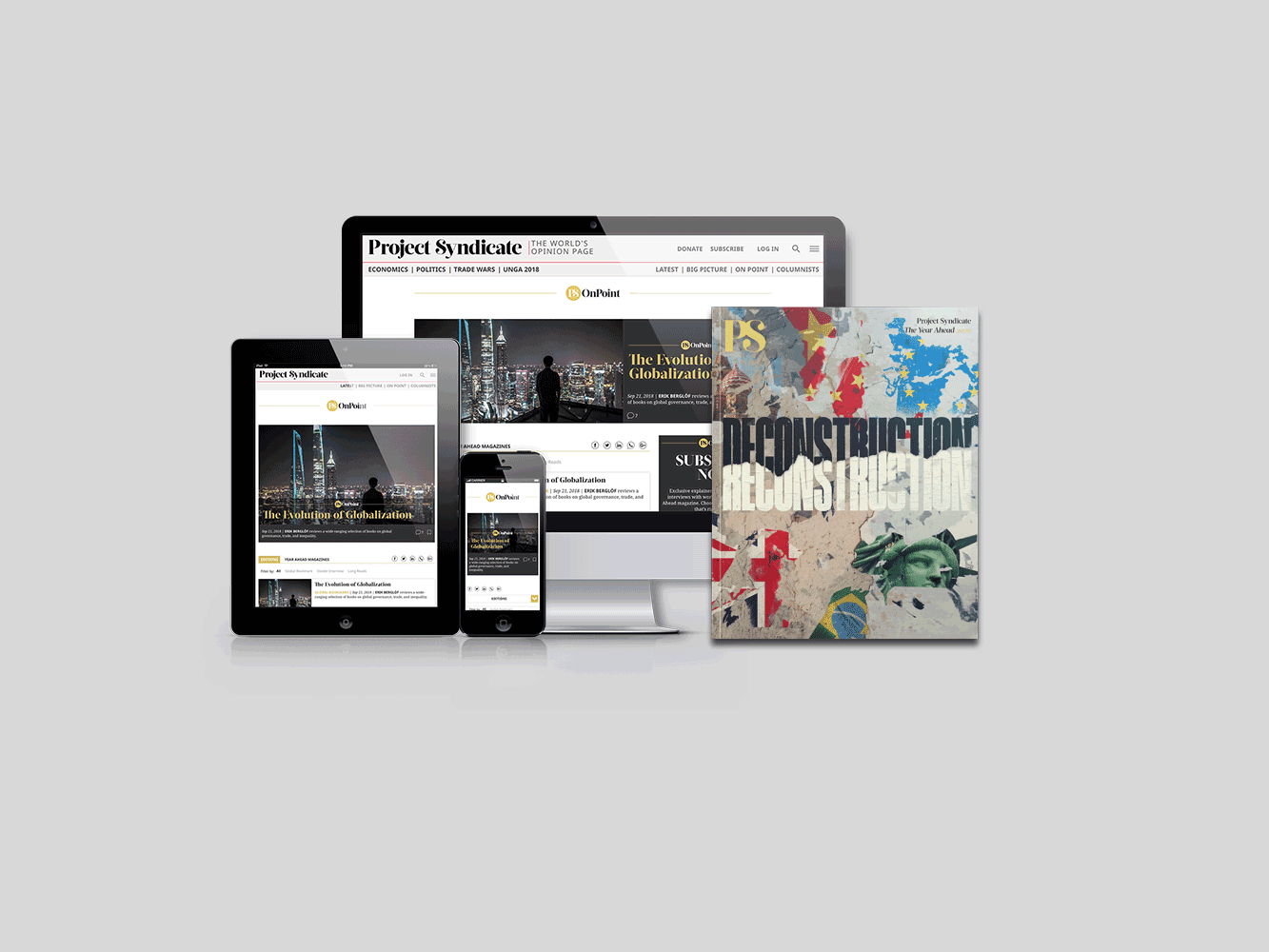 Subscribe now
Subscribe today and get unlimited access to OnPoint, the Big Picture, the PS archive of more than 14,000 commentaries, and our annual magazine, for less than $2 a week.
Bovendien hebben we, in samenwerking met de Duitse en Franse ontwikkelingsbanken, het Clean Oceans Initiative in het leven geroepen, dat onlangs de Spaanse ontwikkelingsbank als nieuwe partner heeft mogen verwelkomen. Dit gezamenlijke initiatief biedt over een periode van vijf jaar tot €2 mrd aan financiering voor projecten waarbij plastics en ander afval wordt verzameld voordat het de oceaan bereikt. Het grootste deel van het plastic dat in de oceaan belandt komt van afval dat wordt weggegooid in kustgebieden of bij rivieren door de twee miljard mensen die geen vuilnisophaaldienst hebben. In feite komt zo'n 90% van al het plastic dat via rivieren in de oceaan terechtkomt uit slechts tien landen, voornamelijk in Afrika en Azië.
Tenslotte is de EIB een belangrijke financier in het Sustainable Ocean Fund, dat $100 mln ophaalt om te investeren in wel twintig oceaanprojecten, om de hele voedselketen van het zeevoedsel te verbeteren.
Sommigen vragen zich misschien af waarom de EIB ontwikkelingswerk buiten Europa nastreeft, of als pleitbezorger optreedt voor de oceanen van de wereld. De reden is dat we duurzaamheidsproblemen niet alleen als een ecologische, maar ook als een economische uitdaging zien. Als een grote instelling als de EIB betrokken raakt bij een zaak, kan zij particulier kapitaal aantrekken dat anders niet aan bod zou zijn gekomen. Het bevorderen van innovatieve projecten in de "blauwe" economie is niet zozeer een kwestie van meer geld. Het gaat ook over het opheffen van de belemmeringen voor nieuwe projecten en over het terugdringen van de investeringsrisico's. Als onze klimaatdeskundigen hun stempel van goedkeuring aan een project geven maakt dat meer financiering van particuliere beleggers los, en van pensioenfondsen, staatsfondsen en verzekeringsmaatschappijen. En als zulke beleggers zien dat ze kunnen profiteren van groene projecten, zullen de resultaten niet alleen de oceaan ten goede komen, maar ook de werknemers en de consumenten.
We moeten laten zien dat investeringen in het klimaat niet al te riskant hoeven te zijn, en we moeten meer publiek-private partnerschappen bevorderen. Dat is de reden dat de EIB haar technische hulp en adviesdiensten uitbreidt om schone en duurzame oceaanprojecten aantrekkelijker te maken voor andere investeerders.
Nu zijn we op zoek naar meer partners. We hebben er behoefte aan dat leiders, overheden, bedrijven en andere instellingen de stoutmoedige stappen zullen zetten die nodig zijn om onze oceanen te beschermen, onze rivieren schoon te maken, en de verontreiniging van deze kwetsbare ecosystemen een halt toe te roepen. De urgentie van deze uitdaging kan niet overdreven worden. We moeten de oceanen beschermen alsof onze toekomst ervan afhangt, omdat dat ook zo is.
Vertaling: Menno Grootveld