Wer darf europäische Waffen bekommen?
BERLIN – Vor ein paar Monaten beschloss Deutschland,  – gegen die Einwände Frankreichs und Großbritanniens – sein Waffenembargo gegen Saudi-Arabien zu verlängern, da Bedenken hinsichtlich der Rechtmäßigkeit der von Saudi-Arabien angeführten Militärintervention im Jemen bestehen. Dieser innereuropäische Zwist unterstreicht die Uneinigkeit und Ineffizienz, unter denen die europäische Rüstungsexportpolitik nach wie vor leidet. Und weil man nichts unternimmt, um eine Lösung herbeizuführen, untergräbt er auch die Bemühungen der Europäischen Union, ihr Verteidigungsprofil zu schärfen.
Initiativen wie der Europäische Verteidigungsfonds -  mit dem nationale Verteidigungsinvestitionen koordiniert, ergänzt und ausgeweitet werden sollen – wurden als Wundermittel zur Behebung des Problems der europäischen Verteidigungsfähigkeit gepriesen. Doch Frankreichs Botschafterin in Deutschland, Anne-Marie Descôtes, hat darauf hingewiesen, dass die europäischen Regierungen, so sie gemeinsam militärische Ausrüstung entwickeln wollen, sich auf ihre Partner auch verlassen können müssen, wenn es um den Export der erforderlichen Komponenten geht. Dazu sind transparente und kalkulierbare Ausfuhrregelungen erforderlich.
Wie meine Ko-Autorin Beth Oppenheim und ich in unserem für das Centre for European Reform erstellten Forschungspapier unter dem Titel "Up in arms: warring over Europe's arms export regime" darlegen, können Rüstungsexporte durch die Verbesserung der Interoperabilität die Verteidigungskooperation mit Verbündeten erleichtern. In einigen Fällen können sie auch genutzt werden, um die Verteidigungsfähigkeiten strategischer Partner zu verbessern und die Bemühungen zur Bewältigung global bedeutender Sicherheitsherausforderungen wie Piraterie oder Terrorismus zu verstärken. Auf nationaler Ebene ermöglichen Exporte in Drittländer es europäischen Verteidigungsunternehmen Skaleneffekte optimal zu nutzen und gleichzeitig wettbewerbsfähigere Produkte herzustellen. Je mehr Länder an diesem Austausch beteiligt sind, desto größer die Wirkung.
Aber auch Exportbeschränkungen spielen eine wesentliche Rolle. Ebenso wie Waffenembargos das aggressive Verhalten eines Landes eindämmen können, indem man ihm militärische Ressourcen vorenthält, kann die Beschränkung von Rüstungsexporten den Spielraum von Regierungen verringern, die diese Waffen möglicherweise für Menschenrechtsverletzungen einsetzen. Damit diese Exportbeschränkungen funktionieren, müssen sie jedoch auf breiter Basis, einheitlich und transparent angewendet werden. In diesem Sinne schadet es der Glaubwürdigkeit der EU als wertebasiertem Projekt, dass es keine kohärente Rüstungsexportpolitik gibt.
Ein EU-weites Rahmenwerk für Rüstungsexporte existiert freilich. Mit seinen acht, für die Erteilung von Waffenausfuhrgenehmigungen zu erfüllenden Kriterien - darunter die Einhaltung des humanitären Völkerrechts – gehört es tatsächlich zu den strengsten der Welt. Die Bestimmungen werden jedoch nicht durchgesetzt. Das muss sich ändern, wenn die EU jemals eine Chance haben will, eine Verteidigungsunion zu schaffen.
Um erfolgreich zu sein, werden die europäischen Institutionen erhebliche Widerstände zu überwinden haben. Verteidigung wird als eine Angelegenheit der nationalen Selbstbestimmung betrachtet, weswegen unter den EU-Mitgliedern kein politischer Wille besteht, die Kontrolle über ihre jeweilige Waffenexportpolitik beispielsweise einer supranationalen Aufsichtsbehörde zu übertragen.
Subscribe now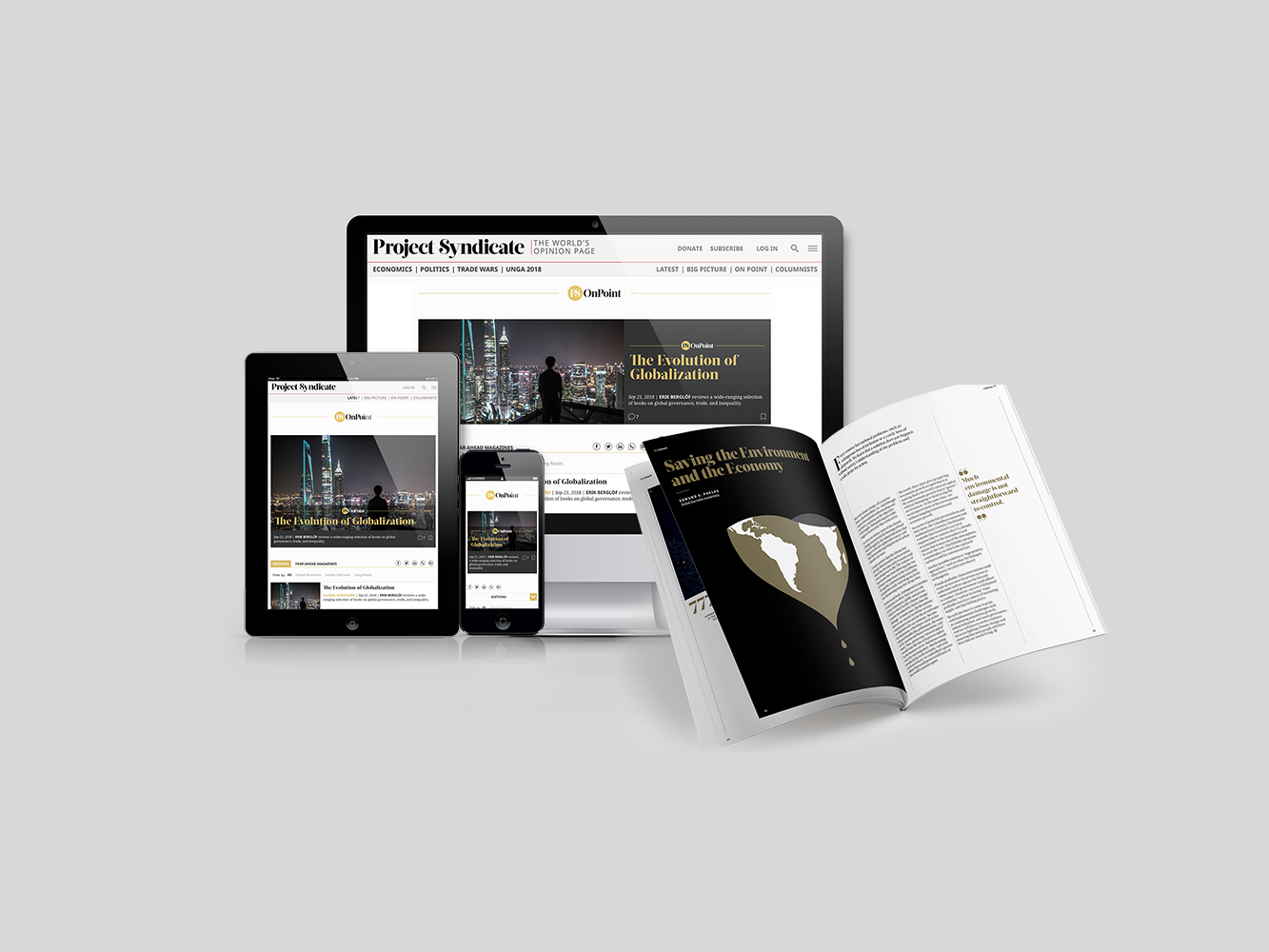 Subscribe now
Subscribe today and get unlimited access to OnPoint, the Big Picture, the PS archive of more than 14,000 commentaries, and our annual magazine, for less than $2 a week.
Erschwerend kommt hinzu, dass die EU-Mitgliedstaaten sich vor einer Entscheidung über eine Ausfuhrbeschränkung in ein bestimmtes Land darauf einigen müssen, ob dies mit ihren Interessen in Einklang steht. Das ist leichter gesagt als getan. Im Hinblick auf Saudi-Arabien beispielsweise sind einige - insbesondere Kanzlerin Angela Merkel - zu dem Schluss gekommen, dass Waffenverkäufe letztendlich destabilisierend wirken. Andere, wie der frühere britische Außenminister Jeremy Hunt, argumentieren jedoch, dass die Aufrüstung der Saudis die Fähigkeit der EU-Länder stärkt, zu einer Lösung des Konflikts im Jemen beizutragen.
Jenseits der politischen Führungsebene äußerten Organisationen der Zivilgesellschaft Bedenken darüber, dass eine Übertragung von Befugnissen an die Europäische Kommission, die den Wählern gegenüber weniger rechenschaftspflichtig ist als nationale Regierungen, die Transparenz beeinträchtigen könnte. Mancherorts fürchtet man, dass eine EU-weite Politik wieder auf dem kleinsten gemeinsamen Nenner beruhen würde und damit in ihrer Wirkung begrenzt wäre. 
Selbst in diesem ungünstigen Umfeld können die EU-Institutionen Schritte zur Harmonisierung der Waffenexportpolitik zu  unternehmen. Sie könnten höhere Ausgaben für Forschung und Entwicklung planen, mit nationalen Regierungen an der Identifizierung von Lücken in den Verteidigungskapazitäten arbeiten und eine Liste des benötigten militärischen Geräts erstellen. Länder, die über die notwendigen Kapazitäten verfügen, könnten dann zustimmen, dieses Gerät im Gegenzug für den Erhalt von Mitteln der EU zu entwickeln.
Langfristig könnte dies zu einem stärkeren Einfluss der Kommission auf die Exportpolitik der Unternehmen führen. Die Kommission könnte Waffenproduzenten dazu veranlassen, europäische Technologieanforderungen gegenüber jenen externer Kunden zu bevorzugen und sie auf jene Länder anzupassen, in die sie die Waffen verkaufen. Zur Stärkung der demokratischen Legitimität sollte das Europäische Parlament eine größere Rolle in der Entscheidung spielen,  welche Projekte für wen finanziert werden.
Die Kommission könnte ihren Einfluss auf den Handel mit Dual-Use-Gütern nutzen, um stärkere Kontrolle über Waffenexporte auszuüben. Darüber hinaus könnte die EU das Format des von den Mitgliedsstaaten verpflichtend vorzulegenden Jahresberichts über Exportlizenzen vereinheitlichen und strengere Fristen durchsetzen. Eine Peer-Review-Zusammenkunft würde den Regierungen den Erfahrungsaustausch und die Etablierung optimaler Vorgehensweisen ermöglichen.
Schließlich könnte die EU die Mitgliedstaaten ermutigen, die Endverwendungskontrollen für exportierte Waffen zu verstärken. Mit der Entsendung von Expertenteams in die Einfuhrländer wäre es möglich, einen Beitrag zu diesem kostspieligen, zeitaufwändigen und politisch schwierigen Prozess zu leisten. Diese Aktivitäten - und der damit verbundene Austausch sensibler Daten - müssten im Voraus ausgehandelt und in die Exportvereinbarungen einbezogen werden.
Es wird ein harter Kampf, sicherzustellen, dass EU-weite Regeln für den Rüstungsexport durchgesetzt werden. Aber wenn es die EU-Mitglieder mit der Vertiefung der Verteidigungskooperation, ganz zu schweigen von der Schaffung einer Verteidigungsunion, ernst meinen, muss dieser Kampf aufgenommen werden.