Die EU muss Palästina anerkennen
VALLETTA, MALTA – Möglicherweise haben die Vereinigten Staaten gerade jede noch bestehende Hoffnung auf eine Zwei-Staaten-Lösung für den israelisch-palästinensischen Konflikt zunichte gemacht. Die Erklärung von US-Außenminister Mike Pompeo, israelische Siedlungen im Westjordanland seien kein Verstoß gegen das Völkerrecht, steht im Widerspruch zu einem seit langem bestehenden globalen Konsens. Die übrige Welt muss dagegenhalten.
Es kann kein Zweifel daran bestehen, dass die israelische Siedlungspolitik in den besetzten palästinensischen Gebieten gegen das Völkerrecht verstößt. Nach dem Zweiten Weltkrieg wurde in der vierten Genfer Konvention vereinbart, dass eine Besatzungsmacht "keine Teile ihrer eigenen Zivilbevölkerung in das von ihr besetzte Gebiet ausweisen oder überführen darf". Dem Römischen Statut zufolge, auf dessen Grundlage 1998 der Internationale Strafgerichtshof eingerichtet wurde, stellen solche Überführungen Kriegsverbrechen dar.
Als Israel 1967 mit der Besetzung der palästinensischen und arabischen Gebiete begann, verurteilte der UN-Sicherheitsrat sein Vorgehen in der Resolution 242 zudem als Verstoß gegen den Konsens über die Unzulässigkeit des Gebietserwerbs durch Krieg, auf den man sich nach dem Zweiten Weltkrieg geeinigt hatte.
Im Jahr 2016 verabschiedete der Sicherheitsrat eine weitere Resolution, in der erklärt wurde, dass der Siedlungsbau Israels in palästinensischem Gebiet "keine rechtliche Gültigkeit" habe, einen "flagranten Verstoß" gegen das Völkerrecht darstelle und ein "ernstes Hindernis" für die Zwei-Staaten-Lösung sei. (Anstatt ein Veto gegen die Resolution einzulegen, wie es für die USA üblich ist, hat sich die Regierung von Präsident Barack Obama bei der Abstimmung enthalten.)
Nur wenige Tage vor Pompeos Erklärung war der Europäische Gerichtshof dieser Logik gefolgt und hat entschieden, dass Waren aus israelisch besetzten Gebieten eindeutig als solche gekennzeichnet werden müssen. In seiner Mitteilung erklärte er unmissverständlich, dass sich in den Siedlungen "eine Umsiedlungspolitik manifestiert", die Israel außerhalb seines Hoheitsgebiets "unter Verstoß gegen die Regeln des allgemeinen humanitären Völkerrechts" umsetzt.
Und doch sträuben sich die USA seit langem, diese Realität anzuerkennen. Nur eine US-Regierung – die von Präsident Jimmy Carter – hat auf Grundlage eines Rechtsgutachtens des Außenministeriums von 1978 erklärt, dass die israelische Siedlungspolitik illegal ist. Carters unmittelbarer Nachfolger, Ronald Reagan, lehnte diese Haltung öffentlich ab. Andere US-Regierungen haben die Siedlungen als Hindernisse für den Frieden kritisiert und Israel aufgefordert, den Bau einzustellen, haben aber davon abgesehen, sie als illegal zu bezeichnen.
Subscribe now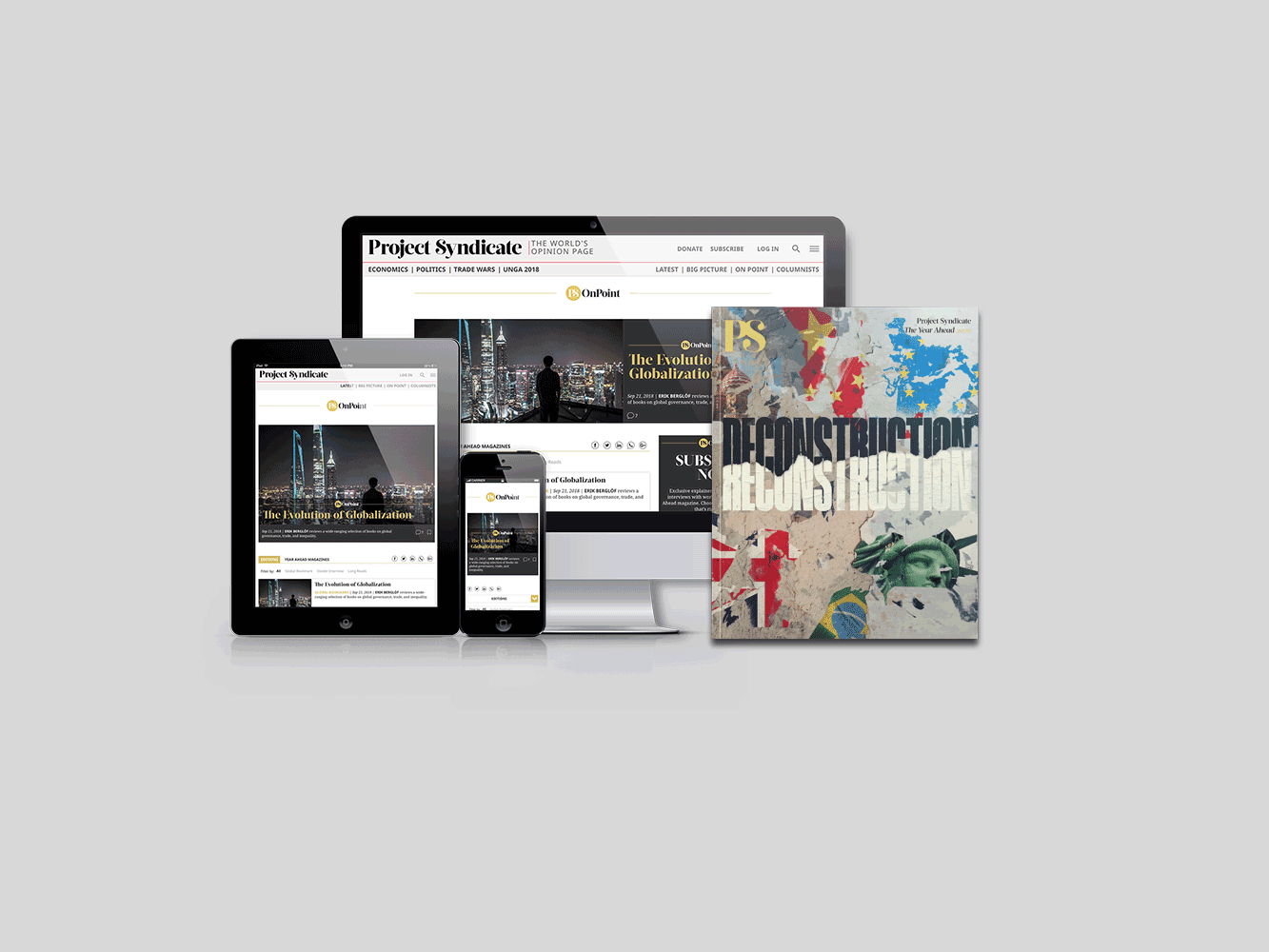 Subscribe now
Subscribe today and get unlimited access to OnPoint, the Big Picture, the PS archive of more than 14,000 commentaries, and our annual magazine, for less than $2 a week.
Es ist nicht überraschend, dass Pompeos Erklärung von israelischen Regierungsmitgliedern begrüßt wurde. Der rechtskonservative Ministerpräsident des Landes, Benjamin Netanjahu – der während des jüngsten Parlamentswahlkampfes versprach, die israelische Souveränität auf alle jüdischen Siedlungen im besetzten Westjordanland auszudehnen – erklärte die Regierung von US-Präsident Donald Trump habe eine "historische Fehlentscheidung" korrigiert.
Netanjahu hat eigene Probleme: Er hat es nicht geschafft, eine Regierung zu bilden und ist gerade wegen Korruption angeklagt worden. Aber auch sein wichtigster Konkurrent Benny Gantz (der ebenfalls an der Regierungsbildung gescheitert ist) begrüßte die Kehrtwende: "Das Schicksal der Siedlungen sollte durch Vereinbarungen entschieden werden, die Sicherheitsbedürfnisse berücksichtigen und Frieden fördern."
Die Zukunft der israelischen Politik ist zwar weiterhin unklar, doch die Gefahr eines mit neuem Eifer vorangetriebenen Siedlungsbaus darf nicht unterschätzt werden. Da die USA fest mit den politischen Hardlinern Israels zusammenstehen, obliegt es dem Rest der internationalen Gemeinschaft, dieses Ergebnis zu verhindern. Die Europäische Union sollte dabei federführend sein.
Nach der Kehrtwende der USA bestätigte die EU-Außenbeauftragte Federica Mogherini, dass die Haltung der EU zur israelischen Siedlungspolitik unverändert bleibt: "Alle Siedlungsaktivitäten sind nach dem Völkerrecht illegal und untergraben die Tragfähigkeit der Zwei-Staaten-Lösung und die Perspektiven für einen dauerhaften Frieden."
Aber es ist keineswegs das erste Mal, dass die EU das Verhalten Israels kritisiert. Tatsächlich hat die EU schon oft scharfe Kritik an Israel geübt, angefangen bei der Ausweisung des lokalen Leiters der Menschenrechtsorganisation Human Rights Watch aus Israel wegen der angeblichen Unterstützung eines Boykotts, bis hin zur Verurteilung der Erschießung unbewaffneter palästinensischer Demonstranten durch israelische Soldaten – und hält dabei stets an engen diplomatischen, wirtschaftlichen und politischen Beziehungen zu Israel fest.
Worte allein reichen nicht. Wenn die europäischen Staats- und Regierungschefs – oder andere in aller Welt – eine Vision von einem unabhängigen palästinensischen Staat neben einem israelischen voranbringen wollen, haben sie nur zwei Möglichkeiten: Palästina offiziell als unabhängigen Staat anzuerkennen oder Israel nicht mehr als einen Staat anzuerkennen, bis es beweist, dass es ihm ernst damit ist, eine Verhandlungslösung zu finden.
Die meisten europäischen Nationalparlamente haben bereits für die Anerkennung Palästinas als unabhängigen Staat entlang der Grenzen vor 1967 gestimmt, mit Ost-Jerusalem als Hauptstadt. Doch nur in Schweden ist die offizielle Anerkennung auch erfolgt. Den anderen Ländern hat die EU empfohlen, auf die perfekte Gelegenheit zu warten – den Moment, in dem eine einheitliche Entscheidung zur Anerkennung Palästinas spürbare Wirkung haben könnte. Dieser Moment ist jetzt gekommen.
Bleiben die Palästinenser weiter ihren israelischen Besatzern ausgeliefert, wird lediglich der jahrzehntelange Teufelskreis der Gewalt aufrechterhalten. Mächtige Verbündete wie die EU können diesen Kreislauf durchbrechen, aber nur, wenn sie ihre Worten Taten folgen lassen. Keine Tat würde eine klarere Botschaft aussenden als die Anerkennung Palästinas als unabhängiger, besetzter Staat durch alle EU-Länder und die Aufnahme entsprechender Beziehungen.
Das würde vielleicht nicht dazu führen, dass Israel plötzlich zusammenpackt und die palästinensischen Gebiete verlässt. Aber es könnte die durch Trumps jüngste rücksichtslose Entscheidung beflügelte israelische Führung davon abhalten, bestehende Siedlungen erweitern und neue bauen zu wollen – oder gar mit der Annexion palästinensischer Gebiete zu beginnen. In diesem Fall hätte die EU einen vollwertigen Apartheidstaat vor ihrer Haustür.
Aus dem Englischen von Sandra Pontow