Evropa se musí vzepřít Trumpovi
NEW YORK – Donald Trump má tento měsíc opět zavítat do Evropy na summit G7, a evropští lídři už vyčerpali možnosti jak si s prezidentem USA poradit. Snažili se jej okouzlit, přesvědčit i přehlížet, zkoušeli dohodu, že se s ním neshodnou. Trumpova zlovůle je však bezedná. Jedinou alternativou je tudíž postavit se proti němu.
Nejbezprostřednějším tématem je evropský obchod s Íránem. Vůbec se nejedná o maličkost. Je to bitva, již si Evropa nemůže dovolit prohrát.
Trump je schopen bez zábran působit značné škody a aktuálně tak činí ekonomickými nástroji a pohrůžkami vojenským zásahem. Využívá hospodářských a finančních pravomocí pro mimořádné okolnosti s cílem dohnat Írán a Venezuelu k hospodářskému kolapsu. Uzavíráním amerických trhů pro čínský vývoz, omezováním prodeje amerických technologií čínským společnostem a prohlášením Číny za měnového manipulátora se pokouší zpomalit nebo zastavit růst Číny.
Je důležité tyto skutky nazývat pravým jménem: jsou to osobní rozhodnutí jedince utrženého ze řetězu, nikoliv výsledek legislativní činnosti nebo plod čehokoli alespoň připomínajícího veřejnou debatu. Je pozoruhodné, že 230 let po přijetí americké ústavy sužuje Spojené státy vláda jednoho muže. Trump svou administrativu zbavil všech osobností z nezávislého těsta, jako byl bývalý ministr obrany, vysloužilý generál James Mattis, a jen málokterý republikánský kongresman proti svému vůdci hlesne slůvko.
Trump je zhusta mylně vykreslován jako cynický politik, který čachruje kvůli osobní moci a finančním ziskům. Situace je ale mnohem nebezpečnější. Trump je duševně vyšinutý: megalomanský, paranoidní, psychopatický. To nejsou nadávky. Trump v důsledku svého duševního stavu neumí držet slovo, potlačovat vlastní nevraživost ani ovládat své činy. Je nezbytné se mu postavit, ne si jej usmiřovat.
I když Trump couvne, jeho nenávist kypí. Když se na summitu G20 v červnu setkal s čínským prezidentem Si Ťin-pchingem, vyhlásil ve své "obchodní válce" s Čínou příměří. Přesto několik týdnů nato oznámil nová cla. Trump nedokázal dodržet slovo, vzdor námitkám svých poradců. Naposledy jej k dočasnému ústupu přiměl propad na globálních trzích. Jeho agresivita vůči Číně bude ale pokračovat; jeho neumírněné výstupy na adresu této země budou přitom čím dál silněji ohrožovat hospodářství a bezpečnost Evropy.
Subscribe now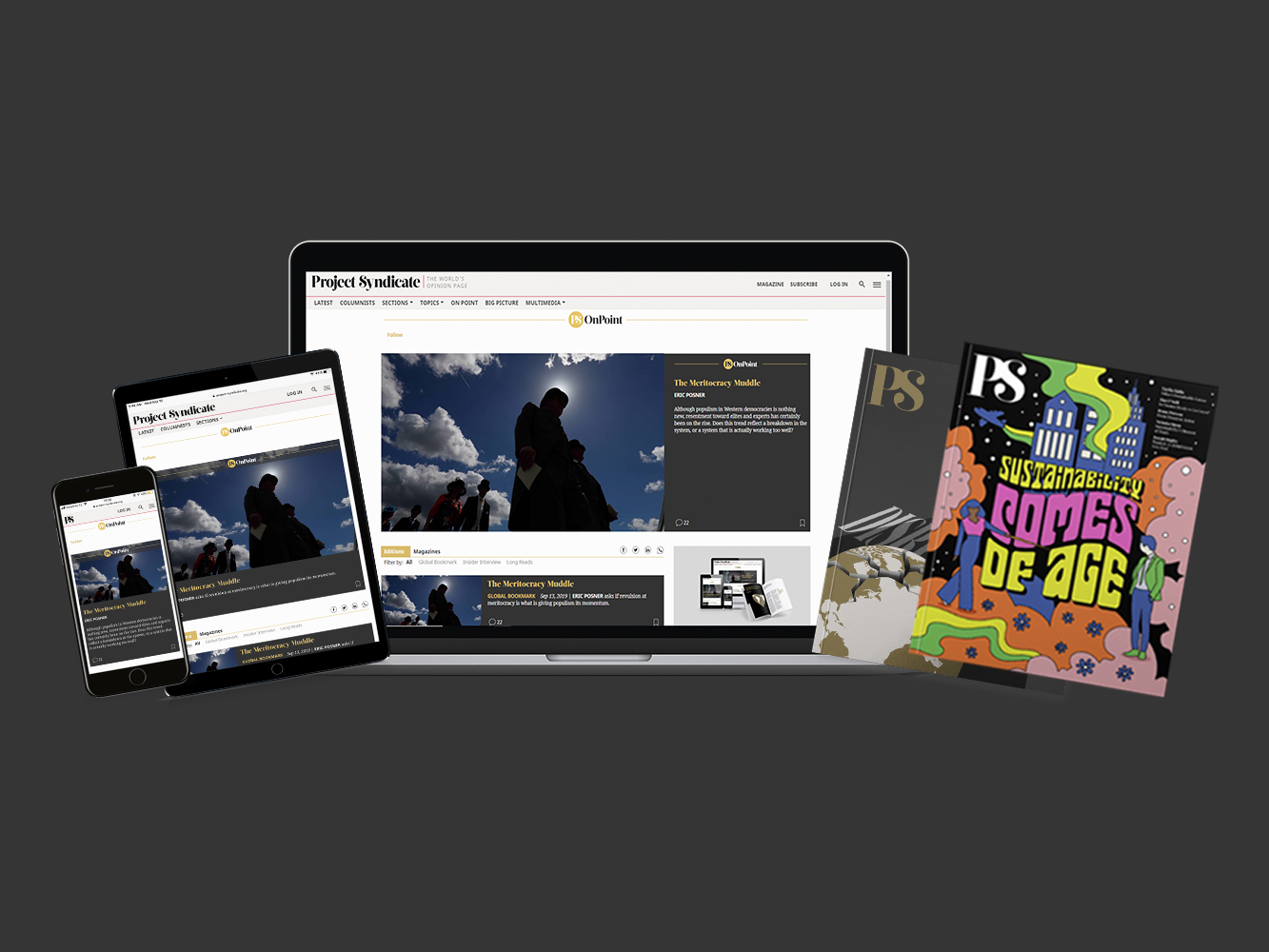 Subscribe now
Subscribe today and get a free copy of our new magazine, Sustainability Comes of Age, along with unlimited access to OnPoint, the Big Picture, the entire PS archive of more than 14,000 commentaries, and our annual magazine, for less than $2 a week.
Trump se aktivně snaží zlomit každou zemi, která se odmítá podvolit jeho požadavkům. Americký lid tak drzý a neukázněný není, leč někteří z Trumpových poradců dozajista ano. Poradce pro národní bezpečnost John Bolton i ministr zahraničí Mike Pompeo například ztělesňují výjimečně arogantní přístup ke světu, v Pompeově případě ještě umocněný náboženským fundamentalismem.
Bolton nedávno navštívil Londýn, aby podpořil nového britského premiéra Borise Johnsona v odhodlání opustit Evropskou unii ať už s brexitovou dohodou nebo bez ní. Trump a Bolton se ani za mák nestarají o Británii, ale horlivě doufají, že ztroskotá EU. Pro Trumpa, Boltona a Pompea je tak přítelem každý nepřítel Unie – Johnson, Matteo Salvini v Itálii či maďarský premiér Viktor Orbán.
Trump také touží svrhnout íránský režim, přičemž navazuje na protiíránské nálady sahající až k revoluci v Íránu roku 1979 a na přetrvávající vzpomínky v paměti americké veřejnosti na Američany, kteří byli v Teheránu drženi jako rukojmí. Jeho nevraživost rozdmýchávají nezodpovědní izraelští a saúdští lídři, kteří íránské předáky nesnášejí z vlastních důvodů. Přesto jde pro Trumpa o značně osobní věc, neboť odmítnutí íránských vůdců přistoupit na jeho požadavky je pro něj dostatečným důvodem ke snaze je odstranit.
Evropané znají důsledky americké naivity na Blízkém východě. Migrační krizi v Evropě zapříčinily v prvé řadě nevynucené války v regionu pod vedením Spojených států: války George W. Bushe proti Afghánistánu a Iráku a války Baracka Obamy proti Libyi a Sýrii. USA v těchto případech jednaly zbrkle a zaplatila za to Evropa (lidé na Blízkém východě za to samozřejmě zaplatili ještě mnohem vyšší cenu).
Teď Trumpova ekonomická válka s Íránem hrozí ještě větším konfliktem. Před zraky světa se íránskou ekonomiku pokouší zardousit tím, že jí ořeže devizové příjmy sankcemi vůči všem firmám, nejen americkým, které se zemí obchodují. Takové sankce se rovnají válce a jsou v rozporu s Chartou Organizace spojených národů. A jelikož míří přímo na civilní obyvatelstvo, představují – nebo by alespoň měly představovat – zločin proti lidskosti. (V zásadě tutéž strategii Trump uplatňuje proti venezuelské vládě a lidu.)
Evropa opakovaně vznesla námitky proti sankcím USA, které nejenže jsou unilaterální, exteritoriální a v rozporu s bezpečnostními zájmy Evropy, ale také explicitně odporují jaderné dohodě s Íránem z roku 2015, již jednomyslně schválila Rada bezpečnosti OSN. Přesto se evropští lídři dosud báli je přímo zpochybnit.
Bát by se neměli. Ve spolupráci s Čínou, Indií a Ruskem se Evropa dokáže pohrůžkám americkými exteritoriálními sankcemi postavit čelem. Obchod s Íránem lze snadno denominovat v eurech, jüanu, rupiích a rublech a vyhnout se tak americkým bankám. Obchodní výměny ropy za zboží lze uskutečňovat skrze mechanismus pro zúčtování eura, jako je INSTEX.
Ostatně americké exteritoriální sankce nejsou věrohodnou dlouhodobou hrozbou. Kdyby je snad USA zavedly proti většině okolního světa, újma na americké ekonomice, dolaru, akciovém trhu a vůdčí úloze USA by byla nenapravitelná. Hrozba sankcí tudíž pravděpodobně zůstane právě jen hrozbou. I kdyby se USA chystaly přistoupit k vymáhání sankcí vůči evropským podnikům, EU, Čína, Indie a Rusko by je mohly napadnout u Rady bezpečnosti OSN, která by se s výraznou převahou postavila proti politikám USA. Kdyby snad rezoluci Rady bezpečnosti proti sankcím vetovaly USA, věc by mohlo převzít celé Valné shromáždění OSN v rámci postupů "Společně za mír". Exteritoriální uplatnění sankcí by odsoudila drtivá většina ze 193 zemí OSN.
Ustupováním Trumpově pokřiku a vyhrožování ve vztahu k Íránu, Venezuele, Číně a dalším by lídři Evropy ohrozili evropskou a světovou bezpečnost. Měli by si uvědomit, že podstatná většina Američanů je také proti Trumpově zhoubnému narcisismu a psychopatickému jednání, které v USA uvolnilo nápor hromadné střelby a dalších zločinů z nenávisti. Vzepřením se Trumpovi a obranou mezinárodního právního řádu, včetně pravidel mezinárodního obchodu, mohou Evropané a Američané společně upevnit světový mír a transatlantické přátelství do dalších generací.
Z angličtiny přeložil David Daduč