Europa debe oponerse a Trump
NUEVA YORK – Ya cerca de un nuevo viaje de Donald Trump a Europa para la próxima cumbre del G7 a fines de este mes, a la dirigencia europea se le acabaron las opciones para lidiar con el presidente estadounidense. Ya probaron seducirlo, persuadirlo, ignorarlo, coincidir con él o estar en desacuerdo. Pero la malevolencia de Trump es infinita. De modo que la única alternativa es plantarle oposición.
La cuestión más inmediata es el comercio entre Europa e Irán. No es asunto menor: es una batalla que Europa no puede darse el lujo de perder.
Trump es capaz de provocar enorme daño sin el menor remordimiento, y ahora lo está haciendo por medios económicos y amenazas de acciones militares. Invocó poderes de emergencia en asuntos económicos y financieros para empujar a Irán y Venezuela al colapso económico. Intenta frenar o detener el crecimiento de China con el cierre de los mercados estadounidenses a sus exportaciones, la restricción de la venta de tecnologías estadounidenses a sus empresas y su designación como manipulador cambiario.
Es importante describir estas acciones como lo que son: decisiones personales de un individuo incontinente, no el resultado de la acción legislativa o de algo que se parezca a la deliberación pública. Notablemente, 230 años después de la aprobación de su constitución, Estados Unidos ha caído en un régimen unipersonal. Trump purgó su gobierno de figuras independientes de prestigio (como el ex secretario de defensa, general retirado James Mattis), y pocos congresistas republicanos se atreven a murmurar una palabra contra su líder.
Muchos creen erróneamente que Trump es un político cínico que con sus maniobras busca poder y riquezas para sí mismo. Pero la situación es mucho más peligrosa. Trump es una persona con problemas psicológicos: un megalómano, paranoide y psicópata. Y no son meros insultos: el trastorno mental de Trump lo vuelve incapaz de cumplir su palabra, controlar sus animosidades y restringir sus acciones. No se trata de apaciguarlo: se trata de frenarlo.
Incluso cuando retrocede, sigue alimentando sus odios. Cuando en la cumbre del G20 en junio se encontró cara a cara con el presidente chino Xi Jinping, declaró una tregua en su "guerra comercial" con China; pero pocas semanas después, anunció nuevos aranceles. Fue incapaz de cumplir su propia palabra, pese a las objeciones de sus asesores. Aunque después de eso un derrumbe de los mercados internacionales lo obligó a retroceder temporalmente, no detendrá su agresión a China, y sus acciones descontroladas de cara a este país plantean un riesgo cada vez más grande a la economía y seguridad de Europa.
Subscribe now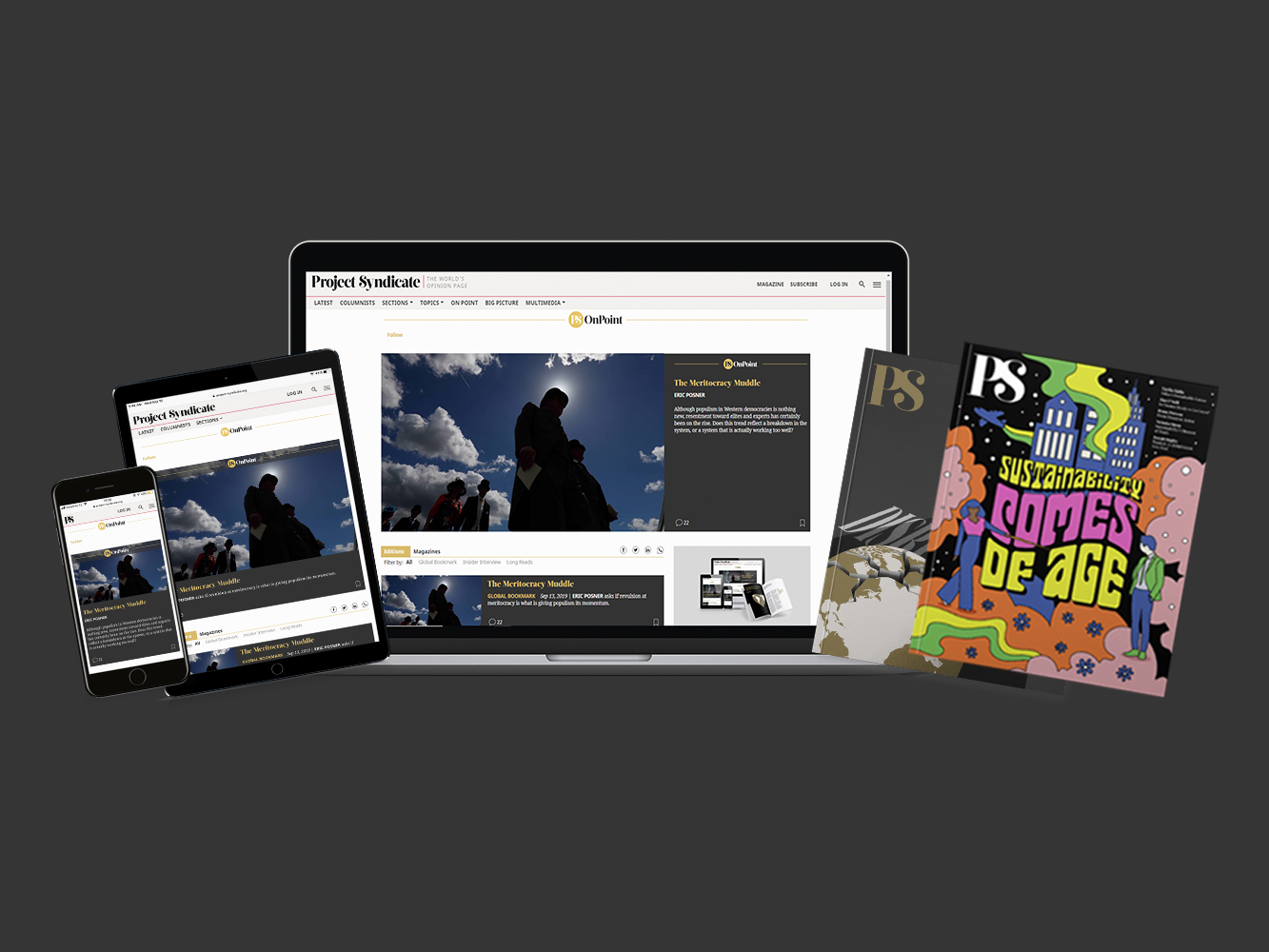 Subscribe now
Subscribe today and get a free copy of our new magazine, Sustainability Comes of Age, along with unlimited access to OnPoint, the Big Picture, the entire PS archive of more than 14,000 commentaries, and our annual magazine, for less than $2 a week.
Trump está empeñado en quebrar a cualquier país que se niegue a inclinarse ante sus demandas. El pueblo estadounidense no es tan arrogante e inmoderado, pero algunos de los asesores de Trump sí lo son. Por ejemplo, el asesor de seguridad nacional John Bolton y el secretario de Estado Mike Pompeo son la cabal expresión de una estrategia extraordinariamente arrogante de cara al mundo, amplificada por el fundamentalismo religioso en el caso de Pompeo.
Hace poco Bolton viajó a Londres para alentar al nuevo primer ministro británico, Boris Johnson, en su determinación de abandonar la Unión Europea con o sin acuerdo. A Trump y a Bolton el Reino Unido les importa un bledo; lo que ansían es el fracaso de la UE. Así pues, cualquier enemigo de la Unión (trátese de Johnson, de Matteo Salvini en Italia o del primer ministro húngaro Viktor Orbán) es amigo de Trump, Bolton y Pompeo.
Trump también anhela lograr la caída del régimen persa, explotando contra Irán un rencor que data de la revolución de 1979 y del recuerdo persistente en la opinión pública estadounidense de la crisis de los rehenes en Teherán. Su animosidad recibe el aliento de líderes israelíes y sauditas irresponsables, que detestan a la dirigencia iraní por motivos propios. Pero también es algo muy personal para Trump, a quien la negativa del gobierno iraní a acceder a sus demandas le parece motivo suficiente para tratar de eliminarlo.
Los europeos conocen las consecuencias de la imprudencia estadounidense en Medio Oriente. La crisis migratoria en Europa fue producto ante todo de las guerras electivas que libró Estados Unidos en la región: las de George Bush (hijo) contra Afganistán e Irak, y las de Barack Obama contra Libia y Siria. En esas ocasiones, Estados Unidos se precipitó y Europa pagó el precio (aunque por supuesto, la gente de Medio Oriente pagó un precio mucho mayor).
Ahora la guerra económica de Trump contra Irán amenaza con provocar un conflicto aun más grande. Ante los ojos del mundo, intenta asfixiar la economía iraní quitándole sus ingresos de divisa extranjera mediante sanciones a cualquier empresa (estadounidense o no) que comercie con el país. Esas sanciones son el equivalente de una guerra, en infracción de la Carta de las Naciones Unidas. Y como apuntan directamente a la población civil, constituyen, o al menos deberían constituir, un crimen contra la humanidad. (Trump sigue básicamente la misma estrategia contra el gobierno y el pueblo venezolanos.)
Europa cuestionó muchas veces las sanciones estadounidenses, que no sólo son unilaterales, extraterritoriales y contrarias a los intereses de seguridad europeos, sino también expresamente violatorias del acuerdo nuclear de 2015 con Irán, aprobado en forma unánime por el Consejo de Seguridad de la ONU. Pero la dirigencia europea ha tenido miedo de desafiar esas sanciones en forma directa.
Es un miedo infundado. Europa puede enfrentar las amenazas de sanciones extraterritoriales de Estados Unidos en sociedad con China, la India y Rusia. Sería muy fácil denominar el comercio con Irán en euros, yuanes, rupias y rublos, y así evitar los bancos estadounidenses. Y es posible intercambiar bienes por petróleo a través de un mecanismo de compensación basado en el euro como el INSTEX.
De hecho, las sanciones extraterritoriales de Estados Unidos no son una amenaza creíble a largo plazo. Su implementación contra la mayor parte del mundo provocaría un daño irreparable a la economía y a la bolsa estadounidenses, al dólar y al liderazgo de Estados Unidos. De modo que es probable que la amenaza de sanciones no pase de eso: una mera amenaza. Incluso si Estados Unidos intentara hacer cumplir sanciones contra las empresas europeas, la UE, China, la India y Rusia pueden cuestionarlas en el Consejo de Seguridad de la ONU, que se opondrá por amplio margen a las políticas estadounidenses. Si Estados Unidos veta una resolución del Consejo de Seguridad contra las sanciones, entonces la Asamblea General de la ONU puede tomar cartas en el asunto conforme a los procedimientos estipulados por la Resolución 377 de la Asamblea ("Unión pro paz"). Una inmensa mayoría de los 193 países de la ONU repudiará la aplicación extraterritorial de las sanciones.
Si la dirigencia europea cede ante las bravatas y amenazas de Trump en relación con Irán, Venezuela, China y otros países, pondrá en riesgo la seguridad de Europa y del mundo. Los líderes europeos deben darse cuenta de que una mayoría significativa de los estadounidenses también está en contra de la maligna conducta narcisista y psicópata de Trump, que desató una oleada de matanzas y otros crímenes de odio en Estados Unidos. Oponiéndose a Trump y defendiendo el derecho internacional (que incluye el comercio internacional basado en reglas), los europeos y los estadounidenses pueden trabajar juntos para fortalecer la paz mundial y la amistad transatlántica por muchas generaciones.
Traducción: Esteban Flamini