El alto costo de negar la existencia de la guerra de clases
ATENAS – La atmósfera política en la esfera anglosajona está cargada de indignación burguesa. En Estados Unidos, la llamada clase dirigente liberal está convencida de que la victoria le fue robada por una rebelión de "deplorables" que recibieron armas de los piratas informáticos de Vladimir Putin y usaron los siniestros mecanismos internos de Facebook. En Gran Bretaña, asimismo, una indignada burguesía se pellizca para despertar de la pesadilla que viven porque el apoyo a la salida de la Unión Europea, que favorece un aislamiento poco glorificado, permanece  intacto, a pesar de que este proceso sólo puede describirse como un Brexit confuso y desorganizado.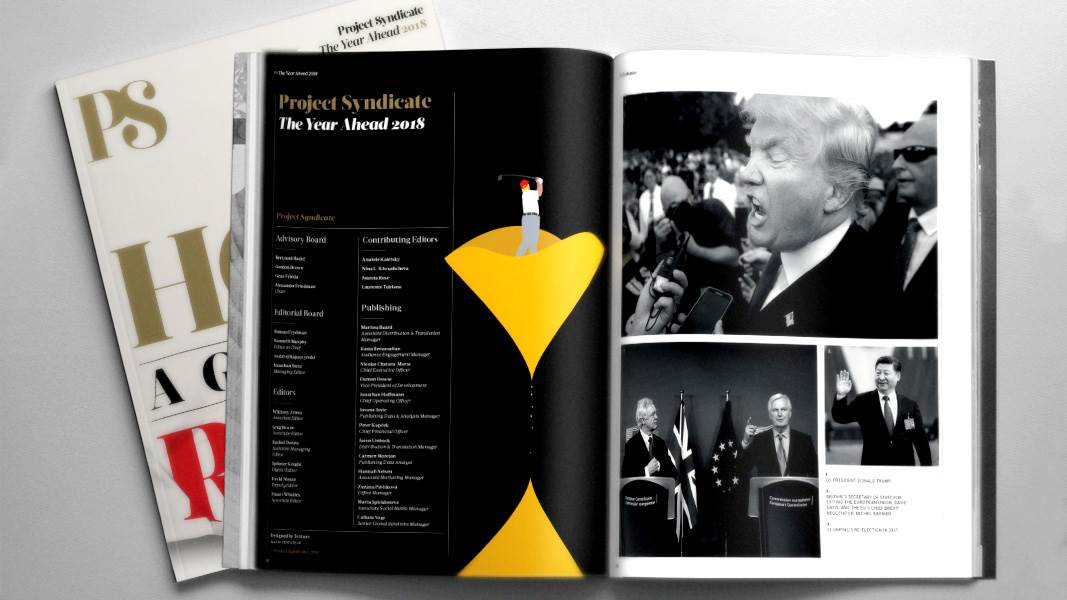 The Year Ahead 2018
The world's leading thinkers and policymakers examine what's come apart in the past year, and anticipate what will define the year ahead.
La gama cubierta por los distintos análisis es asombrosa. Se  investiga el ascenso del provincianismo militante en ambos lados del Atlántico desde todos los ángulos imaginables: desde ángulos psicoanalíticos, culturales, antropológicos, estéticos y, por supuesto, se realizan análisis en términos de identidad política. El único ángulo que queda en su mayoría inexplorado es el que tiene la clave para comprender lo que está sucediendo: la incesante guerra de clases desatada contra los pobres desde finales de la década de 1970.
El 2016, el año tanto de Brexit como de Trump, dos piezas de datos, diligentemente desdeñadas por los analistas más astutos de las clases dirigentes, fueron las que contaron la historia. En Estados Unidos, de acuerdo con datos de la Reserva Federal, más de la mitad de las familias estadounidenses no calificaron para obtener un préstamo que les permitiera comprar el automóvil nuevo más barato en venta (el sedán Nissan Versa, con un precio de $12.825). Al mismo tiempo en el Reino Unido, más del 40% de las familias dependían ya sea de bancos de alimentos o de préstamos para alimentarse y cubrir sus necesidades básicas.
Guillermo de Ockham, el filósofo británico del siglo XIV, planteó su célebre postulado que indica que cuando nos sentimos perplejos frente a explicaciones que compiten entre sí, deberíamos optar por la explicación que tiene la menor cantidad de suposiciones y que es la más simple. A pesar de toda la destreza que tienen los expertos de las clases dirigentes en Estados Unidos y Gran Bretaña, parece que ellos no prestaron atención a este principio.
Ya que dichos expertos son reacios a reconocer la intensificada guerra de clases, ellos estudian interminablemente teorías de conspiración sobre la influencia rusa, las explosiones espontáneas de misoginia, la ola de migrantes, el surgimiento de las máquinas, etcétera. Si bien todos estos temores están altamente correlacionados con el provincianismo militante que impulsa a Trump y Brexit, sólo pueden considerarse como tangenciales a la causa más profunda – la guerra de clases contra los pobres – que es a la que hacen referencia los datos sobre asequibilidad para la compra de automóviles en Estados Unidos y los datos sobre la dependencia crediticia de gran parte de la población de Gran Bretaña.
Es cierto que algunos votantes relativamente acomodados de la clase media también apoyaron a Trump y Brexit. Pero gran parte de ese apoyo surgió por el miedo que les causó observar que las clases justo debajo de las suyas se encontraban sumidas en la desesperación y el odio, mientras que las perspectivas de sus propios hijos disminuían y se oscurecían.
Veinte años atrás, los mismos expertos liberales cultivaron el sueño imposible relativo a que globalizar el capitalismo financiarizado brindaría prosperidad para la mayoría. En un momento en que el capital se concentraba cada vez más a escala global y actuaba de manera más agresiva en contra de los no propietarios de activos, estos expertos declaraban que la guerra de clases había terminado. Mientras la clase trabajadora iba creciendo en tamaño en todo el mundo, a pesar de que sus puestos de trabajos y sus perspectivas de empleo se reducían en la esfera anglosajona, las élites se comportaban como si las clases fueran una cosa pasada de moda.
El colapso financiero del año 2008 y la posterior Gran Recesión se ocuparon de enterrar ese sueño. Aun así, los liberales ignoraron el hecho innegable de que las gigantescas pérdidas sufridas por el cuasi criminal sector financiero fueron cínicamente transferidas sobre los hombros de una clase trabajadora, que ellos pensaban que ya no revestía importancia alguna.   
A pesar de las élites se consideran a sí mismas como progresistas, su disposición a ignorar las cada vez más amplias divisiones de clases, y reemplazarlas por prácticas ciegas ante las clases de identidad política, fue el mejor regalo que pudo recibir el populismo tóxico. En Gran Bretaña, el Partido Laborista (bajo el liderazgo de Tony Blair, Gordon Brown y Edward Miliband) fue demasiado tímido incluso con respecto a mencionar la intensificación de la guerra de clases en contra de la mayoría durante el período posterior al año 2008, actitud que condujo a que emerja desde dentro de los bastiones del Partido Laborista, el Partido de la Independencia del Reino Unido (UKIP) junto con su Brexit provincialista.
A la sociedad cortesana aparentemente le importó un bledo que se hubiera hecho más fácil ingresar a Harvard o Cambridge si eras una persona negra, y no así si eras una persona pobre. Deliberadamente los miembros de esta clase ignoraron que la identidad política puede causar tanta división como el apartheid, si se le permite actuar como una palanca para pasar por alto el conflicto de clases.
Trump no tuvo ningún escrúpulo para hablar con claridad acerca de las clases y para acoger en su seno – aunque sea de manera engañosa y falsa – a aquellos que son demasiado pobres para comprar un automóvil, sin tener que mencionar a aquellos cuyas posibilidades no les permiten enviar a sus hijos a Harvard. Aquellos que están a favor de Brexit, asimismo, acogieron en su seno a la "plebe", lo que se refleja en las imágenes del líder del UKIP, Nigel Farage, en bares ingleses bebiendo junto a "muchachos normales y corrientes". Y, cuando grandes sectores de la clase trabajadora dieron la espalda a los hijos e hijas favoritos de la clase dirigente (a los Clinton, los Bush y los Cameron), y brindaron su respaldo al provincialismo militante, los críticos culparon de ello a las ideas ilusorias que tiene la chusma sobre el capitalismo.
Pero no fueron las ideas ilusorias sobre el capitalismo las que llevaron al descontento que energizó a Trump y Brexit. Por el contrario, es la desilusión con la política moderada que es el tipo de política que intensificó la guerra de clases contra ellos.
Como era de esperar, el acogimiento de la clase trabajadora por parte de Trump y de quienes están a favor de Brexit estuvo siempre destinado a brindar a estos líderes con poder electoral que, tarde o temprano, se desplegaría en contra los intereses de la propia clase trabajadora y, por supuesto, las minorías – que es a lo que siempre ha tendido el populismo en el poder, desde la década de 1930 hasta hoy en día. Trump ha utilizado el apoyo que recibe de la clase trabajadora para abrir paso para reformas fiscales escandalosas, cuya ambición descarada es ayudar a la plutocracia, mientras millones de estadounidenses enfrentan una cobertura de salud reducida y, a medida que el déficit del presupuesto federal crezca como globo, tengan que enfrentar obligaciones de impuestos más altas a largo plazo.
Asimismo, gobierno Conservador de Gran Bretaña, que se ha casado con los objetivos populistas de Brexit, ha anunciado recientemente más reducciones de varios millones de libras en seguridad social, educación y créditos fiscales que afectan a los trabajadores pobres. Esos recortes van exactamente a la par de las reducciones en impuestos corporativos y recortes de impuestos sobre las herencias. 
Hoy, los líderes de opinión de la clase dirigente, quienes desdeñosamente rechazaron la pertinencia de las clases sociales, han contribuido a la creación de un ambiente político en el que la política de clases nunca fue más pertinente, más tóxica y menos debatida. Hablando en representación de una clase dirigente compuesta por expertos financieros, banqueros, representantes de las corporaciones, dueños de medios de comunicación y funcionarios de las grandes industrias, ellos actúan exactamente como si su objetivo fuera entregar a las clases trabajadoras a las sucias manos de los populistas y de su promesa vacía de hacer que Estados Unidos y Gran Bretaña sean "nuevamente grandiosos".
La única posibilidad de civilizar la sociedad y desintoxicar la política es un nuevo movimiento político que en nombre de un nuevo humanismo cabalgue y se cimiente en la ardiente injusticia que produce la guerra de clases. A juzgar por el cruel trato que se dio al senador estadounidense Bernie Sanders y al líder laborista Jeremy Corbyn, la clase dirigente liberal parece temer más a ese movimiento que a Trump y Brexit.
Traducción del inglés: Rocío L. Barrientos.