Высокая цена отказа от классовой войны
АФИНЫ – Политическая атмосфера Англосферы наполнена буржуазной ненавистью. В Соединенных Штатах, так называемый либеральный истеблишмент убежден, что он был ограблен противодействием "жалкого сборища", используемого хакерами Владимира Путина и зловещими внутренними разработками Facebook. Также, в Великобритании, возмущенная буржуазия страдает от того, что поддержка выхода из Евросоюза в пользу бесславной изоляции остается неизменной, несмотря на процесс, который можно описать только как хаотичный Брексит.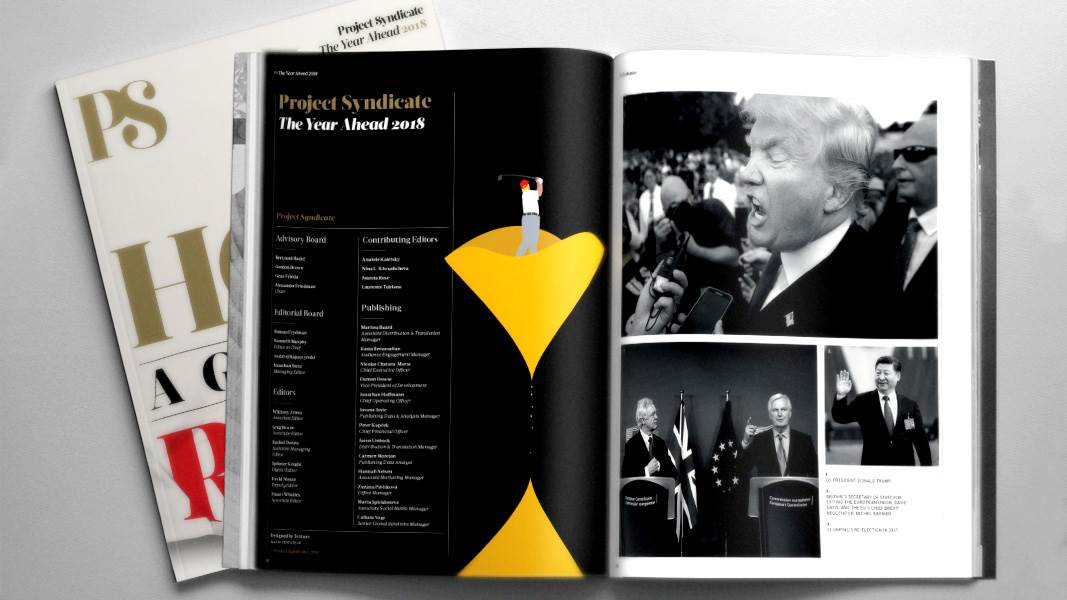 The Year Ahead 2018
The world's leading thinkers and policymakers examine what's come apart in the past year, and anticipate what will define the year ahead.
Диапазон анализа ошеломляет. Рост воинствующего парохиализма по обе стороны Атлантики изучается со всех точек зрения, которые можно представить: психоаналитической, культурной, антропологической, эстетической и, конечно, с точки зрения политики идентичности. Единственный ракурс, который остается в значительной степени неисследованным, это тот, что держит ключ к пониманию происходящего: непрекращающаяся классовая война, развязанная против бедных с конца 1970-х годов.
В 2016 году, год как Брексита, так и Трампа, два показателя, как обычно проигнорированных самыми проницательными аналитиками истеблишмента, объяснили ситуацию. Согласно данным Федеральной резервной системы, в Соединенных Штатах более половины американских семей не имеют права на получение кредита, который позволил бы им купить самый дешевый автомобиль на рынке (седан Nissan Versa по цене 12 825 долларов США). Между тем, в Соединенном Королевстве, более 40% семей полагались либо на кредит, либо на продовольственные банки, чтобы прокормить себя и покрыть основные потребности.
Уильям Оккам, британский философ четырнадцатого века, превосходно постулировал, что, запутавшись в конкурирующих объяснениях, мы должны выбрать то, что имеет меньше всего предположении и наибольшую простоту. При всей своей ловкости, аналитики эстеблишмента США и Великобритании, похоже, пренебрегли этим принципом.
Не желая признавать усиливающуюся классовую войну, они бесконечно бьют на теории заговора о влиянии России, спонтанные всплески женоненавистничества, волны мигрантов, восстание машин и т.д. Несмотря на то, что все эти страхи тесно связаны с воинствующим парохиализмом, подпитывающим Трампа и Брексит, они имеют слабое отношение к более глубокой причине – классовой войне против бедных людей, – очем свидетельствуют данные о доступности автомобилей в США и кредитная зависимость большей части населения Британии.
Все верно, некоторые относительно богатые избиратели среднего класса, также поддержали Трампа и Брексит. Но большая часть этой поддержки основывается на страхе, вызванном наблюдением за тем, как нижеследующие классы погружаются в отчаяние и ненависть, тогда как перспективы их собственных детей весьма туманны.
Двадцать лет назад, те же либеральные аналитики культивировали невозможную мечту о том, что глобализация финансиализированного капитализма принесет процветание большинству. В то время, когда капитал становится все более концентрированным в глобальном масштабе и более воинствующим по отношению к тем, кто не является собственниками активов, они декларировали, что классовая война окончена. По мере роста рабочего класса по всему миру, даже при том, что в Англосфере рабочие места и перспективы занятости сокращались, эти элиты вели себя так, как если бы класс ушел в прошлое.
Финансовый крах 2008 года и последующая Великая рецессия похоронили эту мечту. Тем не менее, либералы проигнорировали неоспоримый факт, что гигантские потери, понесенные квази-криминальным финансовым сектором, были цинично переложены на плечи рабочего класса, который для них уже не имел никакого значения.
При всей их самооценке прогрессистов, готовность элит игнорировать расширяющиеся классовые расслоения и заменить это классово-слепой политикой идентичности, было величайшим подарком токсичному популизму. В Британии, Лейбористская партия (под Тони Блэром, Гордоном Брауном и Эдвардом Милибэндом) была слишком робкой, чтобы даже упомянуть об усилении классовой войны против большинства после 2008 года, что привело к появлению, посреди Лейбористов, Партии независимости Соединенного Королевства (UKIP), с ее Брексит парохиализмом.
Похоже, приличное общество не обращает внимания на то, что стало легче поступить в Гарвард или Кембридж, если вы черный, чем если вы бедный. Они сознательно игнорировали, что политика идентичности может быть столь же спорной, как апартеид, если позволить ей выступать в качестве рычага для игнорирования классового конфликта.
Трамп не испытывал никаких угрызений совести, четко говоря о классе, и тем не менее лицемерно обнимая тех, кто слишком беден для того, чтобы купить автомобиль, не говоря уже о том, чтобы отправить своих детей в Гарвард. Брекситеры, также обнимали "простой народ", отраженный в образах лидера UKIP Найджела Фаража, пьющего в пабах с "обычными парнями". И когда большие группы рабочего класса развернулись против любимых сыновей и дочерей эстеблишмента (Клинтонов, Бушей, Блеров и Камеронов), поддерживая воинствующий парохиализм, политические обозреватели осудили иллюзии отбросов общества о капитализме.
Но не иллюзии о капитализме привели к недовольству, которое поддержало Трампа и Брексит. Скорее, это разочарование в умеренной политике, которая усилила классовую войну против них.
Как и следовало ожидать, объятие Трампа и Брекситеров рабочего класса, всегда вооружало их избирательной властью, которая рано или поздно будет развернута против интересов рабочего класса и, конечно же, меньшинств – неизменная склонность популизма у власти, с 1930-х годов по сегодняшний день. Трамп, таким образом использовал рабочую поддержку для введения скандальных налоговых реформ, чья голая амбиция состоит в том, чтобы помочь плутократии, в то время как миллионы американцев сталкиваются с сокращением охвата медицинскими услугами и, так как дефицит федерального бюджета раздувается, более высокими долгосрочными налогами.
Таким же образом, правительство британских Тори, которое отстаивало популистские цели Брексита, недавно объявило о сокращении социальных, образовательных и налоговых льгот для бедных слоев населения на несколько миллиардов фунтов. Эти сокращения в точности соответствуют сумме, на которую был снижен корпоративный налог и налог на наследство.
Сегодня, истеблишмент формирующий общественное мнение, который презрительно отверг значимость социального класса, способствовал политической среде, в которой классовая политика никогда не была более актуальной, токсичной и менее обсуждаемой. Выступая от имени правящего класса, состоящего из финансовых экспертов, банкиров, корпоративных представителей, владельцев СМИ и крупных отраслевых функционеров, они действуют точно так, как если бы их целью было передать рабочие классы в грязные руки популистов и их пустое обещание сделать Америку и Британию "снова великими".
Единственной перспективой цивилизировать общество и детоксифицировать политику является новое политическое движение, которое во имя нового гуманизма укротит жгучую несправедливость, которую производит классовая война. Судя по их грубому обращению с сенатором США Берни Сандерсом и лейбористом Джереми Корбином, либеральный истеблишмент, похоже, боится такого движения больше, чем Трампа и Брексита.