Die hohen Kosten der Leugnung eines Klassenkampfes
ATHEN – Die politische Stimmung in der Anglosphäre ist von bourgeoiser Empörung geprägt. In den Vereinigten Staaten ist das so genannte liberale Establishment überzeugt, durch einen Aufstand der "Erbärmlichen" beraubt worden zu sein, die von Wladimir Putins Hackern und den finsteren Machenschaften Facebooks als Waffen benutzt wurden. Auch in Großbritannien redet sich eine erboste Bourgeoisie ein, dass die Unterstützung eines Austritts aus der Europäischen Union zugunsten einer unrühmlichen Isolation der Weisheit letzter Schluss sei, obwohl der Austrittsprozess nur als Schlamassel zu bezeichnen ist.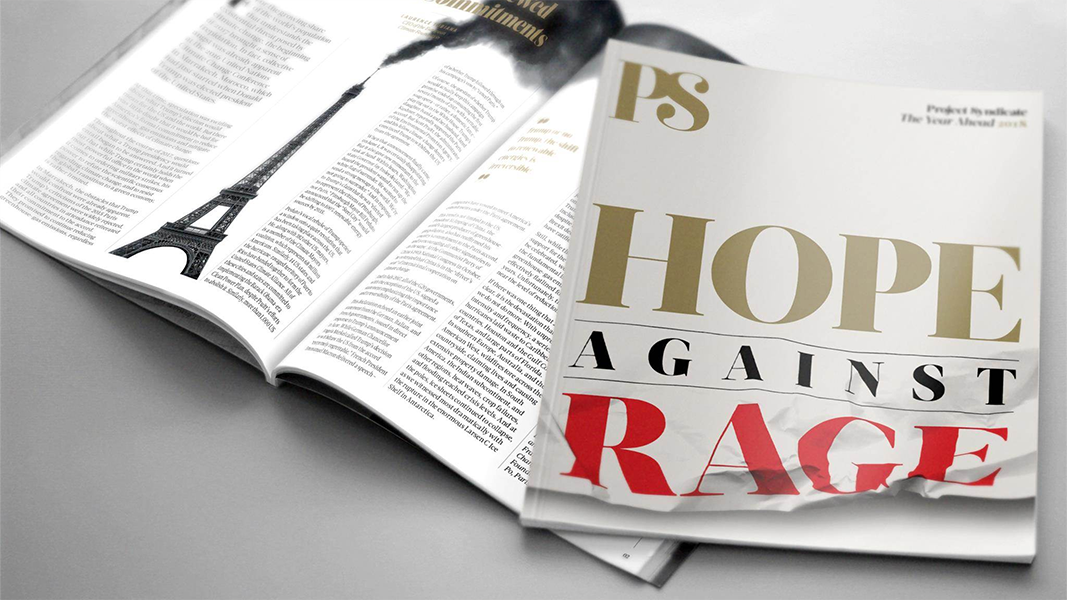 The Year Ahead 2018
The world's leading thinkers and policymakers examine what's come apart in the past year, and anticipate what will define the year ahead.
Die Bandbreite der Analyse ist atemberaubend. Der Aufstieg des militanten Provinzialismus auf beiden Seiten des Atlantiks wird aus jedem erdenklichen Blickwinkel untersucht: psychoanalytisch, kulturell, anthropologisch, ästhetisch und natürlich identitätspolitisch. Doch der Schlüssel zum Verständnis der Ereignisse liegt im einzigen, größtenteils unerforschten Aspekt: nämlich dem fortwährenden Klassenkampf, der seit den späten 1970er Jahren gegen die Armen geführt wird.  
Im Jahr 2016, als der Brexit beschlossen wurde und Trump an die Macht kam, legten zwei, von den scharfsinnigsten Analytikern des Establishments pflichtschuldig unter den Teppich gekehrte Informationen die ganze Geschichte offen. In den Vereinigten Staaten waren laut Angaben der Notenbank Federal Reserve über die Hälfte der amerikanischen Familien nicht berechtigt, einen Kredit aufzunehmen, der es ihnen ermöglicht hätte, das billigste im Handel erhältliche Auto zu kaufen (das Limousinen-Modell des Nissan Versa zu einem Preis von 12.825 US-Dollar). Unterdessen sind im Vereinigten Königreich über 40 Prozent der Familien im Hinblick auf Nahrungsmittel und die Deckung von Grundbedürfnissen entweder auf Kredite oder Essensausgabestellen angewiesen.
Wilhelm von Ockham, britischer Philosoph des 14. Jahrhunderts, postulierte in berühmten Worten, dass wir uns, im Falle widersprechender Erklärungen, für diejenige mit den wenigsten Variablen und Hypothesen und der größten Einfachheit entscheiden sollen. Trotz aller Findigkeit der Kommentatoren des Establishments in den USA und Großbritannien haben sie dieses Prinzip offenbar außer Acht gelassen.
In ihrem Unwillen, den verschärften Klassenkampf anzuerkennen, schwafeln sie weiter endlos von Verschwörungstheorien über russische Beeinflussung, spontanen Ausbrüchen der Frauenfeindlichkeit, der Flüchtlingswelle, den Aufstieg der Maschinen und so weiter. Obwohl alle diese Ängste in engem Zusammenhang mit jenem militanten Provinzialismus stehen, der Trump und Brexit ermöglichte, sind sie dennoch nur eine Randerscheinung der tiefer liegenden Ursache – nämlich des Klassenkampfes gegen die Armen – die in den USA in den Daten über die Erschwinglichkeit eines Autos und in Großbritannien über die Kreditabhängigkeit eines so großen Teiles der Bevölkerung ihren Ausdruck findet.
Es trifft zwar zu, dass einige relativ wohlhabende Wähler der Mittelschicht Trump und Brexit ebenfalls unterstützten. Aber ein Großteil dieser Unterstützung ist einer Angst aufgrund ihrer Beobachtung geschuldet, dass die Bevölkerungsschichten knapp unter ihrer eigenen in Verzweiflung und Trostlosigkeit stürzten, während sich die Aussichten für die eigenen Kinder verdüsterten.
Vor zwanzig Jahren kultivierten die gleichen liberalen Kommentatoren den unmöglichen Traum, wonach die Globalisierung des finanzialisierten Kapitalismus Wohlstand für die meisten bringen würde. Zu einer Zeit, da sich das Kapital global stärker konzentrierte und sich gegen diejenigen militanter präsentierte, die keine Vermögenswerte besaßen, erklärten sie den Klassenkampf für beendet. Als die Arbeiterschicht weltweit trotz schwindender Job-  und Beschäftigungsperspektiven in der Anglosphäre wuchs, verhielten sich diese Eliten so, als ob Klassen passé wären.
Der Finanzkollaps des Jahres 2008 und die anschließende Große Rezession machten diesem Traum den Garaus. Dennoch ignorierten die Liberalen die unbestreitbare Tatsache, dass die im quasikriminellen Finanzsektor aufgehäuften gigantischen Verluste in zynischer Weise auf die Schultern einer Arbeiterschicht geladen wurden, die in ihren Augen keine Bedeutung mehr hatte. 
Trotz all ihres Selbstverständnisses als Progressive war die Bereitschaft der Eliten, die sich ausweitenden Klassenunterschiede zu ignorieren und sie durch eine klassenblinde Identitätspolitik zu ersetzen, das größte Geschenk an den toxischen Populismus. In Großbritannien war die Labour Party (unter Tony Blair, Gordon Brown und Edward Miliband) zu verschämt, den sich nach 2008 verschärfenden Klassenkampf gegen die Bevölkerungsmehrheit überhaupt zu erwähnen, was zum Aufstieg der UK Independence Party (UKIP) mit ihrem Brexit-Provinzialismus in den Hochburgen der Labour Party führte.
Die Oberschicht scherte sich offenbar keinen Deut darum, dass mittlerweile Menschen dunkler Hautfarbe leichter in Harvard oder Cambrigde aufgenommen wurden als Arme. Bewusst ignorierten sie die Tatsache, dass Identitätspolitik ebenso spaltende Wirkung haben kann wie Apartheid, wenn man es dieser Politik gestattet, als Instrument dafür zu fungieren, Klassenkonflikte zu ignorieren.
Trump hatte keine Scheu, diese Klassen deutlich anzusprechen und sich  – wie hinterlistig auch immer – an diejenigen zu wenden, die zu arm sind, um sich ein Auto zu kaufen, geschweige denn ihre Kinder nach Harvard zu schicken. Auch die Spitzen der Brexit-Bewegung wandten sich dem Prekariat zu. Seinen Ausdruck fand das in Bildern des UKIP-Chefs Nigel Farage, wie er in Pubs mit "einfachen Menschen von der Straße" trank. Und als sich große Teile der Arbeiterschicht in ihrer Unterstützung des militanten Provinzialismus gegen die Lieblingssöhne und –töchter des Establishments wandten (die Clintons, die Bushes, die Blairs und die Camerons) machte man auf den Kommentarseiten die Illusionen des Pöbels hinsichtlich des Kapitalismus dafür verantwortlich.
Allerdings waren es nicht die Illusionen hinsichtlich des Kapitalismus, die zu jener Unzufriedenheit führten, die Trump und Brexit befeuerte, sondern vielmehr die Desillusionierung über eine Politik der Mitte, die den Klassenkampf gegen die Armen verschärfte.
Vorhersehbarerweise sollte die Hinwendung zur Arbeiterschicht Trump und die Spitzen der Brexit-Bewegung mit einer Macht ausstatten, die früher oder später gegen die Interessen der Arbeiterklasse eingesetzt werden würde und natürlich auch gegen jene der Minderheiten – von den 1930er Jahren bis heute stets die große Vorliebe der Populisten an der Macht. So nutzte Trump die Unterstützung der Arbeiterschicht zur Einführung einer skandalösen Steuerreform, deren unverhohlenes Bestreben darin besteht, der Plutokratie zu helfen, während Millionen Amerikaner mit verringerten Leistungen in der Gesundheitsversorgung konfrontiert sind und  - aufgrund eines ausufernden Defizits des Bundeshaushalts - mit längerfristig höheren Steuern.
In ähnlicher Weise hat die konservative britische Regierung, die sich für die populistischen Brexit-Ziele stark macht, kürzlich die weitere Senkung der Ausgaben für Sozialversicherung, Bildung und Steuergutschriften für die Erwerbsarmen im Ausmaß von mehreren Milliarden Pfund angekündigt. Diese Kürzungen entsprechen genau dem Ausmaß, in dem Körperschafts- und Erbschaftssteuer gesenkt wurden.
Heute tragen die Meinungsmacher des Establishments, die einst die Relevanz sozialer Klassen verächtlich zurückwiesen, zu einem politischen Umfeld bei, in dem Klassenpolitik niemals relevanter und schädlicher war und auch niemals weniger diskutiert wurde. Sie sprechen im Namen einer aus Finanzexperten, Bankern, Unternehmensvertretern, Medieninhabern und großindustriellen Funktionären bestehenden herrschenden Klasse und benehmen sich genau so, als ob es ihr Ziel wäre, die Arbeiterklasse den schmuddeligen Händen der Populisten und ihren leeren Versprechungen auszuliefern, Amerika und Großbritannien "wieder groß zu machen".
Die einzige Aussicht zur Zivilisierung der Gesellschaft und Entgiftung der Politik ist eine neue politische Bewegung, die sich im Namen eines neuen Humanismus jener himmelschreienden Ungerechtigkeit annimmt, die ein Klassenkampf hervorbringt. Gemessen an der kaltschnäuzigen Behandlung, die man US-Senator Bernie Sanders und dem britischen Labour-Chef Jeremy Corbyn angedeihen ließ, scheint das liberale Establishment eine derartige Bewegung mehr zu fürchten als Trump und Brexit.
Aus dem Englischen von Helga Klinger-Groier