Ein spanisches Drama
GÖTEBORG – Innerhalb weniger Tage könnte das katalanische Regionalparlament nach 500 Jahren Geschichte mit Spanien die Unabhängigkeit Kataloniens erklären. Möglicherweise reagiert die spanische Regierung darauf mit der Entsendung tausender Polizisten, um Spitzenvertreter Kataloniens festzunehmen, womit man einer 40 Jahre dauernden florierenden Selbstverwaltung ein Ende setzen würde. Viele Katalanen könnten darauf wiederum auf die Straße gehen und eine Revolte mit schrecklichen Folgen in Gang setzen.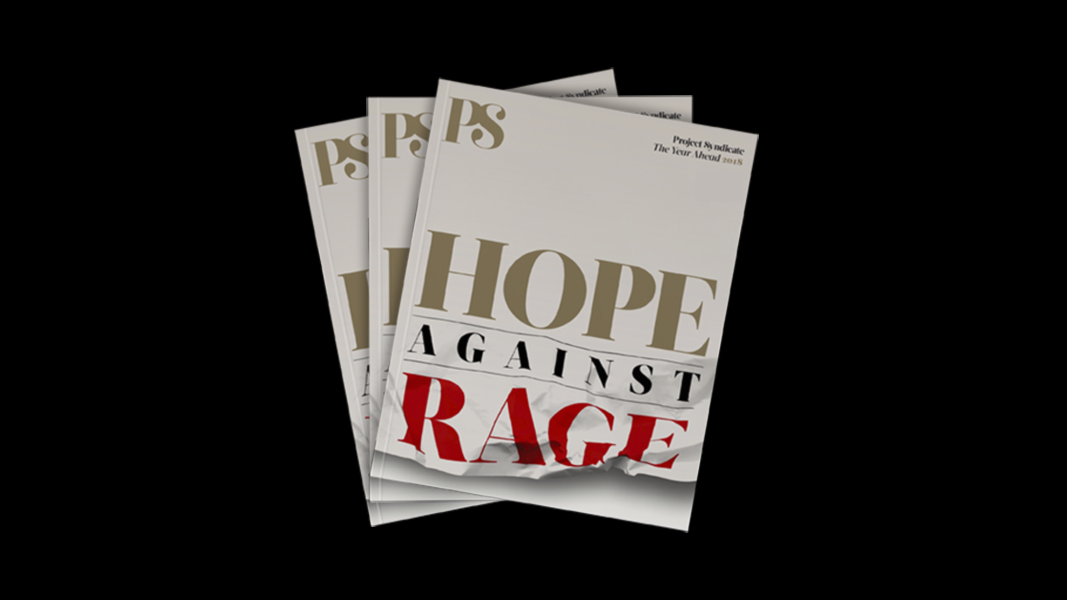 The Year Ahead 2018
The world's leading thinkers and policymakers examine what's come apart in the past year, and anticipate what will define the year ahead.
Auf den ersten Blick ist die Vorstellung eines im Chaos versinkenden Spaniens verstörend. Das Land rangiert unter den führenden Demokratien dieser Welt – manchen Indikatoren zufolge vor Frankreich, Italien und den Vereinigten Staaten. Und das Land gehört zu den bevorzugten Destinationen von Investoren und Touristen weltweit. Nach einem Spaziergang durch die prachtvollen und bezaubernden Straßen Barcelonas erscheint die Möglichkeit gewalttätiger Zusammenstöße dort so unwahrscheinlich wie die Begegnung mit einem Gorilla in den Wäldern British Columbias.   
Dennoch ist eine physische Konfrontation zwischen spanischen Behörden und den aufständischen Kräften Kataloniens eine Möglichkeit, wenn wichtige Akteure ihre Vorgehensweise nicht ändern. Und dazu hat niemand einen Anreiz. Wie James Dean und Buzz in dem Film "…denn sie wissen nicht, was sie tun" rasen die spanische und die katalanische Regierung in ihren Autos auf den Abgrund zu, wobei jede Seite erwartet, dass die andere zuerst aus dem Wagen springt.
Die spanische Regierung geht davon aus, dass das katalanische Parlament keine unilaterale Erklärung der Unabhängigkeit abgeben wird, weil dieser Schritt keine internationale Anerkennung finden würde. Und die katalanische Regierung ist zuversichtlich, dass eine repressive Reaktion der spanischen Behörden - die womöglich Bilder von Polizisten in Erinnerung ruft, wie sie unbewaffnete alte Frauen und Teenager während des Referendums am 1. Oktober verprügelten - einer friedlichen Rebellion in Katalonien sowie einer umfassenden internationalen Duldung den Weg ebnen würde.  
Beide Regierungen genießen zudem die starke Unterstützung der jeweiligen Bevölkerung. Die regierende konservative Volkspartei (PP) in Madrid kann bequem Parlamentswahlen gewinnen, ohne dabei die Wähler Kataloniens hofieren zu müssen, wo man im Jahr 2015 magere 11 Prozent der Stimmen bekam. Ebenso ist es den separatistischen Parteien ein Leichtes, sich eine Mehrheit im katalanischen Parlament sichern. Außerdem können beide Seiten aufgrund der staatlichen Kontrolle öffentlich-rechtlicher Rundfunkanstalten und der großzügigen öffentlichen Förderung privater Medien eine zuverlässige Armada hoch motivierter Journalisten und Intellektueller entsenden, die mit ihren aufwieglerischen Kommentaren zur Eskalation des Konflikts beitragen.
Die Akteure im spanischen Drama stehen vor einem Phänomen, das Politikwissenschaftler als soziales Dilemma bezeichnen: jede Seite gewinnt durch ihr egoistisches Verhalten, außer die andere Seite benimmt sich ebenfalls egoistisch – in diesem Fall verlieren beide Seiten.
Sowohl Unionisten als auch Separatisten wären mit einer zweitbesten Lösung besser bedient. Beispielsweise könnten die Separatisten, im Gegenzug für Gespräche über Verfassungsreformen, die Spanien in Richtung eines Bundesstaates lenken, auf eine einseitige Erklärung der Unabhängigkeit verzichten. Eine Verfassungsänderung, die symbolische Veränderungen wie die offizielle Erklärung Kataloniens als "Nation" oder substanzielle Initiativen wie einen Fiskalpakt zuließe, würde die meisten Katalanen zufriedenstellen und gleichzeitig die territoriale Integrität Spaniens wahren.
Das Problem besteht darin, dass beide Seiten glauben, Kompromissbereitschaft würde ihre zukünftige Verhandlungsposition schwächen. Politikwissenschaftliche Forschungsergebnisse deuten allerdings darauf hin, dass das Gegenteil der Fall ist. Aus den Erkenntnissen der Nobelpreisträgerin Elinor Ostrom wissen wir, dass soziale Dilemmata durch die Anwendung einer gegensätzlichen Strategie gelöst werden können: geben statt fordern. Zeigt eine Partei kooperatives Verhalten, könnte sich ihre Konkurrentin gezwungen sehen, dieses Verhalten zu erwidern, was zu einer Spirale der Kooperation statt der Vergeltung sowie zu Vertrauen statt Argwohn führt.
Genau das ist in Katalonien nun erforderlich. Sowohl die spanische Regierung als auch die katalanischen Separatisten müssen eines erkennen: agiert man mit vernünftiger Großzügigkeit, reagiert die andere Seite vielleicht mit weiteren Zugeständnissen. 
Das wird angesichts der derzeitigen mentalen Distanz zwischen den Eliten in Madrid und Barcelona nicht einfach. Dennoch werden sie berücksichtigen müssen, wie ihr Verhalten nach vier Jahrzehnten erfolgreicher Demokratie den hart erkämpften Wohlstand von Millionen Spaniern gefährdet. Im sonnigen Spanien sollte am Ende des Tunnels immer ein Licht zu sehen sein.  
Aus dem Englischen von Helga Klinger-Groier