Disquisición española
GOTEMBURGO – Es posible que en pocos días el parlamento regional catalán declare la independencia de Cataluña, tras 500 años de historia común con España. Pocas horas después, el gobierno español tal vez responda con el envío de miles de policías para detener a la cúpula del gobierno catalán, lo que pondría fin a 40 años de próspero autogobierno. Y muchos catalanes podrían salir a las calles e iniciar una revuelta, con temibles consecuencias.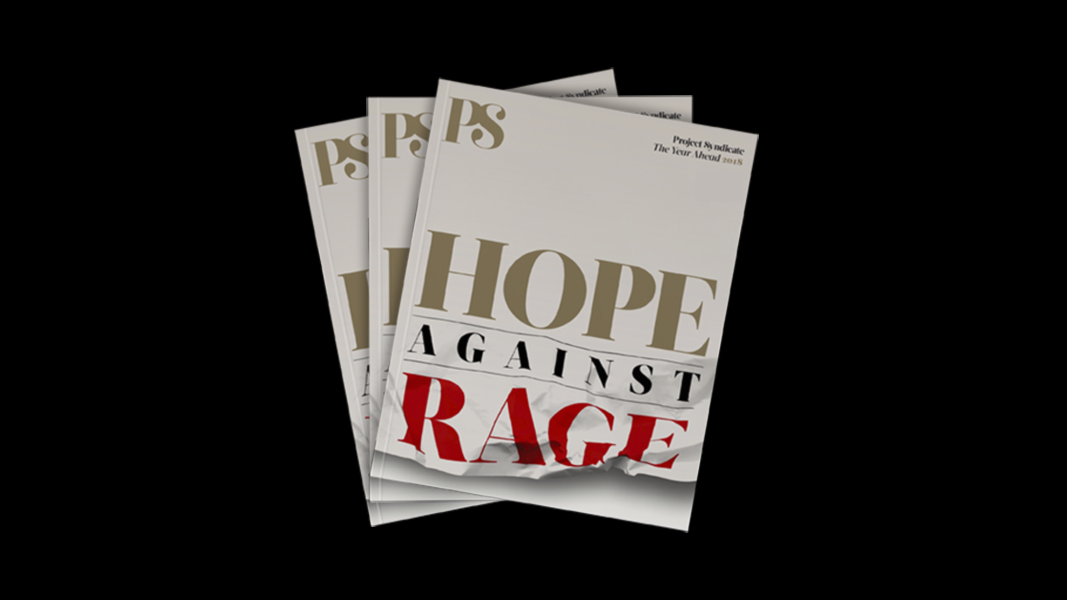 The Year Ahead 2018
The world's leading thinkers and policymakers examine what's come apart in the past year, and anticipate what will define the year ahead.
A primera vista, la idea de España sumida en el caos es desconcertante. El país está catalogado como una de las democracias que mejor funcionan en el mundo, por delante de Francia, Italia y Estados Unidos, según algunos indicadores. Y es uno de los destinos favoritos de inversores y turistas de todo el mundo. Para quien haya paseado por las esplendorosas y encantadoras calles de Barcelona, la posibilidad de que allí se produzcan enfrentamientos violentos parece tan improbable como ver un gorila en los bosques de la Columbia británica.
Sin embargo, no se puede descartar una confrontación física entre las autoridades españolas y las fuerzas insurreccionales catalanas, a menos que los principales actores cambien su curso de acción. Y ninguno de ellos tiene incentivos para hacerlo. Como James Dean y Buzz en "Rebelde sin causa", los gobiernos español y catalán corren a toda velocidad hacia un acantilado, y ambos esperan que el otro sea el primero en saltar del auto.
El gobierno español da por sentado que el parlamento catalán no se atreverá a declarar la independencia en forma unilateral, porque esa decisión no recibiría reconocimiento internacional. Y el gobierno catalán confía en que una respuesta represiva de las autoridades españolas, que reviva las imágenes de policías golpeando a ancianas y adolescentes desarmadas, como las que el mundo vio durante el referendo del 1 de octubre, sentaría las bases para una rebelión pacífica dentro de Cataluña con visto bueno internacional.
Además, ambos gobiernos cuentan con amplio respaldo popular. El conservador Partido Popular (PP) que gobierna en Madrid puede ganar con facilidad una elección nacional sin cortejar a los votantes de Cataluña, donde en 2015 obtuvo un escaso 11% de los votos. Por su parte, los partidos separatistas pueden conseguir fácilmente mayoría en el parlamento catalán. Y gracias al control estatal de las emisoras públicas y a generosos subsidios públicos a medios de comunicación privados, ambos lados pueden desplegar un ejército confiable de periodistas e intelectuales intensamente motivados, cuyos comentarios incendiarios están contribuyendo a la escalada del conflicto.
Los actores del drama español se enfrentan a lo que los politólogos llaman "dilema social": cuando cada lado se beneficia de actuar en forma egoísta, a menos que el otro lado haga lo mismo, en cuyo caso ambos salen perdiendo.
Una solución alternativa beneficiaría a unionistas y a separatistas por igual. Por ejemplo, si los separatistas renunciaran a la declaración unilateral de independencia a cambio de negociar reformas constitucionales que lleven a España rumbo a una federación. Una enmienda constitucional que permita algunos cambios simbólicos, por ejemplo una declaración oficial de Cataluña como "nación", o iniciativas sustanciales, como un pacto fiscal, dejarían satisfechos a la mayoría de los catalanes, al tiempo que se mantendría la integridad territorial de España.
El problema es que ambos lados creen que mostrar voluntad de hacer concesiones debilitará su posición negociadora futura. Pero las investigaciones en ciencias políticas muestran que puede ser al revés. El análisis de la premio Nobel Elinor Ostrom nos enseña que los dilemas sociales pueden resolverse usando la estrategia inversa: dar en vez de demandar. Si una de las partes se muestra dispuesta a colaborar, la parte rival puede sentirse obligada a hacer lo mismo, lo que lleva a una espiral de cooperación en vez de represalias, y de confianza en vez de suspicacia.
Es lo que se necesita en Cataluña ahora. El gobierno español y los separatistas catalanes deben reconocer que mostrar una generosidad razonable puede inducir al otro lado a responder haciendo más concesiones.
No será fácil, dada la actual desconexión mental entre las élites en Madrid y Barcelona. Pero ambas deben considerar el peligro que supone su conducta para el tan arduamente conseguido bienestar de millones de españoles, después de cuatro décadas de exitosa democracia. En la soleada España, siempre tendría que haber luz al final del túnel.
Traducción: Esteban Flamini