Devrions-nous craindre un Singapour-sur-Seine ?
LONDRES – L'idée d'un « Singapour-sur-Tamise », que deviendrait Londres après le Brexit, est une des plus curieuses qu'on ait vu surgir pendant les trois années et demie qui se sont écoulées depuis que les citoyens du Royaume-Uni ont voté, à une courte majorité, pour quitter l'Union européenne, lors du référendum fatidique de juin 2016. En réalité, du moins pour ce qui concerne le secteur financier, la menace la plus vraisemblable à l'encontre de l'harmonie réglementaire européenne pourrait venir de France.
L'expression « Singapour-sur-Tamise » est un raccourci pour désigner une Grande-Bretagne transformée en économie dérégulée, où les impôts seraient abaissés, qui pourrait concurrencer une zone euro sclérosée et surrégulée, située par ailleurs en position stratégique, à seulement une trentaine de kilomètres au large du continent. Ce genre d'évolution fut une première fois évoqué, voici environ deux ans, par le chancelier de l'Échiquier d'alors, Philip Hammond, qui cherchait un moyen de convaincre l'UE qu'il était de son intérêt de parvenir à un accord amical avec le Royaume-Uni sur le Brexit.
Ceux qui connaissent Singapour s'apercevront bien vite que l'analogie est loin d'être parfaite. Certes, les taxes à Singapour sont peu élevées (à moins que vous ne souhaitiez importer une coûteuse voiture étrangère) et les dépenses publiques ne le sont guère plus – quoiqu'une restriction budgétaire ne fasse pas partie, semble-t-il, du programme des défenseurs d'un Singapour-sur-Tamise.
Mais voir Singapour en un paradis de la dérégulation, c'est ne pas voir la réalité. Quiconque a tenté d'y mâcher un chewing-gum le sait. Comme le note Guy de Jonquières, la réussite de Singapour tient surtout à son « économie méticuleusement planifiée », où les investisseurs étrangers sont « pris par la main et dorlotés » par des « fonctionnaires puissants, désireux de [les] satisfaire ».
Les tracts distribués par les deux grands partis lors des élections générales du 12 décembre au Royaume-Uni, avec leurs penchants nostalgiques pour la résurrection de l'industrie manufacturière britannique, laisseraient plutôt entendre que c'est du côté du Stoke-on-Trent de l'ancien temps et non de celui d'un Singapour européen du XXIe siècle qu'ils vont chercher leur inspiration. Ce qui n'empêche pas l'idée d'un Royaume-Uni qui chercherait à tirer parti du Brexit par la dérégulation – notamment des services financiers – de s'être emparée du continent, où elle est devenue une sorte d'épouvantail, destiné à semer l'effroi chez les autres États membres de l'UE.
Le commissaire européen responsable des services financiers, Valdis Dombrovskis, a prévenu que le Royaume-Uni ne peut espérer conserver l'accès aux marchés européens s'il rejette les règles du bloc. « Plus l'importance systémique du marché est grande – affirme-t-il – plus forte est la cohérence réglementaire attendue. » Le Royaume-Uni, pour Dombrovskis, doit y réfléchir à deux fois avant de s'écarter des règles suivies par le reste l'UE. En cas de divergence, les sociétés financières installées au Royaume-Uni pourraient se voir restreindre l'accès aux marchés de l'UE.
Subscribe now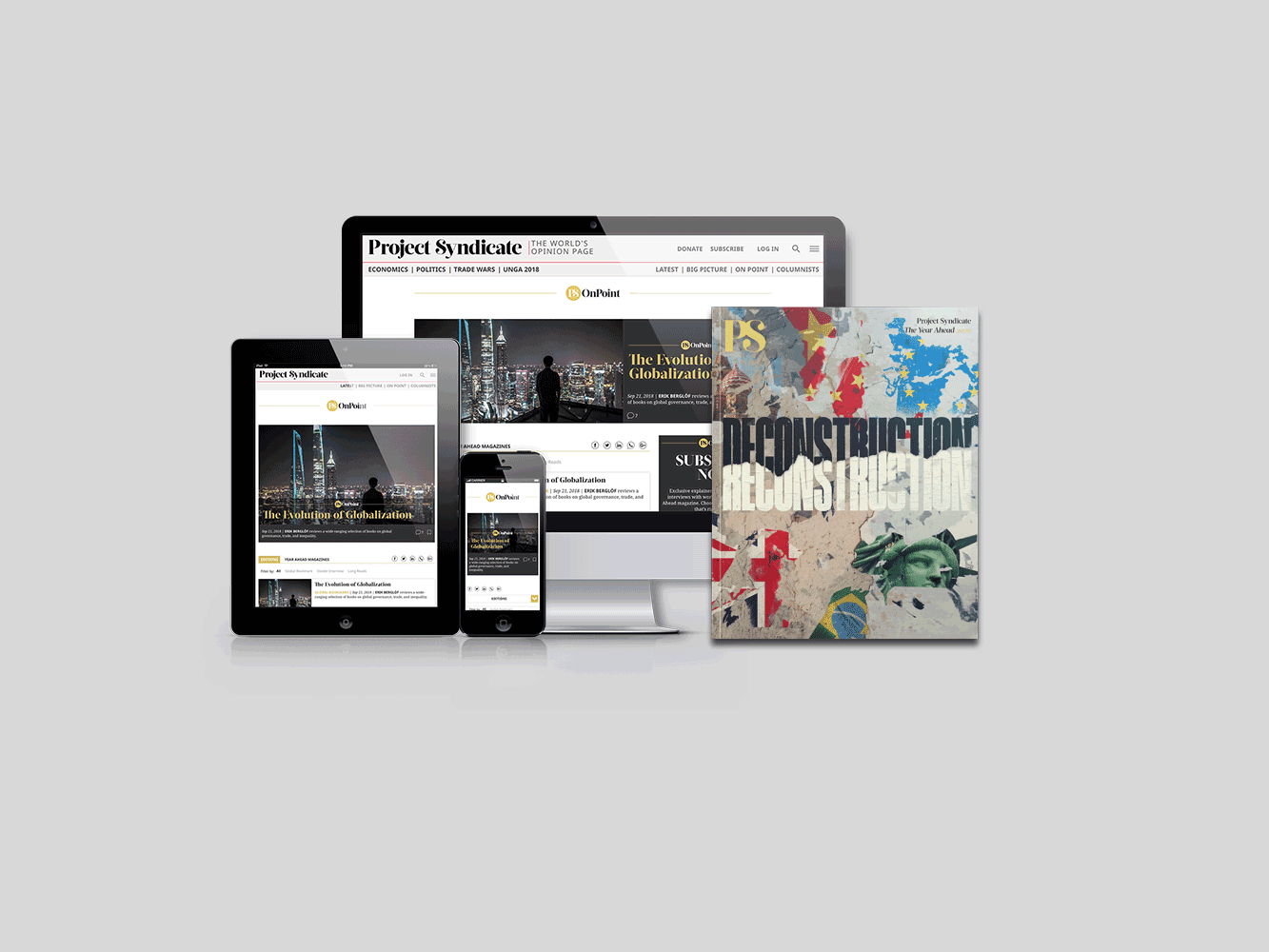 Subscribe now
Subscribe today and get unlimited access to OnPoint, the Big Picture, the PS archive of more than 14,000 commentaries, and our annual magazine, for less than $2 a week.
Du point de vue d'une banque londonienne, l'argument a une drôle de tonalité. Je ne vois aucun groupe de poids dans la vie politique britannique qui se soit exprimé en faveur d'une franche dérégulation bancaire. La Banque d'Angleterre affirme qu'aujourd'hui les ratios de fonds propres sont satisfaisants, et ceux qui ne sont pas d'accord auraient tendance à vouloir imposer aux banques des contraintes encore plus rigides. La question de la régulation financière ne s'est pas vraiment invitée dans les débats des élections générales, ce qui n'est guère surprenant. Et rien n'indique que le balancier repartirait du côté de la dérégulation, comme il a commencé à le faire aux États-Unis.
La part des fonds propres de qualité supérieure – le core tier 1 –, qui donne la véritable mesure de la puissance d'une institution bancaire, est supérieure à 15 % dans les banques du Royaume-Uni, ce qui les situe au-dessus de la moyenne européenne, et la perspective d'une baisse notable de ce chiffre semble lointaine. Les stress tests de la Banque d'Angleterre, qui, pour la plupart des banques, représentent la contrainte la plus stricte, sont d'une simplicité « biblique » : les banques doivent prouver qu'elles peuvent survivre à une contraction annuelle du PIB de 5 %, à un chômage multiplié par deux et à une chute brutale des prix de l'immobilier et des actions. Ainsi la perspective prochaine d'une dérégulation par le Royaume-Uni de son système bancaire apparaît-elle comme une prévision fantaisiste, plus bizarre encore lorsqu'on compare les discours tenus de part et d'autre de la Manche.
Si les responsables politiques britanniques ne cajolent pas les banques du Royaume-Uni par des propos particulièrement réconfortants, le ministre des Finances français, Bruno Le Maire, s'est lui-même déclaré en faveur d'un allègement des exigences de solvabilité pesant sur les banques françaises afin de les rendre plus compétitives : « On est allé trop loin sur les normes », a-t-il dit récemment. Bâle III, c'est-à-dire les tables où sont gravées les normes de la régulation bancaire « doit être simplifié et allégé », a-t-il encore déclaré, ajoutant que « les banques américaines ne sont pas soumises à des règles aussi strictes que celles qui s'appliquent aux banques européennes ».
Le Maire semble donc lancé sur une route de collision avec Dombrovskis, le régulateur financier en chef de l'UE, qui affirme : « l'UE s'engage à mener, loyalement, les réformes de la phase finale de Bâle III. »
C'est également la position du Royaume-Uni, mais cela ne semble plus concorder avec le point de vue de la France. Ainsi, dans le monde de la régulation financière, un « Frexit » des accords de Bâle apparaît comme une menace plus précise que le Brexit sur l'égalité des conditions de concurrence en Europe. Après la récente déclaration du président Emmanuel Macron concernant l'OTAN, en état de « mort cérébrale », a-t-il jugé, on pourrait penser que se prépare un verdict similaire à l'encontre du Comité de Bâle sur la supervision bancaire.
Il est vrai que certaines exigences de l'accord global de Bâle III, signé – à contrecœur pour la France et l'Allemagne – fin 2017, pèsent plus lourdement sur les banques européennes que sur les banques américaines. Une situation en partie due au fait que les hypothèques sont rarement titrisées et vendues en Europe, tandis qu'aux États-Unis, deux organismes de garantie d'État, Fannie Mae et Freddy Mac, soutiennent le marché des hypothèques et des emprunts immobiliers consentis par les banques. Par ailleurs, les banques européennes prêtent plus aux grandes entreprises bien notées, qui, aux États-Unis, s'approvisionnent généralement elles-mêmes sur les marchés financiers. Le plancher d'exigence en capital (output floor) de l'accord de Bâle affecte donc plus nettement les banques européennes.
Ce sont des points à considérer. Mais plutôt que d'inaugurer un nouveau différend transatlantique, il serait préférable que des régulateurs de bonne volonté puissent négocier entre eux un compromis qui arrondirait les angles de l'accord de Bâle. Un Frexit pourrait faire autant de tort au système financier européen que le Brexit.
Traduit de l'anglais par François Boisivon