Moeten we bang zijn voor een Singapore aan de Seine?
LONDEN – Het idee dat Londen een post-Brexit toekomst kan hebben als een soort gedereguleerd 'Singapore aan de Theems' is van de meer curieuze ideeën die is voortgekomen uit de drie-en-een-half jaar die zijn verstreken sinds de burgers van het Verenigd Koninkrijk er nipt voor kozen om de Europese Unie te verlaten in dat noodlottige referendum van juni 2016. Maar in feite zou de grotere bedreiging van de Europese regelgevende harmonie, tenminste waar het de financiële sector betreft, wel eens uit Frankrijk kunnen komen.
De term 'Singapore aan de Theems' is de afkorting voor een Groot-Brittannië dat een licht gereguleerde economie wordt met lage belastingen die de verstarde overgereguleerde eurozone vanuit een strategische positie slechts dertig kilometer voor de kust kan beconcurreren. Dit algemene idee werd een aantal jaar geleden als eerste geuit door toenmalig minister van Financiën van Groot-Brittannië Philip Hammond als manier om de EU aan te moedigen een vriendelijke Brexit-deal met het VK te sluiten.
Mensen die Singapore goed kennen zullen snel inzien dat vergelijking verre van op gaat. Zeker, Singapore kent lage belastingen (tenzij je een dure buitenlandse auto wil importeren) en lage niveaus van publieke uitgaven – alhoewel dat laatste geen onderdeel schijnt te zijn van de plannen van de voorstanders van Singapore aan de Theems.
Maar het idee dat Singapore een gedereguleerd paradijs is komt niet uit de werkelijkheid voort, zoals iedereen die er wel eens gebruikte kauwgum heeft proberen weg te gooien weten zal. Zoals Guy de Jonquières noteert komt het succes van Singapore eerder voort uit het feit dat het een 'tot in de puntjes geplande economie' is, waar buitenlandse investeerders 'aan de hand genomen en verwend worden' door 'machtige en behaagzuchtige bureaucraten'.
De politieke prospectussen van beide grote partijen bij de verkiezingen van 12 december met hun nostalgische ideeën over het herstellen van de Britse productie lijkt eerder te suggereren dat Engeland herboren moet worden als een modern Stoke-on-Trent dan als een 21e-eeuws Europees Singapore. Desalniettemin heeft het idee dat het VK een post-Brexit concurrerend voordeel kan proberen te vinden door middel van deregulering – en dan vooral met betrekking tot financiële diensten – op het continent postgevat en is dit een soort boeman geworden die wordt gebruikt om andere lidstaten schrik aan te jagen.
De EU-commissaris verantwoordelijk voor de financiële sector Valdis Dombrovskis heeft gewaarschuwd dat het VK niet mag blijven hopen op toegang tot de Europese markt als het de regels van de unie naast zich neer legt. 'Hoe systematisch belangrijker de markt,' zo betoogt hij, 'hoe strakker de regulatoire uitlijning die verwacht wordt.' Dombrovski zegt dat het VK zeer goed moet nadenken voor het zich afwendt van de regels die worden nageleefd door de rest van de EU. Als het toch divergeert kan in het VK gevestigde financiële firma's de toegang tot de Europese markt ontzegd worden.
Subscribe now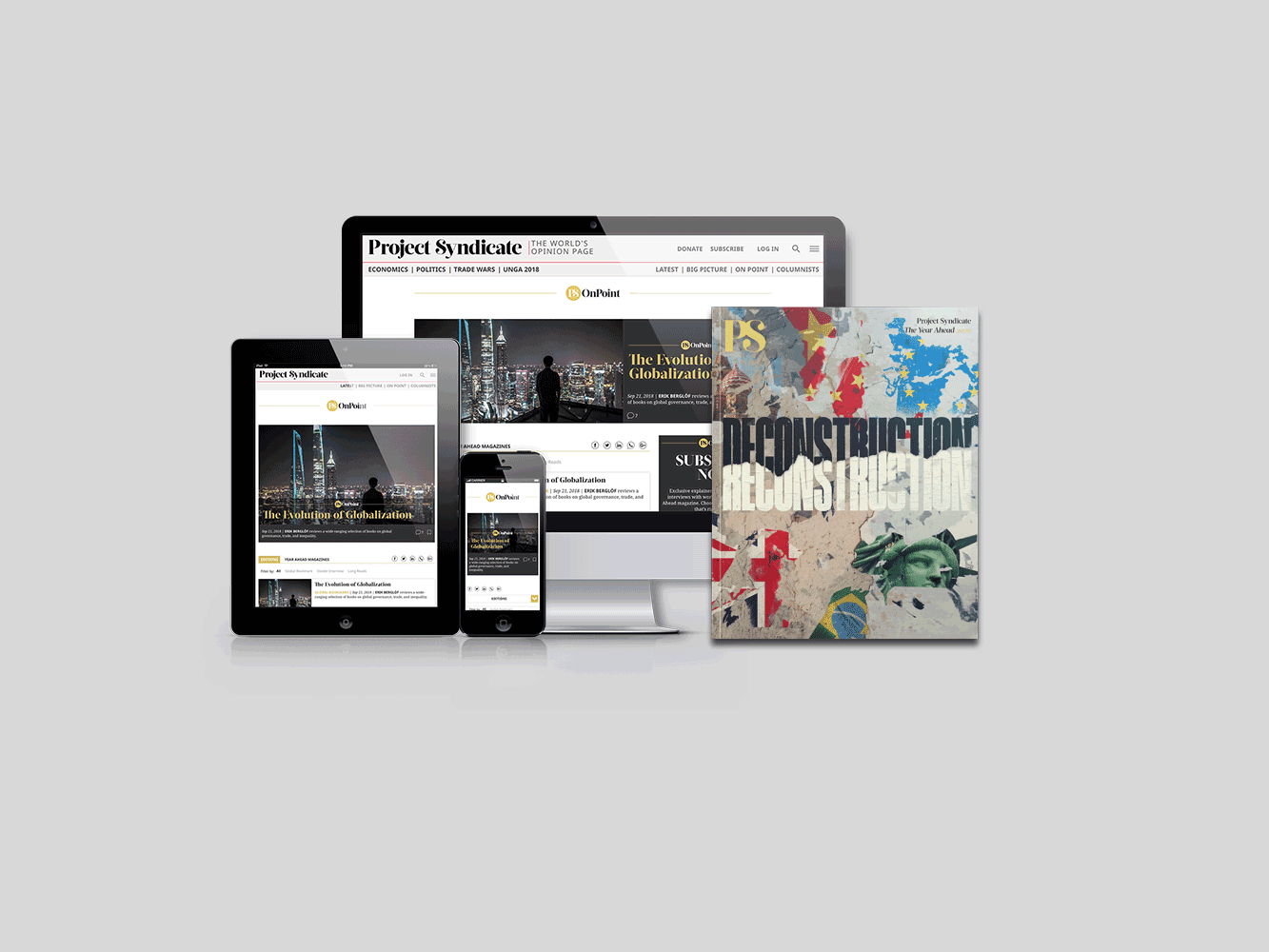 Subscribe now
Subscribe today and get unlimited access to OnPoint, the Big Picture, the PS archive of more than 14,000 commentaries, and our annual magazine, for less than $2 a week.
Vanuit het perspectief van een Londense bank lijkt dit een vreemd argument. Ik kan geen fractie van enig belang binnen de Britse politiek identificeren die positief staat tegenover een substantiële bankderegulering. De Bank of England stelt dat de kapitaalratio's nu adequaat zijn, en zij die het hier mee oneens zijn willen over het algemeen nog zwaardere lasten voor banken. De kwestie van financiële regulering was niet prominent in de verkiezingsdebatten aanwezig, wat geen verrassing mag heten. En er zijn geen tekenen dat de balans overhelt naar deregulering zoals in de Verenigde Staten.
Banken in Groot-Brittannië hebben een gemiddelde Tier 1-kapitaalratio – de belangrijkste maatstaf van hun kracht – van boven de 15%, wat boven het gemiddelde van de eurozone ligt, en het vooruitzicht van een materiele reductie van dat getal lijkt ver weg. De stresstesten van de Bank of England, die voor de meeste banken de harde limiet zijn, zijn 'bijbels' van karakter: banken moeten aantonen dat ze een jaarlijkse inkrimping van het bbp van 5%, een verdubbeling van de werkloosheid, en grote dalingen in de huizen- en aandelenprijzen kunnen overleven. Dus het lijkt een vreemde stelling dat het VK op het punt staat zijn bankensysteem te dereguleren. En deze lijkt zelfs nog vreemder wanneer je de politieke retoriek aan beide kanten van het kanaal vergelijkt.
Waar Britse politici recent geen troostende woorden voor de Britse banken overhadden heeft de Franse minister van Financiën Bruno Le Maire verklaard dat hij voorstander is van verlichting van de kapitaalvereisten van Franse banken in het belang van hun concurrentiepositie. 'We zijn te ver gaan in het stellen van eisen,' zo zei Le Maire recent. Basel III, de stenen tafelen der mondiale standaarden voor bankregulering 'moet versimpeld en verlicht worden,' verklaarde hij, en hij voegde hier nog aan toe dat 'Amerikaanse banken niet onderworpen zijn aan regels zo strikt als die toegepast op Europese banken.'
Le Maire lijkt dus op ramkoers te liggen met Dombrovskis, de Europese chef financiële regelgeving, die zegt dat 'De EU geëngageerd is de laatste Basel III-hervormingen nauwgezet uit te voeren.'
Dit is ook de Engelse positie, maar het lijkt niet langer de Franse visie te zijn. Dus in de wereld van financiële regulering, lijkt een 'Frexit' uit het Basel-raamwerk een grotere bedreiging voor het Europese level playing field dan Brexit dat is. Met een Franse president Emmanuel Macron die de NAVO onlangs 'hersendood' verklaarde lijkt het erop dat er momenteel een overeenkomstig oordeel over het Basel Committee on Banking Supervision wordt voorbereid.
Het is waar dat bepaalde aspecten van de mondiale overeenkomst over Basel III die eind 2017 werd bereikt – in het geval van Frankrijk en Duitsland met tegenzin – een zwaardere last op Europese banken leggen dan op hun Amerikaanse tegenhangers. Dat komt deels doordat hypotheken in Europa zelden gesecuritiseerd en verkocht worden terwijl in de VS twee staatgesteunde firma's Fannie Mae en Freddie Mac achter de hypotheekmarkt staan en leningen opkopen die door banken zijn uitgegeven. Verder lenen Europese banken meer aan grote hoogwaardige commerciële klanten, die zich in de VS gewoonlijk zelf financieren op de kapitaalmarkt. De zogeheten output floors in het Basel-akkoord hebben daarom een zwaarder effect op Europese banken.
Dit zijn geldige argumenten. Maar in plaats van een nieuw trans-Atlantisch dispuut te lanceren zou het de voorkeur moeten hebben dat welwillende regelgevers binnenskamers een manier kunnen onderhandelen om de scherpe randjes van het Basel-akkoord af te halen. Frexit kan net zo schadelijk voor het Europese financiële systeem zijn als Brexit.
Vertaling Melle Trap