Müssen wir ein Singapur an der Seine fürchten?
LONDON – Die Vorstellung, dass London nach dem Brexit eine Zukunft als dereguliertes "Singapur an der Themse" haben könnte, ist eine der kurioseren Ideen, die in den dreieinhalb Jahren entstanden sind, seit die Bürger des Vereinigten Königreichs im schicksalhaften Referendum im Juni 2016 knapp dafür gestimmt haben, die Europäische Union zu verlassen. Tatsächlich könnte die größere Bedrohung für Regelungen im europäischen Einklang, zumindest was den Finanzsektor betrifft, von Frankreich ausgehen.
Der Ausdruck "Singapur an der Themse" steht für ein Großbritannien, das zu einer kaum regulierten Volkswirtschaft mit Niedrigsteuern wird, die in der Lage ist, die verkrustete, überregulierte Eurozone zu überholen ‒ von einer strategischen Position aus, die Europas Küste nur knapp 40 Kilometer vorgelagert ist. Der Grundgedanke wurde vor einigen Jahren von Philip Hammond, dem damaligen britischen Finanzminister, zum ersten Mal aufgebracht, um die EU zu ermuntern, einen zuvorkommenden Brexit-Vertrag mit Großbritannien auszuhandeln.
Wer Singapur gut kennt, wird schnell erkennen, dass die Analogie nicht ganz treffend ist. Singapur hat in der Tat niedrige Steuersätze (es sei denn, Sie wollen ein teures ausländisches Auto importieren) und geringe Staatsausgaben – obwohl letztere nicht Teil des Plans der Befürworter eines Singapur an der Themse zu sein scheinen.
Doch die Vorstellung, dass Singapur ein dereguliertes Paradies ist, lässt sich in der Realität nicht bestätigen, wie jeder weiß, der versucht hat, dort ein Stück Kaugummi zu entsorgen. Wie Guy de Jonquières feststellt, ist der Erfolg Singapurs eher auf die Tatsache zurückzuführen, dass es sich um eine "akribisch geplante Wirtschaft" handelt, in der "mächtige, dienstbeflissene Bürokraten" ausländische Investoren "an die Hand nehmen und verhätscheln".
Die politischen Programme der beiden großen Parteien bei der Unterhauswahl am 12. Dezember, mit ihren nostalgischen Vorstellungen einer Wiederbelebung der britischen Industrie, erwecken den Eindruck, dass Großbritannien als modernes Stoke-on-Trent und nicht als europäisches Singapur des 21. Jahrhunderts wiedergeboren werden soll. Trotzdem hat sich die Vorstellung, dass das Vereinigte Königreich nach dem Brexit einen Wettbewerbsvorteil durch Deregulierung – insbesondere im Bereich Finanzdienstleistungen –anstreben könnte, auf dem Kontinent festgesetzt. Sie ist zu einer Art Schreckgespenst geworden, mit dem andere EU-Mitgliedstaaten eingeschüchtert werden.
Der für den Finanzsektor zuständige EU-Kommissar Valdis Dombrovskis hat davor gewarnt, dass das Vereinigte Königreich nicht hoffen kann, Zugang zu den EU-Märkten zu behalten, wenn es sich von den Regeln des Blocks verabschiedet. "Je systemrelevanter der Markt", so Dombrovskis, "desto enger die Anpassung an die Rechtsvorschriften, die erwartet wird". Das Vereinigte Königreich muss Dombrovskis zufolge sehr gründlich nachdenken, bevor es sich von den Regeln der übrigen EU löst. Sollte es tatsächlich dazu kommen, könnte der Zugang britischer Finanzunternehmen zu den EU-Märkten eingeschränkt werden.
Subscribe now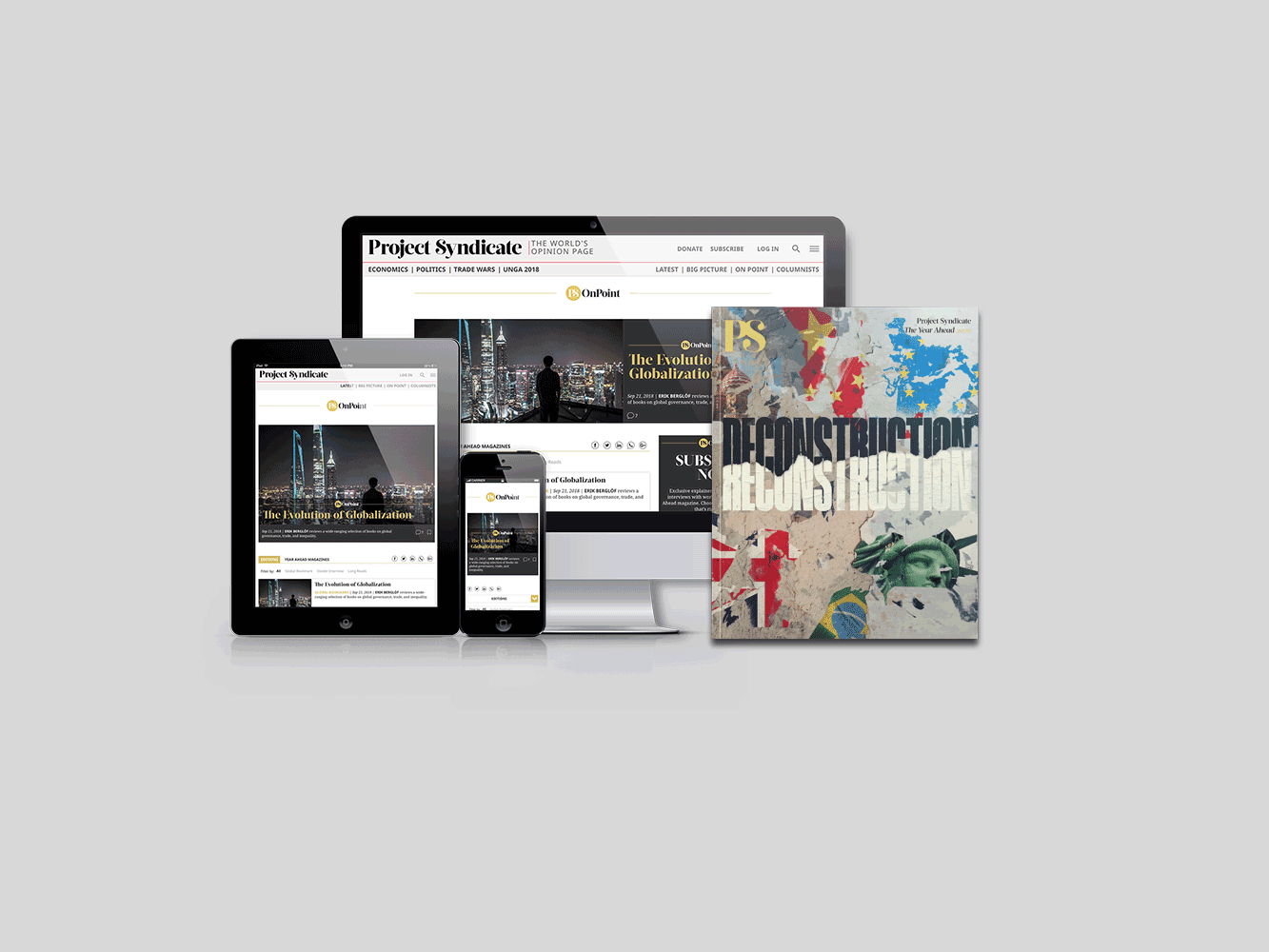 Subscribe now
Subscribe today and get unlimited access to OnPoint, the Big Picture, the PS archive of more than 14,000 commentaries, and our annual magazine, for less than $2 a week.
Aus der Sicht einer in London ansässigen Bank erscheint diese Argumentation merkwürdig. Ich kann keine nennenswerte Interessengemeinschaft in der britischen Politik ausmachen, die eine deutliche Deregulierung der Banken befürwortet. Der Bank of England zufolge sind die Kapitalquoten heute angemessen, und diejenigen, die anderer Meinung sind, würden die Banken eher noch stärker belasten. Das Thema Finanzregulierung hat in den Wahldebatten keine große Rolle gespielt, was kaum eine Überraschung ist. Und wir haben keine Anzeichen dafür gesehen, dass das Pendel in Richtung Deregulierung zurückschwingt, wie es in den Vereinigten Staaten bereits begonnen hat.
Die britischen Banken verfügen über eine durchschnittliche Kernkapitalquote – das wichtigste Maß ihrer Solidität – von über 15 Prozent, was über dem Durchschnitt der Eurozone liegt, und die Wahrscheinlichkeit einer wesentlichen Verringerung dieser Zahl scheint gering. Die Stresstests der britischen Notenbank Bank of England, die für die meisten Banken die strengste Auflage darstellen, erreichen "biblisches" Ausmaß: Die Banken müssen zeigen, dass sie einen jährlichen Rückgang des BIP um 5 Prozent, eine Verdoppelung der Arbeitslosigkeit und steile Kursverluste bei Haus- und Aktienpreisen überstehen können. Die Behauptung, das Vereinigte Königreich sei im Begriff, sein Bankensystem zu deregulieren, erscheint daher abwegig. Und sie scheint noch merkwürdiger, wenn man die politische Rhetorik auf beiden Seiten des Ärmelkanals vergleicht.
Während britische Politiker in letzter Zeit keine tröstenden Worte für die britischen Banken gefunden haben, hat sich der französische Finanzminister Bruno Le Maire dafür ausgesprochen, die Kapitalbelastung der französischen Banken im Interesse der Wettbewerbsfähigkeit zu verringern. "Wir sind bei der Festlegung dieser Anforderungen zu weit gegangen", so Le Maire kürzlich. Basel III, die Vorschriften, in denen die globalen Standards für die Bankenregulierung in Stein gemeißelt sind, "müssen vereinfacht und erleichtert werden", erklärte er und fügte hinzu, dass "amerikanische Banken nicht so strengen Regeln unterliegen wie europäische Banken".
Le Maire scheint somit auf Kollisionskurs mit Dombrovskis, dem Chef der Finanzmarktregulierung der EU, demzufolge "die EU entschlossen ist, die letzten Basel-III-Reformen gewissenhaft durchzuführen".
Das ist auch die britische Position, doch Frankreich scheint inzwischen anderer Auffassung. In der Welt der Finanzregulierung scheint also ein "Frexit" aus der Basler Rahmenvereinbarung eher eine Bedrohung für die gleichen europäischen Wettbewerbsbedingungen zu sein als der Brexit. Nachdem der französische Präsident Emmanuel Macron die NATO unlängst als "hirntot" bezeichnet hat, scheint ein ähnliches Urteil über den Basler Ausschuss für Bankenaufsicht derzeit in Vorbereitung.
Es stimmt, dass einige Aspekte der globalen Einigung über Basel III, die Ende 2017 – im Falle von Frankreich und Deutschland widerstrebend – erreicht wurde, die europäischen Banken stärker belasten als ihre US-Pendants. Das liegt zum Teil daran, dass Hypotheken in Europa selten verbrieft und verkauft werden, während in den USA zwei staatlich gestützte Unternehmen, Fannie Mae und Freddie Mac, hinter dem Hypothekenmarkt stehen und Hypothekenkredite von Banken kaufen und als besicherte Wertpapiere auf den Kapitalmarkt bringen. Darüber hinaus verleihen europäische Banken mehr Kredite an große, hoch bewertete Unternehmenskunden, die sich in den USA typischerweise an den Kapitalmärkten finanzieren. Die in Basel III festgelegten Eigenmitteluntergrenzen (der so genannte "Output-Floors") treffen europäische Banken daher stärker.
Das sind berechtigte Argumente. Aber anstatt einen weiteren transatlantischen politischen Streit anzufangen, wäre es besser, wenn einverständliche Regulierungsbehörden miteinander verhandeln könnten, wie sich die Kanten der Basler Eigenkapitalvereinbarungen glätten lassen. Ein Frexit könnte für das europäische Finanzsystem genauso schädlich sein wie der Brexit.
Aus dem Englischen von Sandra Pontow