Crypto-Fool's Gold?
The price of Bitcoin is up 600% over the past 12 months, and 1,600% in the past 24 months. But the long history of currency tells us that what the private sector innovates, the state eventually regulates and appropriates – and there is no reason to expect virtual currency to avoid a similar fate.
CAMBRIDGE – Is the cryptocurrency Bitcoin the biggest bubble in the world today, or a great investment bet on the cutting edge of new-age financial technology? My best guess is that in the long run, the technology will thrive, but that the price of Bitcoin will collapse.
If you haven't been following the Bitcoin story, its price is up 600% over the past 12 months, and 1,600% in the past 24 months. At over $4,200 (as of October 5), a single unit of the virtual currency is now worth more than three times an ounce of gold. Some Bitcoin evangelists see it going far higher in the next few years.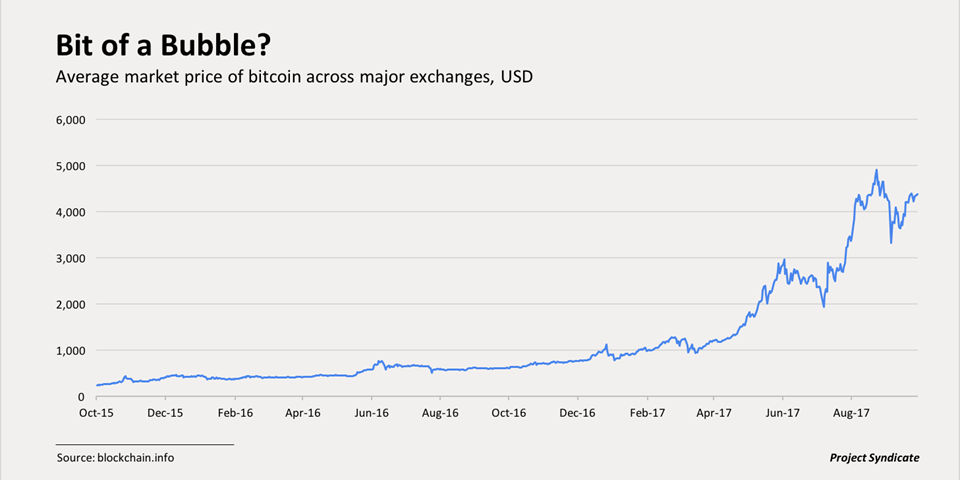 What happens from here will depend a lot on how governments react. Will they tolerate anonymous payment systems that facilitate tax evasion and crime? Will they create digital currencies of their own? Another key question is how successfully Bitcoin's numerous "alt-coin" competitors can penetrate the market.

We hope you're enjoying Project Syndicate.
To continue reading, subscribe now.
Get unlimited access to PS premium content, including in-depth commentaries, book reviews, exclusive interviews, On Point, the Big Picture, the PS Archive, and our annual year-ahead magazine.
Already have an account or want to create one to read two commentaries for free? Log in