Ook cryptocurrencies zullen uiteindelijk aan toezicht worden onderworpen
CAMBRIDGE – Is de cryptocurrency Bitcoin de grootste zeepbel in de wereld vandaag, of juist een prima belegging in de cutting edge van de financiële technologie van de nieuwe tijd? Mijn voorgevoel is dat de onderliggende technologie op de lange termijn zal bloeien, maar dat de Bitcoin-koers zal instorten.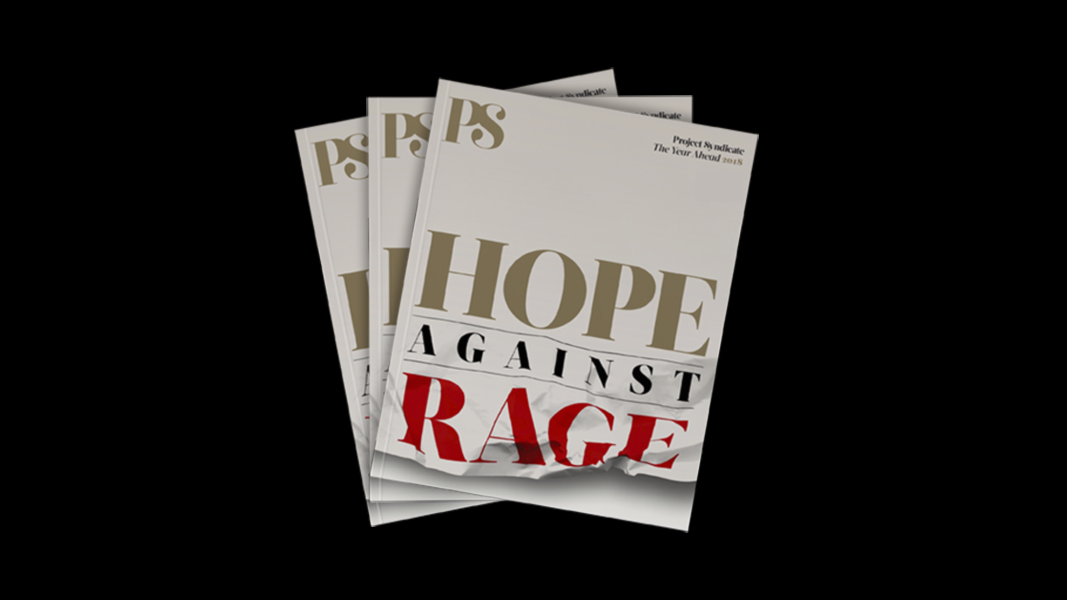 The Year Ahead 2018
The world's leading thinkers and policymakers examine what's come apart in the past year, and anticipate what will define the year ahead.
Als u het Bitcoin-verhaal niet heeft gevolgd: de koers is de afgelopen twaalf maanden met 600% gestegen, en de afgelopen 24 maanden zelfs met 1600%. Tegen een koers van $4200 (een week geleden) vertegenwoordigt één enkele eenheid van de virtuele munt nu ruim drie maal de waarde van een ounce goud. Sommige Bitcoin-evangelisten denken dat de koers de komende paar jaar nog veel verder zal stijgen.
Wat er van nu af aan zal gebeuren hangt af van de vraag hoe regeringen zullen reageren. Zullen zij anonieme betalingssystemen tolereren die belastingontduiking en misdaad faciliteren? Zullen zij hun eigen digitale munten in het leven roepen? Nóg een belangrijke vraag is hoe succesvol de talloze "alt-coin"-concurrenten van Bitcoin zullen zijn bij het penetreren van de markt.
In beginsel is het uiterst eenvoudig om de Bitcoin-technologie te klonen of te verbeteren. Minder makkelijk is het nabootsen van de gevestigde positie van Bitcoin als het gaat om geloofwaardigheid en het grote ecosysteem van de applicaties eromheen.
Op dit moment heeft het toezichthoudende klimaat nog steeds de karaktertrekken van een free-for-all. De Chinese regering, bezorgd over het gebruik van Bitcoin voor kapitaalvlucht en belastingontduiking, heeft onlangs de Bitcoin-beurzen verboden. Japan heeft Bitcoin daarentegen als wettig betaalmiddel omarmd, in een schijnbare poging de mondiale leider op het gebied van fintech te worden.
De Verenigde Staten nemen voorzichtige stappen om het voorbeeld van Japan te volgen en fintech te reguleren, maar het eindspel is verre van duidelijk. Het belangrijkste is dat Bitcoin niet iedere slag hoeft te winnen om de torenhoge koers te rechtvaardigen. Japan, 's werelds derde economie, kent een buitengewoon hoge currency-to-income ratio (grofweg 20%), dus het succes van Bitcoin daar is een grote triomf.
In Silicon Valley investeren watertandende functionarissen in Bitcoin, maar ook in concurrerende  systemen. Na Bitcoin is de belangrijkste daarvan Ethereum. De baanbrekende, Amazon-achtige ambitie van Ethereum is het toestaan van zijn gebruikers om dezelfde (blockchain-)technologie in te zetten voor het afsluiten van "slimme contracten" voor zo'n beetje alles.
Begin oktober bedroeg de marktwaarde van Ethereum $28 mrd, tegen $72 mrd voor Bitcoin. Ripple, een platform dat door de bankensector naar voren wordt geschoven voor het kortwieken van de transactiekosten voor interbancaire en overzeese transfers, ligt ver achterop met een marktwaarde van $9 mrd. Na deze topdrie komen tientallen beginnende concurrenten.
De meeste deskundigen zijn het erover eens dat de ingenieuze blockchain-technologie achter virtuele munten brede toepassingen zou kunnen hebben voor de cyberveiligheid, momenteel een van de grootste uitdagingen voor de stabiliteit van het mondiale financiële stelsel. Voor veel ontwikkelaars is het doel van het bereiken van een goedkoper, veiliger betalingsmechanisme in de plaats gekomen van de ambitie van Bitcoin om de positie van de dollar over te nemen.
Maar het is dwaasheid om te denken dat Bitcoin ooit in de plaats zou kunnen komen van door de centrale banken uitgegeven geld. Het is één ding dat overheden kleine, anonieme transacties met virtuele munten toestaan; dit zou zelfs wenselijk zijn. Maar het is iets heel anders als overheden grootschalige anonieme betalingen tolereren, waardoor het buitengewoon moeilijk zou worden belastingen te innen of criminele activiteiten tegen te gaan. Uiteraard lopen, zoals ik in mijn recente boek over munten uit verleden, heden en toekomst opmerk, overheden die biljetten in grote denominaties (zoals biljetten van duizend dollar) uitgeven eveneens het risico dat ze de belastingontduiking en misdaad helpen. Maar cash is in ieder geval stoffelijk van aard, wat niet geldt voor virtuele munten.
Het zal interessant zijn om te zien hoe het Japanse experiment zich zal ontwikkelen. De Japanse regering heeft aangegeven Bitcoin-beurzen te zullen dwingen op hun hoede te zijn voor criminele activiteiten en informatie te vergaren over deposito-houders. Toch kunnen we er zeker van zijn dat mondiale belastingontduikers manieren zullen vinden om anoniem Bitcoins in het buitenland te verwerven en hun geld dan via Japanse rekeningen wit te wassen. Het vervoer van papiergeld een land in en uit is een grote kostenpost voor belastingontduikers en criminelen; door virtuele munten te omarmen dreigt Japan een Zwitserland-achtig belastingparadijs te worden, waar de wetten die het bankgeheim regeren in de technologie zijn ingebakken.
Als Bitcoin zijn bijna-anonimiteit zou kwijtraken, zou het lastig zijn de huidige koers te rechtvaardigen. Misschien gokken Bitcoin-speculanten erop dat er altijd een consortium van schurkenstaten zal zijn dat het gebruik van anonieme Bitcoins zal toestaan, of zelfs staten als Noord-Korea die er zelf gebruik van zullen blijven maken.
Zou de koers van Bitcoin naar nul dalen als overheden op perfecte wijze zouden kunnen toezien op alle transacties? Misschien wel niet. Ook al vergen Bitcoin-transacties een enorme hoeveelheid elektriciteit, Bitcoin kan – met een paar verbeteringen – nog steeds de vergoedingen van 2% verslaan die de grote banken opleggen voor het gebruik van credit- en debitcards.
Tenslotte is het lastig in te zien wat de centrale banken ervan zou kunnen weerhouden hun eigen digitale munten in het leven te roepen en het toezicht te gebruiken om het speelveld te beïnvloeden, totdat zij hebben gewonnen. De lange geschiedenis van geld leert ons dat wat de particuliere sector innoveert, de staat uiteindelijk reguleert en zich toeëigent. Ik heb geen idee waar de koers van Bitcoin de komende jaren heen zal gaan en zal eindigen, maar er is geen reden om te verwachten dat virtueel geld een soortgelijk lot zal weten te vermijden.
Vertaling: Menno Grootveld