Afrikaanse jongeren bieden oplossingen voor de jongerenwerkloosheid
TORONTO – In heel Afrika zijn jongeren op drift. Deze grootschalige migratie, die op het hele continent tot economische en sociale druk op de gastlanden leidt, is grotendeels het gevolg van factoren als armoede, instabiliteit en natuurrampen. Maar de voornaamste oorzaak van de ontheemding is een zorg die velen in de hele wereld delen: de onmogelijkheid om werk te vinden, dicht bij huis.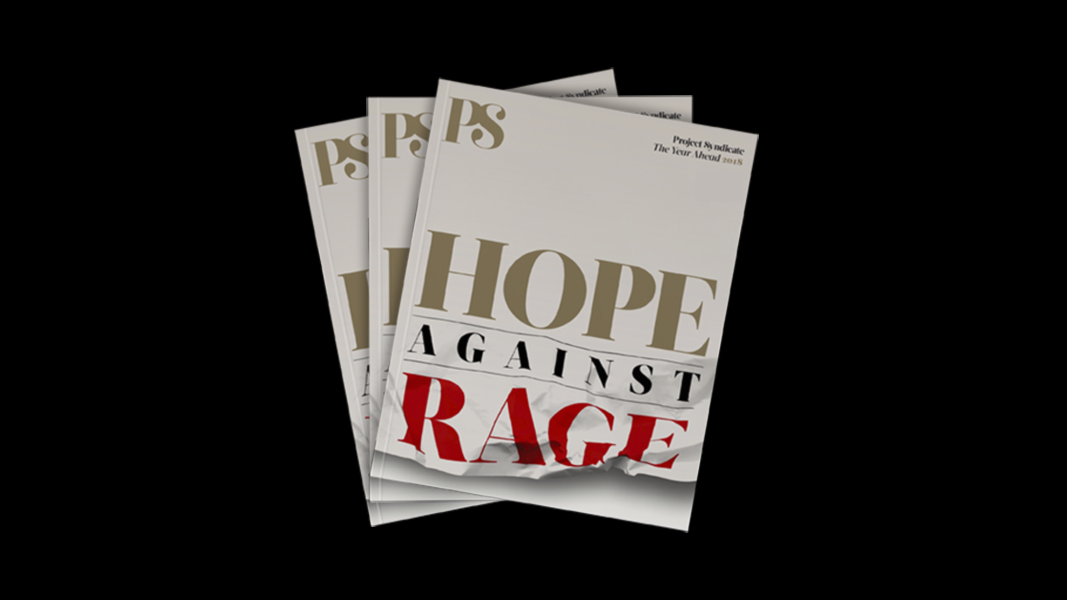 The Year Ahead 2018
The world's leading thinkers and policymakers examine what's come apart in the past year, and anticipate what will define the year ahead.
Veel Afrikaanse landen hebben het afgelopen decennium een aanzienlijke toename van hun bbp gerapporteerd, maar de extra welvaart heeft zich niet vertaald in formele werkgelegenheid. In feite blijft 70% van de beroepsbevolking in het ten zuiden van de Sahara gelegen deel van Afrika werkzaam in de informele sector, zoals het kleine boerenbedrijf, de straathandel en huishoudelijk werk, in plaats van te kunnen bogen op een baan met een regulier salaris.
De Afrikaanse jongeren worden hierdoor het zwaarst getroffen. Maar jongeren hebben ook de sleutels in handen tot de motor van de kwakkelende banenmarkt van Afrika.
Tot 2030 zullen op het hele continent ruim120 miljoen jongeren tot de beroepsbevolking toetreden. Om genoeg stabiele arbeidsplaatsen te creëren, zal Afrika het onderwijs moeten verbeteren, de toegang tot de financiële dienstverlening moeten verbreden, de burgerparticipatie moeten bevorderen en sociale vangnetten moeten inrichten. Maar één van de grootste gevolgen zal zich voordoen als jongeren de middelen in handen krijgen om ondernemer te worden. Met de juiste steun kunnen de jongste binnenkomers op de arbeidsmarkt de Afrikaanse werkgelegenheidsgroei een impuls geven.
In veel opzichten gaan de Afrikaanse jongeren deze uitdaging nu al aan. De leden van deze generatie zijn beter opgeleid dan hun ouders, en ze wonen in landen die hebben geprofiteerd van een snelle en brede ontwikkeling, waaronder betere toegang tot informatie, financiële producten en andere vormen van zakelijke dienstverlening. Afrikaanse jongeren koesteren hoge verwachtingen als het gaat om het vormgeven van de toekomst van hun landen.
Toch wordt het ondernemerschap nog vaak gezien als een laatste redmiddel. Jonge Afrikanen verkopen goederen of producten op de markt, niet omdat ze dat willen, maar omdat ze geen andere keuze hebben. Een bestaan als zelfstandige wordt vaak gecombineerd met andere bronnen van seizoensgebonden, tijdelijk of parttime-werk. Het doel is om de eindjes aan elkaar te kunnen knopen, niet om een carrière te lanceren.
Maar de tijden zijn aan het veranderen. En vandaag de dag duiken er jonge Afrikaanse ondernemers op die ingewikkelde problemen aanpakken en al doende veel generatiegenoten aan het werk zetten. Er zijn talloze succesverhalen. In Kenia hebben Munyutu Waigi en Ivan Mbowa samen Umati Capital opgericht, een digitaal financieel knooppunt, waar boeren, handelaren en coöperatieven toegang hebben tot de noodzakelijke fondsen om hun activiteiten te kunnen uitbreiden. Voor hun inspanningen ontvingen Waigi en Mbowa in 2015 de Zambezi Prijs voor hun innovatieve benadering van het bevorderen van financiële diensten voor iedereen.
In Ghana is Mabel Suglo mede-oprichtster van Eco-Shoes, een bedrijf dat kunstenaars met een handicap helpt modieuze, comfortabele schoenen en accessoires te ontwerpen uit oude autobanden en gerecyclede stoffen. In 2015 kreeg Suglo voor haar innovatieve bedrijfsstrategie de Anzisha Prijs, een gemeenschappelijk initiatief van de African Leadership Academy in Zuid-Afrika en de Mastercard Foundation. Suglo biedt vijf werknemers ondersteuning bij de productontwikkeling en financiële expertise, en vandaag de dag groeit haar bedrijf.
En in Zuid-Afrika heeft Marlon Parker, oprichter van de sociale vernieuwingsacademie en kraamkamer Error! Hyperlink reference not valid., de virtuele munt Zlato in het leven geroepen om de actieve deelname aan trainingsworkshops te bevorderen. Als jongeren cursussen volgen, laptops gebruiken of ruimtes boeken in de café's van Rlabs, verdienen ze Zlato-kredieten die kunnen worden ingewisseld voor voedsel, medische zorg en basisvoorzieningen. Sinds de oprichting in 2008 heeft Rlabs gezorgd voor tienduizenden banen; het bedrijf is nu actief in 24 landen.
Afrika's jongste ondernemers vinden niet alleen manieren om zichzelf te ondersteunen en bij te dragen aan hun gemeenschappen; zij nemen de voornaamste oorzaak van de migratie binnen en buiten het continent weg. Ondernemers die door de Anzisha Prijs werden gesteund hebben bijvoorbeeld ruim driehonderd banen gecreëerd en ruim $850.000 aan kapitaal gegenereerd. Fellows die werden gefinancierd door Ashoka, een andere organisatie die wordt gesteund door de Mastercard Foundation, hebben maar liefst 200.000 banen gecreëerd.
De vaardigheid waarmee jonge mensen via zulke ondernemingen werkgelegenheid scheppen biedt hoop voor de toekomst. Deze slimme, getalenteerde Afrikanen tonen de vastberadenheid die nodig is om bestaande barrières te doorbreken en bij te dragen aan het welzijn van hun families, gemeenschappen en landen.
Dit hoeft geen verrassing te zijn. Jongeren overal ter wereld staan het dichtst bij de uitdagingen waarmee hun generatie wordt geconfronteerd, en zij hebben vaak de juiste oplossingen bij de hand voor de problemen waardoor zij het hardst geraakt worden. Wij moeten hen onze steun bieden. Nu steeds meer jonge Afrikanen tot de beroepsbevolking toetreden, zal voor de schepping van toereikende werkgelegenheid een voortdurende uitbreiding van het ondernemerschap nodig zijn. Dit zijn immers de banen die Afrika's jongeren de komende generaties op het continent zullen houden.
Vertaling: Menno Grootveld