¿El centro resistirá?
CAMBRIDGE – El interrogante más importante que enfrenta Estados Unidos -y, en más de un sentido, el mundo- después de los acontecimientos de 2017 es el siguiente: ¿la profecía temerosa de Yeats de que "las cosas se desmoronan; el centro no puede resistir" se hará realidad? ¿Seguirá pareciendo que "Los mejores carecen de toda convicción mientras que los peores están llenos de intensidad apasionada"? Es difícil no preocuparse, pero es demasiado pronto para anticipar un fracaso.
Estados Unidos ahora tiene un presidente que suele utilizar su cuenta de Twitter para propinar insultos a los líderes de estados con armas nucleares, a los medios de comunicación norteamericanos, a miembros de su propio gabinete y a minorías religiosas y raciales, al mismo tiempo que llena de elogios a quienes denigran los valores de la democracia, la tolerancia y el derecho internacional.
Países como China, Rusia, Turquía y Arabia Saudita son más autoritarios, más nacionalistas y más truculentos en la escena mundial que hace un año. Y también está el líder sin duda más beligerante y posiblemente más errático de Corea del Norte, un país a punto de desarrollar la capacidad de lanzar armas nucleares de largo alcance.
Europa también enfrentó desafíos en 2017. Además de la decisión del Reino Unido de proceder con su retiro de la Unión Europea, la extrema derecha ganó bancas en el Bundestag alemán por primera vez en décadas, y a los partidos y candidatos de extrema derecha les fue mejor que nunca en varias elecciones europeas. A mediados de noviembre, 60.000 personas marcharon en Varsovia exigiendo una "Europa blanca".
De modo que hay mucha intensidad apasionada. Y gran parte de esta intensidad está dirigida contra las tradiciones y creencias que han hecho de las últimas décadas las mejores en la historia humana, en términos de niveles de vida, emancipación humana, progreso científico y artístico, reducción del dolor y el sufrimiento o minimización de la muerte prematura y violenta.
¿Las cosas se mantendrán unidas? ¿Algún tipo de centro resistirá? Los mercados financieros ofrecen una visión notablemente optimista. El mercado bursátil de Estados Unidos ha quebrado un récord tras otro en el año desde que Donald Trump fue elegido presidente, mientras que los indicadores de una volatilidad efectiva y la expectativa de una volatilidad futura del mercado bursátil están en niveles muy bajos según los parámetros históricos. Y a algunos mercados bursátiles en todo el mundo inclusive les ha ido mejor.
Subscribe to Project Syndicate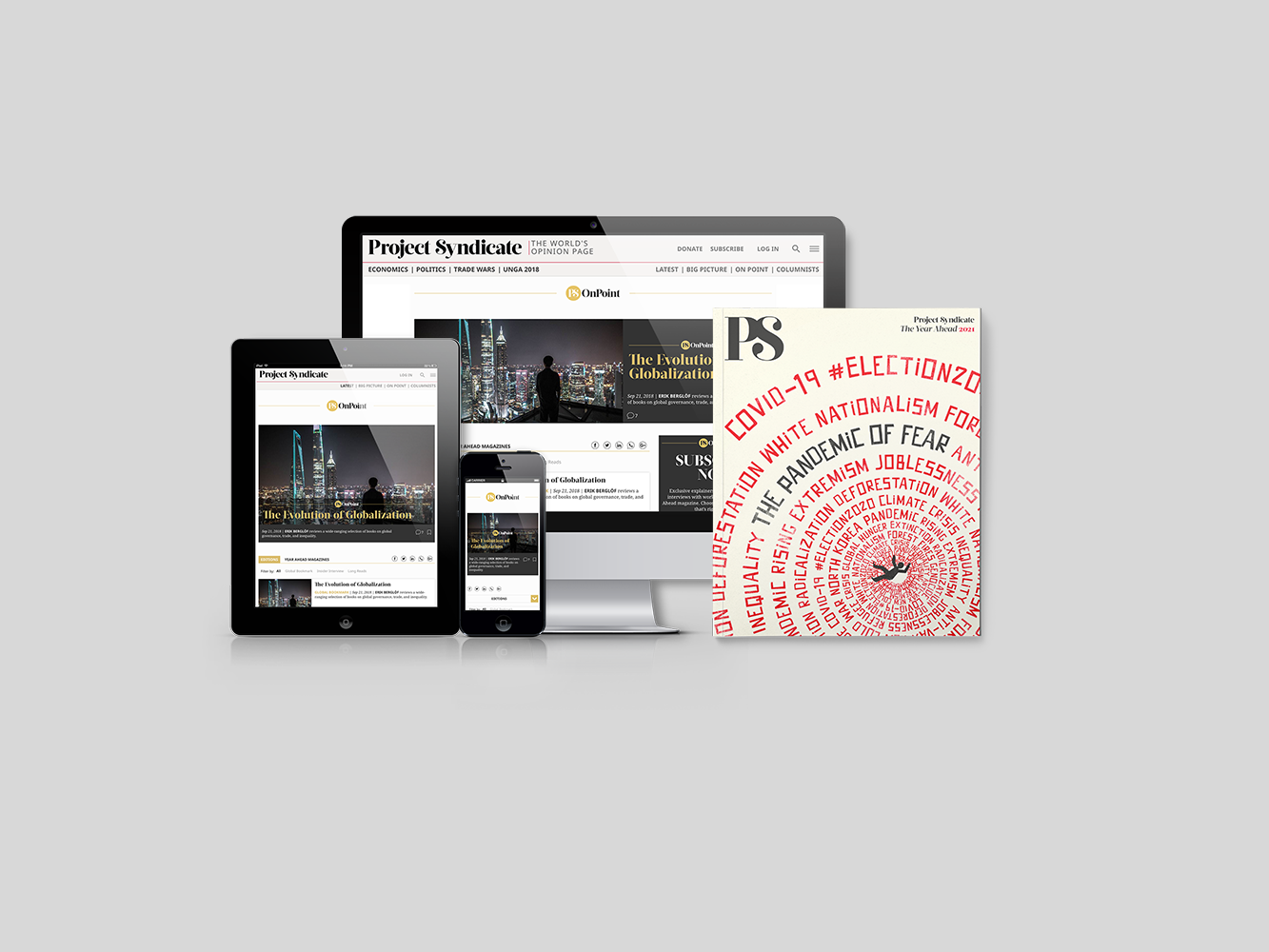 Subscribe to Project Syndicate
Enjoy unlimited access to the ideas and opinions of the world's leading thinkers, including weekly long reads, book reviews, topical collections, and interviews; The Year Ahead annual print magazine; the complete PS archive; and more – for less than $9 a month.
Si bien los precios elevados de las acciones y la baja volatilidad pueden parecer sorprendentes, quizá reflejen que la relación entre los resultados del mercado bursátil y los acontecimientos geopolíticos es limitada. Por ejemplo, el ataque de Japón a Pearl Harbor, el asesinato del presidente John F. Kennedy y los atentados terroristas del 11 de septiembre no tuvieron un impacto significativo en la economía. Los mayores movimientos del mercado bursátil, como la crisis de 1987, ocurrieron por lo general en días en que no había noticias externas importantes.
Los mercados bursátiles están en alza porque están conformados por compañías individuales y, en gran medida este año, las ganancias corporativas han crecido y resultaron predecibles. Es difícil establecer cuánto tiempo esto va a seguir siendo así, y existe el riesgo de que los inversores estén cada vez tomando más apalancamiento o persiguiendo estrategias -como versiones contemporáneas del seguro de cartera- que los obligarán a vender si los mercados caen. Vale la pena recordar que, mirando hacia atrás, los mercados no parecen haber estado considerablemente efervescentes antes de la crisis de 1987.  
También está la cuestión de la salud de las instituciones financieras. Si bien las firmas importantes parecen estar mucho mejor capitalizadas y ser mucho más líquidas que antes de la crisis, los indicadores de riesgo del mercado sugieren que tal vez no estemos tan fuera de peligro como muchos suponen. A pesar de incrementos aparentemente importantes del capital y las consiguientes caídas del apalancamiento, no parece que las acciones de los bancos se hayan vuelto mucho menos volátiles, como predeciría la teoría financiera cuando el capital se vuelve abundante.
Con frecuencia se dice -inclusive lo hace el presidente norteamericano, Donald Trump- que los mercados financieros ofrecen alivio en el momento actual. Pero una recaída en una crisis financiera probablemente tendría consecuencias políticas catastróficas, y llevaría al poder a nacionalistas populistas inclusive más tóxicos. En este escenario, el centro no resistirá.
Más allá del tipo de riesgos de corto plazo que calculan los mercados, existe el tema de una desaceleración económica. La buena noticia es que el sentimiento es positivo en gran parte del mundo. Parece poco probable que la inflación se acelere fuera de control y provoque la implementación de políticas fiscales y monetarias contractivas. La mayoría de los pronosticadores consideran bajo el riesgo a corto plazo de una recesión. 
Pero las recesiones nunca se predicen de manera exitosa, ni siquiera con seis meses de anticipación. La expansión actual en Estados Unidos ya lleva un buen tiempo, y el riesgo de errores en materia de políticas allí es muy real, debido a una conducción económica altamente problemática en la administración Trump. Yo pondría la probabilidad anual de una recesión en los próximos años en un 20-25%. De manera que las probabilidades de que la economía de Estados Unidos caiga en una recesión en los próximos tres años son más fuertes que nunca.
El riesgo desde un punto de vista estrictamente económico es que este año no exista la estrategia tradicional para combatir una recesión -una reducción de 500 puntos básicos en la tasa de interés de fondos federales-, considerando el límite inferior igual a cero de las tasas de interés. Tampoco resulta claro si habrá voluntad o espacio para una expansión fiscal.
Esto significa que la próxima recesión, como la última, puede ser prolongada y profunda, con consecuencias globales serias. Y la capacidad política para una respuesta global, como la que se manifestó en la cumbre del G-20 en Londres en 2009, también parece estar ausente. Basta con comparar las visiones globales del presidente norteamericano Barack Obama y del primer ministro británico Gordon Brown en aquel momento con las de Trump y la primera ministra Theresa May hoy.
Me estremezco sólo de pensar qué significará una recesión grave para la política y las políticas.
Cuesta imaginar que se evite un resurgimiento del proteccionismo, del populismo y de la búsqueda de chivos expiatorios. En ese escenario, como en otras crisis financieras, el centro no resistirá.
Pero el mayor riesgo en los próximos años, en mi opinión, no es ni un colapso del mercado ni una recesión. Por el contrario, es un ciclo de fatalidad política en el que la conclusión de los votantes de que el gobierno no funciona de manera efectiva para ellos se vuelva una profecía autocumplida. Los candidatos elegidos en base a plataformas de resentimiento deslegitiman a los gobiernos que lideran, alimentando un mayor resentimiento y hasta nuevos líderes más problemáticos. Cunde el cinismo.
¿Cómo explicar, si no, la candidatura de Roy Moore para una banca en el Senado de Estados Unidos? Moore, que fue despedido con causa en dos oportunidades de su puesto en la Corte Suprema de Alabama, y que está acusado de manera creíble de acoso sexual a jóvenes adolescentes cuando tenía treinta y tantos años, podría entrar al Senado de Estados Unidos mientras muchos de sus colegas miran para otro lado.
Si los ciudadanos de un país pierden confianza en la capacidad de su gobierno para mejorarles la vida, el gobierno tiene un incentivo para buscar el apoyo popular centrando su atención en amenazas que sólo él puede enfrentar. Es por eso que en las sociedades dominadas por la ira y la incertidumbre sobre el futuro, la tentación de estigmatizar a los grupos minoritarios aumenta. Y es por eso que existe una tendencia a que las autoridades magnifiquen las amenazas externas.
Estamos viendo este fenómeno en todo el mundo. El presidente ruso, Vladimir Putin, el presidente turco, Recep Tayyip Erdoğan, y el presidente chino, Xi Jinping, hicieron del nacionalismo una parte central de su estrategia de gobierno. Lo mismo ha hecho Trump, que explícitamente ha rechazado a la comunidad internacional en favor de la idea de que sólo hay una lucha incesante entre los estados nación por una ventaja competitiva.
Cuando la potencia preeminente del mundo, que ha defendido la idea de una comunidad internacional durante casi 75 años, la rechaza en favor de acuerdos ad hoc, los demás no tienen otra opción que seguir sus pasos. Los países que ya no pueden confiar en Estados Unidos sienten una presión para ocuparse de su propia seguridad. Los adversarios de Estados Unidos inevitablemente buscarán llenar el vacío que queda cuando Estados Unidos se repliega.
Los cambios en la política impositiva, regulatoria o presupuestaria pueden ser rescindidos -aunque con dificultad- por la administración siguiente. Una percepción de que Estados Unidos ya no está preparado para defender a sus aliados en la comunidad internacional es mucho menos reversible. Aún si Estados Unidos reanuda sus compromisos previos, existirá una sensación persistente de que las promesas que no se cumplen una vez se pueden volver a romper. Y una vez que otros países se embarcan en un nuevo camino, tal vez no puedan o no quieran revertir el curso.
¿Entonces el centro resistirá? ¿El orden internacional se mantendrá estable? La respuesta dependerá de las elecciones de la administración Trump y de las respuestas de otros gobiernos. Pero cuando otros países miren a Estados Unidos, estarán viendo algo más que a su presidente, especialmente en la medida que siga cayendo su popularidad. Es por eso que es más importante que nunca que todos los norteamericanos proclamen su continuo compromiso con la democracia y la prosperidad en casa y con el liderazgo de la comunidad global.