Китайские противоречия
НЬЮ-ХЕЙВЕН – Съезды Коммунистической партии, проходящие в Китае раз в пять лет, это редкое событие, где ритуал и догма сочетаются с самоанализом и стратегией. И XIX Всекитайский съезд КПК, начавшийся 18 октября, не стал исключением.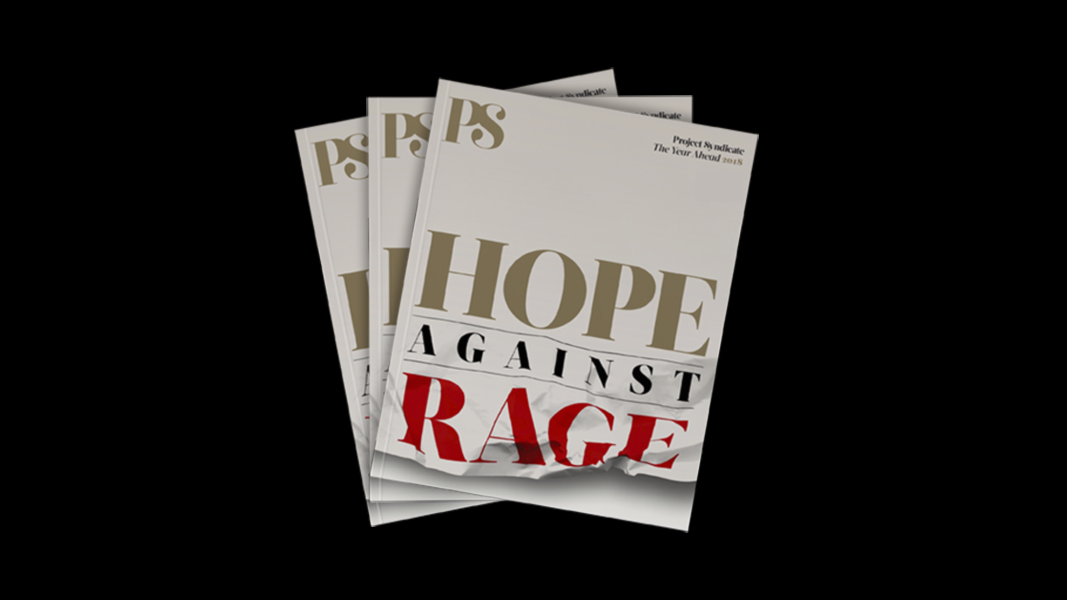 The Year Ahead 2018
The world's leading thinkers and policymakers examine what's come apart in the past year, and anticipate what will define the year ahead.
Интрига связана с потенциальными изменениями в партийном руководстве, которые обычно происходят в конце этих съездов, однако событием большого значения стал представленный уже в день открытия политический доклад председателя Си Цзиньпина. Важно, что доклад говорит столько же о партии, сколько и о самом Си. Как указывает Элис Миллер, ведущий китаист в стэнфордском Институте Гувера, данный доклад тщательно готовился в течение года, так чтобы в нём выражалось согласованное мнение высшего органа партии – его Центрального комитета, который состоит из 205 членов.
Три вывода из доклада Си Цзиньпина особенно важны. Во-первых, идеологический фундамент «Идей Си Цзиньпина» был поднят на тот же величественный уровень, что и «Идеи Мао Цзэдуна», что фактически ставит Си Цзиньпина выше трёх предшественников – Ху Цзиньтао, Цзян Цзэминя и даже многоуважаемого Дэн Сяопина. Много писалось о консолидации власти Си Цзиньпином, с тех пор как он был назначен генеральным секретарём в ноябре 2012 года. Но подобное возвышение подтверждает этот факт официально. Си Цзиньпин находится у власти всего лишь пять лет, а партийное руководство уже объявило его одной из двух величайших исторических фигур современного Китая.
Во-вторых, политический доклад очень уверенно говорит о Китае, который вошёл в «Новую эру». Впрочем, сославшись на китайскую поговорку, что «последний отрезок пути является лишь вехой на половине дороги», Си обрисовал даже более амбициозное будущее.
Китай ставит теперь перед собой две цели – выполнение задачи построения так называемого общества средней зажиточности к 2035 году, а затем утверждение страны на позициях Великой Державы к 2050 году. В отличие от прошлых упражнений Китая в постановке целей, здесь нет количественных параметров, привязанных к этим «двойным столетним целям» (которые примерно совпадают с юбилеями основания партии в 1921 году и учреждением Китайской Народной Республики в 1949 году). Они знаменуют собой долгожданное национальное возрождение, которое Си Цзиньпин называет «китайской мечтой».
Третий пункт является, наверное, самым интригующим. Он сформулирован как «основное противоречие» Китая – это марксистская концепция, которая помогает признавать фундаментальные проблемы, требующие решения. Основное противоречие, обычно обтекаемое и двусмысленное, создаёт рамки для содержательной дискуссии о рисках и возможностях, о стратегии и тактике, о реформах и государственном управлении – то есть обо всём, что влияет на перспективы Китая в обозримом будущем.
Большая новость в том, что под руководством Си Цзиньпина партия пересмотрела это основное противоречие, причём впервые с 1981 года. Если раньше противоречие заключалось в необходимости компромисса между потребностями народа и «отсталым общественным производством», то сейчас оно воспринимается как несоответствие между «неравномерным и неадекватным развитием» и «постоянно растущими потребностями народа в хорошей жизни».
Новая формулировка основного противоречия появилась не на пустом месте. Это чёткий сигнал о глубоких изменениях национальных перспектив – от перспектив бедной развивающейся страны к перспективам общества растущей зажиточности, которое стремиться стать Великой Державой. Новая формулировка продолжает критическую линию бывшего премьер-министра Вэнь Цзябао, который в марте 2007 года выступил со знаменитым предупреждением: китайская экономика становится всё более «нестабильной, разбалансированной, раскоординированной и [в конечном итоге] неустойчивой».
За прошедшие десять лет целью двух пятилетних планов (XII-го, принятого в 2011 году, и XIII-го, принятого в 2016 году) и большого пакета реформ, одобренного на Третьем пленуме в 2013 году, было устранение затянувшихся, опасных дисбалансов в Китае. Политический доклад Си не меняет основных акцентов в этой работе. Его реальное значение в том, что данная ребалансировка теперь освящена идеологией партии. Теперь это фундаментальный столп «Идей Си Цзиньпина».
Внимание, уделённое в политическом докладе основному противоречию Китая, вызывает также важные вопросы о том, чего ещё, возможно, не хватает долгосрочной стратегии партии. На экономическом фронте особенно выделяются три «вторичных противоречия».
Во-первых, сохраняется противоречие между ролью государства и роль рынка в управлении процессом распределения ресурсов. Это было очень яркое противоречие в реформах, одобренных Третьим пленумом в 2013 году: они фокусировались на комбинации казалось бы несочетаемого – «решающая роль» рынков при полной поддержке государственной собственности.
Партия уже давно решила, что эти два элемента экономической жизни являются совместимыми – это так называемая смешанная экономики с китайской спецификой. В политическом докладе Си содержатся похвалы такой смешанной модели собственности,  а также призывы к созданию экономики с крупными компаниями-лидерами, обладающими несравнимой глобальной конкурентоспособностью. Впрочем, в докладе оказался завуалирован трудный вопрос о реформе госпредприятий, которая может потребоваться, чтобы устранить данное противоречие и избежать японской «зомби»-проблемы в виде хронического долгового навеса.
Во-вторых, имеется противоречие между предложением и спросом. Вслед за недавними заявлениями высокопоставленных китайских официальных лиц, политический доклад практически не оставляет сомнений в том, что структурные реформы на стороне производства теперь стали главным приоритетом для экономических властей. Главными кирпичиками в этой работе называют акцент на повышении производительности, инновациях, сокращении избыточных мощностей, движении вверх в цепочке создания стоимости в секторе промышленности и услуг.
В то же время доклад снижает внимание к роли потребительских расходов и услуг – в списке приоритетов для модернизации экономики эта задача оказалась закопана глубоко внизу. Но внимание к производству без оказания равного внимания к фундаментальным основам совокупного спроса является странной и потенциально опасной однобокой политикой.
Наконец, последнее вторичное противоречие можно обнаружить в контрасте между маршрутом и пунктом назначения. Несмотря на всё оптимистическое самодовольство политического доклада Си, есть веские причины полагать, что китайская экономика сейчас находится лишь на самых первых этапах давно провозглашённой структурной трансформации. Сектор услуг растёт быстро, но пока ещё пребывает в эмбриональной стадии: на его долю приходится лишь 52% ВВП. А потребление домохозяйств, которое также быстро растёт, пока ещё не превышает 40% ВВП.
Китай вполне может находиться на пути к «Новой норме» или к «Новой эре». Но пункт назначения пока ещё очень далёк, и по дороге придётся устранить множество противоречий.