Las contradicciones de China
NEW HAVEN – Los congresos quinquenales del Partido Comunista de China son un raro acontecimiento en el que el ritual y el dogma se combinan con la introspección y la estrategia. Y el 19.º Congreso Nacional, iniciado el 18 de octubre, no es la excepción.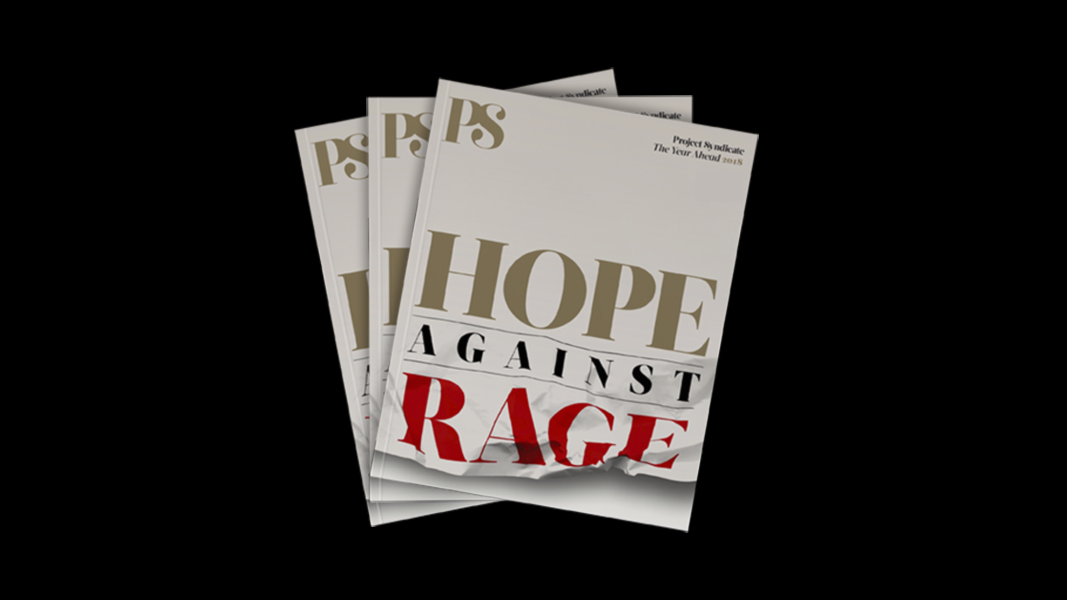 The Year Ahead 2018
The world's leading thinkers and policymakers examine what's come apart in the past year, and anticipate what will define the year ahead.
No obstante el suspenso en torno de posibles cambios en el liderazgo del Partido (que suelen ocurrir al final del encuentro), el informe político del presidente Xi Jinping, presentado el día de apertura, ha sido un hecho de gran impacto. Cabe señalar que dice tanto acerca del Partido como de Xi. Como destaca Alice Miller, importante sinóloga de la Hoover Institution en Stanford, el informe se redactó con todo cuidado por espacio de un año para transmitir el consenso del órgano máximo del Partido, el Comité Central de 205 miembros.
Del discurso de Xi surgen tres conclusiones particularmente importantes. Para empezar, las bases ideológicas del "Pensamiento de Xi Jinping" han sido puestas a la misma altura de las del "Pensamiento de Mao Zedong", lo que en la práctica eleva a Xi por encima de sus tres predecesores (Hu Jintao, Jiang Zemin e incluso el reverenciado Deng Xiaoping). Mucho se ha escrito sobre la consolidación del poder de Xi desde su designación como secretario general en noviembre de 2012, pero esta elevación la vuelve oficial. Tras sólo cinco años en el cargo, el liderazgo del Partido ungió a Xi como una de las dos máximas figuras históricas de la China moderna.
En segundo lugar, el informe político habla con mucha confianza de una China que acaba de ingresar a una "Nueva Era". Pero destacando el proverbio chino que dice que "la última etapa del viaje es todavía la mitad del camino", Xi bosquejó un futuro incluso más ambicioso.
China tiene ahora dos objetivos en su mira: completar la tarea de construir una "sociedad moderadamente próspera" de aquí a 2035, y luego afianzarse como gran potencia en 2050. A diferencia de otros que se planteó China en el pasado, estos dos "objetivos centenarios gemelos" (aproximadamente alineados con la fundación del Partido en 1921 y la creación de la República Popular de China en 1949) no tienen metas cuantitativas asociadas. Son una exaltación del muy esperado rejuvenecimiento nacional que Xi ha denominado "Sueño Chino".
El tercer aspecto, tal vez el más intrigante, se presenta como la "contradicción principal" de China, un concepto marxista que actúa como admisión de un problema fundamental que demanda solución. La contradicción principal, que suele expresarse en forma vaga y ambigua, es marco para una elaborada discusión de riesgos y oportunidades, tácticas y estrategias, reformas y formas de gobernanza, que define las perspectivas de China en el futuro cercano.
La gran noticia es que bajo el liderazgo de Xi, el Partido revisó la contradicción principal, por primera vez desde 1981. Hasta ahora la contradicción se había presentado como un dilema entre las necesidades del pueblo y la "producción social atrasada" de China; pero ahora se la ve como una tensión entre "un desarrollo desequilibrado e insuficiente" y las "necesidades crecientes del pueblo de una vida mejor".
Esta reformulación de la contradicción principal no salió de la nada. Es clara señal de un amplio cambio de visión nacional que lleva de considerar a China como un país pobre en desarrollo a una sociedad cada vez más próspera decidida a convertirse en gran potencia. Además, está en la misma línea de la famosa crítica expresada en marzo de 2007 por el expremier Wen Jiabao, cuando advirtió que la economía china adolecía de una creciente falta de equilibrio, estabilidad, coordinación y, finalmente, sostenibilidad.
China lleva diez años tratando de resolver sus persistentes y preocupantes desequilibrios mediante dos planes quinquenales (el 12.º, aprobado en 2011, y el 13.º, en 2016) y un amplio conjunto de reformas adoptadas en el "Tercer Plenario" de 2013. El informe político de Xi no modifica en esencia la senda marcada por aquellas iniciativas; su real trascendencia es que ahora la búsqueda del equilibrio ha quedado incorporada a las bases ideológicas del Partido: es un pilar fundacional del Pensamiento de Xi Jinping.
El énfasis del informe político en la contradicción principal de China también abre interrogantes sobre lo que puede faltar en la estrategia del Partido a largo plazo. Hay sobre todo tres "contradicciones secundarias" que se destacan en el frente económico.
En primer lugar, la continua tensión entre la función del Estado y de los mercados en la asignación de recursos, una contradicción muy presente en las reformas del Tercer Plenario de 2013, que se centraron en la aparente imposibilidad de combinar un "papel decisivo" de los mercados con un apoyo decidido a la propiedad estatal de las empresas.
El Partido cree hace tiempo que estos dos aspectos de la vida económica son compatibles, en lo que se denomina "economía mixta con características chinas". El informe político de Xi elogia el modelo de propiedad mixta y también aspira a una economía liderada por grandes empresas con competitividad internacional inigualable. Pero pasa por alto el espinoso asunto de la reforma del sector estatal, tal vez necesaria para resolver esta contradicción y evitar el problema de las empresas "zombis" eternamente endeudadas que se dio en Japón.
En segundo lugar, está la tensión entre la oferta y la demanda. A tono con otros pronunciamientos recientes de altos funcionarios chinos, el informe político deja muy claro que a partir de ahora la máxima prioridad de las autoridades económicas serán las reformas estructurales del lado de la oferta. Este programa conlleva entre sus componentes clave un énfasis en la productividad, la innovación, el recorte de capacidad excedente y el ascenso en la cadena de valor industrial y de servicios.
Al mismo tiempo, el informe resta importancia al consumo de bienes y servicios, que ahora está muy abajo en la lista de prioridades para una economía modernizada. Pero que se haga hincapié en la oferta sin prestar igual atención a los fundamentos de la demanda agregada supone una omisión desconcertante y quizá preocupante.
Una última tensión secundaria puede hallarse en el contraste entre el camino y el lugar de llegada. Pese a las rimbombantes declaraciones de satisfacción por el estado actual de la economía china contenidas en el informe político de Xi, hay buenos motivos para pensar que aquella sólo se encuentra en las primeras etapas de su muy anunciada transformación estructural. El sector servicios crece rápidamente, pero todavía es embrionario y equivale a sólo el 52% del PIB. Y el consumo de los hogares, que también crece velozmente, todavía no llega al 40% del PIB.
Es muy posible que China esté en la senda hacia una Nueva Normalidad o una Nueva Era. Pero el punto de llegada todavía está muy lejos, y quedan muchas contradicciones que resolver por el camino.
Traducción: Esteban Flamini