O porquê de o rendimento básico universal ser uma má ideia
BOSTON – Devido à inadequação da rede de segurança social nos Estados Unidos e noutros países desenvolvidos, as propostas para um rendimento básico universal (RBU) estão a ganhar popularidade. O fosso entre os ricos e todos os outros aumentou significativamente nos últimos anos e muitos temem que a automatização e a globalização o aumentem ainda mais.
Não há dúvida de que se a única escolha for entre o empobrecimento em massa e um RBU, um RBU é preferível. Um programa desse género permitiria que as pessoas gastassem o seu dinheiro naquilo que mais valorizassem. Isso criaria um sentido mais amplo de propriedade e um novo eleitorado para agitar o sistema de políticas de grande capital. Estudos sobre programas de transferência condicionada de dinheiro em economias em desenvolvimento descobriram que tais políticas podem empoderar as mulheres e outros grupos marginalizados.
Mas o RBU é uma ideia ineficiente, até porque seria proibitivamente dispendiosa a menos que fosse acompanhado de cortes profundos no resto da rede de segurança. Nos EUA (população: 327 milhões), um RBU de apenas mil dólares por mês custaria cerca de quatro biliões de dólares por ano, valor que está próximo de todo o orçamento federal em 2018. Sem uma grande economia de custos, a receita fiscal federal dos EUA teria de ser duplicada, o que imporia enormes custos distorcionários na economia. E não, um RBU permanente não poderia ser financiado com dívida pública ou moeda recentemente impressa.
Sacrificar todos os outros programas sociais em prol de um RBU é uma péssima ideia. Esses programas existem para resolver problemas específicos, como a vulnerabilidade de idosos, crianças e pessoas com deficiência. Imagine viver numa sociedade em que as crianças ainda passam fome e as pessoas com problemas graves de saúde são privadas de cuidados adequados, porque toda a receita fiscal foi para o envio de cheques mensais a todos os cidadãos, milionários e bilionários incluídos.
Embora o RBU seja um bom slogan, não deixa de ser uma política mal concebida. A teoria económica básica implica que os impostos sobre o rendimento são distorcionários, na medida em que desencorajam o trabalho e o investimento. Além disso, os governos devem evitar transferências para as mesmas pessoas de quem cobram receitas, mas é exatamente isso que um RBU faria. Nos EUA, por exemplo, cerca de três quartos das famílias pagam pelo menos alguns impostos federais sobre o rendimento ou sobre os salários e uma parcela ainda maior paga impostos estatais.
Além disso, uma política mais sensata já está em cima da mesa: um imposto sobre o rendimento negativo ou o que às vezes é chamado de "rendimento mínimo garantido". Em vez de se dar mil dólares por mês a todos, um programa de rendimento garantido ofereceria transferências apenas aos indivíduos cujo rendimento mensal fosse inferior a mil dólares, chegando assim a uma mera fração do custo do RBU.
Subscribe now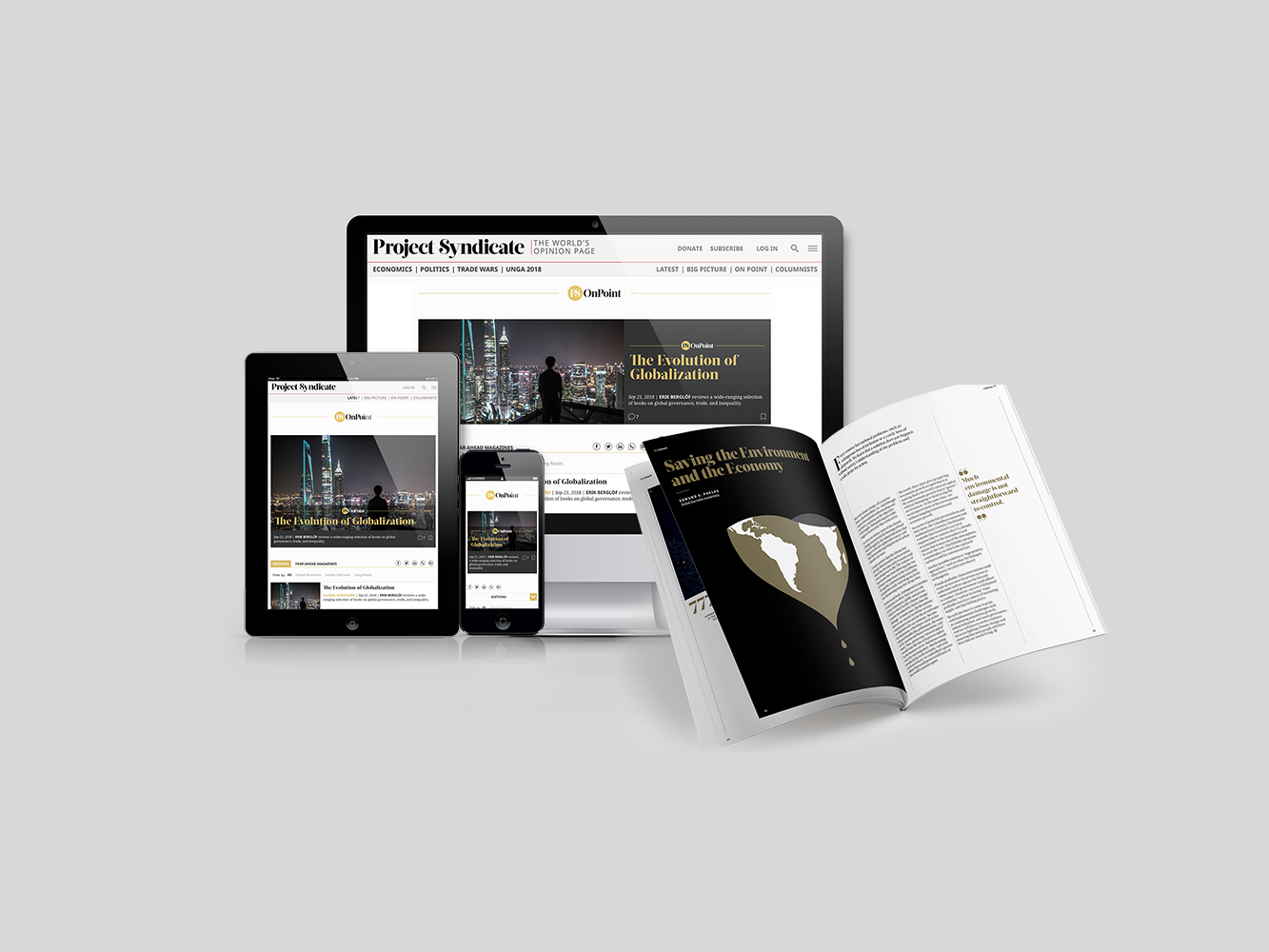 Subscribe now
Get unlimited access to OnPoint, the Big Picture, and the entire PS archive of more than 14,000 commentaries, plus our annual magazine, for less than $2 a week.
Os defensores do RBU argumentariam que os programas de transferência não universais são menos atrativos porque os eleitores não os receberiam com entusiasmo. Mas essa crítica é infundada. O rendimento mínimo garantido é tão universal como o seguro nacional de saúde, que não disponibiliza pagamentos mensais a todos, mas sim beneficia qualquer pessoa que tenha tido despesas médicas. O mesmo aplica-se aos programas que garantem incondicionalmente o apoio às necessidades básicas, como alimentos para quem passa fome e seguro de desemprego para desempregados. Tais políticas são amplamente populares nos países que as têm.
Por fim, grande parte do entusiasmo pelo RBU é baseado numa má leitura das tendências de emprego nas economias avançadas. Ao contrário da crença popular, não há evidências de que o trabalho como o conhecemos desapareça tão cedo. A automatização e a globalização estão de facto a reestruturar o trabalho, a eliminar certos tipos de empregos e a aumentar a desigualdade. Mas, em vez de se criar um sistema em que uma grande parcela da população recebe subsídios, deveríamos adotar medidas para incentivar a criação de empregos "de classe média" com bons salários e fortalecer, simultaneamente, a nossa rede de segurança social que está debilitada. O RBU não faz nada disso.
Nos EUA, as principais metas políticas deveriam ser: cuidados de saúde universais, subsídios de desemprego mais generosos, programas de requalificação melhor concebidos e um ampliado crédito fiscal sobre o rendimento do trabalho (EITC). O EITC já funciona como um rendimento mínimo garantido para trabalhadores com baixos salários, custa bem menos do que um RBU e incentiva diretamente o trabalho. Do lado empresarial, a redução dos custos indiretos e dos impostos sobre os salários que os empregadores pagam pela contratação de funcionários estimularia a criação de empregos, sendo também uma ninharia comparado com o custo do RBU. Com salários mínimos mais elevados para evitar que os empregadores beneficiem dos créditos fiscais dos trabalhadores, um EITC ampliado e a redução dos impostos sobre os salários contribuiriam para a criação de empregos que valessem a pena em todos os níveis da distribuição de rendimentos.
Igualmente importante, essas soluções alavancam a política democrática. O mesmo não pode ser dito de um RBU, que é lançado do topo como uma forma de apaziguar as massas descontentes. Não capacita nem sequer consulta as pessoas que pretende ajudar. (Os trabalhadores que perderam os seus empregos de classe média querem transferências do governo ou uma oportunidade de arranjar outro emprego?) Como tal, as propostas do RBU têm todas as características da política "Pão e Circo" utilizada pelos impérios romano e bizantino - subsídios para desarmar o descontentamento e apaziguar as massas, em vez de proporcionar-lhes oportunidades económicas e ação política
Em contraste, o moderno Estado social que tem servido tão bem os países desenvolvidos não foi transmitido por magnatas e políticos. O objetivo era fornecer segurança social e oportunidades para as pessoas. E foi o resultado da política democrática. Pessoas comuns fizeram exigências, reclamaram, protestaram e envolveram-se na formulação de políticas, e o sistema político reagiu. O documento fundador do Estado social britânico, o Relatório Beveridge, da época da Segunda Guerra Mundial, tanto foi uma resposta às exigências políticas como às dificuldades económicas. Procurou proteger os desfavorecidos e criar oportunidades, incentivando simultaneamente o envolvimento cívico.
Muitos problemas sociais atuais estão enraizados na nossa negligência do processo democrático. A solução não é distribuir migalhas suficientes para manter as pessoas em casa, distraídas e, de alguma forma, apaziguadas. Em vez disso, precisamos de rejuvenescer a política democrática, estimular o envolvimento cívico e procurar soluções coletivas. Somente com uma sociedade mobilizada e politicamente ativa podemos criar as instituições necessárias para a prosperidade partilhada no futuro, protegendo ao mesmo tempo os mais desfavorecidos entre nós.