Die unbequeme Wahrheit über Saudi-Arabien
NEW YORK – Im Dokumentarfilm "Eine unbequeme Wahrheit" versuchte der ehemalige US-Vizepräsident Al Gore, seine amerikanischen Mitbürger vor den Gefahren der globalen Erwärmung zu warnen. Das Unbequeme daran ist, dass der Kampf gegen katastrophale Klimaveränderungen die Menschen dazu zwingen würde, anders zu leben und, in manchen Fällen, aufzugeben, was sie lieben (beispielsweise benzinschluckende Autos).
Seit fast zwei Monaten leben wir alle mit einer anderen unbequemen Wahrheit – seit Jamal Khashoggi, ein saudischer Journalist, der für die Washington Post arbeitete und in den Vereinigten Staaten lebte, im saudi-arabischen Konsulat in Istanbul verschwand.
Ein großer Teil dieser Wahrheit lässt sich nicht leugnen: Khashoggi wurde von Leuten ermordet, die enge Verbindungen zur saudischen Regierung und ihrem De-Fakto-Regierungschef hatten – Kronprinz Mohammed bin Salman (auch als MBS bekannt). Wochenlange Dementis und Lügen saudischer Beamter haben die Vermutung, dass der Mord von ganz oben geplant und genehmigt wurde, nur noch verstärkt. Zu dieser Ansicht ist jetzt auch die CIA gekommen. Dass MBS direkt beteiligt war, ist zwar nicht hundertprozentig bewiesen, aber die meisten Beobachter, die Saudi-Arabien kennen, haben daran kaum Zweifel. Dies ist kein System, dass viel eigenmächtiges Handeln toleriert.
Was die Wahrheit unbequem macht, ist die strategische Bedeutung Saudi-Arabiens. Das Königreich fördert immer noch über 10% des weltweiten Öls. Sein Staatsfonds sitzt auf schätzungsweise 500 Milliarden Dollar. Und es ist das einflussreichste sunnitisch-arabische Land. Es ist Hüter der heiligsten islamischen Stätten und nimmt daher innerhalb der muslimischen Welt eine Sonderstellung ein. Und bei allen Maßnahmen gegen den Iran spielt es eine entscheidende Rolle.
Darüber hinaus ist MBS trotz all seiner Schwächen eine Art Reformer. Er versteht, dass sich sein Land, wenn es aufblühen will, öffnen muss – was auch die Voraussetzung dafür ist, dass die königliche Familie eine Zukunft hat. Auch ist er in seinem Land beliebt, insbesondere bei den jüngeren Saudis, die den größten Teil der Bevölkerung stellen.
Das Problem ist, dass der junge und impulsive Kronprinz viele Fehler hat. Nicht nur beim Mord an Khashoggi war er beteiligt, sondern hat auch einen waghalsigen Angriff seines Landes auf den Jemen befohlen – eine strategische und humanitäre Katastrophe, die an den Krieg der USA gegen Vietnam erinnert. Er entführte den libanesischen Ministerpräsidenten: tat alles, was er konnte, um Katar zu untergraben; verhaftete reiche Saudis, die sich weigerten, seiner Machtkonsolidierung zuzustimmen; brach wegen eines kritischen Tweets die diplomatischen Beziehungen zu Kanada ab; und sperrte politische Aktivisten ein – darunter auch Frauen, die sich für mehr Rechte einsetzten.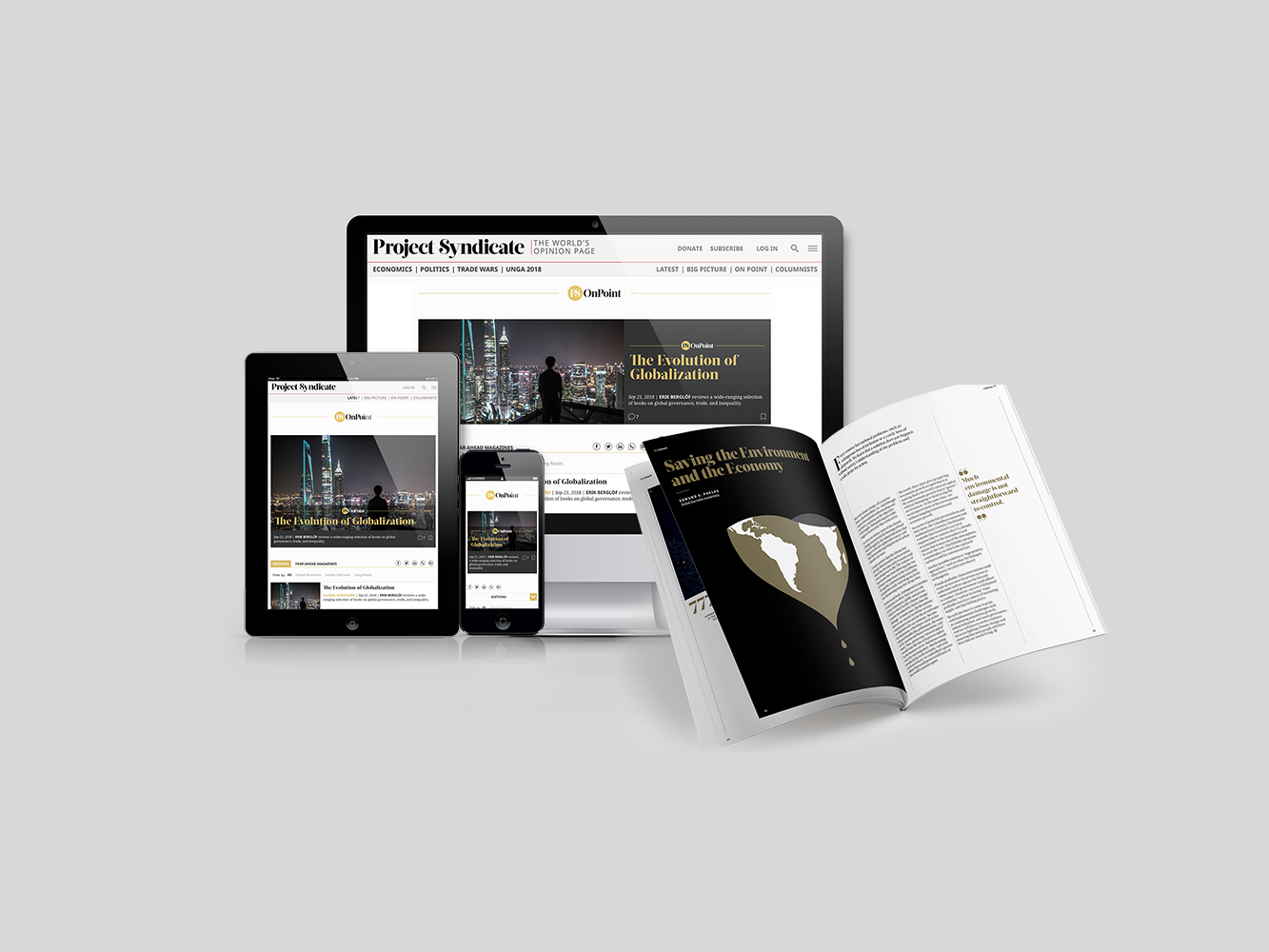 Subscribe now
For a limited time only, get unlimited access to On Point, The Big Picture, and the PS Archive, plus our annual magazine, for less than $2 a week.
Die saudische Strategie im Umgang mit dem Aufschrei über den Mord an Khashoggi ist klar: sich ducken und warten, bis das Unwetter vorüberzieht. MBS und sein innerer Kreis bauen darauf, dass die Wut der Welt angesichts der Bedeutung seines Landes bald abflauen wird. Und da sein Land die anderen sunnitisch-arabischen Staaten subventioniert, hat er guten Grund zu der Annahme, dass diese zu ihm stehen werden.
Auch Israel deutet an, MBS zu unterstützen, da er bereit scheint, die Beziehungen zu normalisieren. Und was noch wichtiger ist: Die beiden Länder haben ein gemeinsames Interesse daran, den iranischen Einfluss in der Region zu bremsen. Auch die Regierung von US-Präsident Donald Trump hält zu ihrem Verbündeten. Bis jetzt weigert sie sich, Salmans Rolle beim Mord an Khashoggi anzuerkennen und Sanktionen gegen Saudi-Arabien zu fordern.
Was sollte also getan werden? Der ehemalige US-Außenminister James A. Baker zog kürzlich eine Parallele zur US-Politik gegen China im Jahr 1989, als der Pekinger Studentenprotest auf dem Tiananmen-Platz in einem Massaker endete. Die Regierung von George H.W. Bush (zu der auch ich gehörte) bemühte sich damals, ausgewogen zu reagieren: Sie führte Sanktionen ein, um ihre Unzufriedenheit mit der chinesischen Regierung zu zeigen, hielt die Strafe angesichts der Bedeutung Chinas aber in Grenzen und ließ Kommunikationskanäle offen.
Wäre eine ähnliche Politik auch gegen Saudi-Arabien realistisch?
Idealerweise sollten die Regierungen der USA und der europäischen Staaten erklären, dass sie offener für eine Zusammenarbeit mit Saudi-Arabien wären, wenn die Macht des Kronprinzen begrenzt würde. Auch die Waffenverkäufe und Unterstützung durch die Geheimdienste der USA sollten eingeschränkt werden, was der US-Kongress glücklicherweise plant.
Am wichtigsten ist aber, dass jegliche Sanktionen den öffentlichen und privaten Druck auf MBS verstärken – in Bezug darauf, was nötig ist und was verhindert werden sollte. Was nötig ist, ist eine gemeinsame Anstrengung, um den Konflikt im Jemen zu beenden. Was verhindert werden muss, ist die Ausnutzung der iranfeindlichen Stimmung in der Trump-Regierung, um eine bewaffnete Auseinandersetzung zu provozieren, die andere veranlassen könnte, ihre Bedenken zu überwinden und mit Saudi-Arabien gemeinsame Sache zu machen.
Ein Krieg gegen den Iran wäre teuer und gefährlich. MBS muss verstehen, dass die USA für Saudi-Arabien nur dann ein strategischer Partner sein können, wenn er sich im Jemen und anderswo mehr zurückhält und die amerikanischen Interessen stärker respektiert.
Auch mit China und Russland müssen wir uns abstimmen. Im Gegensatz zu den USA verfügen beide über funktionsfähige Beziehungen zu Saudi-Arabien und dem Iran. So können beide dazu beitragen, den Ausbruch eines solchen Krieges zu verhindern oder ihn schnell wieder zu beenden.
Zu häufig haben schwierige Lagen im Nahen Osten die Tendenz, sich weiter zu verschlimmern. MBS hat eine solche schwierige Lage herbeigeführt. Jetzt müssen wir dafür sorgen, dass sie sich nicht verschlimmert.
Aus dem Englischen von Harald Eckhoff