Como los palestinos, los kurdos merecen un estado
JERUSALÉN – Hoy casi todos coinciden en que el pueblo palestino merece un estado, y que no debería vivir bajo dominio israelí. Idea que comparte la mayoría de los israelíes, incluido el primer ministro Binyamin Netanyahu, quien declaró (a regañadientes) estar también él comprometido con una solución de dos estados. Y que cuenta con fuerte apoyo de un electorado de izquierda en muchas democracias occidentales, que organiza periódicamente manifestaciones a favor de la independencia palestina.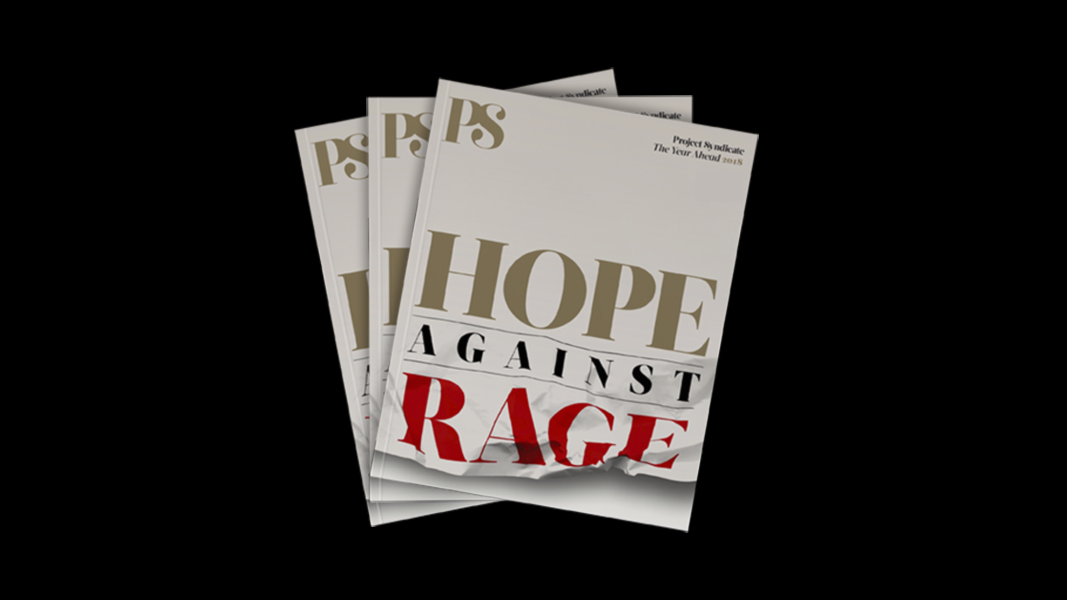 The Year Ahead 2018
The world's leading thinkers and policymakers examine what's come apart in the past year, and anticipate what will define the year ahead.
La defensa de la soberanía palestina se basa en el principio ético de la autodeterminación nacional. Pero extraña (y vergonzosamente), Occidente calla cuando lo que está en juego es el mismo derecho para el pueblo kurdo. Las democracias occidentales no apoyaron el referendo independentista que celebró a fines de septiembre el Gobierno Regional del Kurdistán, y no protestaron por las amenazas de los gobiernos iraquí y turco de aplastar por la fuerza el intento soberanista del GRK.
Las razones que dan los funcionarios de la Unión Europea o de Estados Unidos para oponerse a la independencia kurda se reducen siempre a la realpolitik. Se nos dice que hay que preservar la integridad territorial de Irak, y que la creación del nuevo estado desestabilizaría a Turquía e Irán, países que cuentan con importantes minorías kurdas.
Pero estos argumentos son sólo muestra de una doble vara: el mismo principio ético de autodeterminación que se aplica con razón al caso de los palestinos está totalmente ausente del discurso internacional sobre el Kurdistán. Peor aún, hay un total olvido de las muchas generaciones de opresión brutal que sufrieron los kurdos. En el Irak de Saddam Hussein, fueron blanco de ataques genocidas con armas químicas. Y en Turquía, el ejército arrasó centenares de poblados kurdos.
De los argumentos que se usan para negar a los kurdos el derecho a la autodeterminación, el de la defensa de la integridad territorial de Irak es el más espurio e hipócrita de todos. Cuando tras la derrota del imperio Otomano en la Primera Guerra Mundial los británicos instituyeron Irak como entidad política separada, lo hicieron atendiendo a sus propios intereses imperialistas y, por tanto, no tuvieron en cuenta la historia, la geografía, la demografía y la diversidad étnica y religiosa del territorio.
A los residentes de este estado sacado de la galera nadie les preguntó si querían vivir en un país con una mayoría aplastante de shiitas y grandes minorías kurdas y cristianas. Ni tampoco si querían ser gobernados por una dinastía sunita que los británicos trasplantaron desde el Hiyaz (que ahora es parte de Arabia Saudita).
Según el Tratado de Sèvres (que el derrotado Imperio Otomano firmó en agosto de 1920), a los kurdos se les prometió, como a los armenios, un estado independiente. Pero más tarde las potencias aliadas victoriosas renegaron de su promesa, y desde entonces el pueblo kurdo ha vivido bajo opresión constante.
Los kurdos residentes en el norte del territorio que se convirtió en Irak, igual que los cristianos asirios, llevan décadas viendo al gobierno hegemónico árabe en Bagdad negarles el reconocimiento de su cultura y su idioma propios. En este contexto, la "integridad territorial" es sólo un pretexto para la opresión étnica o religiosa.
También a las decenas de millones de kurdos que viven en Turquía e Irán se les han negado derechos humanos y culturales básicos. Por eso es comprensible que Ankara y Teherán cuestionen el reclamo independentista del GRK: temen que si resulta exitoso, aparezcan movimientos similares entre sus propias poblaciones kurdas oprimidas.
Pero en el caso de Palestina, nadie aduce que su independencia podría desestabilizar a Jordania, y ese argumento tampoco debería usarse contra los kurdos de Irak. Además, el GRK ya creó una sociedad relativamente abierta y pluralista. Como región semiautónoma, en el Kurdistán iraquí funciona un sistema multipartidista de un tipo que no se ve en los países árabes vecinos (por no hablar de Irán, o de Turquía, que avanza cada vez más hacia el autoritarismo).
La autodeterminación nacional es un derecho universal que no debe negarse a poblaciones que sufren bajo regímenes opresivos no democráticos. Los mismos argumentos que se aplican con razón a los palestinos deben aplicarse por igual a los kurdos. Los activistas por los derechos humanos que hacen manifestaciones por la independencia palestina deberían defender con igual énfasis la independencia kurda. Y los derechos humanos (a menos que se los aplique selectivamente, como parte de un fraude hipócrita) siempre deben prevalecer sobre la realpolitik.
En su larga y trágica historia los kurdos han sido abandonados una y otra vez por Occidente, hecho vergonzoso que no debe repetirse. Los peshmerga kurdos han sido los más firmes aliados de las democracias occidentales en la lucha contra Estado Islámico: dejar a los kurdos a merced de los gobiernos iraquí o turco ahora que nos necesitan sería una burla cruel.
Traducción: Esteban Flamini