Der teuerste Aktienmarkt der Welt
NEW HAVEN – Das Niveau an den Aktienmärkten unterscheidet sich deutlich von Land zu Land. Und augenblicklich ist es in den USA weltweit am höchsten. Was alle wissen wollen, ist warum – und ob das aktuelle Niveau des US-Aktienmarktes gerechtfertigt ist.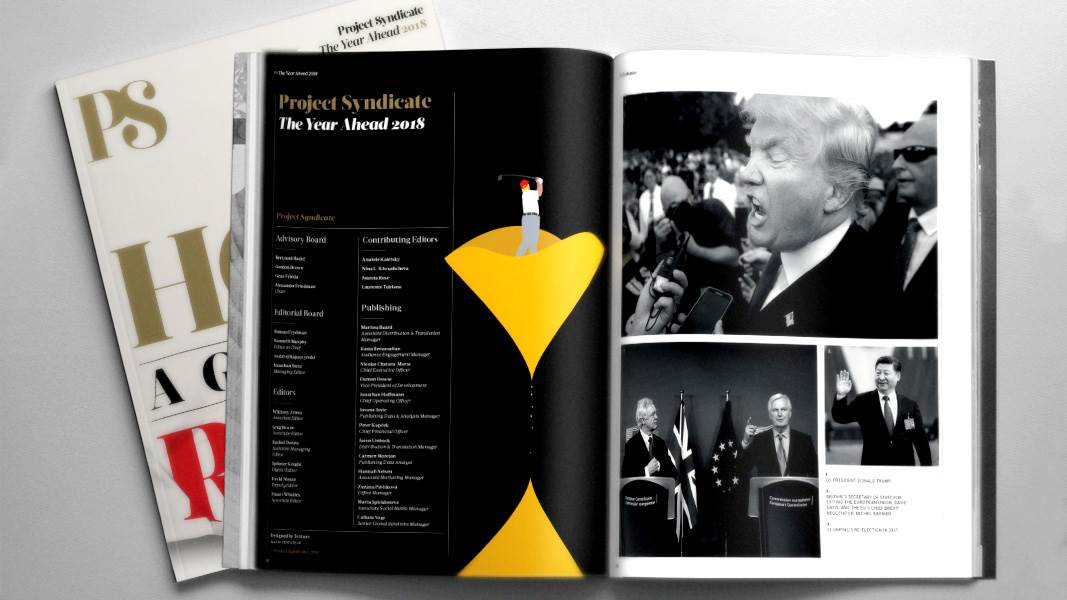 The Year Ahead 2018
The world's leading thinkers and policymakers examine what's come apart in the past year, and anticipate what will define the year ahead.
Eine simple, intuitiv verständliche Messgröße für die Unterschiede zwischen Ländern erhalten wir, wenn wir uns die Kurs-Gewinn-Verhältnisse ansehen. Ich bin schon seit langem ein Fürsprecher des zyklisch bereinigten Kurs-Gewinn-Verhältnisses (CAPE), das John Campbell (heute an der Universität Harvard) und ich vor 30 Jahren entwickelt haben.
Das CAPE-Verhältnis bezeichnet den realen (inflationsbereinigten) Kurs einer Aktie geteilt durch den Zehnjahresdurchschnitt der realen Erträge pro Aktie. Die Barclays Bank in London erstellt die CAPE-Verhältnisse für 26 Länder (ich berate Barclays zu seinen mit dem CAPE-Verhältnis verbundenen Produkten). Mit Stand 29. Dezember war das CAPE-Verhältnis für die USA am höchsten.
Betrachten wir einmal, was diese Verhältnisse bedeuten. Aktieneigentum stellt einen langfristigen Anspruch auf die Erträge eines Unternehmens dar. Das Unternehmen kann diese Erträge als Dividende an die Aktionäre ausschütten oder reinvestieren, um den Aktionären in der Zukunft höhere Dividenden zahlen zu können. Eine Aktie eines Unternehmens ist nicht bloß ein Anspruch auf die Erträge des kommenden Jahres oder des Jahres darauf. Erfolgreiche Unternehmen bestehen für Jahrzehnte, wenn nicht gar Jahrhunderte.
Um eine Bewertung für den Aktienmarkt eines Landes zu erhalten, müssen wir also die Wachstumsrate der Erträge und Dividenden für einen Zeitraum von deutlich länger als einem Jahr bestimmen. Was wir wirklich wissen wollen, ist, wie sich die Erträge über die nächsten zehn oder 20 Jahre hinweg entwickeln werden. Wir aber kann man zuversichtlich langfristige Prognosen zum Ertragswachstum in unterschiedlichen Ländern abgeben?
Bei der Kursbewertung von Aktienmärkten scheinen sich die Leute nicht auf irgendwelche guten Ertragsprognosen für die kommenden zehn Jahre zu stützen. Sie scheinen lediglich die letzten zehn Jahre zu betrachten, die zwar bereits vorbei, aber zugleich gekannt und greifbar sind.
Doch als Campbell und ich das Ertragswachstum in den USA über lange historische Zeiträume betrachteten, stellten wir fest, dass es sich nicht besonders gut zur Extrapolation eignet. Seit 1881 beläuft sich die Korrelation des realen Ertragswachstums des vergangenen Jahrzehnts mit dem Kurs-Gewinn-Verhältnis auf +0,32. Doch gibt es keinerlei Korrelation zwischen dem CAPE-Verhältnis und dem realen Ertragswachstum der kommenden zehn Jahre. Und das reale Ertragswachstum pro Aktie für den S&P Composite Stock Price Index während der jeweils vergangenen zehn Jahre war mit dem realen Ertragswachstum der folgenden zehn Jahre negativ korreliert (-17% seit 1881). Das ist das Gegenteil einer Dynamik. Es bedeutet, dass gute Nachrichten über das Ertragswachstum des vergangenen Jahrzehnts (geringfügig) schlechte Nachrichten für das künftige Ertragswachstum darstellen.
Im Wesentlichen dasselbe passiert mit der US-Inflation und dem Rentenmarkt. Man könnte annehmen, dass –  um die Anleger für den erwarteten Rückgang der Kaufkraft des Dollars zu entschädigen – die langfristigen Zinsen immer dann tendenziell hoch sind, wenn es Hinweise darauf gibt, dass die Inflation während der Laufzeit der Anleihe steigen wird. Wir haben jedoch unter Verwendung von Daten seit 1913 (dem ersten Jahr des vom US Bureau of Labor Statistics berechneten Verbraucherpreisindex) festgestellt, dass es nahezu keine Korrelation zwischen den langfristigen Zinsen und den zehnjährigen Inflationsraten während der nachfolgenden Jahrzehnte gibt. Obwohl positiv, beträgt die Korrelation zwischen der Gesamtinflation eines Jahrzehnts und der Gesamtinflation des nächsten Jahrzehnts lediglich 2%.
Doch agieren die Rentenmärkte, als ob sie glauben,dass sich die Inflation extrapolieren lässt. Die langfristigen Zinsen sind tendenziell hoch, wenn die Inflation im vergangenen Jahrzehnt hoch war. Die Renditen langfristiger US-Anleihen – wie etwa zehnjähriger Schatzanleihen – sind mit der Inflation der vorherigen zehn Jahre hochgradig positiv korreliert (70% seit 1913). Doch die Korrelation zwischen der Rendite zehnjähriger Schatzanleihen und der Inflationsrate der nächsten zehn Jahre beträgt lediglich 28%.
Wie lässt sich das Verhalten der Anleger mit der berühmten Behauptung vereinbaren, dass es schwer sei, den Markt zu schlagen? Warum haben der zunehmende Einsatz von Datenanalysen und der aggressive Handel nicht dazu geführt, dass, mit zunehmender Effizienz der Märkte, im Laufe der Zeit alle verbleibenden Möglichkeiten zum Erzielen abnormer Gewinne durch den Wettbewerb beseitigt wurden?
Die Wirtschaftstheorie (beispielsweise die Arbeiten von Andrei Shleifer in Harvard und Robert Vishny von der Universität Chicago) bietet jede Menge Gründe dafür, zu erwarten, dass langfristige Anlagechancen nie aus den Märkten gedrängt werden werden, selbst wenn eine Menge cleverer Leute dort handeln.
Dies bringt uns zurück zu dem Rätsel, was den US-Aktienmarkt höher steigen lässt als alle anderen. Es ist weder der "Trump-Effekt" noch die Auswirkung der jüngsten Senkung des US-Körperschaftsteuersatzes. Schließlich weisen die USA so ziemlich seit Beginn der zweiten Amtszeit von Präsident Barack Obama 2013 das höchste CAPE-Verhältnis auf. Auch ist die Extrapolation hohen Ertragswachstums kein wesentlicher Faktor, bedenkt man, dass die jüngsten realen Erträge pro Aktie für den S&P Index nur 6% über ihrem Höchstwert vor dem Ausbruch der Finanzkrise von 2008 vor etwa zehn Jahren liegen.
Ein Grund für Amerikas weltweit führendes CAPE-Verhältnis könne sein höherer Anteil an Akteinrückkäufen sein, obwohl sich Aktienrückkäufe inzwischen zu einem globalen Phänomen entwickelt haben. Höhere CAPE-Verhältnisse in den USA könnten außerdem stärkere psychologische Auswirkungen der Furcht über die Verdrängung von Arbeitsplätzen durch Maschinen widerspiegeln. Deren Kehrseite ist, wie ich in der dritten Ausgabe meines Buches Irrationaler Überschwang argumentiert habe, ein stärkerer Wunsch, Kapitaleigentum in einem Land mit freiem Markt und einer Verbindung mit Computern zu haben.
Die Wahrheit ist: Es ist unmöglich, die Ursache der hohen Bewertungen am US-Aktienmarkt vollständig zu bestimmen. Das Fehlen irgendeiner klaren Rechtfertigung für sein hohes CAPE-Verhältnis sollte alle Anleger an die Wichtigkeit erinnern, zu diversifizieren und US-Aktien in einem Portfolio nicht zu viel Gewicht einzuräumen.
Aus dem Englischen von Jan Doolan