أجندة للمفاوضات الأميركية الإيرانية
دنفر ــ قرر الرئيس الأميركي دونالد ترمب عدم التصديق على امتثال إيران لشروط خطة العمل الشاملة المشتركة، وهي الاتفاقية التي تقيد برنامج الأسلحة النووية الإيراني. وفي واقع الأمر، تحدى ترمب الكونجرس الأميركي للقيام بما هو عادة مسؤولية السلطة التنفيذية: خلق سياسة خارجية.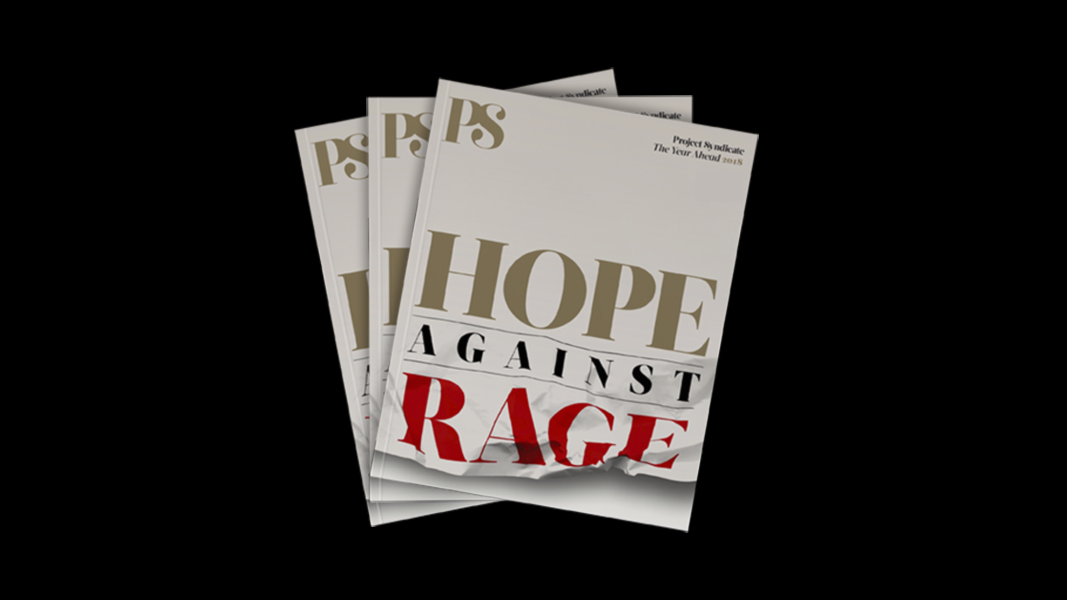 The Year Ahead 2018
The world's leading thinkers and policymakers examine what's come apart in the past year, and anticipate what will define the year ahead.
وتظل هيئة هذه السياسة مسألة مفتوحة. ففي حين يقوم الكونجرس بالتحضير للعقوبات بالفعل، فإن هذه العقوبات لن تشكل في حد ذاتها استراتيجية شاملة في التعامل مع إيران. وبدلا من هذا، تحتاج الولايات المتحدة وإيران إلى التفاوض بشكل مباشر بشأن مجموعة من القضايا غير النووية.
في ظل الأوضاع الحالية، يؤكد قِلة من المراقبين أن إيران لا تمتثل فعليا لالتزاماتها بموجب خطة العمل الشاملة المشتركة. وحتى وزير الخارجية الأميركي رِكس تيلرسون، الذي لم يُخف ازدراءه لإيران، لا يشكو إلا من انتهاك قادة إيران لما أسماه "روح الاتفاق". بيد أن خطة العمل الشاملة المشتركة تركز بوضوح ــ وعمدا ــ على كبح تطوير الأسلحة النووية في إيران، وليس برامجها الصاروخية، أو طموحاتها الإقليمية، أو معاداتها لإسرائيل.
كما تعترض إدارة ترمب على الحدود الزمنية لخطة العمل الشاملة المشتركة، حيث يمتد سريان بعض الفقرات ــ مثل القيود الصارمة المفروضة على مشاريع البحث والتطوير لأجهزة الطرد المركزي المتقدمة ــ لعشر سنوات فقط. وكان استنكار ترمب للاتفاق سببا في تأجيج المناقشة حول مدى ملاءمة الحدود الزمنية، رغم أن مثل هذه المناقشات تفشل عادة في إدراك حقيقة مفادها أن إيران وافقت على الالتزام بالمعايير التي وضعتها الهيئة الدولية للطاقة الذرية، بما في ذلك بروتوكولات التفتيش المتطورة.
في كل الأحوال، يتمثل المفتاح إلى منع الانتكاسة بعد انتهاء العمل بأحكام خطة العمل الشاملة المشتركة في دفع إيران نحو سياسات حسن الجوار، وضمان إحلال مصالحها الاقتصادية محل طموحها إلى التحول إلى قوة مهيمنة إقليمية. وهنا يأتي دور المفاوضات الثنائية.
يتلخص أحد الأسباب وراء عدم تغطية خطة العمل الشاملة المشتركة للقضايا غير النووية في العدد الكبير من الشركاء والحلفاء ــ الصين، وفرنسا، وألمانيا، وروسيا، والمملكة المتحدة، والاتحاد الأوروبي ــ المتورطين في الأمر، وكل منهم له منظوره وأهدافه. هذا فضلا عن القوى الإقليمية التي تراقب المحادثات عن كثب والتي لديها الكثير لتدلي به، مثل المملكة العربية السعودية.
ربما يكون التوفيق بين المصالح والمطالب المتضاربة لهذه القوى في ما يتصل بالنطاق الكامل من القضايا ذات الصلة في حكم المستحيل. ولكن المفاوضات الثنائية بين الولايات المتحدة وإيران قد تسمح للولايات المتحدة بإحراز تقدم بشأن القضايا التي تمثل لها أهمية كبيرة ــ وعلى نفس القدر من الأهمية، تكوين فهم أفضل لإيران الحديثة.
ربما تبدأ مثل هذه المفاوضات بمناقشة مطولة للتفسيرات المتضاربة من قِبَل الجانبين لتاريخ العلاقات بينهما ــ بعبارة أخرى، مظالم كل دولة لدى الأخرى. من منظور إيران، تشمل المظالم دعم الولايات المتحدة لانقلاب عام 1953 في إيران، والعلاقات الأميركية اللاحقة مع الشاه وشرطته السرية الوحشية "السافاك".
ومن جانبها، ربما تثير الولايات المتحدة مسألة اختطاف موظفي السفارة الأميركية في عام 1979 من قِبَل النظام الثوري الإسلامي الناشئ آنذاك في إيران، وفي وقت أقرب إلى الزمن الحاضر، استهداف النظام الإيراني للقوات الأميركية باستخدام ميليشيات شيعية في جنوب العراق. وينبغي لهذه المناقشات أن تتضمن أسئلة تفصيلية وإجابات محددة. ومن الممكن إنشاء مجموعات عمل لمحاولة إيجاد سرد مشترك.
ينبغي للمفاوضات أن تغطي أيضا قضايا معاصرة، بما في ذلك استعراض النقاط الساخنة الحالية. فماذا تفعل إيران في اليمن، ولبنان، والعراق، وسوريا على وجه الخصوص؟ وكيف تحدد مصالحها في هذه البلدان؟ هل ترى نفسها حقا، كما يؤكد العديد من العرب السُنّة، حامية للعرب الشيعة؟
الواقع أن الولايات المتحدة استثمرت بكثافة في إسقاط نظام صدّام حسين في العراق، ثم في دعم العملية السياسية التي أنتجت حكومة بقيادة الشيعة ــ وهي نتيجة إيجابية من منظور إيران. والسؤال الأساسي إذن هو لماذا تواصل إيران دعم المليشيات التي كثيرا ما سعت إلى تقويض الحكومة في العراق.
أما في سوريا، فقد تحركت إيران بسرعة لدعم حكومة الرئيس بشار الأسد. ومن الواضح أن دعم إيران للإدارة التي تهيمن عليها الأقلية العلوية (طائفة شيعية) استفزت الدول العربية السُنّية، وخاصة المملكة العربية السعودية، التي تنظر بقلق بالغ إلى "الهلال الشيعي" الواقع عبر حدودها الشمالية مباشرة. ومن غير الممكن أن تتوقع إيران حقا أن لا يبالي السعوديون بمثل هذا التغيير في أوضاعهم الجيوستراتيجية.
بيد أن إيران ليست القوة الفاعلة الوحيدة التي يتعين عليها أن تفسر استراتيجيتها في التعامل مع سوريا. فالولايات المتحدة أيضا كانت حتى الآن تلاحق سياسات لا تستند إلى أي أسباب أو مبررات منطقية بديهية، إذا استخدمنا تعبيرا معتدلا. فهل تسعى إلى تغيير النظام، أو أنها قد تكتفي بتغيير السياسات من قِبَل أي حكومة يختارها السوريون في نهاية المطاف؟
وماذا عن إسرائيل؟ خلال رئاسته لإيران من عام 2005 إلى عام 2013، أثار محمود أحمدي نجاد حفيظة الرأي العام العالمي بتساؤله المتكرر عن حقيقة حدوث الهولوكوست (المحرقة). فهل يظل هذا النوع من الجهل وازدراء الشعب اليهودي قائما بين قيادات إيران الحالية، فيتلون نهجهم في التعامل مع إسرائيل وفقا لذلك؟
تتلخص القضية الحيوية الأخيرة التي ينبغي لأي محادثات ثنائية بين الولايات المتحدة وإيران أن تعالجها في الأنشطة العسكرية التي تزاولها إيران، وخاصة برامجها الصاروخية. كثيرا ما تُلمِح إيران إلى حقها في الحفاظ على قوة عسكرية حديثة تملك الصواريخ المتطورة، وإن كانت على النقيض من كوريا الشمالية، على سبيل المثال، لا تذهب إلى حد المطالبة بالحق في امتلاك الأسلحة النووية. ولتحديد دور إيران وقدراتها العسكرية، ربما يكون من المناسب إجراء محادثات مباشرة بين المؤسستين العسكريتين الأميركية والإيرانية، كتلك التي أدارتها الولايات المتحدة مع الصين.
لا يجوز للولايات المتحدة أن تواصل إدارة سياستها في التعامل مع إيران ــ الدولة الضخمة التي يتجاوز عدد سكانها 80 مليون نسمة وتدير اقتصادا ناميا وتمارس نفوذا إقليميا قويا ــ على أساس العقوبات والانتقادات اللاذعة. وعلى نحو مماثل، ينبغي لإيران أن تكف عن استخدام الشعارات السامة مثل "الموت لأميركا" وأن تعمل بدلا من ذلك مع الولايات المتحدة من أجل النهوض بمصالحها الخاصة وتحقيق تطلعاتها. لعل جبل انعدام الثقة أعلى من أن يتمكن أي من البلدين من تسلقه. ولكن الوصول إلى الجانب الآخر يستحق المحاولة.
ترجمة: إبراهيم محمد علي          Translated by: Ibrahim M. Ali