Kematian Perlahan atau Perubahan bagi PBB?
LONDON – Selama berdirinya, Persatuan Bangsa-Bangsa (PBB) sering sekali bersembunyi di balik pepatah yang berbunyi, "Jika kita belum punya, maka kita harus membuatnya." Pada usia 75 tahun (cukup tua untuk menjadi calon presiden AS 2020), organisasi ini masih menikmati dukungan yang luas dalam berbagai survei opini global.
Tapi, di bawah permukaan, PBB sedang menghadapi masalah yang tidak boleh diabaikan. Dilihat dari media tradisional dan media sosial, hal-hal yang didukung oleh PBB cenderung kurang mendapatkan perhatian. Lebih parahnya lagi, dalam menjaga perdamaian dan keamanan, PBB sering dihalangi oleh Dewan Keamanannya yang bobrok, yang mencerminkan dunia yang semakin terpecah-belah. Baik di Suriah, Yaman, atau Libiya, kemajuan dalam bidang perdamaian bergerak sangat lambat dan lebih banyak ditentukan di medan pertempuran dibandingkan di Dewan Keamanan PBB. Perpecahan yang sama juga sudah menghambat advokasi hak asasi manusia, seperti yang tercermin dalam pemilihan Dewan Hak Asasi Manusia PBB baru-baru ini yang menunjuk Rusia, Kuba, dan Tiongkok. 
Tentu saja, PBB selama ini selalu mencerminkan dunia yang diwakilinya. Dukungan luas dari para anggota PBB terhadap PBB yang kuat hanya terdapat pada tahun-tahun awal pembentukan PBB dan pada awal masa jabatan Kofi Annan sebagai sekretaris jenderal pada akhir tahun 1990an. Selain itu, tindakan PBB biasanya mendapatkan perlawanan; dan sekarang, sejumlah perubahan politis dan demografis mengubah dunia dengan cepat.     
Penduduk dunia saat ini secara umum lebih muda. Kekuasaan AS sepertinya sudah melewati puncaknya, dan persebaran kekuasaan baru di dunia mengarah ke Tiongkok dan negara-negara lain. Pada saat yang sama, pandemi COVID-19 sudah memastikan bahwa dunia akan menjadi lebih miskin, sama seperti saat digitalisasi membuatnya semakin tidak setara.
Dengan piagam PBB yang hanya didasarkan pada norma-norma demokrasi liberal yang dipegang oleh para pemenang Perang Dunia II, PBB mengalami kesulitan mengakomodasi orde dunia yang berubah. Di bawah kepemimpinan sekretaris jendral saat ini, António Guterres, PBB sudah dengan baik terus mengejar kesetaraan gender dan keragaman di antara pegawainya. Namun, masih terlalu banyak jabatan yang masih dipegang oleh para negara anggota pendiri PBB. Dan, yang lebih penting lagi, organisasi ini tampak kurang peka terhadap dunia di luar dinding organisasi ini.
Tiongkok, negara kontributor terbesar kedua pada anggaran PBB, sudah terus berupaya untuk menunjukkan kepemimpinan globalnya pada isu perubahan iklim dan isu-isu lain, setelah abdikasi Amerika Serikat di bawah kepemimpinan Presiden Donald Trump yang akan segera lengser. Pada Sidang Umum PBB bulan September, Presiden Tiongkok Xi Jinping mengambil langkah yang sangat penting, dengan berjanji bahwa Tiongkok akan menjadi negara yang netral karbon pada tahun 2060. Tapi, rezim yang berkomitmen pada kelestarian lingkungan ini juga mempersekusi suku minoritas Uighur di Tiongkok dengan brutal.
Subscribe to Project Syndicate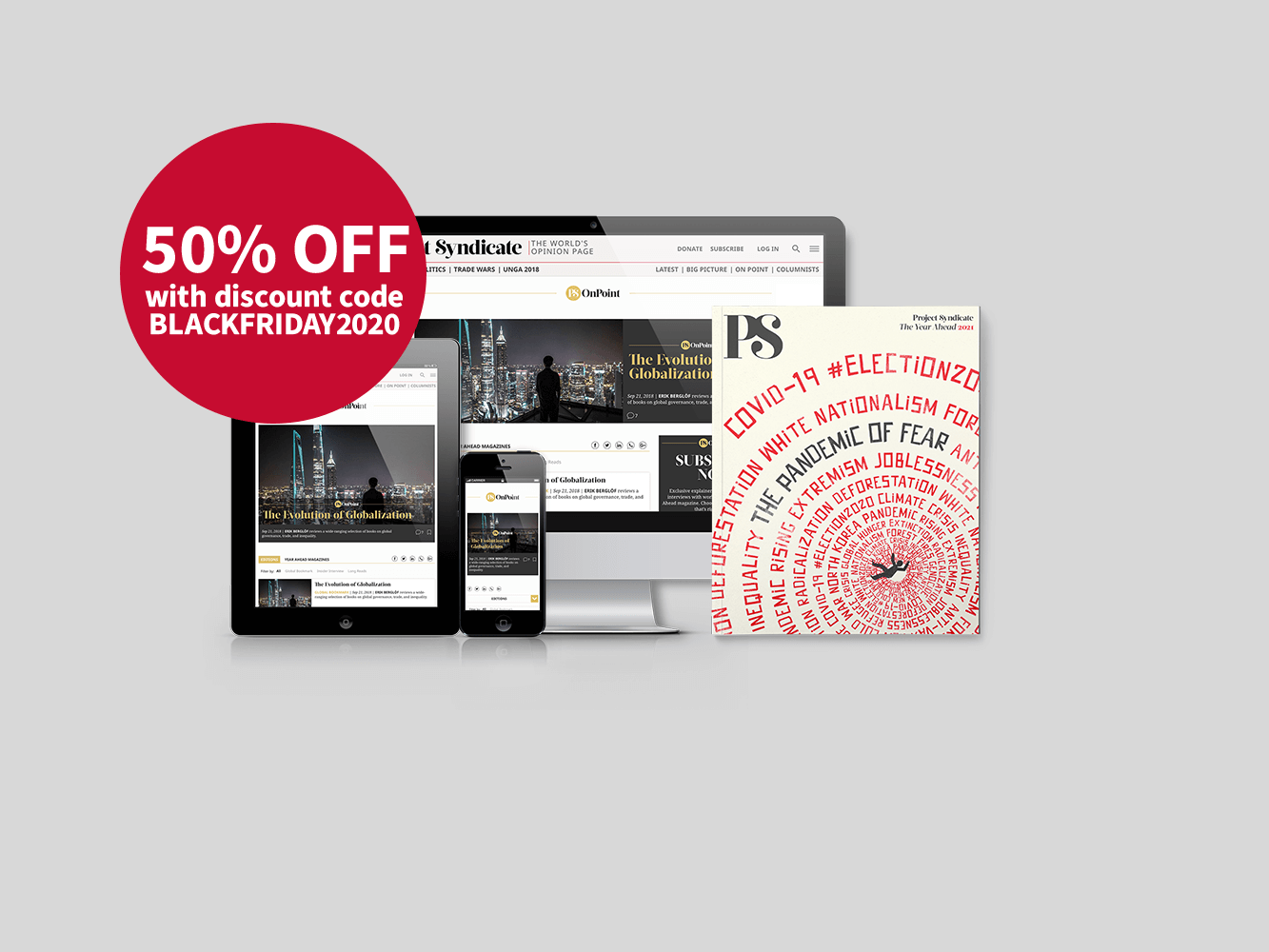 Subscribe to Project Syndicate
Enjoy unlimited access to the ideas and opinions of the world's leading thinkers, including weekly long reads, book reviews, and interviews; The Year Ahead annual print magazine; the complete PS archive; and more – All for less than $9 a month.
Hal ini menunjukkan dilema utama PBB. Dalam hal populasi, sebagian besar penduduk dunia saat ini berada di bawah kekuasaan yang otoriter, mulai dari penguasa yang sewenang-wenang tanpa sedikit pun legitimasi demokratis hingga autokrat yang terpilih dalam pemilu yang sudah mengikis sistem dan pengawasan demokratis pada kekuasaannya.
Tanpa adanya pilihan selain menghadapi dunia yang semakin tidak demokratis, tantangan PBB saat ini adalah membuat agenda yang praktis dan bisa dicapai tanpa menghianati piagam yang membentuknya dan komitmennya terhadap hak asasi manusia dan kebebasan lain. Hal ini akan membantu PBB memanfaatkan potensi yang ada di dalamnya. Sebagai wakil dari "hak kolektif," PBB berada dalam posisi yang tepat untuk menjalankan langkah-langkah untuk mengatasi masalah-masalah seperti perubahan iklim, yang mengancam petani-petani miskin di negara-negara berkembang dan penduduk kaya Manhattan yang terancam naiknya permukaan air laut. 
Tujuan-tujuan Pembangunan Berkelanjutan 2030, yang berusaha untuk mengatasi kesenjangan ekonomi dan eksklusi di mana pun, juga menjadi contoh kehebatan PBB seperti seruan Guterres agar ada "Kontrak Sosial yang Baru untuk Era yang Baru." PBB memberikan manfaat global dengan menyediakan instrumen bagi pembangunan manusia dan membentuk koalisi yang besar untuk mencapai kemajuan yang terus menerus atas indikator-indikator utama yang berkaitan dengan kesejahteraan.
Tapi, PBB tidak boleh mengabaikan hak asasi manusia hanya karena PBB sudah menjadi penyeru utama dalam keadilan sosial, ekonomi dan lingkungan. Organisasi ini berkewajiban melaporkan pelanggaran hak asasi manusia di mana pun. Walaupun PBB harus lebih cermat dalam menangani bukti dan mengeluarkan kecaman, PBB tidak boleh gentar dalam melakukan advokasi. Dalam hal ini, sekutu paling kuatnya adalah kelompok-kelompok masyarakat sipil dan beberapa negara yang berani yang mau mengesampingkan kepentingan dagang atau politis yang sempit untuk menentang Tiongkok, India, Arab Saudi dan lainnya.
Sayangnya, PBB mungkin harus mengikuti logika perang dingin abad ke dua puluh satu. Dewan Keamanan PBB akan tetap lumpuh sampai bisa direformasi, yang merupakan suatu hal yang sulit untuk dilakukan. Tapi ada jalan menembus kebuntuan ini. Selama masa Perang Dingin yang pertama, PBB, tanpa merujuk pada Dewan Keamanan, meluncurkan inisiatif-inisiatif besar untuk mengatasi krisis kemanusiaan dan mendukung anggota-anggota baru meninggalkan kekuasaan penjajah. Lembaga-lembaga pembangunan dan kemanusiaan PBB sering menggunakan mandatnya sendiri serta hukum internasional untuk bertindak saat diperlukan.
Sekarang Utusan Khusus PBB di daerah-daerah konflik dan Koordinator Tetap PBB di negara-negara lain melakukan tugas-tugas yang sangat baik, bekerja tanpa mengenal lelah di balik layar untuk menghindari terjadinya konflik lokal, membela masyarakat sipil, dan berusaha mengatasi kesenjangan ekonomi dan akar masalah lain yang bisa mengakibatkan ketidakstabilan politik. Kerja lapangan PBB seperti ini yang tidak terlihat dan tidak mendapatkan perhatian, tetap berjalan tanpa gangguan politik negara-negara Dewan Keamanan PBB di New York.
Di sinilah masa depan PBB bisa dicapai atau dihancurkan. Dalam dunia yang lebih muda, lebih mudah marah, dan semakin tidak sabar, kelompok laki-laki yang memakai jas gelap mulai kehilangan pengaruhnya. PBB berpengaruh di lapangan, menjalankan mandat besarnya berjuang untuk mereka yang paling membutuhkan.