Donald Trump rencontre l'homme de Davos
MOSCOU – « Si la montagne ne vient pas à Mahomet, » dit l'adage, « c'est Mahomet qui viendra à la montagne. » En décidant d'assister cette année au Forum économique de Davos, en Suisse, le président américain Donald Trump semble s'être inspiré de cette formule (même s'il bondirait certainement à l'idée d'un lien entre lui et le prophète Mahomet).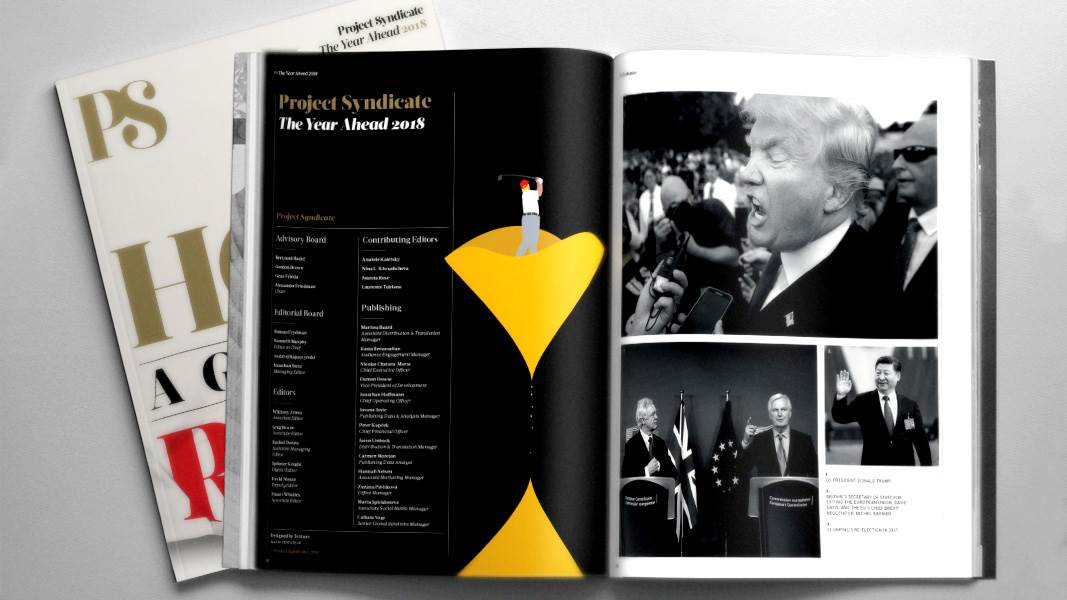 The Year Ahead 2018
The world's leading thinkers and policymakers examine what's come apart in the past year, and anticipate what will define the year ahead.
Pour les leaders commerciaux, financiers et politiques qui se réunissent à Davos chaque mois de janvier, l'annonce de la venue de Trump cette année a pour le moins dû susciter un choc. Une grande partie de l'élite mondiale, parfaitement représentée par Davos, éprouve en effet un profond mépris pour l'actuel président américain, une irrévérence probablement accentuée par les récent propos racistes de Trump à l'égard de plusieurs « pays de merde ».
Il faut toutefois s'attendre à bien des politesses lors de cette conférence, destinées à satisfaire l'orgueil de Trump, lorsque les participants flatteront tour à tour le président américain, et appuieront ses tentatives maladroites consistant à défendre l'indéfendable, à commencer par l'approche de « l'Amérique d'abord ». Ces protagonistes sont en effet les mêmes que ceux qui s'étaient inclinés l'an dernier devant le président chinois Xi Jinping, lorsque celui-ci s'était insolemment positionné comme le nouveau défenseur planétaire de la mondialisation et de l'ordre international fondé sur les règles.
Certains des dirigeants mondiaux présents à Davos ont par ailleurs fort intérêt à cajoler Trump. C'est en particulier le cas de la Première ministre britannique Theresa May, qui est sans doute impatiente de pouvoir apaiser Trump, après que le risque de manifestations d'hostilité ait empêché le président d'assister à la cérémonie d'inauguration de la nouvelle ambassade des États-Unis à Londres. À l'approche du Brexit – et tandis qu'elle perd en soutien national – la Grande-Bretagne ne peut se permettre une nouvelle détérioration de sa « relation particulière » avec les États-Unis. Le gouvernement de May nourrit désespérément l'espoir, aussi fantaisiste soit-il, que Trump proposera un généreux deal commercial au Royaume-Uni.
Mais si Dieu sait combien Trump apprécie les bons moments de flatteries, ce n'est pas ce qui semble justifier sa venue au FEM de Davos. Ce n'est pas non plus comme si l'Amérique manquait d'à plat ventristes, que ce soit au sein du cabinet Trump ou à la direction des Républicains du Congrès. Ce mois-ci, les sénateurs de l'Arkansas et de Géorgie, Tom Cotton et David Perdue, se sont tous deux efforcés de défendre les propos ouvertement racistes de leur président, en affirmant dans un premier temps qu'ils ne se rappelaient pas avoir entendu l'expression « shithole », puis en précisant que Trump aurait possiblement employé le terme « shithouse ». (Comment fonder une défense sur une distinction aussi absurde ?)
Tous les protagonistes de Davos n'entendent pas adopter cette approche. Le président français Emmanuel Macron et la chancelière allemande Angela Merkel se feront sans doute peu disponibles lorsque Trump approchera.
Macron est jusqu'à présent parvenu à manœuvrer habilement Trump : le président français a su satisfaire les secrets instincts despotiques de Trump en l'invitant au défilé militaire du 14 juillet dernier, mais il a également été capable de le défier publiquement, que ce soit par une poignée de main musclée lors de leur première rencontre, ou en défendant l'accord nucléaire iranien. Quant à Merkel, ses réunions tendues et moments d'effroi au contact de Donald Trump sont presque aussi légendaires que ses rencontres glaciales avec l'apparent héros du chef d'État américain, le président russe Vladimir Poutine.
Impossible de prédire comment les dirigeants africains présents à Davos – qui ont pour beaucoup condamné publiquement les propos de Trump, voire exigé des excuses et rétractations – réagiront en présence physique de Donald Trump. De même, difficile de savoir si les journalistes sauront tenir leur langue et se montrer respectueux, ou s'ils réservent à Trump le même sale quart d'heure que celui imposé par la presse hollandaise à Peter Hoekstra, nouvel ambassadeur des États-Unis aux Pays-Bas (qui est tenu de répondre de ses mensonges datant de 2015 selon lesquels le « mouvement islamique » aurait plongé le pays dans le chaos, des dirigeants hollandais auraient été immolés par des islamistes, et un certain nombre de « zones de non-droit » seraient apparues au Pays-Bas).
Compte tenu du risque de voir Trump susciter la dérision voire les moqueries pures et simples de certains, nul ne sait réellement pourquoi le président américain a décidé de se rendre à Davos. Seule explication à laquelle je puisse penser, le président américain entend peut-être satisfaire sa base électorale nationale, en affichant aux yeux de tous son nationalisme économique, ses politiques d'immigration xénophobes, son antipathie à l'égard de la presse, et sa condescendance vis-à-vis des institutions internationales. Si son discours provoque sifflements ou silences, il pourra ainsi fièrement tweeter que c'était parce qu'il défendait – contrairement à son prédécesseur Barack Obama – les intérêts véritables de l'Amérique.
La semaine dernière, le sénateur républicain de l'Arizona Jeff Flake a reproché à Trump d'avoir utilisé la célèbre formule de Joseph Staline, les « ennemis du peuple », pour décrire la liberté de la presse. Flake (qui à l'instar de nombreux Républicains quittera le Congrès cette année) n'a bien entendu pas suffisamment contextualisé l'expression. De la bouche de Staline, cette formule, associée à l'importante et redoutable puissance de l'appareil sécuritaire interne de l'État soviétique, résonnait comme une condamnation à mort pour des millions d'individus. Prononcés par Trump, ces mots qui d'ailleurs alimentent les suspicions de l'appareil sécuritaire américain ne deviennent qu'un élément de plus dans le spectacle narratif à travers lequel il suscite loyauté ou rejet de la part de ses sympathisants.
Pour Trump, se rendre à Davos équivaut tout simplement à partir en tournée pour livrer ce spectacle. J'espère que le regretté Osip Mandelstam m'excusera pour cette adaptation du poème « Le montagnard du Kremlin » (ou « Épigramme contre Staline »), satire qui a coûté la vie à son auteur, et que je recommande à tous les participants de la conférence.
Le montagnard de la Maison-Blanche
Nous vivons sans sentir sous nos pieds le pays.
Nos paroles à dix pas ne sont même plus ouïes,
Et tandis que s'engage un débat ou un tweet,
Là s'agite le montagnard de la Maison-Blanche.
Les dix petits doigts de sa grosse main dodue,
Ses mots sournois et dénués de substance,
La fourrure de renard dont son crane est vêtu,
Orange cosmétique sur sa peau en abondance.
Que de conseillers au cou grêle l'entourent,
Et des services de ces ombres d'humains il se réjouit.
L'un salue, l'autre miaule, le troisième déplore.
Il n'y a que lui qui désigne et qui punit.
De violence en violence, comme des fers, il forge,
À qui au ventre, au front, à qui à l'œil, au sourcil.
Traduit de l'anglais par Martin Morel