Trump ou l'absence de stratégie face à la Corée du Nord
DENVER – Le président américain Donald Trump n'a pas tort lorsqu'il affirme avoir hérité du difficile problème de la Corée du Nord. Le dirigeant nord-coréen Kim Jong-un semble déterminé à ne pas vouloir négocier, et n'a que faire des mises en garde sur sa quête imprudente d'armements nucléaires et des missiles de longue portée nécessaires pour les propulser.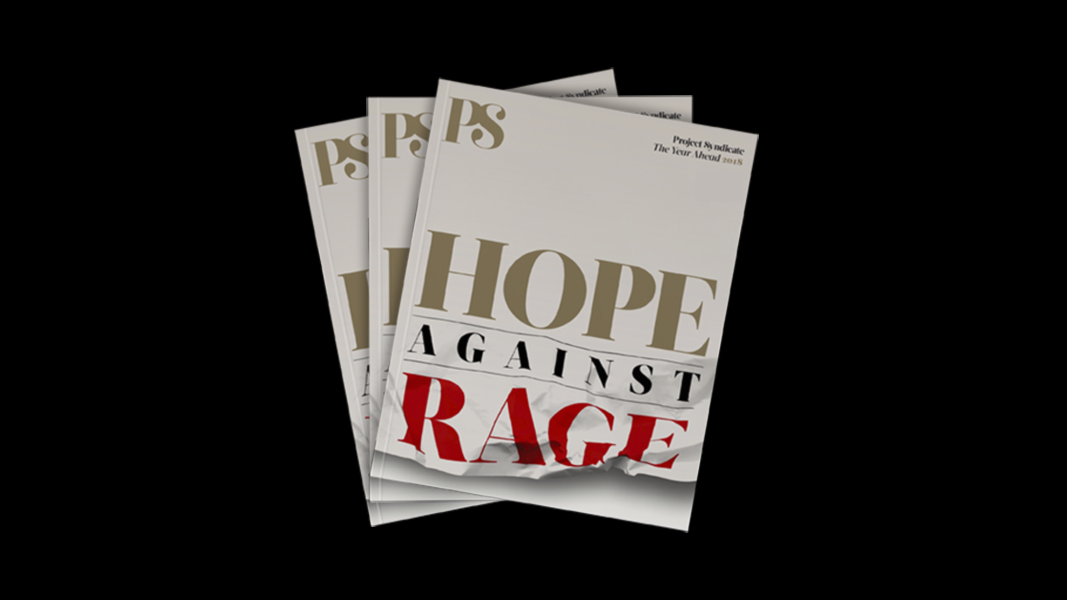 The Year Ahead 2018
The world's leading thinkers and policymakers examine what's come apart in the past year, and anticipate what will define the year ahead.
Mais le fait que Trump ait hérité de ce problème n'exempte pas le président américain de sa responsabilité de le résoudre. À ce jour, il a échoué dans l'élaboration – sans même parler de la mise en œuvre – d'une stratégie sur la question nord-coréenne. Après bientôt une année de mandat, son seul accomplissement en la matière a été l'obtention de sanctions supplémentaires aux Nations Unies. Pire encore, les critiques amères qu'il formule à l'égard de ses prédécesseurs suggèrent que le président américain n'a aucun idée de la marche à suivre.
La dernière tentative de Trump dans la gestion du problème remonte à quelques jours, lorsqu'il a fait bruyamment savoir que son administration réinscrivait la Corée du Nord sur la liste des pays soutenant le terrorisme, au département d'État américain. Motivée par les agissements de Kim, cette décision était principalement symbolique, comme celle de l'ancien président George W. Bush ayant consisté à inscrire pour la première fois en octobre 2008 la Corée du Nord sur cette liste.
La Maison-Blanche Trump considère que la redésignation de la Corée du Nord en tant que pays soutenant le terrorisme est une « étape indispensable ». C'est faux. Le département américain du Trésor n'a pas besoin de cette désignation pour imposer des sanctions supplémentaires.
Les pays soutenant le terrorisme sont inéligibles à un soutien militaire américain – ce qui en tout état de cause est difficilement imaginable pour la Corée du Nord. Par ailleurs, les États-Unis interdisent juridiquement aux institutions financières internationales dont l'Amérique est membre de concéder tout prêt bancaire ou autre forme d'aide à un pays soutenant le terrorisme. Seulement voilà, la Corée du Nord n'appartient à aucune institution financière internationale.
Comme beaucoup l'ont souligné, cette liste relative au terrorisme n'est en aucun cas une compilation complète des pays dont les services de sécurité pourraient avoir collaboré avec des groupes terroristes. Actuellement, la liste complète vise seulement quatre pays : Iran, Corée du Nord, Soudan et Syrie. En dépit des accointances bien connues du défunt dictateur vénézuélien Hugo Chávez avec les Forces armées révolutionnaires de Colombie (les FARC) – groupe que le département d'État américain désigne comme une organisation terroriste – le Venezuela est parvenu à ne pas figurer sur la liste. De même, nombreux sont ceux qui pensent que les services de sécurité pakistanais entretiennent des liens avec des groupes qui pourraient clairement être inclus dans la liste.
Quoi qu'il en soit, même s'il s'agissait d'une démarche symbolique, le contexte dans lequel Bush a décidé de retirer la Corée du Nord de la liste était totalement différent du contexte actuel dans lequel Trump y réinscrit le régime de Pyongyang. En 2008, la Corée du Nord honorait certaines conditions. Pour commencer, elle acceptait de participer aux discussions à six avec la Chine, le Japon, la Russie, la Corée du Sud et les États-Unis (que je représentais en tant que secrétaire d'État adjoint américain pour l'Asie orientale et le Pacifique). L'objectif explicite des discussions consistait à dénucléariser la péninsule coréenne, ce qui a aboutit à la fermeture par la Corée du Nord d'une installation nucléaire située à Yongbyon.
À l'époque de sa sortie de la liste, la Corée du Nord participait également à des négociations pour la mise en place d'un système de vérification de ses activités nucléaires. Le régime avait accueilli des inspecteurs internationaux à Yongbyon, et fourni des registres détaillés sur les opérations du réacteur de Yongbyon, qui demeurent la ressource la plus précise pour mesurer les quantités de plutonium effectivement produites sur place.
À l'époque, la Corée du Nord avait accepté de détruire la tour de refroidissement du réacteur de Yongbyon, en réciproque à un geste symbolique identique de la part des États-Unis. Certes, ce n'était pas le deal parfait. Mais Trump l'aurait accepté dans la seconde.
Par la suite, l'accord s'est effectivement effondré, à cause du refus implacable de la Corée du Nord de reconnaître qu'elle menait ou avait mené un programme de développement de matières fissiles au moyen d'uranium hautement enrichi (UHE). Le régime n'est pas parvenu à justifier les achats internationaux d'équipements caractéristiques d'un tel programme, des échantillons de matières spécifiques fournis aux diplomates américains ayant par ailleurs alourdi les suspicions.
Ainsi, après une interruption de plusieurs années, le réacteur nucléaire de Yongbyon est à nouveau opérationnel. Aspect important, les six essais nucléaires souterrains effectués par la Corée du Nord depuis 2006 ont tous recouru à du plutonium recueilli grâce au réacteur avant les fameuses discussions à six. La possibilité que la Corée du Nord exploite une installation d'UHE quelque part sous la surface est évidemment inquiétante. Mais l'installation de Yongbyon, contrairement aux dires de ceux qui parlent d'une centrale obsolète, a toujours représenté une menace claire et immédiate.
Le fait que Trump puisse réinscrire la Corée du Nord sur la liste du terrorisme sans trop de difficultés bureaucratiques, et presque sans aucune répercussion internationale, démontre combien cette liste constitue une sanction utile à la disposition des États-Unis. Le critère de désinscription de la liste – aucun acte de terrorisme ou coopération avec un groupe terroriste au cours des six mois précédents – est suffisamment souple pour que le retrait de la liste soit utilisé facilement comme une monnaie de négociation diplomatique. De même, cette désinscription peut être facilement révoquée lorsque les circonstances le justifient – comme après l'assassinat commandité par Kim contre son demi-frère dans un aéroport malaisien.
La résolution du problème nord-coréen exigera sérieux, détermination, et un degré de discipline dont Trump n'a jamais fait preuve jusqu'à présent. Une politique efficace doit inclure une véritable coopération avec la Chine, et pas seulement de généreuses flatteries à l'égard des dirigeants chinois. Cette coopération doit reposer sur un engagement à long terme, pas sur des transactions ponctuelles. Peut-être plus important encore, elle nécessite une implication au quotidien non seulement auprès de la Chine, mais également des autres acteurs régionaux.
Évidemment, pour qu'une telle politique soit possible, il s'agirait pour le secrétaire d'État américain de conserver à ses côtés une équipe de diplomates expérimentés, et pour Trump et ses conseillers d'admettre qu'il est plus efficace de bâtir sur la base des efforts des prédécesseurs que de leur reprocher la difficulté du travail à fournir. Malheureusement, cet enseignement semble continuer d'échapper à l'actuelle administration américaine.
Traduit de l'anglais par Martin Morel