Globální ústup od volného obchodu
BUENOS AIRES – Administrativa amerického prezidenta Ronalda Reagana v 80. letech přinutila Japonsko přijmout "dobrovolná" omezení vývozu, zejména automobilů, aby snížila americký obchodní deficit a ochránila své firmy před japonskou konkurencí. Do roku 1994 se sice schodek nezmenšil, ale američtí výrobci automobilů posílili svou schopnost konkurovat, a tak byla tato omezení ukončena. Rok nato byla zřízena Světová obchodní organizace (WTO) a takové neférové "dobrovolné" restrikce byly postaveny mimo zákon.
Japonsko – pro něž obchod představuje asi 35 % HDP – bylo od té doby skalním zastáncem multilaterálních obchodních pravidel. V reakci na stupňující se útoky amerického prezidenta Donalda Trumpa proti obchodní soustavě založené na pravidlech se to ale možná mění.
Nedávno Japonsko souhlasilo s dojednáním preferenční obchodní dohody se Spojenými státy, která by mohla zpochybnit jeden z pilířů multilaterální obchodní soustavy: povinnost "doložky nejvyšších výhod" (MFN), která stanoví, že jakékoli ústupky či výsady poskytnuté v obchodní dohodě jedné zemi se musí rozšířit na všechny členy WTO. Japonsko v této věci opět jedná "dobrovolně" pod silným tlakem z USA.
Podle zpráv v tisku Trump postavil Japonsko před neúprosnou volbu: buď otevře svůj (silně chráněný) trh americkému zemědělskému exportu, anebo bude čelit zvýšeným americkým clům na automobily a další průmyslové zboží. Přístup na japonský zemědělský trh by zřejmě rozptýlil Trumpovy "národně bezpečnostní" obavy z dovážených Toyot a Hond – údajný důvod jeho cel, který mu umožňuje obcházet pravidla WTO.
V souladu s povinností MFN by však každý ústupek, jejž dohoda přinese, musel být rozšířen na zbytek WTO. To by neplatilo, kdyby USA a Japonsko vytvořily oblast volného obchodu (FTA), na niž by se povinnost MFN nevztahovala. Naplnění podstaty FTA však vyžaduje zrušení cel a dalších omezujících regulací u "v podstatě veškerého obchodu" – dle výkladů nejméně 90 % všech bilaterálních směn. Takové úrovni se chystaná americko-japonská obchodní dohoda ani zdaleka nepřiblíží.
Trumpovu administrativu to sotva odradí. V odvážném novém světě řízeného obchodu, do něhož nás Trump zavléká, jsou jeho vlastní uzavřené dohody důležitější než multilaterální pravidla a normy. Stejně jako s výjimkou z důvodu národní bezpečnosti by se mohl pokusit systém přechytračit tvrzením, že bilaterální dohoda je prvním krokem v postupu, který vyvrcholí ucelenou FTA, byť to by ji, přísně vzato, od povinnosti MFN stále neosvobozovalo.
Subscribe now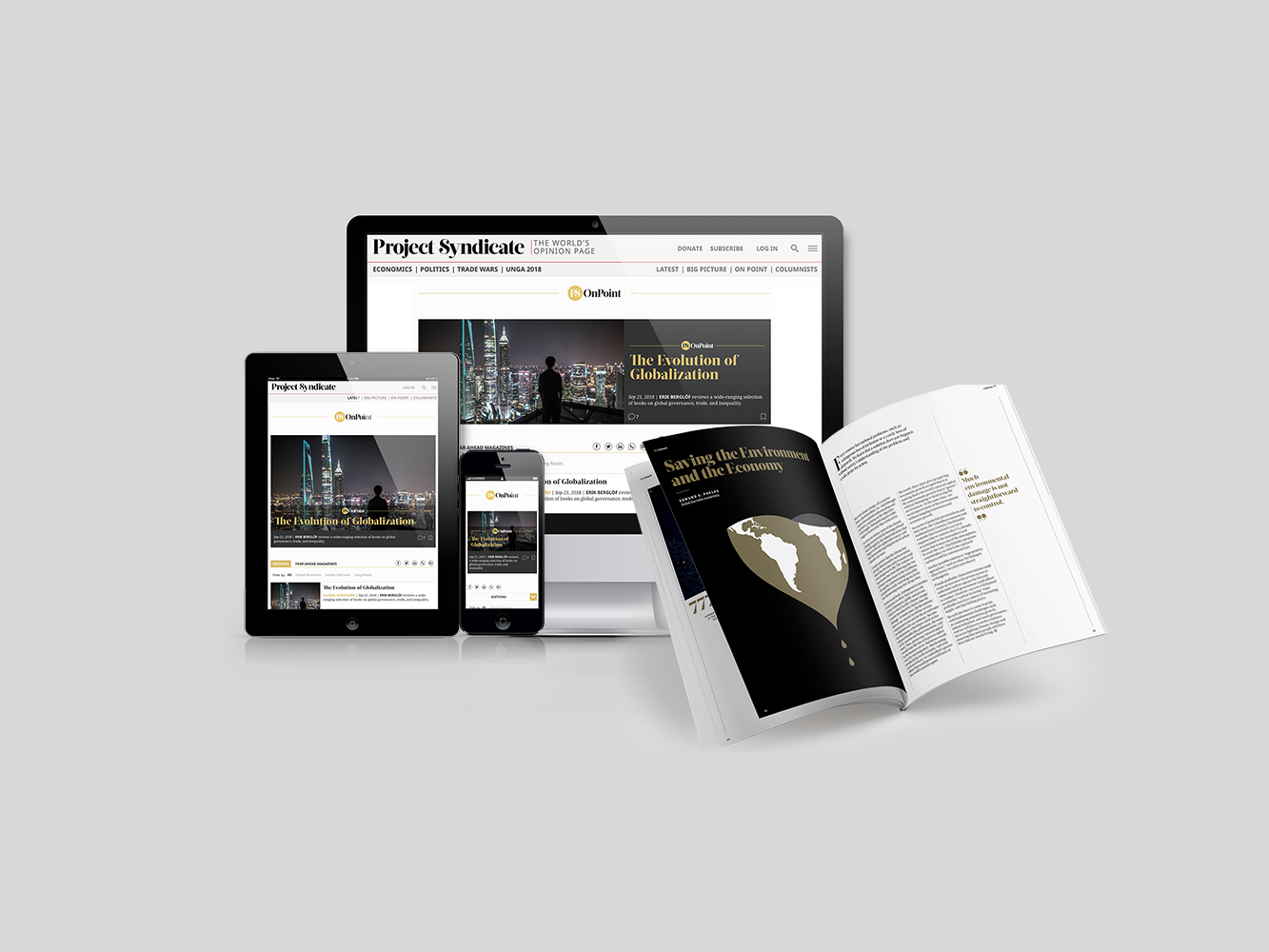 Subscribe now
Subscribe today and get unlimited access to OnPoint, the Big Picture, the PS archive of more than 14,000 commentaries, and our annual magazine, for less than $2 a week.
Organizace spojených národů svou Úmluvou o dohodách o mezinárodních urovnáních plynoucích z mediace zatlouká do rakve WTO – možná nevědomky – další hřebík. Přestože WTO má už prověřené mechanismy k řešení sporů, úmluva, nyní otevřená k podpisu, má nabídnout "alternativní a efektivní metodu" urovnávání obchodních sporů.
Mechanismus WTO pro řešení sporů je už dlouho považován za jeden z jejích klenotů. Příslušný orgán má povinnou jurisdikci nad spory vzniklými v rámci jím pokrytých dohod, přičemž od členů se vyžaduje uposlechnutí "zpráv poroty" (doporučení vydaných třemi nezávislými experty). Odvolání proti těmto zprávám projednává sedmičlenný Odvolací orgán, který může zjištění poroty potvrdit, pozměnit nebo zvrátit. Jakmile Orgán pro řešení sporů schválí zprávu Odvolacího orgánu, všechny strany sporu ji musí přijmout.
Díky Trumpovi je teď tento systém na pokraji smrti. Jeho administrativa blokuje výměnu soudců Odvolacího orgánu, jakmile jim vyprší funkční období, a tvrdí, že překročili svůj mandát. Odvolací orgán má už jen tři členy, minimum potřebné k podpisu rozhodnutí. Pokud USA nezmění kurs do poloviny prosince, kdy vyprší pověření dalším dvěma soudcům, Odvolací orgán se zadrhne. Země, která pak nebude spokojená s výrokem poroty, by její rozhodnutí mohla podáním odvolání uložit k ledu.
Nová úmluva OSN se snaží zaplnit vakuum, které po Odvolacím orgánu zůstane. Mediátoři ale nemohou vykládat pravidla ani určovat řešení; mohou pouze pomáhat stranám dosáhnout dohody. (Přeji hodně štěstí s přesvědčováním Trumpovy administrativy, aby ustoupila.) Zachránit mechanismus WTO pro řešení sporů by významně pomohlo k zachování multilaterální obchodní soustavy. Nahradit jej čímsi slabším by však mohlo mít opačný účinek.
Jistě, WTO nepodrývají pouze USA, avšak těm, kdo by toto těleso velice rádi zpochybnili, nepochybně poskytly významnou vzpruhu právě USA. Svým dílem přispívá také skupina zaťatých rozvíjejících se ekonomik – zejména Kuba, Indie, Jižní Afrika a Venezuela.
Tyto země neberou na vědomí negativní vliv domácí politiky na jejich ekonomické vyhlídky a tvrdí, že WTO je zaujatá v neprospěch rozvojových zemí. (Trump trvá na tom, že je tomu naopak.) Chtějí tedy jakoukoli reformu WTO podmínit uspokojivým završením téměř mrtvého rozvojového kola obchodních rozhovorů z Dauhá. Takovým přístupem napomáhají Trumpově snaze demontovat soustavu založenou na pravidlech, která investorům zajišťovala předvídatelnost a dala tak mnoha rozvojovým zemím příležitost prosperovat.
Dokonce i Japonsko rozjíždí vlastní výpad proti volnému obchodu. Minulý měsíc, zjevně inspirováno Trumpem, uvalilo přísnější regulaci na chemikálie, jež dováží Jižní Korea k výrobě polovodičů (hlavní korejský vývozní artikl), údajně kvůli obavám o národní bezpečnost. Poté odstranilo Jižní Koreu ze svého "bílého seznamu" důvěryhodných obchodních partnerů, čímž Jižní Koreu přimělo vyškrtnout Japonsko ze svého vlastního seznamu obchodních partnerů a odstoupit od paktu o sdílení vojenských zpravodajských informací.
Světoví lídři na summitu G7 v Biarritzu minulý měsíc opět slibovali do větru, že WTO reformují. Není však mnoho důvodů dělat si naději, že na slova navážou skutky. Spíš možná míříme k novému světovému řádu, v němž pravidla obchodu budou nahrazena obchodními dohodami a rozsudky bude v případě sporu suplovat syrová mocenská politika.
Z angličtiny přeložil David Daduč