Der Freihandel ist weltweit auf dem Rückzug
BUENOS AIRES – In den 1980er-Jahren zwang die Regierung von US-Präsident Ronald Reagan Japan zu "freiwilligen" Beschränkungen seiner Exporte, insbesondere von Automobilen, um das amerikanische Handelsbilanzdefizit zu verringern und            US-Unternehmen vor der japanischen Konkurrenz zu schützen. Bis 1994 war das Defizit nicht gesunken, aber die US-Autohersteller waren wettbewerbsfähiger geworden, so dass die Beschränkungen aufgehoben wurden. Im darauffolgenden Jahr wurde die Welthandelsorganisation gegründet, und solche unfairen "freiwilligen" Beschränkungen wurden verboten.
Seitdem ist Japan – das mit dem Handel etwa 35% seines BIP erwirtschaftet – ein entschiedener Verfechter multilateraler Handelsregeln. Doch das könnte sich als Reaktion auf die stärker werdenden Angriffe von US-Präsident Donald Trump auf das auf Regeln beruhende Handelssystem ändern.
Japan hat kürzlich vereinbart, ein Präferenzhandelsabkommen mit den Vereinigten Staaten auszuhandeln, das eine der Säulen des multilateralen Handelssystems in Frage stellen könnte: die "Meistbegünstigungsklausel", derzufolge alle Zugeständnisse oder Privilegien, die einem Land in einem Handelsabkommen gewährt werden, auf alle Mitglieder der Welthandelsorganisation (WTO) ausgedehnt werden müssen. Japan agiert erneut "freiwillig", unter starkem Druck der USA.
Presseberichten zufolge hat Trump Japan vor eine schwerwiegende Wahl gestellt: Entweder Japan öffnet seinen (stark geschützten) Markt für amerikanische Agrarexporte, oder es wird  höhere US-Zölle auf Automobile und andere Industriegüter entrichten müssen. Der Zugang zum japanischen Agrarmarkt würde, so scheint es, Trumps Bedenken hinfällig werden lassen, dass importierte Toyotas und Hondas die "nationale Sicherheit" gefährden könnten – die Begründung, die es ihm ermöglicht, die WTO-Regeln mit seinen Zöllen zu umgehen.
Der Meistbegünstigungsklausel zufolge müssten jedoch alle Zugeständnisse, die das Abkommen mit sich bringt, auch den übrigen WTO-Mitgliedern gewährt werden. Dies wäre nicht der Fall, wenn die USA und Japan eine Freihandelszone schaffen würden, in der die Meistbegünstigungsklausel keine Anwendung findet. Doch die Voraussetzung für die Zulässigkeit einer Freihandelszone ist die Abschaffung von Zöllen und anderen restriktiven Regelungen für "im Wesentlichen den gesamten Handel" – was als nicht weniger als 90% des bilateralen Handels ausgelegt wird. Das bevorstehende Handelsabkommen zwischen den USA und Japan würde dieser Maßgabe bei weitem nicht gerecht werden.
Es ist unwahrscheinlich, dass sich die Regierung Trump davon abhalten lässt. In der schönen neuen Welt des gelenkten Handels, in die Trump uns hineinzieht, sind seine eigenen Deals wichtiger als multilaterale Regeln oder Normen. Wie im Fall der "Gefahr für die nationale Sicherheit" könnte er versuchen, das System auszutricksen und behaupten, dass das bilaterale Abkommen der erste Schritt in einem Prozess sei, der zu einem umfassenden Freihandelsabkommen führen wird, obgleich es, technisch gesehen, trotzdem nicht von der Meistbegünstigungsklausel ausgenommen wäre.
Subscribe now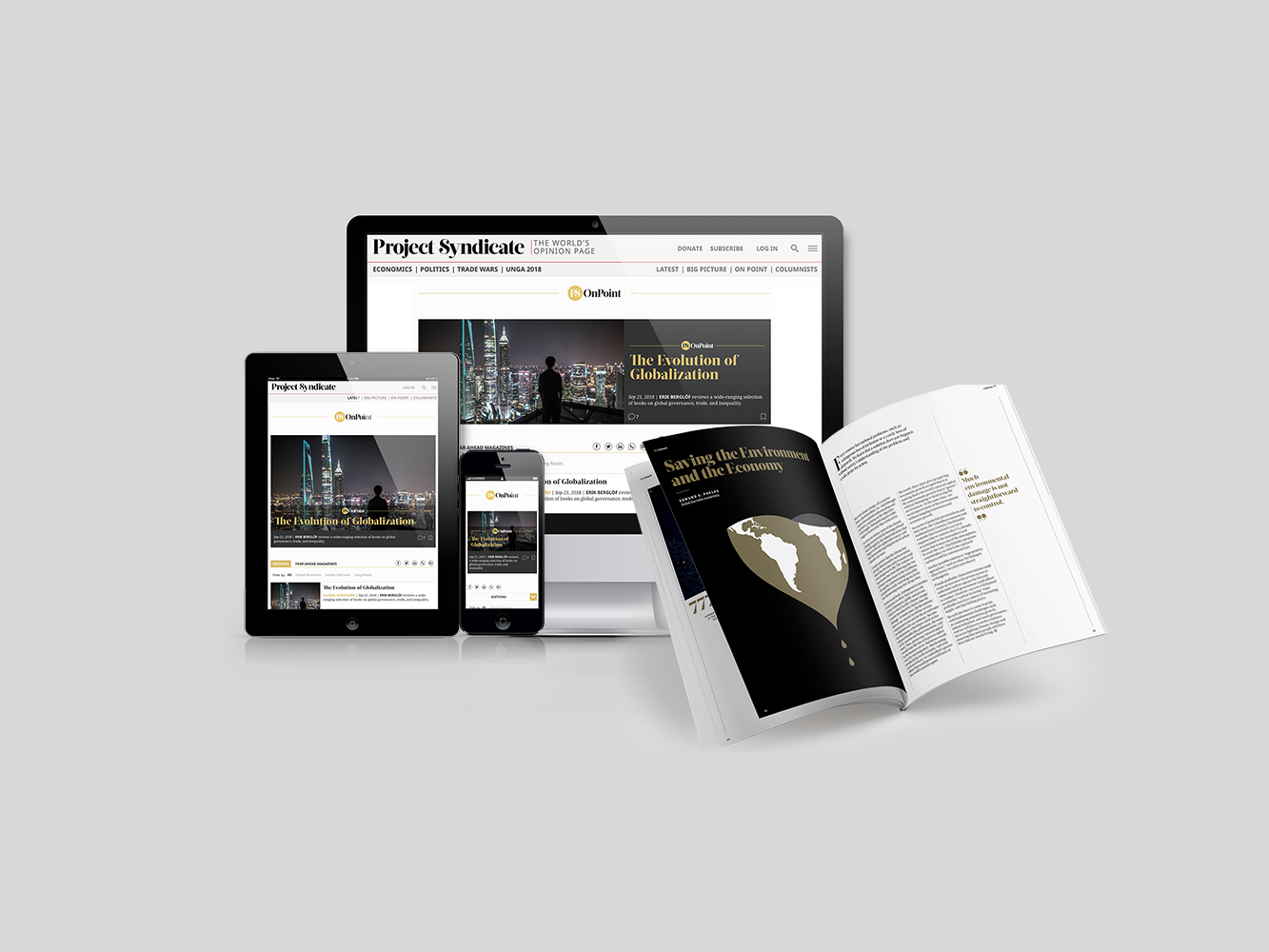 Subscribe now
Subscribe today and get unlimited access to OnPoint, the Big Picture, the PS archive of more than 14,000 commentaries, and our annual magazine, for less than $2 a week.
Mit ihrer Convention on International Settlement Agreements Resulting from Mediation fügen die Vereinten Nationen der WTO – vielleicht ohne sich dessen bewusst zu sein – einen weiteren Sargnagel hinzu. Obwohl die WTO bereits über einen bewährten Streitbeilegungsmechanismus verfügt, soll das jetzt zur Unterzeichnung aufgelegte Übereinkommen eine "alternative und wirksame Methode" zur Beilegung von Handelsstreitigkeiten bieten.
Der Streitbeilegungsmechanismus der WTO gilt seit langem als eine ihrer Kronjuwelen. Das Organ ist zwingend zuständig für Streitigkeiten, die sich aus den WTO-Vereinbarungen ergeben, wobei die "Panel-Berichte" (Empfehlungen von drei unabhängigen Experten) für die Mitglieder bindend sind. Einwände gegen diese Berichte werden vom siebenköpfigen Einspruchsgremium (Appellate Body) gehört, das die Ergebnisse des Panel-Berichts bestätigen, ändern oder rückgängig machen kann. Nach der Annahme des Berichts durch das Streitbeilegungsorgan (Dispute Settlement Body) muss das abschließende Urteil des Einspruchsgremiums von allen Streitparteien akzeptiert werden.
Es ist Trump zu verdanken, dass dieses System dem Untergang geweiht ist. Seine Regierung hat die Neubesetzung von Richtern des Einspruchgremiums nach Ablauf ihrer Amtszeit blockiert und behauptet, sie hätten ihr Mandat überschritten. Das Einspruchsgremium hat nun nur noch drei Mitglieder, das Minimum, das erforderlich ist, um Urteile zu unterzeichnen. Wenn die USA ihren Kurs nicht bis Mitte Dezember ändern, wenn die Amtszeit von zwei weiteren Richtern abläuft, wird das Einspruchsgremium handlungsunfähig. An diesem Punkt könnte ein Land, das mit einem Panel-Bericht unzufrieden ist, das Urteil durch Einlegen eines Einspruchs in einen rechtlichen Schwebezustand versetzen.
Das neue UN-Übereinkommen zielt darauf ab, das Vakuum zu füllen, das das Einspruchsgremium hinterlassen wird. Aber Mediatoren können keine Regeln auslegen oder Lösungen durchsetzen; sie können den Parteien lediglich helfen, eine Einigung zu erzielen. (Viel Glück dabei, die Regierung Trump zum Einlenken zu bewegen.) Die Rettung des WTO-Streitbeilegungsmechanismus würde einen großen Beitrag zur Erhaltung des multilateralen Handelssystems leisten. Ihn durch etwas Schwächeres zu ersetzen, könnte den gegenteiligen Effekt haben.
Sicherlich sind die USA nicht die einzigen, die die WTO untergraben, obwohl sie jenen, die ihr gern an den Kragen wollen, zweifellos Vorschub geleistet haben. Eine Gruppe von hartgesottenen Entwicklungsländern – insbesondere Kuba, Indien, Südafrika und Venezuela – war ebenfalls nicht untätig.
Diese Länder ignorieren die negativen Auswirkungen der Innenpolitik auf ihre Wirtschaftsaussichten und behaupten, die WTO sei voreingenommen gegenüber Entwicklungsländern. (Trump behauptet beharrlich das Gegenteil sei der Fall.) Deshalb wollen sie alle WTO-Reformen davon abhängig machen, dass die ‒ praktisch nicht mehr existierende ‒ Doha-Runde zu einem zufriedenstellenden Abschluss gebracht wird. Damit unterstützen sie Trumps Bemühungen, ein regelbasiertes System zu demontieren, das Investoren Vorhersagbarkeit geboten und damit vielen Entwicklungsländern zu Wohlstand verholfen hat.
Sogar Japan hat den Freihandel vor eine eigene Herausforderung gestellt. Offenbar von Trump inspiriert hat Japan im letzten Monat strengere Kontrollen für Chemikalien eingeführt, die Südkorea importiert, um Halbleiter herzustellen (Koreas wichtigstes Exportgut), angeblich aus Gründen der nationalen Sicherheit. Anschließend hat es Südkorea von seiner "weißen Liste" verlässlicher Handelspartner gestrichen, was Südkorea veranlasste, Japan auf seiner eigenen Liste von Handelspartnern zu degradieren und sich aus einem Vertrag über den Austausch nachrichtendienstlicher Erkenntnisse zurückzuziehen.
Auf dem G7-Gipfel im vergangenen Monat in Biarritz haben die Staats- und Regierungschefs erneut Lippenbekenntnisse zur Reform der WTO abgelegt. Aber es gibt wenig Grund zur Hoffnung, dass sie Ernst machen werden. Stattdessen könnten wir uns auf eine neue Weltordnung zubewegen, in der Handelsgeschäfte an die Stelle von Handelsregeln treten und reine Machtpolitik die Streitschlichtung ersetzt.
Aus dem Englischen von Sandra Pontow.