El factor Trump y la política exterior de Estados Unidos
BERLÍN – En el primer año de la presidencia de Donald Trump, los daños causados por su gobierno en el ámbito de las relaciones internacionales no fueron tan elevados como se temía.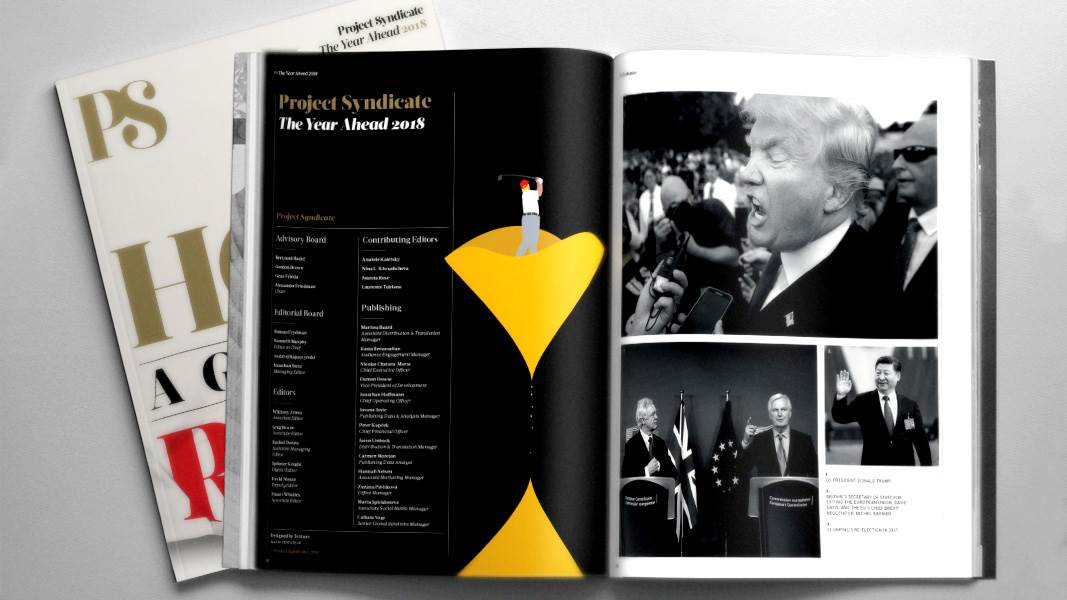 The Year Ahead 2018
The world's leading thinkers and policymakers examine what's come apart in the past year, and anticipate what will define the year ahead.
A pesar de su resonante retórica y sus tuits calificando al dictador norcoreano Kim Jong-un de "pequeño hombre cohete", el nuevo presidente estadounidense no comenzó ninguna guerra en la Península Coreana o en el Mar del Sur de China. Tampoco hubo conflicto en torno a Taiwán tras su cuestionamiento de la prolongada política de Estados Unidos de "una sola China".
De hecho, lejos de pelearse con China, Trump parece haber entablado una cercana relación personal con el Presidente chino Xi Jinping. Los líderes chinos no se lo podían creer cuando una de las primeras medidas oficiales de Trump fue retirar a Estados Unidos de la Asociación Transpacífico (TPP), que habría excluido a China y reafirmado las normas de comercio occidentales en la región de Asía-Pacífico. Fue como si Trump hubiera querido hacer grande de nuevo a China, no a Estados Unidos.
Más todavía, Trump no inició una guerra comercial imponiendo altos gravámenes aduaneros a importaciones de socios comerciales importantes como China, Alemania y Japón. A pesar de su negativa a recertificar el acuerdo nuclear con Irán, este sigue en pie. Y quedan por verse las consecuencias de largo plazo de su decisión unilateral de reconocer a Jerusalén como capital de Israel.
Las expectativas de Trump de cooperar más estrechamente con Rusia a costa de los aliados estadounidenses tampoco se materializaron, y la posición oficial de EE.UU. en el conflicto ucraniano no ha cambiado. Por supuesto, esto se debe en gran parte a la decisión del Presidente ruso Vladimir Putin de interferir en las elecciones presidenciales de 2016, que ha vuelto casi imposible para Trump reorientar la política estadounidense hacia Rusia sin generar una tormenta política interna.
De manera similar, a pesar de que Trump la calificara como "obsoleta", la OTAN en realidad ha cobrado fuerza y legitimidad a lo largo del año pasado, gracias al reforzamiento militar ruso y la continuidad de la guerra en Ucrania oriental. No hay duda de que los europeos tendrán que cuidar más de su defensa que en el pasado, pero eso no habría sido muy diferente en un hipotético gobierno de Hillary Clinton (aunque el mensaje se hubiera amortiguado con términos más amables.)
Con todo lo dicho, los "adultos en uniforme" de la Casa Blanca (el Secretario de Defensa James Mattis, el Asesor de Seguridad Nacional H. R. McMaster y el Jefe de Gabinete John Kelly) han asegurado la continuidad de la política exterior de Estados Unidos, y lo mismo parece ser cierto en la política económica y comercial.
¿Significa eso que el mundo puede descansar con alivio? Por supuesto que no. Todavía pende un gran signo de interrogación sobre la política exterior estadounidense en la forma de Trump mismo. Es muy poco claro lo que desea, lo que sabe realmente y los que sus asesores le cuentan o lo que callan. Puede que una política exterior coherente no resista los cambios de ánimo y las decisiones espontáneas de Trump.
Para empeorar las cosas, los despidos de la administración en el Departamento de Estado han debilitado la política de asuntos exteriores hasta casi llegar a lo estrictamente necesario para cumplir su función. Y la Estrategia de Seguridad Nacional, publicada hace poco por la Casa Blanca, no da muchas más seguridades. En un alejamiento con respecto a la posición oficial de Estados Unidos desde el 11 de septiembre de 2001, EE.UU. verá ahora su rivalidad con China y Rusia como potencias globales como la principal amenaza a la seguridad nacional y la paz mundial, en lugar del terrorismo por actores no estatales.
Así, si se mira en retrospectiva al 2017, se tiene la impresión de que mientras la política exterior estadounidense permaneció en gran medida intacta, también se ha vuelto completamente impredecible. Hasta ese punto, parece probable que 2018 sea un año de riesgos mucho mayores, especialmente dadas las tensiones en el Golfo Pérsico y el Líbano, la guerra en Siria, la lucha hegemónica entre Arabia Saudita e Irán, y las provocaciones en la Península Coreana.
En cuanto a la Península Coreana y el Golfo Pérsico, el objetivo central debe ser impedir que dictaduras que amenazan la estabilidad regional y el balance de poder prevaleciente ganen acceso a armamento nuclear. Tal como están las cosas, no se puede descartar el riesgo de una confrontación militar con Corea del Norte o Irán.
En el caso de Corea del Norte, que está desarrollando rápidamente un misil balístico intercontinental capaz de llegar al continente estadounidense, un conflicto así podría incluso implicar el uso de armas nucleares. No hay nada en esta situación que inspire optimismo, especialmente ahora que el presidente de EE.UU. es una persona en la que pocos pueden confiar y cuyas políticas se deben adivinar de entre el fango de sus tuits.
De hecho, el factor Trump podría ser la fuente más significativa de incertidumbre en política internacional este año. Estados Unidos sigue siendo la principal potencia del mundo y juega un papel indispensable en la preservación de las normas globales. Si las políticas estadounidenses son difíciles de predecir y si la conducta de Trump socava la fiabilidad del gobierno de su país, el orden internacional será vulnerable a un inmenso nivel de confusión.
A medida que Estados Unidos se aproxima a sus elecciones de mitad de período en noviembre, será importante considerar cómo los acontecimientos políticos internos pueden afectar su política exterior. Si los republicanos pierden sus mayorías en alguna o ambas cámaras del Congreso, y si Robert Mueller, Asesor Especial en la investigación sobre Rusia, presenta sus conclusiones más o menos en esa época, Trump sentirá una rápida erosión de su poder.
Así, la pregunta crítica para 2018 es lo que hará Trump si se encuentra amenazado internamente al mismo tiempo que surge una crisis de política exterior. ¿Seguirán siendo capaces los "adultos en la sala" de manejar su cargo? No hay que ser agorero para ver los meses venideros con bastante escepticismo e inquietud.
Traducido del inglés por David Meléndez Tormen