L'imprévisible Trump et la politique étrangère américaine
BERLIN – Au cours de la première année de la présidence de Trump, les préjudices causés à la politique étrangère américaine par son administration ont été moindres qu'on pouvait le craindre.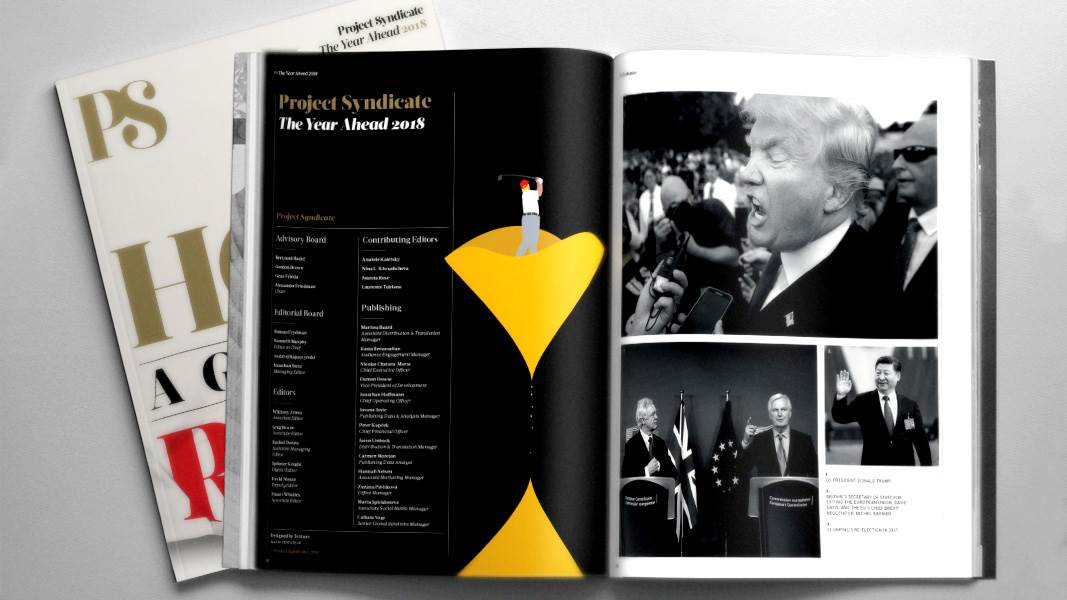 The Year Ahead 2018
The world's leading thinkers and policymakers examine what's come apart in the past year, and anticipate what will define the year ahead.
Malgré sa rhétorique tonitruante et ses tweets intempestifs qualifiant le dictateur nord-coréen de « petit homme-fusée », le nouveau président américain n'a pas déclenché de guerre, que ce soit sur la péninsule coréenne ou en mer de Chine méridionale. Il n'y a pas non plus eu de conflit au sujet de Taïwan après la remise en cause par Trump du principe de la « Chine unique », reconnu de longue date par les États-Unis.
En fait, au lieu d'aggraver les tensions avec la Chine, Trump semble avoir noué une relation personnelle étroite avec le président chinois Xi Jinping. Les autorités chinoises ont du avoir du mal à croire en leur chance lorsque l'une des premières décisions officielles du président a été de signer l'acte de retrait des États-Unis du Partenariat transpacifique (TPP) – un traité qui aurait exclu la Chine et consolidé les règles du jeu commerciales occidentales dans la région Asie-Pacifique. Par cette décision, il semble que Trump ait voulu rendre sa grandeur à la Chine, pas aux États-Unis.
Trump n'a pas non plus provoqué de guerre commerciale en instaurant des barrières douanières sur les importations des produits des principaux partenaires des États-Unis, dont l'Allemagne, la Chine et le Japon. Et en dépit de son refus de certifier l'accord sur le nucléaire iranien, celui-ci reste en vigueur, tandis que les conséquences à long terme de sa décision unilatérale de reconnaître Jérusalem comme la capitale d'Israël doivent encore être déterminées.
L'espoir caressé par Trump d'une plus étroite coopération avec la Russie, au détriment des alliés des États-Unis, ne s'est pas non plus concrétisé et la position officielle américaine sur le conflit en Ukraine reste inchangée. Cette situation est bien entendu due en grande partie à la décision prise par le président russe Vladimir Poutine d'interférer dans l'élection américaine de 2016. Donner une nouvelle orientation à la politique étrangère américaine envers la Russie est ainsi devenu impossible pour Trump sans provoquer une tempête politique aux États-Unis.
De même, alors que Trump avait jugé l'OTAN « obsolète », l'alliance transatlantique a en fait gagné en force et en légitimité en raison de l'accroissement de la puissance militaire de la Russie et de la guerre qu'elle continue à soutenir dans l'est de l'Ukraine. Il est évident que les Européens devront à l'avenir se soucier davantage de leur propre défense. Mais la situation
aurait été la même si Hillary Clinton avait été élue (en revanche, le message aurait sans doute été formulé dans des termes plus amicaux).
En bref, les hauts gradés de la Maison Blanche (appelés les « adultes » à Washington) – le secrétaire à la Défense James Mattis, le conseiller à la sécurité nationale H. R. McMaster et le chef de cabinet John Kelly – ont assuré la continuité de la politique étrangère des États-Unis. Le même constat semble s'appliquer à la politique économique et commerciale.
Cela signifie-t-il pour autant que le monde peut dormir tranquille ? Évidemment non. Il reste un grand point d'interrogation planant sur la politique étrangère américaine en la personne de Trump lui-même. On ne sait pas du tout ce que veut le président, ce qu'il sait réellement et ce que ses conseillers lui disent ou non. La cohérence de la politique étrangère américaine pourrait ne pas résister aux sautes d'humeur et aux décisions spontanées de Trump.
Pire encore, la baisse des effectifs au sein du département d'État américain a affaibli les capacités institutionnelles de mise en œuvre de la politique étrangère, au point de mettre en péril la mission de ce département. Et le document Stratégie de sécurité nationale récemment publié par la Maison Blanche n'est pas plus rassurant. Rompant avec la position officielle des États-Unis depuis le 11 septembre 2001, Washington considère à présent que sa rivalité avec la Chine et la Russie, plutôt que les actes de terrorisme commis par des acteurs non étatiques, constitue la principale menace pour la sécurité nationale et la paix mondiale.
L'impression qui se dégage d'une rétrospective de l'année 2017 est donc celle d'une politique étrangère américaine qui est dans l'ensemble et pour l'instant restée la même, mais qui est aussi devenue complétement imprévisible. En ce sens, il semble que 2018 puisse être une année d'augmentation substantielle des risques, en particulier compte tenu des tensions dans le Golfe persique et au Liban, de la guerre en Syrie, de la lutte pour l'hégémonie régionale entre l'Arabie saoudite et l'Iran et du jusqu'au-boutisme nucléaire dans la péninsule coréenne.
Pour ce qui est du Golfe persique et de la péninsule coréenne, le principal objectif doit être d'empêcher le développement d'un armement nucléaire par des dictatures qui menacent la stabilité régionale et les rapports de force qui y prévalent.  Dans la situation actuelle, le risque d'un affrontement militaire avec la Corée du Nord ou avec l'Iran ne peut être exclu.
Dans le cas de la Corée du Nord, qui travaille d'arrache-pied à la mise au point d'un missile balistique intercontinental capable de frapper le continent américain, un tel conflit pourrait même entraîner l'utilisation d'armes nucléaires. Rien dans cette situation n'invite à l'optimisme, en particulier maintenant que les États-Unis sont dirigés par un président en qui il est difficile d'avoir confiance et dont les orientations politiques doivent être devinées à partir du fatras de ses tweets.
En fait, le facteur Trump pourrait être, à lui seul, la principale source d'incertitude de la politique internationale en 2018. Les États-Unis sont toujours la première puissance mondiale et jouent un rôle indispensable pour préserver les normes globales. Mais si la politique étrangère américaine devient difficile à prédire et si le comportement de Trump sape la fiabilité du gouvernement américain, l'ordre international sera exposé à de profonds bouleversements.
Avec l'approche des élections de mi-mandat qui auront lieu en novembre aux États-Unis, il sera utile de considérer comment les événements politiques intérieurs pourraient configurer la politique étrangère américaine. Si les républicains perdent la majorité dans l'une ou les deux chambres du Congrès, et si Robert Mueller, le procureur spécial chargé de l'enquête russe, présente ses conclusions à peu près en même temps, Trump assistera à une érosion rapide de son pouvoir.
La question cruciale qui se posera en 2018 est donc de savoir quelle pourrait être la réaction de Trump s'il se sent menacé au plan intérieur, en même temps qu'éclate une crise au plan de la politique étrangère. Les « adultes » de la Maison Blanche seront-ils encore capables de gérer leur protégé ? Point n'est besoin d'être un prophète de malheur pour envisager les mois à venir avec une bonne dose de scepticisme et d'inquiétude.