Trumps Außenpolitik und ihre Folgen
BERLIN – Das erste Jahr der Präsidentschaft von Donald Trump ist vorüber. In der Außenpolitik blieben die Ergebnisse dieses ersten Jahres weit unterhalb der Befürchtungen, die von den Ankündigungen des Kandidaten ausgelöst worden waren.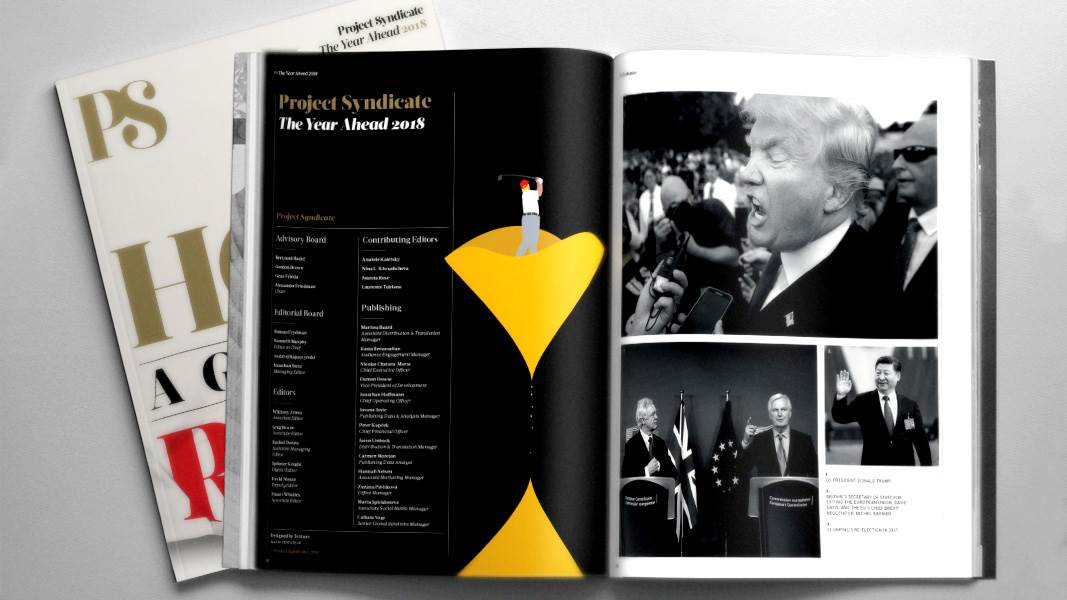 The Year Ahead 2018
The world's leading thinkers and policymakers examine what's come apart in the past year, and anticipate what will define the year ahead.
Der neue amerikanische Präsident hat in 2017 nirgendwo – trotz teilweise krachender Rhetorik, etwa im Umgang mit Nordkoreas Diktator Kim Jong Un, dem " little rocket man" (Trump) – einen Krieg begonnen. Weder auf der koreanischen Halbinsel, noch im südchinesischen Meer und auch um Taiwan blieb es ruhig.
Die erwartete Konfrontation zwischen Washington und Peking blieb aus, ja im Gegenteil entwickelte sich zwischen dem chinesischen und dem US-amerikanischen Präsidenten persönlich ein gutes Verhältnis. Eine der ersten Amtshandlungen Trumps war der Rückzug der USA aus dem transpazifischen Handelsabkommen, das Peking seit langem zu Fall bringen wollte, da es gegen chinesische Interessen gerichtet war. Peking konnte sein Glück kaum fassen, denn Trump schien China und nicht Amerika "great again!" machen zu wollen.   
Es kam auch nicht zu einem Handelskrieg mit massiven Strafzöllen gegenüber wichtigen Handelspartnern der Vereinigten Staaten, wie China, Deutschland und Japan. Das Nuklearabkommen mit dem Iran existiert ebenfalls bisher noch. Was aus Trumps Alleingang mit Jerusalem erwächst, bleibt abzuwarten. Auch aus der angekündigten Veränderung der Politik gegenüber Russland in Richtung einer intensivierten Zusammenarbeit zu Lasten bisheriger Bündnispartner ist nichts geworden. Die Haltung der USA im Ukrainekonflikt blieb unverändert, was allerdings vor allem daran liegt, dass Putin mit der russischen Einmischung in den amerikanischen Wahlkampf im Endeffekt ein gewaltiges Eigentor geschossen hat, denn Trump kann keinerlei Neuanfang in den amerikanisch-russischen Beziehungen versuchen, ohne nicht sofort einen Orkan in der US-Innenpolitik und im republikanisch beherrschten Kongress auszulösen.
Und auch die NATO hat, obwohl von Trump für "obsolet" erklärt, das erste Jahr Trump heil überstanden und hat ebenfalls, dank des Krieges Russlands in der Ostukraine und seiner offensiven Rüstungsanstrengungen an Stärke und Legitimation eher wieder zugelegt und ist nicht schwächer geworden. Gewiss, die Europäer werden zukünftig sehr viel mehr zu ihrer eigenen Sicherheit beitragen und damit auch sehr viel mehr investieren müssen als in der Vergangenheit. Aber dies wäre auch unter einer Präsidentin Hillary Clinton der Fall gewesen. Allein die Botschaft wäre mit freundlicheren Worten, aber ähnlich nachdrücklich, übermittelt worden.
Es scheint so zu sein, als wenn die "Erwachsenen in Uniform" im Umfeld des Präsidenten (Verteidigungsminister, Sicherheitsberater und Stabschef) für Kontinuität in der US Außen- und Sicherheitspolitik gesorgt hätten, wie auch die entscheidenden Wirtschaftsberater in der Handelspolitik. Ist also alles gut und nicht wirklich etwas zu befürchten? Mitnichten. Denn auch nach einem Jahr schwebt mehr denn je ein großes Fragezeichen über der US-Außenpolitik, in Gestalt des Präsidenten selbst. Was will er? Weiß er das selbst? Wissen das seine engsten Berater? Oder hängt die US Außenpolitik am Ende von der Stimmungslage und den Augenblicksentscheidungen des Präsidenten ab, die kaum vorhersehbar sind?
Hinzu kommt noch, dass die offizielle US-Außenpolitik durch den personellen Aderlass im State Department und dramatische Mittelkürzungen in dessen Budget fast existenziell geschwächt wurde.
Wenn man im Rückblick das Jahr 2017 noch einmal Revue passieren lässt, so bleibt der Eindruck zurück, dass die Kontinuität amerikanischer Außenpolitik sich vorerst durchgesetzt hat, zugleich aber die US-Politik aufgrund des Präsidenten völlig unberechenbar geworden ist und einem das Gefühl beschleicht, dass in 2018 die Risiken erheblich zunehmen werden, vor allem am Persischen Golf, möglicherweise auch im Libanon und in Syrien und zwischen Saudi-Arabien und Iran im neuen nahöstlichen Hegemonialkonflikt und in Fernost, auf der koreanischen Halbinsel.
Die USA sehen zudem fortan in ihrer neuen Sicherheitsstrategie die Hauptgefahr für sich und den Weltfrieden nicht mehr im Terrorismus nichtstaatlicher Akteure, wie dies seit dem 11. September 2001 der Fall war, sondern in der Weltmächterivalität mit China und Russland. Zusammen mit der brisanten Kriegsgefahr auf der koreanischen Halbinsel und am Persischen Golf, wo es beide Male um die Verhinderung einer nuklearen Aufrüstung von Diktaturen geht, welche die regionale Stabilität und das bisherige Mächtegleichgewicht außer Kraft zu setzen drohen, was die Gefahr einer militärischen Konfrontation mit sich bringen würde, im Falle Nordkoreas sogar bis zum Einsatz von Atomwaffen, da das Land mittlerweile über diese und irgendwann in naher Zukunft auch über Interkontinentalraketen mit einsatzfähigen Sprengköpfen verfügen wird, ergibt dies keine optimistisch stimmende Aussicht mit einem Präsidenten, dessen Politik im Dunkeln seiner Tweets bleibt, und dem zu vertrauen schwerfällt.
Der Faktor Trump wird im Jahr 2018 ein erheblicher, ja vielleicht sogar der wichtigste, Unsicherheitsfaktor in der internationalen Politik sein, und das ist alles andere als eine Kleinigkeit, denn er bleibt noch einige Jahre der amerikanische Präsident, und die USA sind nach wie vor die größte und wichtigste Macht und bis auf weiteres unverzichtbarer globaler Ordnungsfaktor. Wenn ihre Planungen, ihre Absichten und ihre Politik nur schwer zu kalkulieren sein werden, wenn statt Verlässlichkeit und Vertrauen die Unberechenbarkeit des Präsidenten gilt, dann wird angesichts dieser regionalen Krisen, zwei davon unter Umständen mit nuklearen Konsequenzen, und der strukturellen Mächterivalität, die Welt ein echtes Problem haben. Angesichts all dieser Faktoren wird sich vermutlich gegen Ende des Jahres 2018 die Frage stellen, welche Auswirkungen mögliche, bereits heute absehbare Entwicklungen in der amerikanischen Innenpolitik auf die Außenpolitik des Landes haben werden.
Im November 2018 werden die Halbzeit-Wahlen zum amerikanischen Kongress stattfinden. Sollten die Republikaner ihre Mehrheiten in beiden Kammern oder auch nur in einer verlieren, dann würde sich für den Präsidenten die innenpolitische Lage dramatisch zuspitzen. Und auch der Sonderermittler in der Russland- Affäre, Robert Mueller, wird wohl um diese Zeit erste Ergebnisse liefern. Was also wird dann geschehen, wenn eine hochgefährliche innenpolitische Lage für den Präsidenten mit außenpolitischen Krisen zusammenfällt? Werden die "Erwachsenen" dann ausreichen?
Das könnte sich als die entscheidende Frage des Jahres 2018 herausstellen. Man muss kein Schwarzseher sein, um das Jahr 2018 mit einer gehörigen Portion Skepsis und Sorge anzugehen.