Trump contra la economía
NUEVA YORK – Los mercados financieros finalmente han tomado conciencia de que Donald Trump es presidente de los Estados Unidos. Puesto que el mundo lleva dos años soportando tuits y declaraciones públicas imprudentes del hombre más poderoso del mundo, la pregunta obvia es ¿por qué tardaron tanto?
Una de las razones es que, hasta ahora, los inversores habían creído el argumento de que Trump es perro que ladra y no muerde. Estuvieron dispuestos a darle el beneficio de la duda en tanto bajara impuestos, desregulara y siguiera otras políticas favorables al sector corporativo y a los accionistas. Y muchos confiaron en que, a fin de cuentas, los "adultos en la habitación" contendrían a Trump y se asegurarían de que las políticas de su gobierno no se saltaran los límites de la ortodoxia.
Estos supuestos se vieron más o menos confirmados durante el primer año de gobierno de Trump, cuando el crecimiento económico y la expectativa de mayores ganancias corporativas como resultado de las inminentes medidas desregulatorias y de rebaja de impuestos impulsaron un buen desempeño de las bolsas estadounidenses, cuyos índices subieron más del 20% en 2017.
Pero la situación cambió radicalmente en 2018, y especialmente en los últimos meses. A pesar de un crecimiento de las ganancias corporativas superior al 20% (gracias a la rebaja de impuestos), las bolsas estadounidenses estuvieron la mayor parte del año oscilando sin una tendencia clara, y ahora han iniciado un marcado descenso. En este punto, los índices generales están en la zona de corrección (es decir, una caída del 10% respecto del máximo reciente) y los que indexan empresas tecnológicas, por ejemplo el Nasdaq, están en la zona bajista (una caída del 20% o más).
Aunque el incremento de volatilidad de los mercados financieros tiene que ver con inquietudes respecto de China, Italia y otras economías de la eurozona y las principales economías emergentes, la mayor parte de la agitación reciente es atribuible a Trump. El año comenzó con la aprobación de una imprudente rebaja de impuestos que generó una suba de tipos de interés a largo plazo y le dio un subidón a una economía que ya estaba cerca del pleno empleo. Ya en febrero, el creciente temor a una inflación superior a la meta del 2% de la Reserva Federal de los Estados Unidos provocó el primer episodio de huida del riesgo del año.
Después vinieron las guerras comerciales de Trump con China y otros socios comerciales importantes de Estados Unidos. La inquietud de los mercados por las políticas proteccionistas del gobierno creció y menguó todo el año, pero ahora mismo está alcanzando un nuevo máximo. Las últimas acciones de Estados Unidos contra China parecen augurio de una guerra fría comercial, económica y geopolítica más amplia.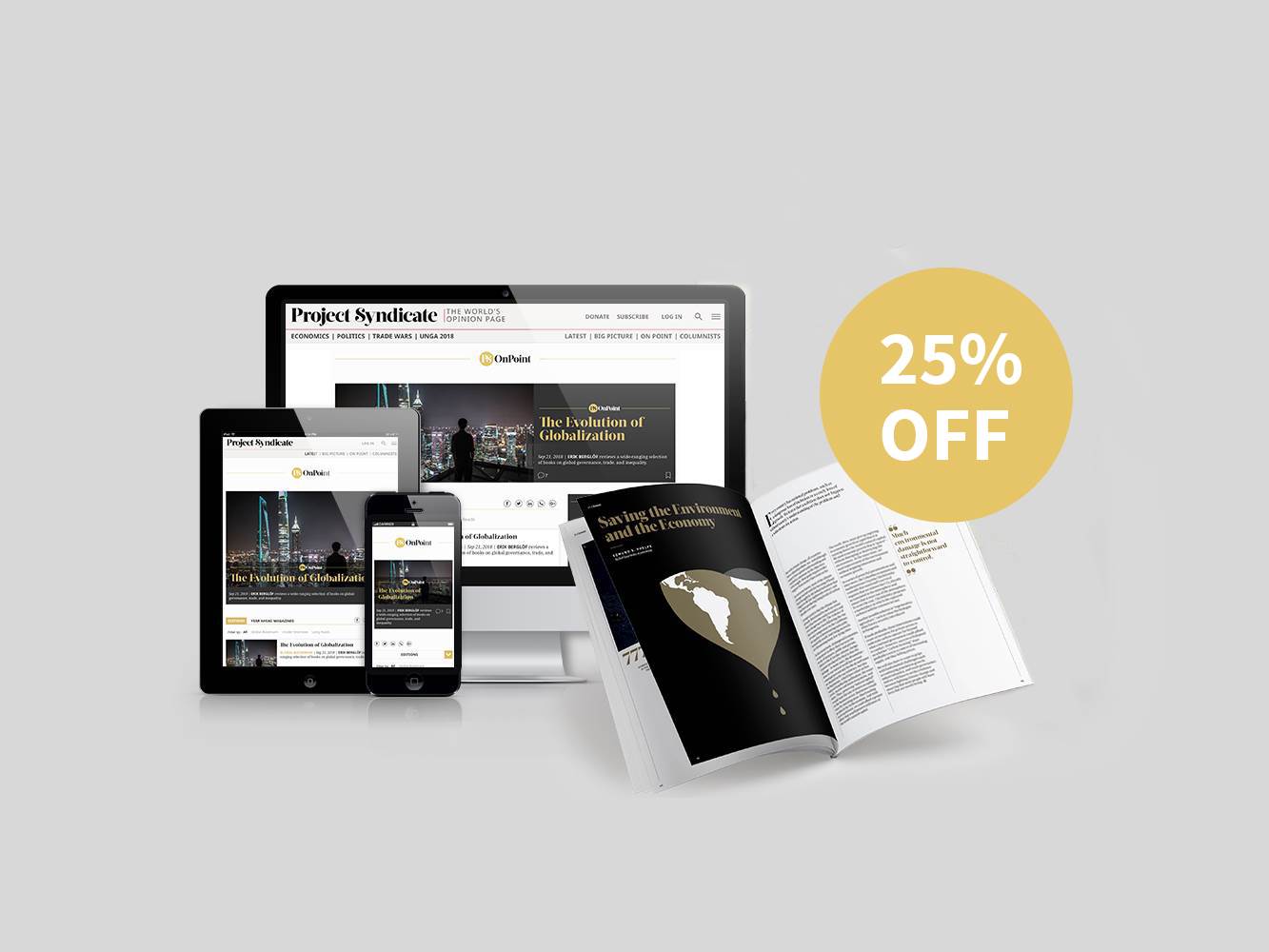 Subscribe now
For a limited time only, get unlimited access to On Point, The Big Picture, and the PS Archive, plus our annual magazine, for just $75.
A esto hay que sumarle el temor a que las otras políticas de Trump tengan efectos estanflacionarios (reducción del crecimiento a la par de mayor inflación). Al fin y al cabo, Trump planea poner límites a la inversión extranjera directa en Estados Unidos, y ya implementó amplias restricciones a la inmigración, que reducirán el crecimiento de la oferta de mano de obra en un momento en que el envejecimiento de la fuerza laboral y la falta de personal cualificado son problemas en aumento.
Además, el gobierno todavía no ha propuesto un plan de infraestructura que estimule la productividad del sector privado o acelere la transición a una economía verde. Y Trump sigue usando Twitter y otros ámbitos para criticar a las corporaciones por sus prácticas de contratación, producción, inversión y fijación de precios; y lo hace con especial énfasis en las empresas tecnológicas, justo cuando estas se enfrentan a una reacción más general en su contra y mayor competencia de sus homólogas chinas.
Las políticas de Estados Unidos también han afectado a los mercados emergentes. El estímulo fiscal y el endurecimiento monetario generaron subas de tipos de interés a corto y largo plazo y fortalecimiento del dólar. Eso provocó en las economías emergentes fuga de capitales y aumento de deudas denominadas en dólares. Aquellas que dependen en gran medida de las exportaciones sufrieron los efectos del abaratamiento de los commodities, y todas las que comercian aunque sea en forma indirecta con China sintieron los efectos de la guerra comercial.
También generó volatilidad la política de Trump para el petróleo. Después de su encarecimiento como resultado de la reanudación de las sanciones estadounidenses contra Irán, los esfuerzos del gobierno para obtener exenciones y obligar a Arabia Saudita a aumentar su producción provocaron un abrupto abaratamiento, que si bien beneficia a los consumidores estadounidenses, es perjudicial para las acciones de las empresas estadounidenses del sector energético. Además, una excesiva volatilidad del precio del petróleo es mala para productores y consumidores por igual, porque dificulta tomar decisiones razonables en materia de inversión y consumo.
Para colmo de males, ya está claro que la rebaja de impuestos del año pasado benefició casi exclusivamente al sector corporativo, en vez de trasladarse a una mejora del salario real (ajustado por inflación). Es decir que pronto podría haber una desaceleración del consumo de los hogares, que debilitaría todavía más la economía.
Pero la marcada caída de las bolsas estadounidenses y de todo el mundo durante el último trimestre es ante todo una respuesta a las acciones y manifestaciones de Trump. Como si el incremento del riesgo de una guerra comercial total con China (más allá de la reciente "tregua" acordada con el presidente chino Xi Jinping) fuera poco, todavía peores son los ataques públicos de Trump a la Reserva Federal, que inició hace unos meses cuando la economía estadounidense crecía a más del 4%.
En vista de estos ataques anteriores, los mercados se espantaron cuando este mes la Reserva Federal decidió, correctamente, subir los tipos de interés y dar señales de que en 2019 seguirá subiéndolos más gradualmente. Lo más probable es que la relativa dureza de la Reserva sea una reacción a las amenazas de Trump contra ella. Frente a los tuits hostiles de Trump, el presidente de la Reserva, Jerome Powell, tuvo que dar señales de que el banco central sigue siendo independiente de la política.
Pero entonces llegó la decisión de Trump de "cerrar" amplios sectores del gobierno federal por la negativa del Congreso a financiar su inútil muro en la frontera con México. Eso dejó a los mercados casi en un estado de pánico; y poco después del cierre del gobierno se empezó a hablar de que Trump quiere despedir a Powell, una jugada que puede convertir una corrección en debacle bursátil. Justo antes del feriado de Navidad, el secretario del Tesoro de los Estados Unidos, Steven Mnuchin, se vio obligado a emitir una declaración pública para aplacar a los mercados: anunció que en realidad Trump no tiene planes de despedir a Powell, y que la situación financiera de los bancos estadounidenses es sólida, lo que en la práctica puso en primer plano la cuestión de si realmente lo es.
Los mercados también están inquietos por otros cambios recientes en el gobierno, que no afectan necesariamente a la política económica. Con la inminente partida del jefe de gabinete John Kelly y del secretario de defensa James Mattis ya no quedará ningún adulto en la habitación. Sólo habrá una camarilla de nacionalistas en lo económico y halcones en política exterior dispuestos a cumplir cada capricho de Trump.
Como están las cosas, no puede descartarse el riesgo de una confrontación geopolítica a gran escala con China. En la práctica, una nueva guerra fría llevaría a la desglobalización, al provocar trastornos generalizados en las cadenas de suministro, pero en particular en el sector tecnológico (de lo que el reciente caso de ZTE y Huawei es una señal). Al mismo tiempo, Trump parece emperrado en debilitar la cohesión de la Unión Europea y de la OTAN en un momento de fragilidad económica y política de Europa. Y la investigación de los vínculos con Rusia del equipo de campaña de Trump para la elección de 2016 que conduce el fiscal especial Robert Mueller pende como una espada de Damocles sobre su presidencia.
Trump se ha convertido en el Dr. Strangelove de los mercados financieros. Como el loco paranoide del film clásico de Stanley Kubrick, está coqueteando con la destrucción económica mutuamente asegurada. Ahora que los mercados ven el peligro, el riesgo de crisis financiera y recesión global es mayor.
Traducción: Esteban Flamini