Трамп против экономики
НЬЮ-ЙОРК – Финансовые рынки наконец-то начинают понимать, что президентом США является Дональд Трамп. Мир уже два года терпит безрассудные твиты и публичные заявления этого самого могущественного человека на планете, поэтому возникает очевидный вопрос, а почему рынки просыпались так долго?
Одна из причин этого в том, что инвесторы вплоть до сих пор покупались на идею, будто Трамп «только лает, но не кусает». Они с готовностью наделяли Трампа презумпцией невиновности, пока он снижал налоги, занимался дерегулированием и принимал иные меры, выгодные корпоративному сектору и акционерам. Многие были уверены, что в конечном итоге «взрослые в комнате» помогут сдержать Трампа, гарантируя, что политика его администрации не будет выходить за рамки привычной ортодоксии.
Все эти рассуждения  более или менее оправдывались в первый год пребывания Трампа в должности президента, когда рост экономики и ожидаемое повышение корпоративных прибылей, благодаря объявленному снижению налогов и дерегулированию, способствовали росту на фондовом рынке. В 2017 году фондовые индексы США выросли более чем на 20%.
Но в 2018 году ситуация радикально изменилась, причём особенно в последние несколько месяцев. Несмотря на рост корпоративных доходов более чем на 20% (благодаря снижению налогов), большую часть года на фондовых рынках США наблюдался боковой тренд, а сейчас они вообще совершили резкий разворот вниз. В настоящий момент общие фондовые индексы находятся на территории коррекции (спад на 10% от недавних пиковых уровней), а индексы акций технологических компаний, например Nasdaq, вступили на территории медвежьего рынка (падение на 20% и более).
Повышение волатильности на финансовых рынках стало следствием озабоченности по поводу ситуации с Китаем, с Италией и другими странами еврозоны, а также с ключевыми развивающимися странами, однако главной причиной всей этой новой турбулентности является Трамп. Год начался с вступления в силу безрассудного решения о снижении налогов, что толкнуло вверх долгосрочные процентные ставки и вызвало состояние эйфории в экономике, которая и так уже была близка к состоянию полной занятости. В феврале рост беспокойства по поводу возможного превышения целевого уровня инфляции, установленного ФРС США (2%), вызвал первую в этом году волну продаж рискованных активов.
А затем начались торговые войны Трампа с Китаем и другими ключевыми торговыми партнёрами США. Беспокойство рынка по поводу протекционистской политики администрации возрастало и ослабевало в течение всего года, но сейчас оно приближается к новому пику. Последние действия США в отношении Китая, похоже, возвещают начало широкой торговой, экономической и геополитической холодной войны.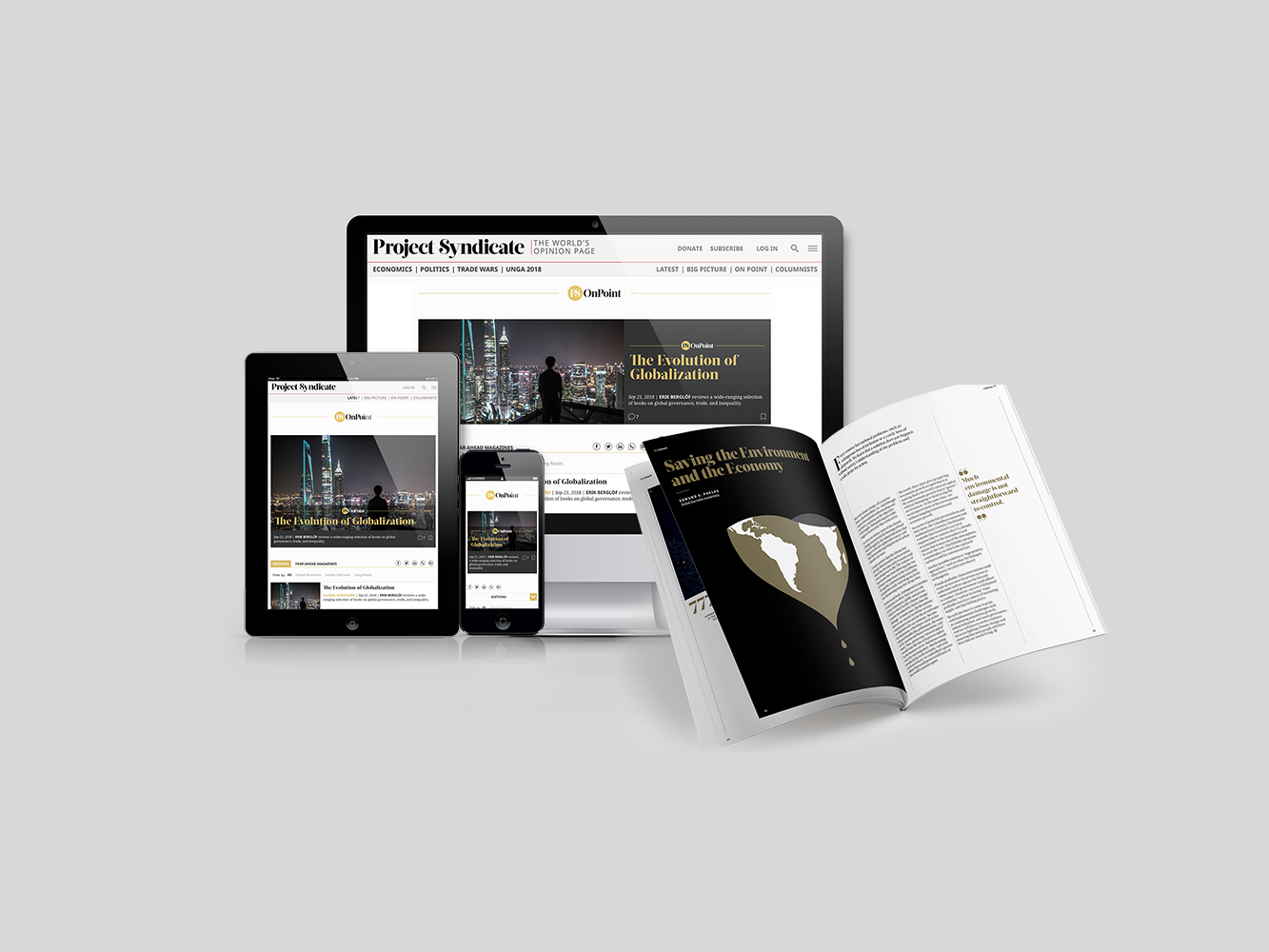 Subscribe now
For a limited time only, get unlimited access to On Point, The Big Picture, and the PS Archive, plus our annual magazine, for less than $2 a week.
Дополнительное беспокойство вызывает то, что другие решения Трампа создают стагфляционный эффект (снижение темпов роста экономики на фоне повышения уровня инфляции). Дело в том, что Трамп планирует ограничить прямые входящие иностранные инвестиции и уже ввёл разнообразные ограничения иммиграции. Это сократит рост предложения на рынке труда, причём как раз в тот момент, когда рабочая сила страны стареет, а несовпадение навыков работников с требованиями рынка уже превращается в серьёзную проблему.
Кроме того, администрация до сих пор не предложила инфраструктурного плана для стимулирования производительности в частном секторе или ускорения перехода к зелёной экономике. Тем временем, Трамп продолжал ругать – в Twitter и не только – корпорации за их методы найма, производства, инвестиций и ценообразования, особо выделяя технологические компании, причём ровно в тот момент, когда они уже и так подвергаются широкой атаке и стакиваются с ростом конкуренции со стороны китайских фирм.
Американская политика пошатнула и развивающиеся страны. Бюджетное стимулирование и ужесточение монетарной политики привели к росту краткосрочных и долгосрочных процентных ставок и укреплению доллара США. В результате, развивающиеся страны столкнулись с бегством капитала и увеличением долга, номинированного в долларах. Страны, серьёзно зависимые от экспорта, пострадали от последствий снижения цен на сырьё, а на всей торговле, которая даже косвенно связана с Китаем, сказался эффект торговой войны.
Даже нефтяная политика Трампа вызвала волатильность. Возобновление американских санкций против Ирана толкнуло цены на нефть вверх, но затем администрации предоставила ряду стран исключения из режима санкций, а также стала принуждать Саудовскую Аравию увеличить добычу, что привело к резкому падению цен. Потребителям в США выгодно снижение цен на нефть, но оно плохо влияет на котировки акций американских энергетических компаний. Избыточная волатильность цен на нефть вредна как для производителей, так и для потребителей, поскольку она мешает принятию разумных инвестиционных и потребительских решений.
Ситуация усугубляется тем, что, как теперь стало очевидно, выгоды прошлогоднего снижения налогов достались почти исключительно корпоративному сектору, а не домохозяйствам в виде повышения реальных (с учётом инфляции) зарплат. Это означает, что потребление домохозяйств вскоре может замедлиться, ослабляя экономику.
Впрочем, резкое падение котировок на американском и мировых рынках в последнем квартале было в большей степени, чем чем-либо иным, вызвано реакцией на высказывания и действия Трампа. Хуже возрастающего риска полномасштабной торговой войны с Китаем (несмотря на недавнее «перемирие», заключённое с председателем КНР Си Цзиньпином) стала публичная критика Трампом Федерального резерва, с которой он начал выступать ещё весной 2018 года, когда темпы роста экономики США превышали 4%.
Помня об этой критике, рынки оказались напуганы в декабре, когда ФРС совершенно верно решил повысить процентные ставки и одновременно сигнализировал о более постепенных темпах повышения ставок в 2019 году. Вполне возможно, что сравнительная жёсткость Федерального резерва стала реакций на угрозы Трампа в его адрес. На фоне враждебности президентских твитов председателю ФРС Джерому Пауэллу было необходимо просигнализировать, что центральный банк страны сохраняет политическую независимость.
Однако затем последовало решение Трампа приостановить работу значительной части органов федеральной власти из-за отказа Конгресса профинансировать его бесполезную стену на границе с Мексикой. Это решение вызвало на рынках практически панику, а вскоре появились сообщения, что Трамп хочет уволить Пауэлла. Такой шаг мог превратить начавшуюся коррекцию в крах. Накануне рождественских каникул министру финансов США Стивену Мнучину пришлось выпустить официальное заявление, чтобы успокоить рынки. Он объявил, что Трамп совершенно не планировал увольнять Пауэлла, а финансы американских банков находятся в хорошем состоянии, тем самым, по сути, лишь акцентировав внимание на вопросе, а действительно ли с банками всё хорошо.
Последние изменения в составе администрации, хотя и не связанные напрямую с экономической политикой, также пошатнули рынки. После отставки руководителя аппарата Белого дома Джона Келли и министра обороны Джеймса Мэттиса в комнате больше не будет «взрослых». Узкий круг экономических националистов и внешнеполитических ястребов, которые остаются в администрации, будет потакать любым капризам Трампа.
Сегодня нельзя исключать угрозу полномасштабного геополитического столкновения с Китаем. Новая холодная война, по сути, будет вести к деглобализации и разрыву производственных цепочек во всём мире, а особенно в технологическом секторе (о чём свидетельствуют последние события с ZTE и Huawei). В то же время Трамп, похоже, твёрдо намерен ослабить сплочённость Евросоюза и НАТО ровно в тот момент, когда Европа экономически и политически уязвима. И как дамоклов меч над его президентской властью висит проводимое специальным прокурором Робертом Мюллером расследование связей избирательного штаба Трампа с Россией в 2016 году.
Трамп стал доктором Стрейнджлавом финансовых рынков. Подобно параноидальному безумцу из классического фильма Стэнли Кубрика, он играет с взаимно гарантированным экономическим разрушением. И теперь, когда рынки увидели эту опасность, риск наступления финансового кризиса и глобальной рецессии увеличился.