Trump und die Wirtschaftsentwicklung
NEW YORK – Die Finanzmärkte haben endlich registriert, dass Donald Trump US-Präsident ist. Angesichts der Tatsache, dass die Welt inzwischen seit zwei Jahren unverantwortliche öffentliche Erklärungen und Tweets des mächtigsten Mannes der Welt erduldet, stellt sich die offensichtliche Frage: "Warum hat das so lange gedauert?"
Zunächst einmal hatten sich bislang viele Anleger gesagt, dass Hunde, die bellen, nicht beißen. Sie waren bereit, Trump einen Vertrauensvorschuss einzuräumen, solange er Steuersenkungen, Deregulierung und andere für den Unternehmenssektor und die Anleger günstige politische Maßnahmen verfolgte. Und viele vertrauten darauf, dass die "Erwachsenen im Raum" Trump letztlich bremsen und dafür sorgen würden, dass die Politik seiner Regierung die Schutzgitter der Orthodoxie nicht überspränge.
Diese Annahmen erwiesen sich in Trumps erstem Amtsjahr als mehr oder weniger berechtigt, als wirtschaftliches Wachstum und Erwartungen auf steigende Unternehmensgewinne – bedingt durch anstehende Steuersenkungen und Deregulierung – zu einer starken Börsenentwicklung führten. Die US-Aktienindizes stiegen 2017 um mehr als 20%.
In 2018 jedoch, und insbesondere in den letzten Monaten, änderte sich die Lage radikal. Obwohl die Unternehmensgewinne (dank der Steuersenkungen) um über 20% stiegen, stagnierten die Aktienkurse für den größten Teil des Jahres und sind zuletzt deutlich gefallen. Die marktbreiten Indizes liegen derzeit noch im Korrekturbereich (was einen Rückgang von 10% gegenüber dem jüngsten Höchstwert beschreibt), während die Indizes für Technologieaktien wie der Nasdaq bereits einen Bärenmarkt (einen Rückgang von 20% oder mehr) erleben.
Auch wenn die erhöhte Volatilität an den Finanzmärkten Besorgnis über China, Italien und andere Volkswirtschaften der Eurozone sowie über wichtige Schwellenländer widerspiegelt, sind die jüngsten Turbulenzen weitgehend auf Trump zurückzuführen. Das Jahr begann mit dem Inkrafttreten einer unverantwortlichen Steuersenkung, die die langfristigen Zinsen in die Höhe trieb und in einer Volkswirtschaft, die bereits nahe der Vollbeschäftigung war, für eine Überzuckerung sorgte. Bereits im Februar dann führten wachsende Befürchtungen darüber, dass die Inflation über den Zielwert der US Federal Reserve von 2% steigen könnte, zu einem ersten deutlichen Rückgang der Risikoneigung.
Dann folgten Trumps Handelskriege mit China und anderen wichtigen US-Handelspartnern. Die Sorgen an den Märkten über die protektionistische Politik der Regierung sind im Jahresverlauf mal gestiegen und mal gefallen, doch nun erreichen sie einen neuen Höhepunkt. Die jüngsten US-Maßnahmen gegenüber China scheinen einen umfassenderen Handels-, Wirtschafts- und geopolitischen Kalten Krieg einzuläuten.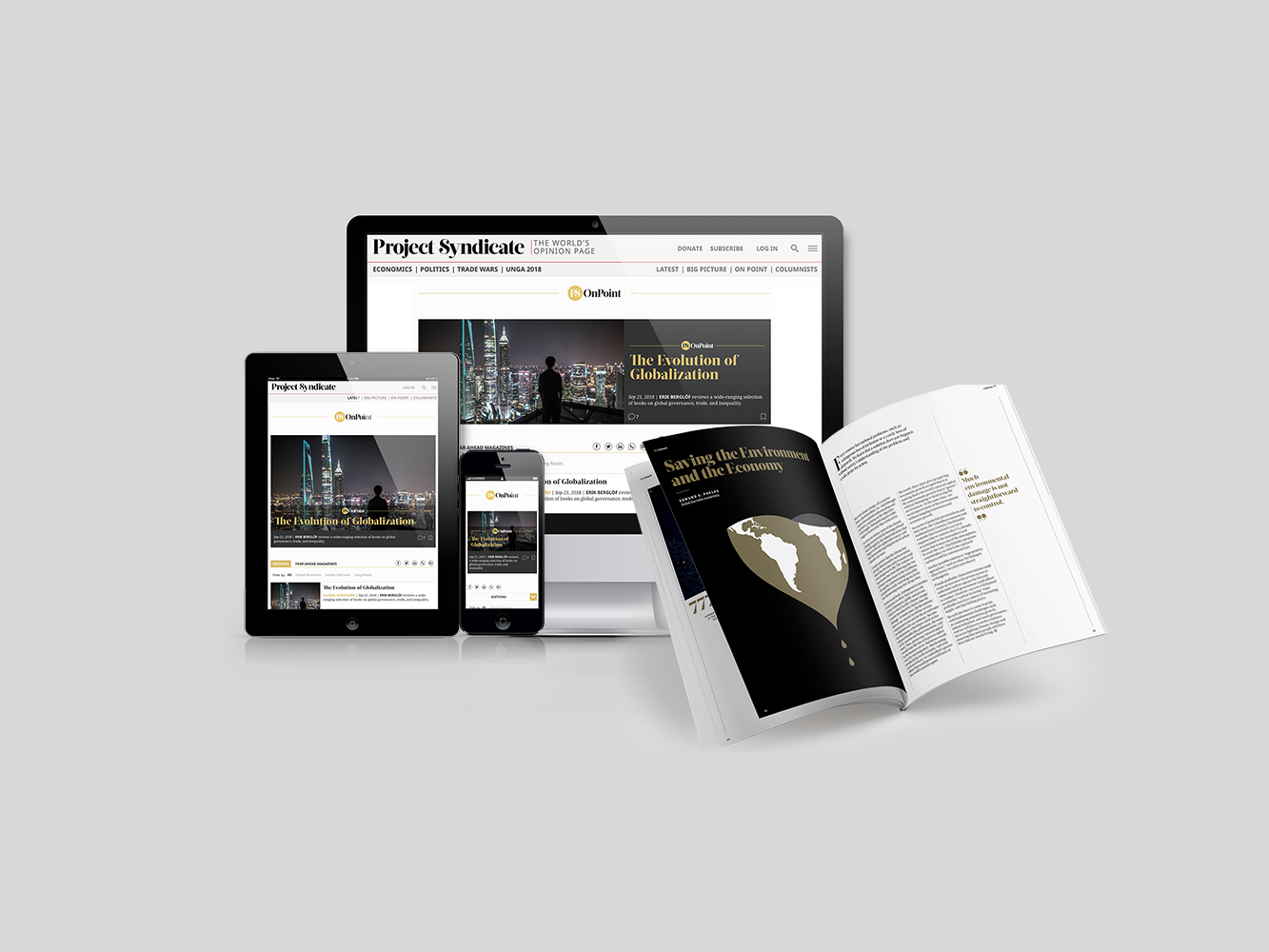 Subscribe now
For a limited time only, get unlimited access to On Point, The Big Picture, and the PS Archive, plus our annual magazine, for less than $2 a week.
Eine zusätzliche Sorge ist, dass Trumps übrige Politik stagflationäre Auswirkungen (nachlassendes Wachstum bei gleichzeitig steigender Inflation) haben könnte. Schließlich plant Trump, die ausländischen Direktinvestitionen in den USA zu begrenzen, und er hat bereits weitreichende Einwanderungsbeschränkungen umgesetzt, die die Zunahme des Arbeitskräfte-Angebots zu einem Zeitpunkt verringern werden, zu dem die Alterung der Erwerbsbevölkerung sowie Inkongruenzen bei Qualifikationsangebot und -nachfrage bereits ein wachsendes Problem darstellen.
Auch hat die Regierung bisher keinen Plan zur Verbesserung der Infrastruktur vorgelegt, um die Produktivität des privaten Sektors anzukurbeln oder den Übergang zu einer grünen Wirtschaft zu beschleunigen. Und auf Twitter und anderswo drischt Trump weiterhin auf die Unternehmen ein und kritisiert sie wegen ihrer Einstellungs-, Produktions-, Investitions- und Preissetzungspraktiken, wobei er sich besonders auf Technologieunternehmen konzentriert, die sich ohnehin schon einem allgemeinen Gegenwind und zunehmendem Wettbewerb durch chinesische Konkurrenten ausgesetzt sehen.
Auch die Schwellenmärkte wurden durch die US-Politik durchgerüttelt. Die Steuerimpulse und die Straffung der Geldpolitik haben die kurz- und langfristigen Zinsen in die Höhe getrieben und zu einer Stärkung des US-Dollars geführt. Infolgedessen leiden die Schwellenländer unter einer Kapitalflucht und einer Zunahme ihrer auf Dollar lautenden Schulden. Die stark exportabhängigen Schwellenländer leiden unter niedrigeren Rohstoffpreisen, und alle, die auch nur indirekt mit China Handel treiben, bekommen die Auswirkungen des Handelskrieges zu spüren.
Selbst Trumps Ölpolitik hat zu Volatilität geführt. Nachdem die Wiederaufnahme der US-Sanktionen gegen den Iran die Ölpreise in die Höhe getrieben hatte, führten die Bemühungen der Regierung, Ausnahmeregelungen zu finden und Saudi-Arabien durch Druck zur Steigerung seiner eigenen Produktion zu bewegen, zu einem steilen Preisrückgang. Zwar profitierten die US-Verbraucher von den niedrigeren Ölpreisen; die Aktienkurse der US-Energieunternehmen jedoch taten das nicht. Zudem ist eine übermäßige Volatilität der Ölpreise für Produzenten und Verbraucher gleichermaßen schlecht, denn sie behindert vernünftige Investitions- und Konsumentscheidungen.
Verschlimmert wird die Lage noch dadurch, dass nun klar ist, dass die Steuersenkungen des letzten Jahres fast ausschließlich dem Unternehmenssektor zugutekamen, nicht jedoch – in Gestalt höherer (inflationsbereinigter) Reallöhne – den privaten Haushalten. Daher könnte der private Konsum bald zurückgehen, was die Wirtschaftsentwicklung weiter untergraben würde.
Mehr als alles andere jedoch ist der steile Rückgang der Aktienkurse in den USA und weltweit während des letzten Quartals eine Reaktion auf Trumps eigene Äußerungen und Handlungen. Noch schlimmer als das (trotz des jüngsten mit dem chinesischen Präsidenten Xi Jinping vereinbarten "Waffenstillstands") erhöhte Risiko eines ausgewachsenen Handelskrieges mit China sind Trumps öffentliche Angriffe auf die Fed, die schon im Frühjahr 2018 begannen, als die US-Wirtschaft noch mit mehr als 4% wuchs.
Angesichts dieser früheren Attacken reagierten die Märkte in diesem Monat verschreckt, als die Fed berechtigterweise entschied, die Zinsen anzuheben, und zugleich ein allmählicheres Tempo bei den Zinserhöhungen in 2019 signalisierte. Höchstwahrscheinlich ist die relativ aggressive Reaktion der Fed eine Antwort auf Trumps Drohungen ihr gegenüber. Angesichts der feindseligen Tweets des Präsidenten musste Notenbankchef Jerome Powell signalisieren, dass die Notenbank politisch unabhängig bleibt.
Dann jedoch folgte Trumps Entscheidung, wegen der Weigerung des Kongresses, seine nutzlose Mauer an der Grenze zu Mexiko zu finanzieren, große Bereiche der US-Bundesverwaltung lahmzulegen. Dies versetzte die Märkte in eine an Panik grenzende Stimmung. Und auf den "Government Shutdown" folgten dann rasch Berichte, dass Trump Powell entlassen wolle – ein Schritt, der eine Korrektur in einen Crash verwandeln könnte. Unmittelbar vor den Weihnachtsferien war US-Finanzminister Steven Mnuchin gezwungen, eine öffentliche Erklärung zur Beruhigung der Märkte abzugeben. Er verkündete, dass Trump doch nicht plane, Powell zu entlassen, und dass die Finanzlage der US-Banken solide sei, was faktisch die Frage aufwarf, ob sie das wirklich sind.
Jüngste die Wirtschaftspolitik nicht zwangsläufig beeinflussende Veränderungen innerhalb der Regierung verunsichern die Märkte zusätzlich. Mit dem bevorstehenden Abschied von John Kelly (dem Stabschef des Weißen Hauses) und Verteidigungsminister James Mattis werden die letzten "Erwachsenen im Raum" verschwinden. Die Koterie von Wirtschaftsnationalisten und außenpolitischen Scharfmachern, die bleibt, wird jede Laune Trumps mitmachen.
Beim gegenwärtigen Stand der Dinge lässt sich ein ausgewachsener geopolitischer Konflikt mit China nicht ausschließen. Ein neuer Kalter Krieg würde faktisch zu einer Entglobalisierung führen und die Lieferketten überall auf der Welt in Mitleidenschaft ziehen, insbesondere jedoch – wie zuletzt die Fälle ZTE und Huawei signalisieren – im Technologiesektor. Zugleich scheint Trump auf Teufel komm raus darauf bedacht, den Zusammenhalt der Europäischen Union und der NATO zu untergraben, und das zu einer Zeit, in der Europa wirtschaftlich und politisch fragil ist. Und Sonderermittler Robert Muellers Untersuchung der Russlandverbindungen von Trumps Wahlkampfteam im Jahr 2016 hängt wie ein Damoklesschwert über Trumps Präsidentschaft.
Trump ist inzwischen der Dr. Strangelove der Finanzmärkte. Wie der irre Paranoiker in Stanley Kubricks klassischem Spielfilm flirtet er mit der garantierten wechselseitigen wirtschaftlichen Vernichtung. Nun, da die Märkte die Gefahr erkannt haben, ist das Risiko einer Finanzkrise und einer globalen Rezession gewachsen.
Aus dem Englischen von Jan Doolan