Die Krise der angloamerikanischen Demokratie
NEW YORK – Wie kann es sein, dass in den zwei ehrwürdigsten und einflussreichsten Demokratien der Welt – dem Vereinigten Königreich und den Vereinigten Staaten –  Donald Trump und Boris Johnson an die Macht kommen? Trump liegt nicht falsch, wenn er Johnson als "Britain Trump" (sic) bezeichnet. Es geht auch nicht um eine Frage ähnlicher Persönlichen oder Stile: vielmehr ist diese Entwicklung Ausdruck eklatanter Mängel in den politischen Institutionen, die es diesen Männern ermöglichten, das Ruder zu übernehmen.
Sowohl Trump als auch Johnson weisen eine von dem irischen Physiker und Psychologen Ian Hughes so bezeichnete "gestörte Psyche" auf. Trump ist ein notorischer Lügner, ein Verbreiter des Rassismus und Steuerhinterzieher in großem Stil. Im Bericht des US-Sonderermittlers Robert Mueller über seine 22-monatige Untersuchung des Trumpschen Präsidentschaftswahlkampfs im Jahr 2016 werden mehrere Fälle von Behinderung der Justiz durch Trump beschrieben. Über 20 Frauen beschuldigen Trump sexueller Übergriffe, mit denen er auf Band auch prahlt. Trump wies seinen Anwalt an, illegale Schweigegeldzahlungen zu tätigen, die einen Verstoß gegen die Bestimmungen für Wahlkampffinanzierung darstellen.
Johnsons persönliches Verhalten präsentiert sich ähnlich hemmungslos. Er gilt weithin als gewohnheitsmäßiger Lügner mit verlottertem Privatleben, einschließlich zweier gescheiterter Ehen und eines offenkundig heftigen häuslichen Streits im Vorfeld seiner Bestellung zum Premierminister. Wiederholt wurde er wegen Lügens und anderen unehrbaren Verhaltens im Beruf gefeuert. Im Jahr 2016 stand er an der Spitze der Brexit-Kampagne, die nachgewiesenermaßen mit falschen Behauptungen operierte. Als britischer Außenminister ließ er zweimal geheimdienstliche Informationen durchsickern –  in einem Fall französische Informationen über Libyen  und im anderen britische Geheimdienstinformationen über den Iran. Ebenso wie Trump ist er bei allen Altersgruppen durchaus unbeliebt, wobei die Beliebtheitswerte allerdings mit zunehmenden Alter der Wähler ansteigen.
Trumps Bilanz als Präsident stellt ein weiteres politisches Rätsel dar. Seine Politik ist allgemein unpopulär und entspricht selten der mehrheitlichen öffentlichen Meinung. Sein wichtigster legislativer Erfolg – die Steuersenkung des Jahres 2017 – war damals genauso unbeliebt wie heute. Das gilt auch für seine Positionen in den Bereichen Klimawandel, Einwanderung, Bau einer Mauer entlang der Grenze zu Mexiko, Kürzungen der Sozialausgaben, Rücknahme wichtiger Bestimmungen aus Obamacare, Rückzug aus dem Atomabkommen mit dem Iran und zu vielen weiteren Fragen. Trumps Zustimmungsrate liegt durchweg unter 50 Prozent und befindet sich derzeit bei ungefähr 43 Prozent, während ihn 53 Prozent ablehnen.
Zur Umsetzung seiner unpopulären Agenda bedient sich Trump präsidentieller Dekrete und Notverordnungen. Obwohl die Gerichte zahlreiche dieser Dekrete aufgehoben haben, gestaltet sich der juristische Prozess langsam, wendungsreich und unberechenbar. In der Praxis sind die USA einer Einpersonen-Herrschaft so nahe, wie dies im Rahmen der prekären Beschränkungen durch die Verfassung möglich ist.
Im Falle Johnsons präsentiert sich die Situation ähnlich. Die öffentliche Meinung wandte sich gegen den Brexit - Johnsons Leib- und Magenthema - als die vor dem Referendum 2016 geäußerten Lügen und Übertreibungen der Austrittsbefürworter bei den Austrittsverhandlungen mit der Europäischen Union bekannt wurden. Obwohl die Öffentlichkeit und die Mehrheit im Parlament einen Brexit ohne Abkommen entschieden ablehnen, hat Johnson genau das in Aussicht gestellt, wenn es ihm nicht gelingt, eine alternative Lösung auszuverhandeln.  
Subscribe now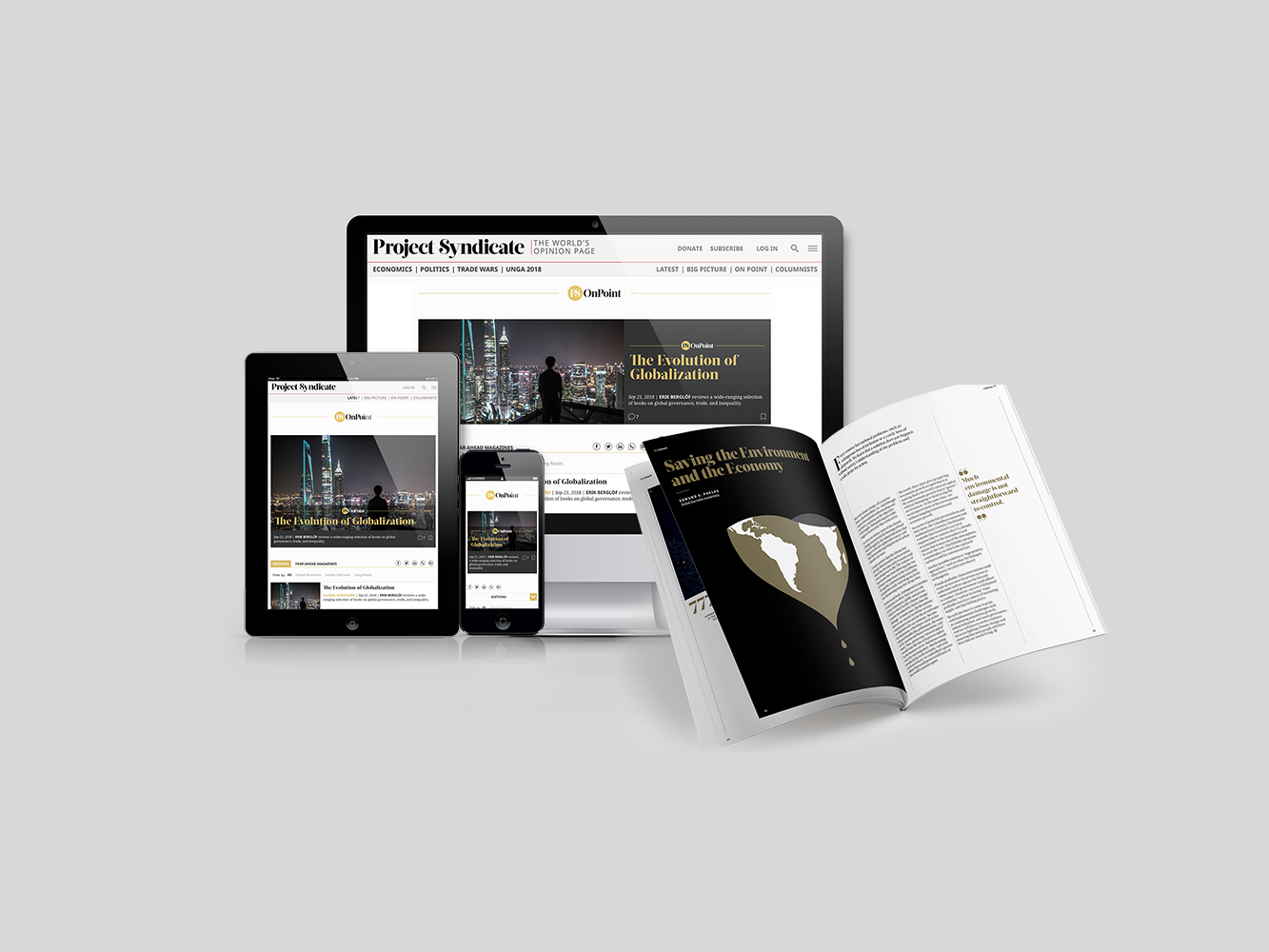 Subscribe now
Get unlimited access to OnPoint, the Big Picture, and the entire PS archive of more than 14,000 commentaries, plus our annual magazine, for less than $2 a week.
Auf die Frage, wie es sein kann, dass in zwei altehrwürdigen Demokratien Personen mit gestörter Psyche die Macht erringen und unpopuläre politische Strategien verfolgen, gibt es eine offensichtliche, aber auch eine tiefgründigere Antwort. 
Die offensichtliche Antwort lautet, dass sowohl Trump als auch Johnson Unterstützung bei älteren Wählern fanden, die sich in den letzten Jahrzehnten zurückgelassen fühlten. Trump übt besonders auf ältere, weiße Konservative Anziehungskraft aus, die durch Handel und Technologie sowie nach mancher Ansicht auch durch Amerikas Bewegungen für Bürgerrechte, Frauenrechte und sexuelle Rechte abgehängt wurden. Johnson ist attraktiv für ältere Wähler, die von der Deindustrialisierung hart getroffen wurden und für diejenigen, die sich nach den glorreichen Zeiten Großbritanniens als Weltmacht zurücksehnen. 
Doch diese Erklärung ist nicht ausreichend. Der Aufstieg Trumps und Johnsons ist auch Ausdruck eines tiefer liegenden politischen Versagens. Ihre jeweiligen politischen Gegner, die Demokraten in den USA und die Labour-Partei in Großbritannien, sind nicht auf die Bedürfnisse der durch die Globalisierung abgehängten Arbeitnehmer eingegangen, die sich dann der Rechten zuwandten. Dennoch verfolgen Trump und Johnson – mit Steuersenkungen für die Reichen in den USA und einem Brexit ohne Abkommen in Großbritannien – eine Politik, die den Interessen ihrer jeweiligen Basis zuwiderläuft.
Der gemeinsame politische Grundfehler liegt im Mechanismus der politischen Repräsentation, insbesondere im Mehrheitswahlrecht beider Länder. Anders als in Westeuropa wo eine Vielzahl an Parteien mittels Verhältniswahlrecht gewählt werden, förderte in den USA und in Großbritannien die Wahl von politischen Vertretern mit relativer Mehrheit in einem Wahlbezirk die Entstehung zweier dominanter Parteien. In diesem Zweiparteiensystem, das zu einer Winner-takes-all-Politik führt, werden Wählerinteressen nicht vertreten und es fehlt auch an  Koalitionsregierungen, die politische Strategien verhandeln und formulieren müssen, die für zwei oder mehr Parteien annehmbar sind.  
Man denke an die Situation in den USA. Trump beherrscht die Republikanische Partei, aber nur  29 Prozent der Amerikaner deklarieren sich als Republikaner. Als Demokraten identifizieren sich 27 Prozent und 38 Prozent als Unabhängige, die sich mit keiner Partei anfreunden können und deren Interessen daher auch nicht vertreten sind. Durch seinen Machtgewinn innerhalb der Republikanischen Partei konnte Trump zwar mit weniger Wählerstimmen als seine Rivalin Hillary Clinton, aber mit mehr Stimmen des Wahlkollegiums in das Präsidentenamt gelangen. Angesichts der Tatsache, dass 2016 lediglich 56 Prozent der wahlberechtigten Amerikaner tatsächlich zu den Urnen schritten (was teilweise auf die absichtlichen Bestrebungen der Republikaner zur Erschwerung der Stimmabgabe zurückzuführen ist), wurde Trump mit nur 27 Prozent der Stimmen der Wahlberechtigten in sein Amt befördert.
Trump kontrolliert eine Partei, die weniger als ein Drittel der Wähler vertritt und meist per Dekret regiert. Johnson wurde trotz einer Zustimmungsrate von gerade einmal 31 Prozent (verglichen mit 47 Prozent Ablehnung) von weniger als 100.000 Parteimitgliedern zum Parteichef und somit auch zum Premierminister gewählt.
Politikwissenschaftler prognostizieren, dass ein Zweiparteiensystem den "Medianwähler" repräsentiert, weil sich jede Partei in die politische Mitte bewegt, um die Hälfte plus eine Stimme zu erringen. In der Praxis hat jedoch in den letzten Jahrzehnten die Wahlkampffinanzierung das Kalkül der US-Parteien bestimmt, so dass sich Parteien und Kandidaten nach rechts bewegten, um sich bei reichen Parteispendern einzuschmeicheln. (Senator Bernie Sanders versucht den Würgegriff des Big Money zu lockern, indem er große Summen von Kleinspendern einsammelt). 
Im Vereinigten Königreich vertritt keine Großpartei die Mehrheit, die gegen den Brexit ist. Dennoch ist es im britischen Politiksystem möglich, dass eine Fraktion in einer Partei historische und dauerhafte Entscheidungen für das Land trifft, gegen die sich die die Mehrheit der Wähler ausspricht. Noch unheilvoller: die Winner-take-all-Politik ermöglicht es zwei gefährlichen Persönlichkeiten, trotz weitverbreiteter Opposition gegen sie an die Macht zu gelangen.
Kein politisches System ist in der Lage, den Willen der Öffentlichkeit zu hundert Prozent in Politik umzusetzen und der öffentliche Wille ist oftmals konfus, falsch informiert oder von gefährlicher Emotionalität beeinflusst. Die Ausgestaltung politischer Institutionen ist eine ständig neu entstehende Herausforderung.  Doch aufgrund ihrer veralteten Winner-take-all- Regeln funktionieren die beiden ältesten und angesehensten Demokratien der Welt heute - in gefährlicher Weise - unzulänglich.
Aus dem Englischen von Helga Klinger-Groier