Europas Rückkehr in die Krise?
BRÜSSEL – Vor gerade mal vier Monaten, als der europhile Emmanuel Macron zum Präsidenten Frankreichs gewählt wurde, schien es, als könne die Europäische Union endlich eine Phase der Ruhe erwarten. Doch Ruhe ist das Letzte, was man derzeit auf den Straßen von Barcelona sehen kann, wo auf Demonstrationen zugunsten der Unabhängigkeit Kataloniens – ein diesbezügliches Referendum wurde von Regierungskräften brutal unterdrückt – mit gleichermaßen starken Protesten dagegen reagiert wurde.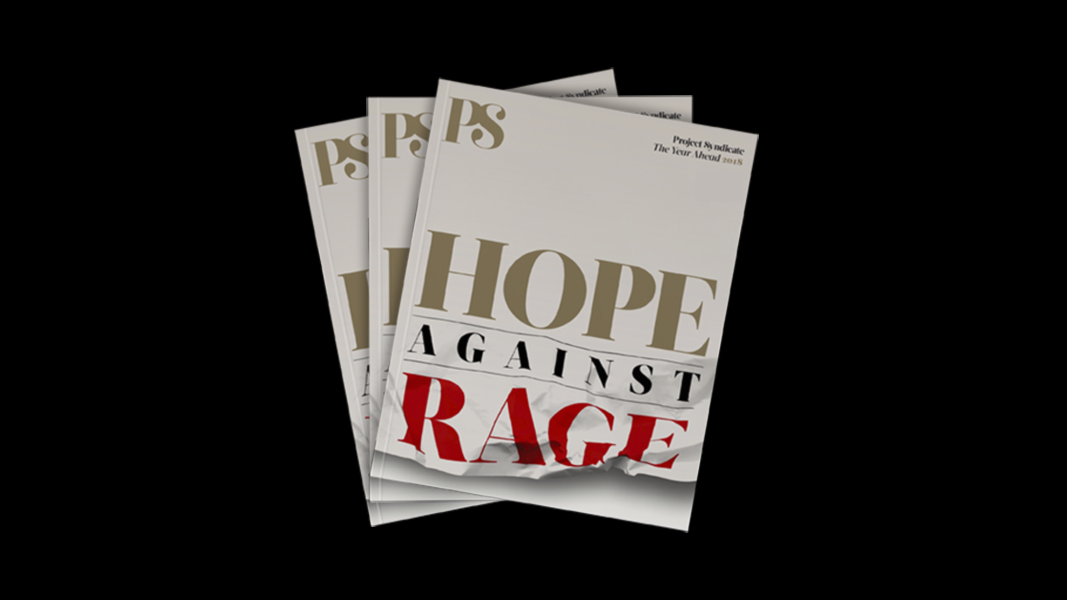 The Year Ahead 2018
The world's leading thinkers and policymakers examine what's come apart in the past year, and anticipate what will define the year ahead.
Angesichts des sich zuspitzenden internen Konflikts Spaniens mag eine Rückkehr in die Krise in Europa praktisch unvermeidlich erscheinen. Doch deutet das lokale Geschehen in Spanien tatsächlich darauf hin, dass sich die wirtschaftliche Erholung in Europa verstärkt, und beleuchtet zugleich die Grenzen dessen, was die EU erreichen kann.
Die Stärke der wirtschaftlichen Erholung der EU zeigt sich daran, dass die Finanzmärkte kaum auf die turbulenten Szenen reagiert haben. Wäre eine ähnliche Situation vor ein paar Jahren entstanden, hätte es eine Flucht aus spanischen Staatsanleihen gegeben, und der spanische Aktienmarkt wäre abgestürzt. Heute jedoch stecken die Märkte die profunde politische Unsicherheit innerhalb des Landes einfach weg.
Dieses Vertrauensvotum fußt auf soliden Grundlagen. Die gesamte Volkswirtschaft der Eurozone der wächst mit einem respektablen, wenn auch unspektakulären Tempo. Und die spanische Volkswirtschaft wächst schneller als der Durchschnitt der Eurozone und erhält dabei einen kleinen Außenbilanzüberschuss aufrecht.
Dies bedeutet, dass die Erholung in Spanien auf einem steigenden Angebot und nicht auf einer zunehmenden Binnennachfrage beruht, wie das während des Baubooms vor der Krise der Fall war. Berücksichtigt man zudem die Existenz jener Institutionen der Eurozone, die vorübergehenden Finanzierungsschwierigkeiten, vor denen Banken oder Staaten stehen, begegnen können, so wird klarer, warum Spaniens tiefe politische Krise nicht von gefährlichen Turbulenzen an den Finanzmärkten begleitet wird.
Doch verdeutlicht die Katalonienkrise zugleich die Grenzen des EU-Integrationsmodells, die darauf gründen, dass die EU letztlich auf dem Nationalstaat beruht. Dieses Modell lässt sich nicht als zwischenstaatlich beschreiben. Vielmehr beruht es auf indirekter Umsetzung: Fast alles, was die EU tut und entscheidet, wird von den nationalen Regierungen und ihren Verwaltungen umgesetzt.
Dieser Unterschied zeigt sich am deutlichsten im Bereich der Geldpolitik, wo der Mechanismus zur Entscheidungsfindung eindeutig nicht zwischenstaatlicher Art ist: Der EZB-Rat operiert auf der Grundlage einer einfachen Mehrheit.
Doch ist der Umsetzungsmechanismus mit Sicherheit ein indirekter: Nachdem eine Entscheidung getroffen wurde, wird sie von den nationalen Notenbanken ausgeführt – ein Ansatz, der wichtige Konsequenzen haben kann. So wurden die enormen Anleihekäufe der letzten Jahre, die dem Namen nach von der EZB unternommen wurden, vorwiegend durch die nationalen Notenbanken abgewickelt, die die Staatsanleihen ihrer eigenen Regierungen kaufen.
Der Europäische Gerichtshof in Luxemburg – eine weitere gemeinsame Institution von entscheidender Bedeutung – stützt sich ebenfalls auf einen Entscheidungsmechanismus, der nicht zwischenstaatlicher Art ist. Doch seine Richter werden von den nationalen Regierungen benannt, und die nationalen Gerichte und Verwaltungen setzen seine Entscheidungen durch.
Ein Vergleich mit den USA zeigt die Schwächen dieses Ansatzes auf. Während die US Federal Reserve ebenfalls eine regionale Struktur aufweist, decken die einzelnen District Reserve Banks mehrere Einzelstaaten ab und sind nicht an eine bundesstaatliche Regierung oder Einrichtung gebunden. Genauso werden die Richter am US Supreme Court von Bundeseinrichtungen nominiert (der Senat bestätigt vom Präsidenten vorgeschlagene Kandidaten bzw. lehnt sie ab) und nicht von den Regierungen der Einzelstaaten.
Es lässt sich argumentieren, dass es für die EU angesichts des tiefen Misstrauens zwischen Ländern, die so viele brutale Kriege gegeneinander geführt hatten, keine andere Möglichkeit zur Einleitung des Integrationsprozesses gab, als sich für den Aufbau gemeinsamer Institutionen auf die Mitgliedstaaten zu stützen. Und doch kann eine Union, die sich – nicht nur zur Umsetzung, sondern auch als Quelle ihrer Legitimität – auf den Nationalstaat stützt, nur so gut funktionieren wie ihre einzelnen Mitglieder. Heute aber, wo die meisten dieser Mitglieder sich internen Streitigkeiten ausgesetzt sehen, stößt dieses Modell an seine Grenzen.
In Griechenland haben schwache Verwaltungs- und Rechtssysteme die wirtschaftliche Erholung behindert. In Polen und Ungarn untergraben "illiberale" Regierungen die Unabhängigkeit der Justiz. Und in Spanien scheint das politische System außerstande, den Konflikt zwischen der Regionalregierung Kataloniens mit ihrem Streben nach mehr Selbstbestimmung und der Zentralregierung in Madrid, die argumentiert, dass selbst eine Erwägung dieser Frage die Verfassungsordnung untergraben würde, beizulegen.
Selbst Deutschland steht vor innenpolitischen Herausforderungen. Nachdem sie bei der letzten Bundestagswahl ein Fünftel ihrer Wähler verloren hat, wird Bundeskanzlerin Angela Merkel es während ihrer vierten – und vermutlich letzten – Amtszeit mit drei widerspenstigen Koalitionspartnern zu tun haben. Und was Italien angeht, so legen Meinungsumfragen nahe, dass eine Mehrheit der Wähler inzwischen populistische und/oder euroskeptische Parteien unterstützt.
Während es unwahrscheinlich erscheint, dass offen euroskeptische Parteien irgendwo an die Macht kommen, verheißen diese politischen Umwälzungen für die europäische Integration nichts Gutes. Der EU schlägt kaum offene Feindseligkeit entgegen. Man begegnet ihr stattdessen heute mit "quertreiberischer Gleichgültigkeit", denn viele ihrer Mitgliedstaaten konzentrieren sich zunehmend auf ihre internen Herausforderungen, was die europäische Integration in den meisten Teilen des Kontinents zu kaum mehr als einem Nachgedanken macht.
Diejenigen führenden Politiker der EU, die die Integration noch immer voranbringen möchten, können nicht länger auf das während der Finanzkrise verwendete Argument verlassen, dass es keine Alternative gebe. Und der tolerante Konsens der Anfangsjahre der Integration ist lange verschwunden. Wenn weitere Fortschritte hin zu einer "immer engeren Union" erzielt werden sollen, werden sich Europas politische Führer ein neues Modell einfallen lassen müssen, das die sich vertiefende Apathie ihrer Bürger überwinden kann.
Aus dem Englischen von Jan Doolan