Ritorno alla crisi per l'Europa?
BRUSSELS – Proprio quattro mesi fa, quando l'eurofilo Emmanuel Macron è stato eletto presidente della Francia, sembrava che l'Unione europea potesse finalmente aspirare a un periodo di calma. Tuttavia la calma è l'ultima cosa che si vede per le strade di Barcelona, dove le dimostrazioni a favore dell'indipendenza della Catalogna – un referendum brutalmente represso dalle forze della polizia – hanno incontrato proteste ugualmente potenti contro di esso.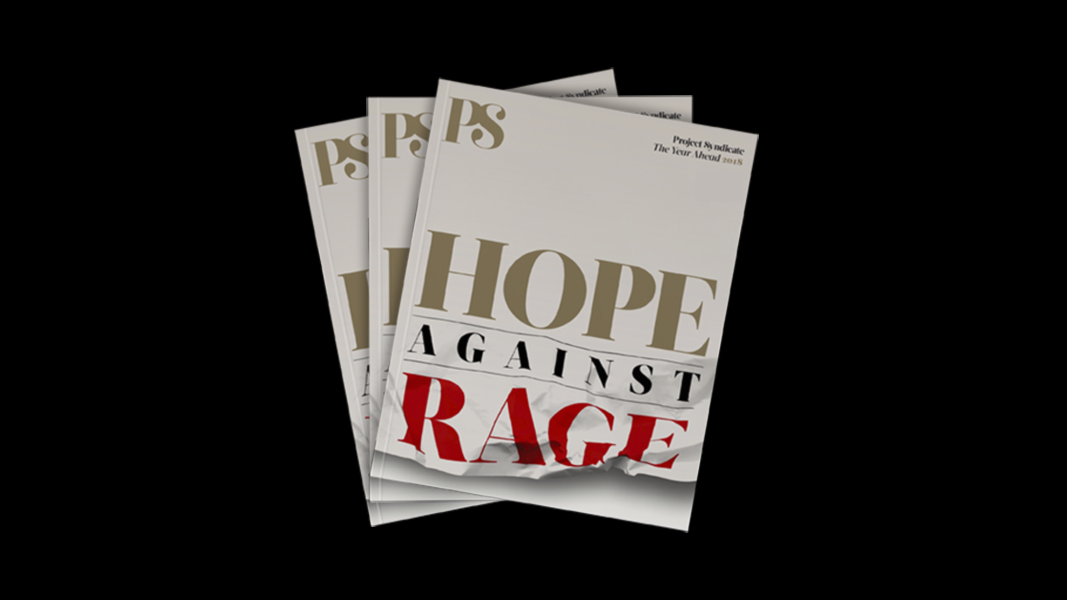 The Year Ahead 2018
The world's leading thinkers and policymakers examine what's come apart in the past year, and anticipate what will define the year ahead.
Mentre il conflitto interno spagnolo si intensifica, un ritorno alla crisi in Europa potrebbe sembrare tutto fuorché inevitabile. Eppure ciò che accade in Spagna in realtà indica che la ripresa economica europea si sta rafforzando, sottolineando al contempo i limiti di ciò che l'Unione europea può raggiungere.
La forza della ripresa economica europea è evidente dall'assenza di qualunque reazione dei mercati finanziari alle scene tumultuose in Catalogna. Se  una situazione simile si fosse verificata qualche anno fa, ci sarebbe stata una corsa sui titoli di stato spagnoli, e il mercato azionario della Spagna avrebbe registrato varie perdite. Oggi, tuttavia, i mercati stanno gestendo senza problemi la profonda incertezza politica del paese.
Questo voto di fiducia si basa su solide fondamenta. L'economia di tutta l'Eurozona sta crescendo a ritmi rispettabili, anche se non particolarmente spettacolari. E l'economia spagnola sta crescendo più veloce della media dell'Eurozona, con la bilancia dei pagamenti in lieve avanzo.
Ciò significa che la ripresa della Spagna si basa su un'offerta in aumento piuttosto che su una crescita della domanda interna, come è successo durante il boom immobiliare pre-crisi. Aggiungiamo anche l'esistenza di istituzioni nell'Eurozona che possono far fronte alle difficoltà finanziarie temporanee di banche o stati, e diventa più chiaro perché la profonda crisi politica della Spagna non è stata accompagnata da pericolosi rivolgimenti dei mercati finanziari.
Ma la crisi catalana evidenzia anche i limiti del modello di integrazione dell'Ue, radicati nel fatto che l'Unione è sostanzialmente basata su uno stato-nazione. Questo modello non può essere descritto come intergovernativo. Piuttosto è basato sull'attuazione indiretta: quasi tutto ciò che l'Ue fa e decide viene portato a termine dai governi nazionali e dalle loro amministrazioni.
Tale distinzione emerge in maniera evidente nell'area della politica monetaria, dove il meccanismo di attività decisionale è assolutamente non integovernativo: il Consiglio direttivo della Banca centrale europea opera sulla base di una semplice maggioranza.
Tuttavia il meccanismo di attuazione è senza dubbio indiretto: una volta presa una decisione, essa viene eseguita dalle banche centrali – un approccio che può avere conseguenze importanti. Ad esempio, le grandi operazioni di acquisto bond portate avanti nominalmente dalla Bce negli ultimi anni sono state gestite principalmente dalle banche centrali nazionali, che acquistano i titoli di stato dei loro stessi governi.
Anche la Corte europea di giustizia di Lussemburgo – un'altra istituzione di cruciale importanza – si basa su un meccanismo decisionale non intergovernativo. Eppure i suoi giudici sono nominati dai governi nazionali, e le corti e le amministrazioni nazionali applicano le loro decisioni.
Un confronto con gli Stati Uniti sottolinea la debolezza di tale approccio. Mentre la Federal Reserve ha anche una struttura regionale, le singole District Reserve Banks coprono diversi stati e non sono legate ad alcuna istituzione o governo. Analogamente, i giudici della Corte suprema sono nominati da istituzioni federali (il Senato accetta o rifiuta le candidature avanzate dal presidente), non dai governi.
Per l'Unione europea, affidarsi ai suoi stati membri per costruire istituzioni comuni era probabilmente l'unico modo per cominciare il processo di integrazione, data la profonda sfiducia tra i paesi che avevano combattuto così tante guerre sanguinose gli uni contro gli altri. E tuttavia un'unione che si basa su uno stato-nazione, non solo per l'attuazione, ma anche per la validità, può funzionare solo se ci sono buone relazioni tra i suoi membri. Ma, oggi, con la maggior parte di loro afflitti da lotte interne, questo modello sta raggiungendo i suoi limiti.
In Grecia, i deboli sistemi giuridici e amministrativi hanno ostacolato la ripresa economica. In Polonia e Ungheria, i governi "illiberali" stanno minando l'indipendenza giudiziaria. E in Spagna, il sistema politico sembra incapace di risolvere il conflitto tra governo regionale della Catalogna, con le sue aspirazioni per una una maggiore auto-determinazione, e il governo centrale di Madrid, che sostiene che anche solo prendere in considerazione la questione minerebbe l'ordine costituzionale.
Anche la Germania sta affrontando sfide politiche interne. Dopo aver perso circa un quinto dei suoi elettori nelle ultime elezioni federali, la Cancelliera Angela Merkel dovrà tenere presente tre partner di coalizione ribelli durante il suo quarto – e probabilmente ultimo – mandato. Per quanto riguarda l'Italia, i sondaggi suggeriscono che una maggioranza di elettori sosterrà ora i partiti populisti e/o euroscettici.
Mentre i partiti palesemente euroscettici difficilmente guadagnano potere ovunque, questi cambiamenti politici non promettono bene per l'integrazione europea. L'Ue è di fronte a poche ostilità palesi. Oggi sta affrontando, invece, un'"indifferenza ostruzionista", poiché molti dei suoi stati membri sono sempre più preoccupati delle loro sfide interne, di conseguenza l'integrazione europea sta passando in secondo piano nella maggior parte del continente.
Questi leader europei che vogliono ancora portare avanti l'integrazione non possono più fare affidamento sull'assunto, usato durante la crisi finanziaria, che non c'è alternativa. E il consenso permissivo dei primi anni di integrazione è finito da molto tempo. Se dovessero essere fatti ulteriori progressi verso un'"unione più stretta", i leader europei dovranno trovare un nuovo modello che possa vincere la crescente apatia dei loro cittadini.