Zuid-Korea kan ook voor koolstofneutraliteit een gidsland zijn
SEOUL – In tegenstelling tot de Verenigde Staten, Europa en andere vroege industrielanden, waar de kooldioxide-uitstoot al grotendeels zijn hoogtepunt heeft bereikt, maakten de meeste andere landen zich tot voor kort geen zorgen over de klimaatverandering. Maar het afgelopen jaar is er een golf van regeringen geweest die streefdata hebben aangekondigd voor het bereiken van netto-nul-emissies en die zich hebben vastgelegd op ambitieuzere decarbonisatietrajecten.
Een deel van de reden voor deze verandering is dat de COVID-19-pandemie ons heeft wakker geschud voor de potentiële risico's waarmee we worden geconfronteerd. Leiders uit de politiek, het bedrijfsleven en het maatschappelijk middenveld nemen de dreiging van een toekomstige ʻgroene zwaan'-gebeurtenis, die een nieuwe systeem- of wereldcrisis zou kunnen veroorzaken, inmiddels serieus.
Bovendien is een toenemend aantal regeringen tot het inzicht gekomen dat het nastreven van koolstofneutrale doelstellingen ook de economische groei zal aanzwengelen en een hogere levenskwaliteit voor hun burgers zal opleveren. Terwijl het eenvoudigweg beperken van de emissies via regelgeving voorheen tot een sterke economische tegenwind zou hebben geleid, heeft de wereldwijde verschuiving in de richting van koolstofneutraliteit de economische calculus veranderd. Nieuwe consumptie- en productiepatronen creëren nieuwe markten met een verstrekkend groeipotentieel.
Hoe meer een land doet om fossiele brandstoffen te vervangen door waterstof en andere vormen van hernieuwbare energie, des te concurrerender het economisch zal worden. Decarbonisatie vergt immers een wijdverspreide invoering van nieuwe technologieën en grote investeringen in infrastructuur, waardoor allemaal banen worden geschapen en de weg wordt geëffend voor het ontstaan van nog meer nieuwe markten.
Dit gezegd zijnde heeft ieder land zijn eigen strategie nodig, waarin rekening wordt gehouden met zijn inherent sterke punten, tekortkomingen en behoeften. In het geval van Zuid-Korea zal het bereiken van koolstofneutraliteit een bijzondere uitdaging zijn, vanwege onze geografie, die niet gunstig is voor wind- of zonne-energie. En gezien onze grote afhankelijkheid van de verwerkende industrie zal de weg naar netto nul in 2050 gepaard gaan met banenverlies, gestrande activa, en andere ernstige sociale en economische risico's. Om deze risico's te kunnen beheersen, zullen we ons beleid zorgvuldig moeten uitstippelen.
Daartoe heeft Zuid-Korea in 2020 twee belangrijke klimaatbeleidsinitiatieven gelanceerd: de Korean New Deal en de 2050 Carbon Neutral Strategy of the Republic of Korea. Ons doel is de ontwikkeling van energie-efficiënte technologieën te bevorderen, en prikkels te creëren voor bedrijven om deze technologieën toe te passen en andere milieuvriendelijke praktijken te omarmen.
Back to Health: Making Up for Lost Time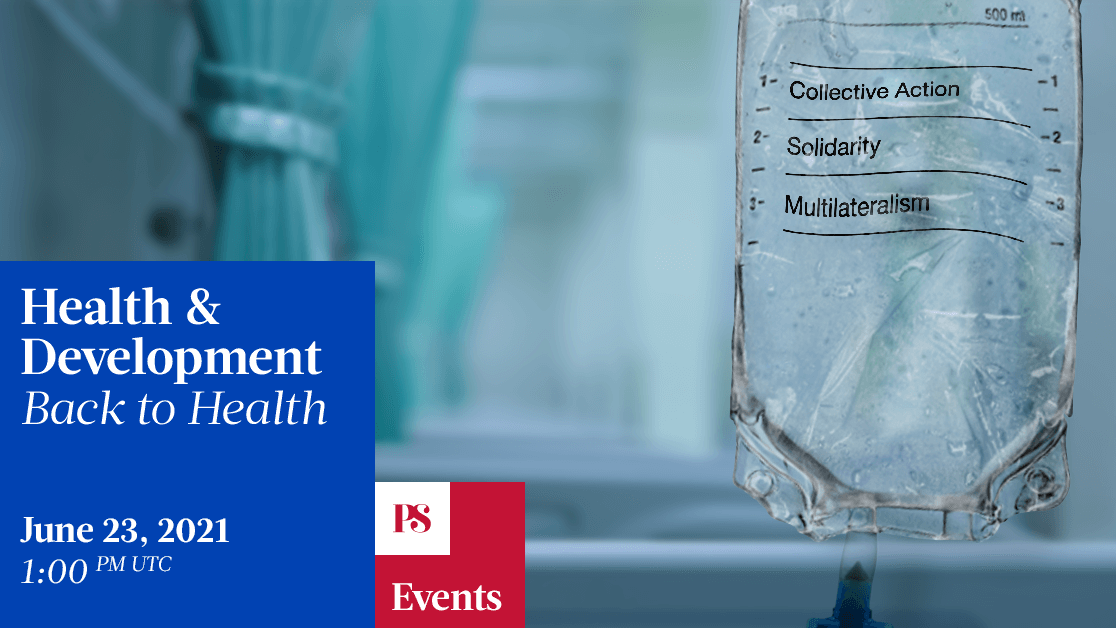 Back to Health: Making Up for Lost Time
The COVID-19 crisis has laid bare systemic inequities that will have to be addressed if we are ever going to build more sustainable, resilient, and inclusive societies. Join us on June 23, 2021, for our latest live virtual event, Back to Health: Making Up for Lost Time, where leading experts will examine the immediate legacy of the pandemic and explore solutions for bringing all communities and societies back to health.
Gelukkig helpen de sectoren voor informatietechnologie en energieopslag in Zuid-Korea nu al om de uitrol van slimme elektriciteitsnetwerken te versnellen; en veel bedrijven begeven zich op veelbelovende nieuwe innovatiegebieden, van schone auto's tot witte biotechnologie(waarbij levende cellen worden gebruikt om synthetische materialen te produceren voor textiel, biologisch afbreekbare plastics en vele andere producten). Onze strategie is ook sterk gericht op de ontwikkeling van een circulaire waterstofeconomie. Met een hoog recyclingpercentage van 86 procent is ons land nu al goed gepositioneerd als wereldleider in deze cruciale sector.
Wat investeringen betreft zal de regering zich concentreren op het creëren van een zelfvoorzienende omgeving met overvloedige financiering voor startende groene technologiebedrijven. Er komt een open en doeltreffende regeling voor de handel in emissierechten, alsmede maatregelen om betrouwbare informatieverstrekking door bedrijven te waarborgen, na de publicatie dit jaar van een nieuwe groene taxonomie. De Zuid-Koreaanse koolstofmarkt bestrijkt nu al ruim 70 procent van de totale emissies van het land en ontwikkelt zich snel om beloningen te garanderen voor bedrijven die streven naar zinvolle emissiereducties.
De sleutel tot iedere netto-nul-strategie is een soepele herstructurering van de industrie. Wij zullen bijvoorbeeld de omschakeling van verbrandingsmotoren naar schone voertuigen ondersteunen door herscholing van de huidige werknemers en de invoering van nieuwe programma's om bij de volgende generatie werknemers vaardigheden te ontwikkelen waar veel vraag naar is. De centrale overheid zal nauw samenwerken met lokale overheden om programma's op te zetten die goed zijn afgestemd op de behoeften van lokale economieën.
Ten slotte werken wij aan plannen voor klimaatresponsfondsen en andere vormen van financiële steun. Om blijk te geven van onze inzet voor de internationale inspanningen ter bestrijding van de klimaatverandering in het kader van het klimaatverdrag van Parijs van 2015, zullen wij dit jaar een nieuwe nationaal vastgestelde bijdrage (NDC) indienen en zullen wij aankondigen dat er een einde komt aan de overzeese financiering van kolengestookte elektriciteitscentrales. Opdat deze nieuwe NDC echter meer zal zijn dan een louter ambitieuze doelstelling, zullen we nog steeds een sterkere binnenlandse consensus moeten smeden. Dat betekent dat rekening moet worden gehouden met verschillende belangen en dat een duidelijke, alomvattende routekaart moet worden geboden voor de uitvoering van netto-nulstrategieën.
Wij hopen dat alle andere landen hun NDC's op dezelfde ambitieuze manier zullen herzien. Klimaatverandering is een probleem dat door geen enkel land alleen kan worden opgelost. Door onze eigen netto-nul-strategie te ontwikkelen en die op grote schaal te delen, hopen we een bredere deelname aan te moedigen. Het klimaatbeleid van een land zal immers slechts zo doeltreffend zijn als zijn samenwerking met anderen, vooral met zijn buren, met name wanneer het gaat om het vaststellen van regelgeving en handelsbeleid.
We moeten ook de ontwikkelingslanden steunen die hun emissiepieken nog niet hebben bereikt. Als nieuw lid van de Coalitie van ministers van Financiën voor Klimaatactie zal Zuid-Korea zijn belofte gestand doen om 300 miljoen dollar te doneren aan het Groene Klimaatfonds, en zal het het groene aandeel in zijn officiële ontwikkelingshulp verhogen van 6 procent naar ruim 20 procent.
Nu de P4G-top in Seoel deze maand volgt op de klimaattop van de Amerikaanse president Joe Biden vorige maand, en als voorbode kan worden gezien van de klimaatconferentie van de Verenigde Naties (COP26) in november, heb ik goede hoop dat 2021 de geschiedenis zal ingaan als het jaar waarin de internationale gemeenschap weer op het spoor van Parijs is gekomen. Nu de race naar koolstofneutraliteit is begonnen, heb ik er alle vertrouwen in dat de Zuid-Koreaanse koolstofneutraliteitsstrategie, net als onze ervaring met economische ontwikkeling in ruimere zin, als model kan dienen voor anderen.
Vertaling: Menno Grootveld