Wyznaczanie Ścieżki do Neutralności Węglowej
SEUL – W przeciwieństwie do Stanów Zjednoczonych, Europy i innych wczesnych potęg przemysłowych, których emisje dwutlenku węgla w dużej mierzejużosiągnęłynajwyższypoziom, większość innych krajów do niedawna nie przejmowała się zmianami klimatycznymi. Ale w ciągu ostatniego roku wzrosła liczba rządów ogłaszających docelowe daty osiągnięcia zerowej emisji netto i angażujących się w bardziej ambitne ścieżki dekarbonizacji.
Jednym z powodów zmiany jest fakt, że pandemia COVID-19 posłużyła jako sygnał ostrzegawczy dotyczący potencjalnych zagrożeń. Przywódcy polityczni, biznesowi i społeczeństwa obywatelskiego poważnie traktują możliwość przyszłego wydarzenia "zielonego łabędzia," które może wywołać kolejny kryzys systemowy lub globalny.
Ponadto coraz większa liczba rządów zdała sobie sprawę, że dążenie do celów neutralności pod względem emisji dwutlenku węgla będzie również stymulować wzrost gospodarczy i zapewni wyższą jakość życia ich obywatelom. Podczas gdy zwykłe ograniczenie emisji za pomocą przepisów spowodowałoby kiedyś silny ekonomiczny opór, globalne przejście w kierunku neutralności węglowej zmieniło rachunek ekonomiczny. Nowe modele konsumpcji i produkcji tworzą nowe rynki z daleko idącym potencjałem wzrostu.
Im więcej kraj robi, aby zastąpić paliwa kopalne wodorem i innymi formami energii odnawialnej, tym bardziej będzie konkurencyjny ekonomicznie. Dekarbonizacja wymaga powszechnego przyjęcia nowych technologii i dużych inwestycji w infrastrukturę, a wszystko to tworzy miejsca pracy i przygotowuje grunt pod pojawienie się większej liczby nowych rynków.
Mimo to każdy kraj potrzebuje własnej strategii, aby uwzględnić swoje nieodłączne mocne strony, wady i potrzeby. W przypadku Korei Południowej osiągnięcie neutralności węglowej będzie szczególnie trudne ze względu na nasze położenie geograficzne, które nie sprzyja energii wiatrowej lub słonecznej. Biorąc pod uwagę naszą silną zależność od produkcji, droga do zerowego netto do 2050 r. pociągnie za sobą utratę miejsc pracy, osierocone aktywa i inne poważne zagrożenia społeczne i gospodarcze. Zarządzanie tymi problemami będzie wymagało od nas starannego planowania naszych polis.
W tym celu w 2020 r. Korea Południowa uruchomiła dwie główne inicjatywy w zakresie polityki klimatycznej: koreański Nowy Ład i StrategięNeutralnościRepublikiKoreipodWzględemEmisjiDwutlenkuWęglado 2050 r. Naszym celem jest promowanie rozwoju energooszczędnych technologii i tworzenie zachęt dla firm do stosowania praktyk przyjaznych dla środowiska.
Back to Health: Making Up for Lost Time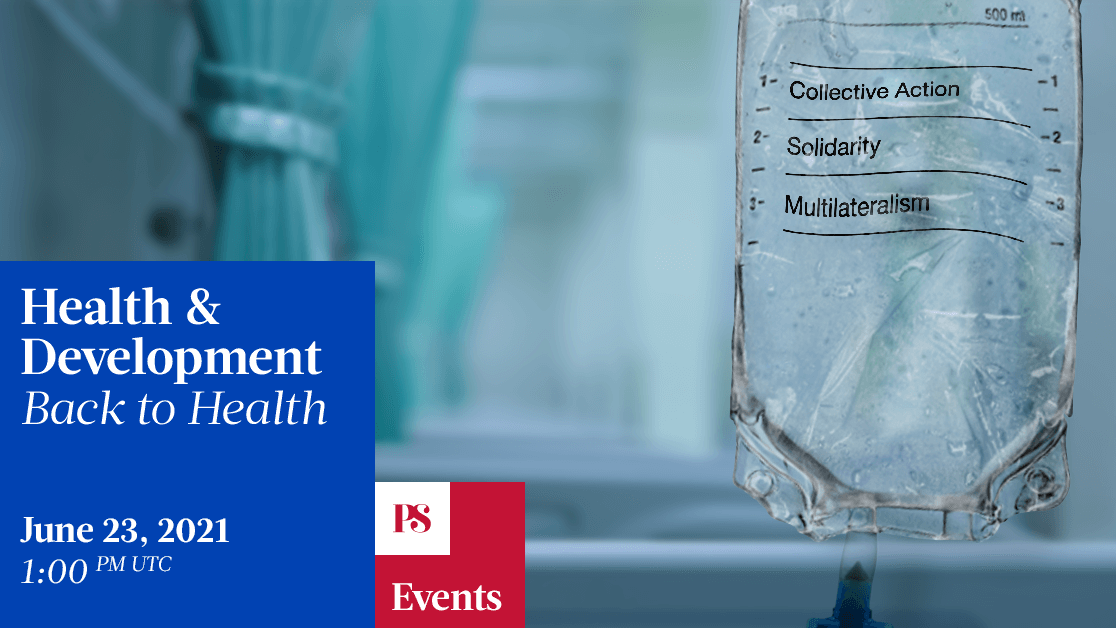 Back to Health: Making Up for Lost Time
The COVID-19 crisis has laid bare systemic inequities that will have to be addressed if we are ever going to build more sustainable, resilient, and inclusive societies. Join us on June 23, 2021, for our latest live virtual event, Back to Health: Making Up for Lost Time, where leading experts will examine the immediate legacy of the pandemic and explore solutions for bringing all communities and societies back to health.
Na szczęście sektor technologii informacyjnej i systemów magazynowania energii w Korei Południowej już teraz pomaga przyspieszyć wdrażanie inteligentnych sieci; wiele firm wkracza w obiecujące nowe obszary innowacji, od czystych samochodów po białąbiotechnologię (która wykorzystuje żywe komórki do produkcji materiałów syntetycznych do tekstyliów, biodegradowalnych tworzyw sztucznych i wielu innych produktów). Nasza strategia koncentruje się również w dużej mierze na rozwoju gospodarki wodorowej o obiegu zamkniętym. Dzięki wysokiemu wskaźnikowi recyklingu wynoszącemu 86% zajmujemy już wysoką pozycję jako światowy lider w tym krytycznym sektorze.
Jeśli chodzi o inwestycje, rząd skupi się na tworzeniu samowystarczalnej sytuacji z dużym finansowaniem dla startupów greentech. Po opublikowaniu w tym roku nowej ekologicznej taksonomii będzie istniał otwarty i skuteczny system handlu emisjami, a także środki zapewniające rzetelne informacje korporacyjne. Rynek uprawnień do emisji dwutlenku węgla w Korei Południowej obejmuje już ponad 70% całkowitych emisji i szybko ewoluuje, aby zagwarantować korzyści przedsiębiorstwom, które dążą do znaczącej redukcji emisji.
Kluczem do każdej strategii zerowej wartości netto jest osiągnięcie płynnej restrukturyzacji przemysłu. Na przykład będziemy wspierać przejście od silników spalinowych do czystych pojazdów, zapewniając przekwalifikowanie obecnych pracowników i wprowadzając nowe programy w celu rozwijania wysoce pożądanych umiejętności u następnego pokolenia pracowników. Rząd centralny będzie ściśle współpracował z samorządami w celu opracowania programów odpowiednio dostosowanych do potrzeb lokalnych gospodarek.
Tworzymy plany dotyczące funduszy na reagowanie na zmiany klimatyczne i innych form wsparcia finansowego. Aby zademonstrować nasze zaangażowanie w międzynarodowe wysiłki na rzecz przeciwdziałania zmianom klimatycznym w ramach porozumienia z Paryża z 2015 r., w tym roku przedstawimy nowy, ustalony na szczeblu krajowym wkład i ogłosimy koniec zagranicznego finansowania elektrowni węglowych. Jednak aby nowy NDC był czymś więcej niż tylko aspiracjami będziemy nadal musieli wypracować silniejszy krajowy konsensus. Oznacza to branie pod uwagę różnych interesów i oferowanie jasnego, kompleksowego planu wdrażania strategii zerowego netto.
Mamy nadzieję, że inne kraje dokonają równie ambitnych zmian w swoich centrach danych. Zmiana klimatu nie jest problemem, który może zostać rozwiązany osobno z każdym krajem działającym oddzielnie. Opracowując naszą własną strategię zero netto i szeroko ją udostępniając mamy nadzieję zachęcić do szerszego uczestnictwa. W końcu polityka klimatyczna danego kraju będzie tylko tak skuteczna, jak jego współpraca z innymi, zwłaszcza z sąsiadami i szczególnie jeśli chodzi o ustalanie przepisów i polityki handlowej.
Musimy także wspierać kraje rozwijające się, które jeszcze nie osiągnęły szczytowych poziomów emisji. Jako nowy członek Koalicji Ministrów Finansów ds. Działań na Rzecz Klimatu, Korea Południowa dotrzyma obietnicy przekazania 300 milionów dolarów na Green Climate Fund (Zielony Fundusz Klimatyczny) i zwiększy udział ekologiczny swojej oficjalnej pomocy rozwojowej z 6% do ponad 20%.
W tym miesiącu szczyt P4G w Seulu odbywa się zaraz po szczycie klimatycznym prezydenta USA Joe Bidena i jako preludium do Konferencji Narodów Zjednoczonych w Sprawie Zmian Klimatu (COP26) w listopadzie, więc mam nadzieję, że rok 2021 zostanie zapamiętany jako rok, w którym społeczność międzynarodowa wróciła na paryski tor. Teraz, gdy wyścig do neutralności węglowej się rozpoczął jestem przekonany, że strategia neutralności węglowej Korei Południowej - podobnie jak nasze szersze doświadczenie w zakresie rozwoju gospodarczego - może służyć jako model dla innych.
Z angielskiego przetłumaczyła Marz McNamer