Faire revivre l'ajustement des créanciers
LONDRES – Avec tous les discours protectionnistes venant de l'administration du président américain Donald Trump, il est surprenant que personne n'ait mentionné, et encore moins cherché à invoquer, un outil évident pour corriger les déséquilibres extérieurs persistants: la clause de « monnaie rare » prévue par l'Accord de Bretton Woods de 1944.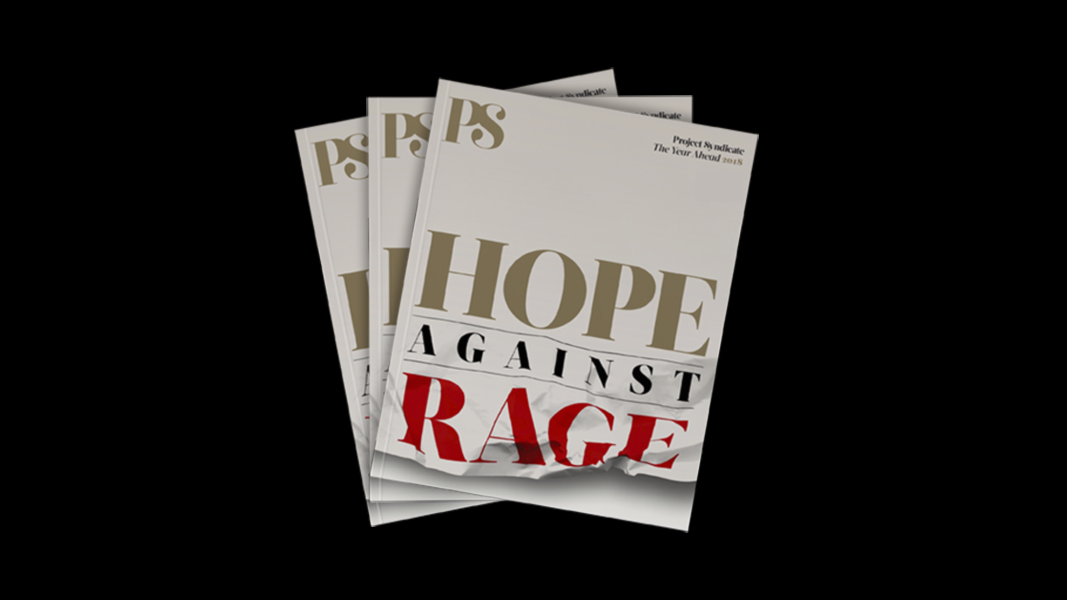 The Year Ahead 2018
The world's leading thinkers and policymakers examine what's come apart in the past year, and anticipate what will define the year ahead.
Cette clause, qui figure à l'article 7 de l'accord, autorise les pays, « après consultation avec le Fonds [monétaire international], d'imposer de manière temporaire des limites à la liberté des opérations de change dans une monnaie rare »; et il accorde à ces pays « pleine compétence pour déterminer la nature de ces limites ». La monnaie d'un pays est considérée rare sur le marché des changes s'il importe plus qu'il n'exporte – c'est-à-dire si le pays connait un déficit du compte courant.
La clause de monnaie rare a une histoire intéressante. Dans son plan initial d'une banque de compensation internationale, l'économiste britannique John Maynard Keynes avait proposé une série de sanctions de plus en plus sévères contre les Etats membres qui maintiendraient des soldes créditeurs perpétuels (et des sanctions moins lourdes pour les pays présentant des soldes débiteurs persistants). L'idée était de pousser les pays à réduire leurs excédents courants. Rien n'empêchait les pays excédentaires de dépenser leur argent librement, mais ces derniers n'étaient pas autorisés à thésauriser.
Les Etats-Unis, qui étaient de loin le plus grand créancier du monde, a naturellement refusé la proposition de Keynes. En conséquence, le FMI a dû se charger de fournir de l'aide financière à court terme aux pays en déficit, et de faire respecter par ailleurs la doctrine orthodoxe de l'ajustement des débiteurs. Mais, pour apaiser les Britanniques, Harry Dexter White, le fonctionnaire du Trésor américain qui est maintenant reconnu comme l'architecte de l'accord de Bretton Woods, a inséré l'article 7 afin permettre aux Etats membres en manque en dollars de limiter leurs achats de biens américains.
La clause de monnaie rare est restée lettre morte depuis lors. Au cours des premières années d'après-guerre, les États-Unis ont comblé les trous des comptes courants des pays européens au moyen des fonds du Plan Marshall. Au début des années 1970, les Etats-Unis eux-mêmes connaissaient de graves déficits commerciaux et il y avait une offre excédentaire de dollars. Le Congrès américain a exhorté le FMI à invoquer la clause de monnaie rare à l'encontre des pays excédentaires « récalcitrants », mais ses efforts furent vains. Comme l'historien de l'Université de Princeton Harold James l'a souligné, le vent avait tourné: les Etats-Unis s'étaient saisis des arguments de Keynes, mais les pays européens créanciers, ainsi que le Japon, s'y étaient opposés avec succès.
Avançons rapidement jusqu'à aujourd'hui. Parmi les quatre plus grandes économies du monde, seuls les Etats-Unis pâtissent d'une faiblesse persistante de leur compétitivité. La Chine, le Japon et l'Allemagne, en revanche, sont extrêmement compétitifs. De plus, étant donné que la Chine a accepté, pour des raisons qui lui sont propres, de financer le déficit des États-Unis, le dollar et le renminbi semblent maintenant être bloqués dans des positions mal alignées.
Pour remédier à cette situation, l'économiste Vladimir Masch suggère que les Etats-Unis devraient poursuivre un plan de « libre-échange compensé » (CFT), ce qui revient essentiellement à une activation unilatérale de la clause de monnaie rare. L'administration Trump fixerait chaque année un plafond pour le déficit commercial des États-Unis, et imposerait des limites sur les excédents des principaux partenaires commerciaux des États-Unis. Cela aurait une forte incidence sur la Chine, le Japon, l'Allemagne et le Mexique, qui ont respectivement contribué 347 milliards de dollars, 69 milliards de dollars, 65 milliards de dollars et 64 milliards de dollars au déficit commercial de 737 milliards de dollars des Etats-Unis en 2016.
Selon les termes de l'arrangement CFT de Masch, il appartiendrait à chaque pays excédentaire de limiter ses exportations vers les États-Unis. Les pays ne pourraient dépasser leurs quotas d'exportation qu'en payant une amende égale à la différence entre la valeur de leurs exportations effectives et autorisées. Et s'ils essaient d'exporter plus qu'autorisé sans payer l'amende, leurs exportations excédentaires seraient bloquées.
Le problème de ce plan est qu'il ne met aucune pression sur l'Allemagne pour réduire ses excédents vers les autres pays de la zone euro. Certes, après la crise financière mondiale de 2008, l'Union européenne a effectivement établi une Procédure concernant les déséquilibres macroéconomiques (PDM), qui impose des amendes aux pays de la zone euro qui connaissent des excédents supérieurs à 6% du PIB ou des déficits dépassant 4% du PIB. Mais la PDM, même si elle est dans l'esprit de la proposition de Keynes pour une Union internationale de compensation, manque de deux mécanismes essentiels.
Tout d'abord, le plan de Keynes aurait imposé et collecté des sanctions contre les créanciers persistants de manière automatique, alors que la procédure prévue par l'UE a été incapable de le faire. L'Allemagne a enregistré un excédent de plus de 6% du PIB durant plus d'une décennie en toute impunité. Bien que son excédent vis-à-vis de la zone euro ait récemment été ramené à moins de 3% du PIB, ce qui reflète en grande partie le fait que les pays méditerranéens pauvres importent moins de biens allemands. Si les économies de ces pays se rétablissent et retournent à une situation proche du plein emploi, l'excédent allemand rebondira probablement.
Le deuxième défaut de la PDM est qu'elle ne prévoit pas les protections pour les débiteurs qui sont offertes par la clause de devise rare. Sans la possibilité de dévaluer leur monnaie, le seul recours possible des débiteurs persistants de la zone euro est de menacer de quitter la monnaie unique. Mais, comme la crise grecque l'a démontré, ce n'est pas une menace crédible. Il en résulte que les déséquilibres entre les créanciers et les débiteurs ont été bloqués  en l'état.
Une façon de débloquer les déséquilibres actuels serait d'adapter le mécanisme de Bretton Woods. Chaque Etat membre de la zone euro verserait une somme d'euros dans un Fonds monétaire européen en proportion de son revenu national et du volume de ses transactions commerciales. Et le Fonds aurait sa propre clause de monnaie rare, permettant aux États membres de pratiquer une discrimination contre les importations en provenance des pays créanciers.
Au cours de son vaste discours à la Sorbonne le mois dernier, le président français Emmanuel Macron a appelé à la création d'un Fonds monétaire européen, mais il n'a pas précisé les détails de ce qu'il envisage. Un mécanisme qui prévoit la possibilité d'une discrimination commerciale pourrait constituer une violation des principes de libre-échange de l'UE. Et pourtant, l'intégration économique a toujours dépendu d'un certain degré d'ajustement des créanciers. Sans cela, un système de libre-échange finira par se décomposer. Les partisans des frontières ouvertes peuvent payer maintenant, ou ils payeront certainement plus tard.
Traduit de l'anglais par Timothée Demont