Los peligrosos juegos de guerra del príncipe saudita
TEL AVIV – La siempre volátil región de Medio Oriente ha sido sacudida por una serie sorprendente de acontecimientos políticos surgidos de Arabia Saudita. ¿Serán los preliminares de una nueva gran guerra?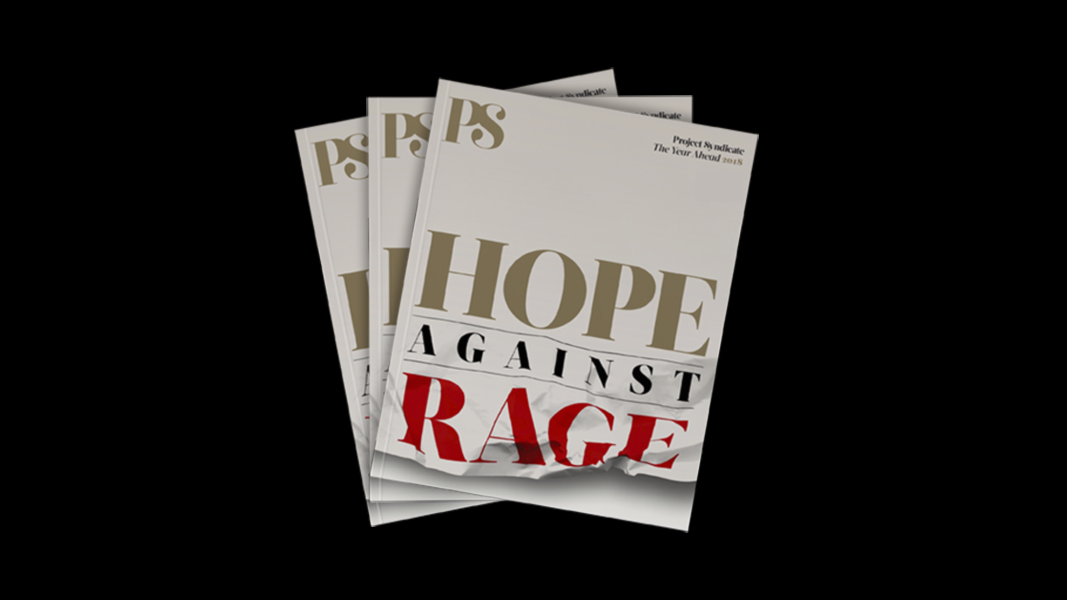 The Year Ahead 2018
The world's leading thinkers and policymakers examine what's come apart in the past year, and anticipate what will define the year ahead.
El ambicioso príncipe heredero saudita, Mohammed bin Salmán (32 años, generalmente llamado MBS), que dirige una histórica (y desestabilizadora) transformación de la economía saudita, ordenó el arresto de muchos de los príncipes y funcionarios más poderosos del país. La jugada, que se presentó como parte de una campaña anticorrupción, es un osado intento de consolidar su poder.
Pero las ambiciones de MBS trascienden las fronteras de su país. El mismo día, en un programa de televisión transmitido en vivo desde Riad, el primer ministro libanés Saad Hariri anunció su renuncia y acusó a Irán de provocar "devastación y caos" con sus intromisiones en otros países.
Unos días después un misil de largo alcance lanzado desde Yemen por rebeldes hutíes con apoyo de Irán impactó en Riad, y enseguida el gobierno saudita advirtió a Irán de la posibilidad de una guerra. También denunció que los hutíes reciben ayuda de Hezbollah (la milicia shiita libanesa proiraní) y señalando la presencia de miembros de este grupo en el gobierno libanés, acusó al país de haberle declarado la guerra al reino saudita y ordenó a sus ciudadanos salir de allí.
Está claro que MBS espera convertir a Arabia Saudita en la única potencia dominante del Golfo Pérsico y protectora del Islam sunita en todo Medio Oriente. Pero sus esfuerzos se van pareciendo cada vez más a las acciones de un apostador inmaduro.
Arabia Saudita ya quedó mal parada tras el grotesco fracaso del bloqueo a Qatar, por no hablar de sus dos intentos desastrosos de cortar los avances de Irán en Siria y Yemen. Si a esto se le suma la torpe purga política ordenada por MBS, la escalada en el Líbano puede verse como un gambito desesperado.
Pero es probable que provocar a Irán no sea lo mejor para Arabia Saudita. Como MBS sabe muy bien, Riad no puede hacer frente al poderío militar de Irán. Y su probable plan alternativo (estrechar la cooperación con Israel en esta área) tal vez no funcione como él querría.
Es verdad que en una extraña entrevista concedida a un diario saudita, el jefe del Estado Mayor israelí, general Gadi Eisenkot, habló de los "muchos intereses compartidos" entre ambos países. Además, el ministro de defensa Avigdor Lieberman advirtió que Israel no permitirá la consolidación de un "eje" shiita en Siria; y el primer ministro Binyamin Netanyahu dejó claro que tampoco se tolerará una presencia militar y naval de Irán en aquel país.
Pero pensar que Israel se lanzará a una guerra declarada al norte de su frontera en beneficio de Arabia Saudita es una tontería. No sería la primera vez que Israel frustrara las expectativas sauditas de una intervención: en 2012, tras amenazar con un ataque a las instalaciones nucleares de Irán, luego Netanyahu no cumplió.
Más cerca en el tiempo, Israel se negó a intervenir en la guerra civil siria contra el régimen alahuita (proshiita) de Bashar al-Assad. Lo cierto es que Israel hizo todo lo posible para no verse arrastrado a ese conflicto, incluso mientras incrementaba los ataques aéreos sobre envíos de armas a Hezbollah, que hace tiempo intenta abrir un segundo frente contra Israel en el Golán.
Pero descartar sin más la idea de una guerra sería irresponsable: los enfrentamientos en la frontera norte de Israel no siempre han sido premeditados. Y el cada vez más confiado Assad ya no parece resignarse a la idea de que la fuerza aérea israelí deba tener plena libertad de acción en Siria y Líbano. Sus baterías antiaéreas han comenzado a responder a los vuelos de aquella sobre Siria, y el 11 de noviembre, fuerzas israelíes derribaron un dron sirio.
Además, ahora Israel también asumió la protección de la comunidad drusa siria, con la que los muy leales ciudadanos israelíes drusos tienen estrechos vínculos. El 3 de noviembre, tras la matanza de nueve personas por fuerzas rebeldes en una aldea drusa dentro de Siria, el ejército israelí advirtió que intervendría para impedir la ocupación de la aldea.
Aunque a Israel no le conviene una guerra declarada, tampoco puede descartarla. En septiembre realizó el mayor ejercicio militar en dos décadas, con gran despliegue de fuerzas aéreas, navales y terrestres, que durante dos semanas simularon un conflicto simultáneo en los frentes sirio y libanés, y la evacuación masiva de la población civil del norte de Israel. Después de dos guerras con Hezbollah que terminaron en una suerte de empate, el mensaje de Israel es claro: si hay un nuevo conflicto, el objetivo será una victoria contundente.
Hezbollah, agotado por el esfuerzo que le costó apoyar a Assad en la guerra civil siria, no está particularmente interesado en enfrentarse a Israel ahora mismo. Irán, por su parte, evitó alterar la estabilidad del Líbano y su siempre precaria tregua con Israel, para que Hezbollah pudiera concentrarse en Siria.
Pero un choque entre Israel y Hezbollah complacería a Arabia Saudita, porque cree que llevaría inevitablemente a un enfrentamiento entre Israel e Irán. Sobre todo ahora que los combates en Siria pierden intensidad, el eje sunita liderado por Arabia Saudita quiere compensar sus pérdidas allí convirtiendo a Líbano en el próximo campo de batalla.
En este momento, Líbano está dividido entre el campo prosirio y proiraní de Hezbollah (que incluye al presidente Michel Aoun) y la "Alianza 14 de Marzo" de grupos sunitas antisirios liderada por Hariri, a los que Arabia Saudita espera empujar al conflicto que tanto desea. Pero por supuesto, no es lo mejor para el país lanzarse a una guerra dirigida por potencias que ven a Líbano como una mera pieza de un rompecabezas estratégico mayor.
Ni tampoco para Hariri: ese conflicto dejaría a las empresas constructoras de su familia sin la oportunidad de obtener generosos contratos para la reconstrucción de Siria. De hecho, parece muy probable que Hariri esté en Riad contra su voluntad.
Mientras MBS juega con fuego, el presidente estadounidense Donald Trump le ofreció amplio respaldo, por la animadversión que le tiene a Irán y, tal vez, con la esperanza de que Arabia Saudita apoye un plan de paz estadounidense para Palestina. Pero se necesita un aliciente más benigno con urgencia. No olvidemos que (como bien demostró el conflicto en Siria) las guerras suelen terminar al revés de como se esperaba.
Traducción: Esteban Flamini